Need muffins in a hurry? These banana quinoa muffins require only three ingredients and fewer than five minutes of prep time. They make for an easy and healthy start to your day!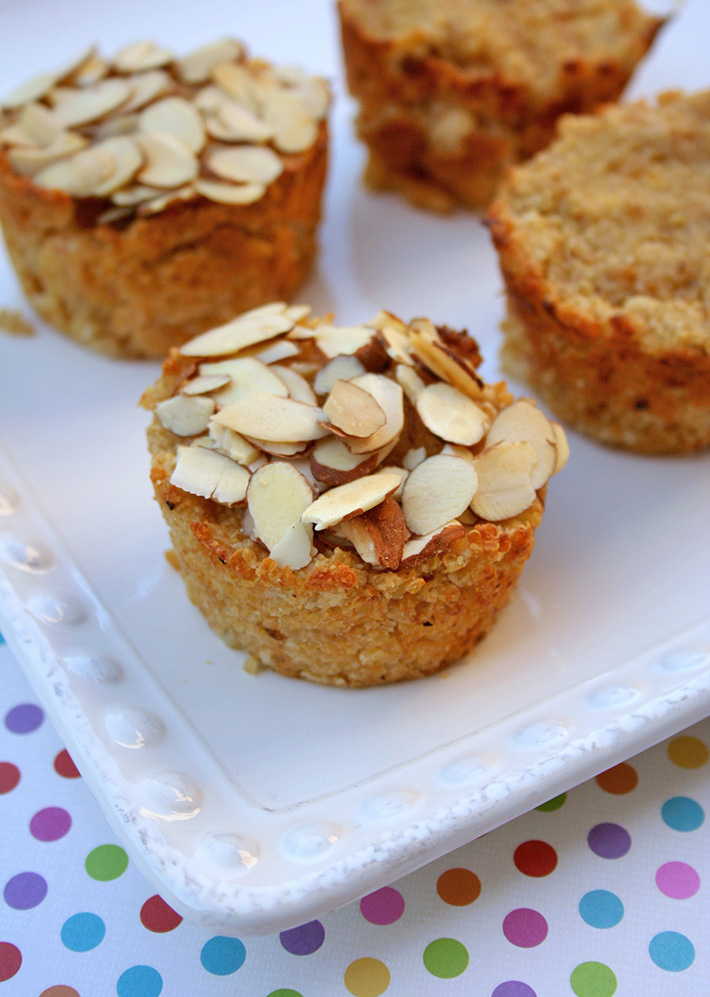 Photos via CakeSpy
These quinoa muffins are the ultimate morning power food.
Quinoa and almond flour provide high-quality sources of protein and fiber, and banana packs in the potassium. Naturally vegan and gluten-free, their light fruit-based sweetness pleases the palate. These muffins are are guaranteed to make your mornings brighter.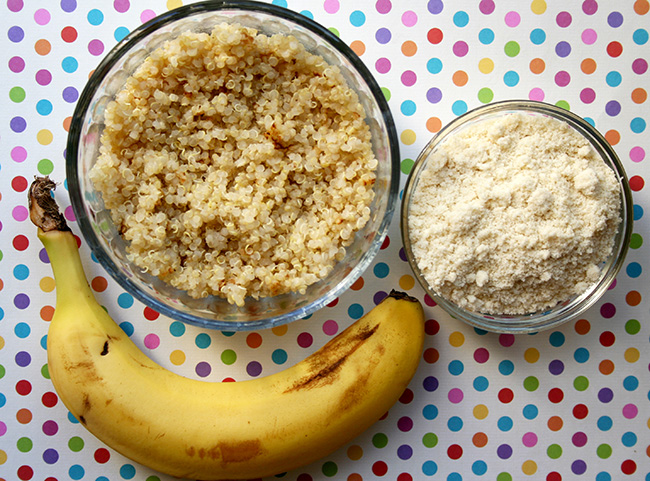 3-ingredient quinoa muffins recipe
Makes 4 muffins (recipe can be doubled or tripled). Adapted from Power Hungry
Ingredients
1 medium banana, very ripe 
½ cup almond flour 
1 cup cooked quinoa, cooled
Step 1:
Preheat the oven to 350 F. Generously grease 4 cups of a standard-sized muffin tin, or place liners in four of the cups.
Step 2:
In a large bowl, mash the banana. I did this using very clean hands. 
Step 3: 
Add the almond flour and cooked quinoa. Mix either using your clean hands or a wooden spoon until the mixture is evenly dispersed and cohesive. If desired, you can stir in mix-ins of your choosing.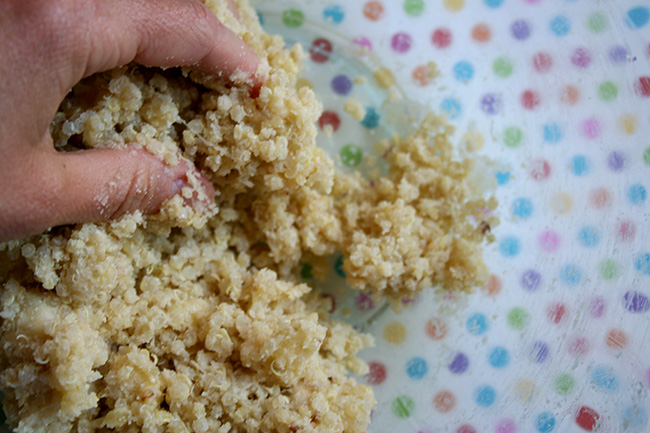 Step 4:
Spoon the mixture into the muffin tin. Gently press down the mixture; this will help the muffins stick together once baked.
If desired, you can garnish the tops. I added some slivered almonds to some of my muffins. Since the recipe already included almond flour, which is made from ground almonds, this still felt like it rested within the "three ingredient" parameters!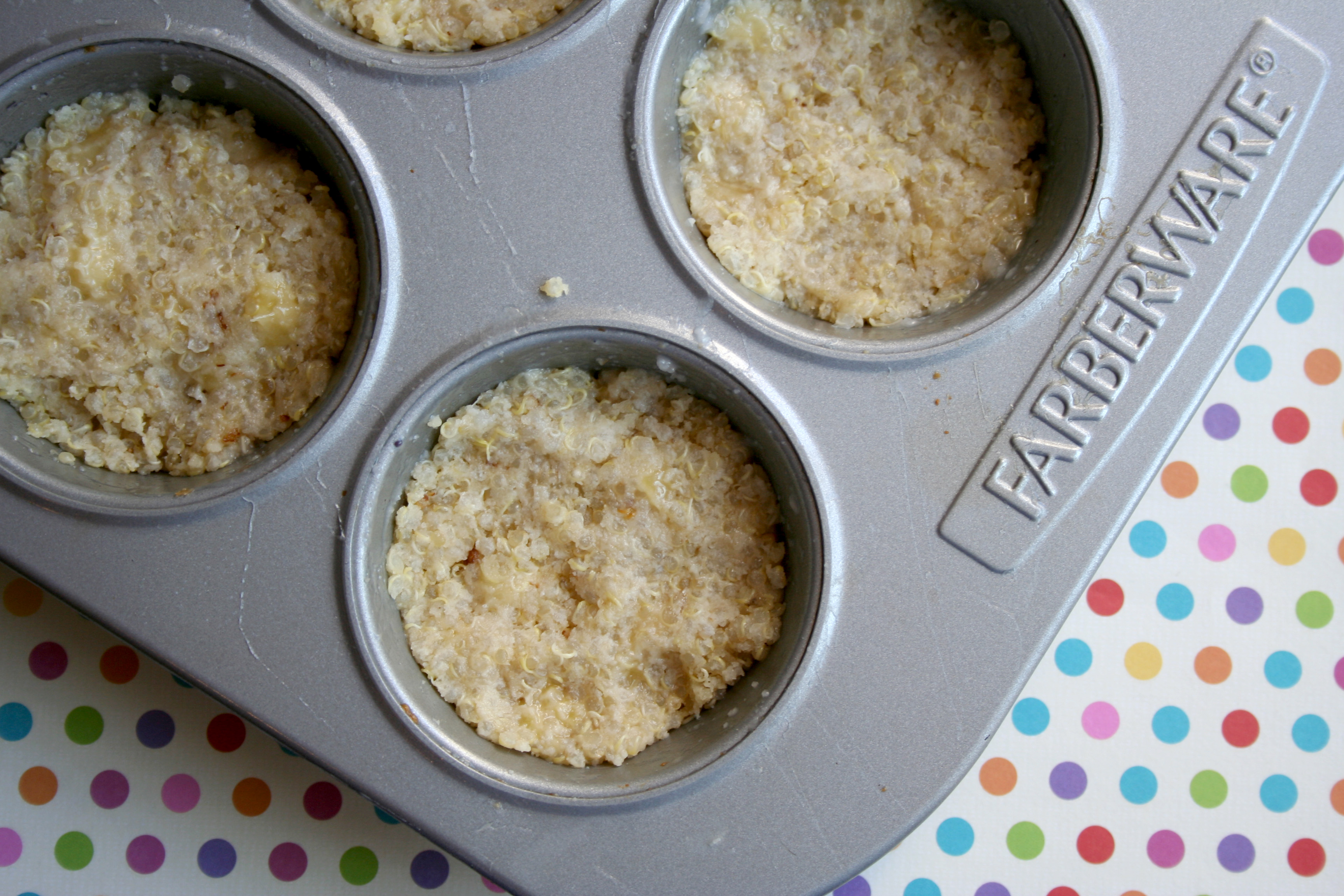 Step 5:
Bake for 20-25 minutes, or until golden and toasty-looking. The nice thing about these muffins is that since they contain no egg, there are no ingredients that actually require cooking to render them safe to eat. Therefore, determining doneness is really just a matter of them being baked/toasted to your desired level.
Step 6:
Remove from the oven, and let cool in the tin for about 5 minutes. They'll be very delicate at first, so if you try to remove them right away, they'll crumble. After about 5 minutes, remove with care (since I didn't use cupcake liners, I loosened the sides with a knife to help them release) and let cool completely on a wire rack. The muffins will become more firm/cohesive as they cool.
Recipe notes
Banana substitutions 
Don't have (or don't like) bananas? No problem. While banana has the most binding power, you can use applesauce or any other unsweetened pureed fruit instead; your muffins may be slightly more crumbly, but still very tasty. 
Almond flour substitutions
If you don't have almond flour on hand, you can substitute any nut flour you'd like. 
Flavorings and mix-ins
Want to add some extra flavor to your muffins? A pinch of salt or a small splash of vanilla can help amp up the flavor of these simple muffins. You can also add dried or chopped fresh fruit, chocolate chips, coconut flakes, nuts, or even a spoonful of peanut or almond butter. You can also top them if desired with the same ingredients.