Quilters have been using old clothing to make quilts for centuries. Making quilts from old shirts continues to be a wonderful way to not only create a beautiful heirloom but to incorporate memories into a quilt as well.  Today, making a quilt from a plaid shirt can be a way to celebrate the life of someone who has passed or simply to create a keepsake that reminds us of a special memory.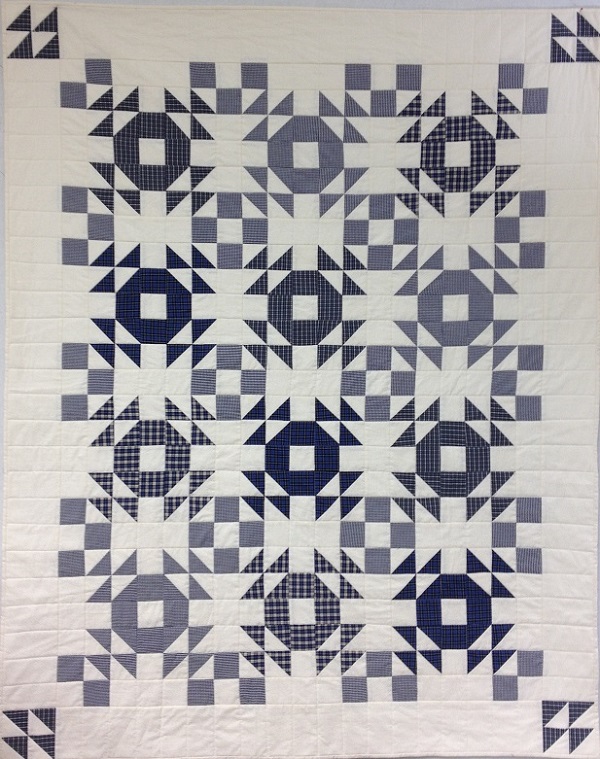 Traditional quilt made from blue plaid shirts via Butterfly Threads Quilting
Read on for our best tips for sewing with old shirts!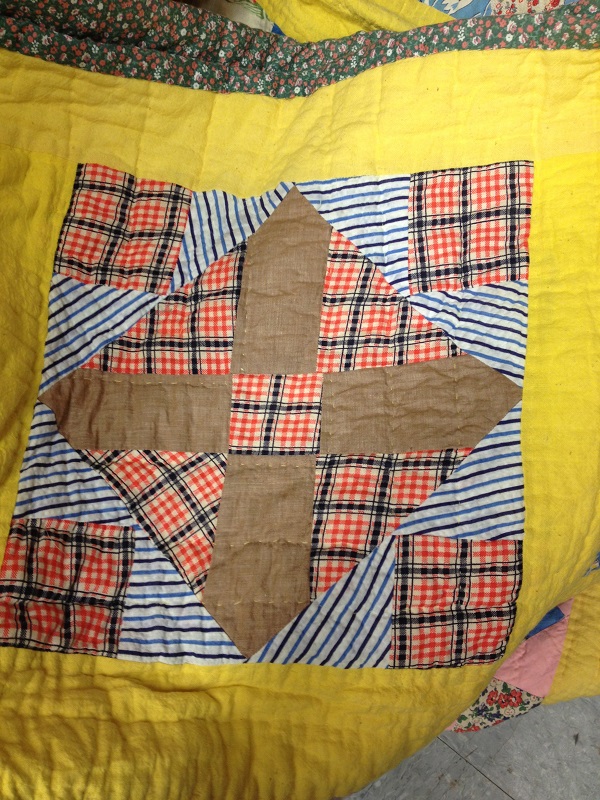 When my dad passed away unexpectedly a few years ago, I asked my mom if she would like for me to create a quilt from his plaid shirts. She saved them for me, and I stored them for almost two years. Opening the box was the hardest part, they still had that old familiar smell and waves of emotions rolled over me. Holding old shirts of a loved one is a simple task, taking scissors to them is not! I was able to focus and move forward by reminding myself that I was giving a gift of love, and that he would have been very pleased.
Things to consider for making quilts from plaid shirts
If you are considering making a quilt from shirts belonging to a loved one that has passed away, there are a few things to consider: Are you ready? Has enough time passed that you can do this labor of love without being overwhelmed? Do you have someone you want to share this project with?
When using old shirts in general, you should also determine if the shirts have been stored for a while. If so, wash them and press them before beginning. Also, don't worry if they aren't 100% cotton. Many cotton/poly blends will work really well, especially if they are well worn and have been washed many times.
Cutting up the shirts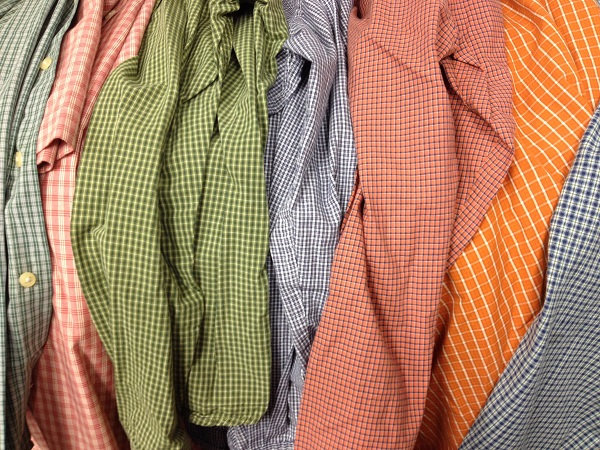 There are as many different ways to cut up a shirt as there are quilters. Most often, the collar, cuffs and button placket will be cut off and discarded first. Saving all the buttons is a good idea, they can always be reused. Some people also like to save the labels for other projects.
Cutting away the seams and the most worn parts will make working with the fabric easier. Trim the sleeves into long rectangles and cut the largest square possible from the back. The front should provide two large rectangles of usable fabric as well. This will depend on any holes or stains that need to be avoided of course.
Plaid shirt pattern inspiration
Plaid Paws Quilt via Craftsy blogger Dianekquilts
Choosing a pattern is not difficult as there are many patterns available for plaid fabrics in the Craftsy pattern store. Like this Plaid Paws Quilt Pattern I designed!
Plaid Fun via Craftsy member GourmetQuilter
This very simple plaid quilt designed for a single twin bed is fun and would be perfect for a beginner quilter!
Denim Stars Quilt via Craftsy member QuiltedSunshine
This quilt pattern, mixing denim and red plaid fabric would be fun with an assortment of plaid fabrics and colors — the possibilities are endless!
Make it modern!
Just because quilters have been repurposing old shirts as quilt fabric for centuries doesn't mean your quilt has to look old fashioned. Any project or pattern that calls for simple shapes and larger pieces will show off the plaids or stripes of these shirts to their best advantage. These old fabrics work really well with the newest cottons on the market for quilting. Plus, mixing the old and new can give a really wonderful result, one that has memories of the past, and years of function for the future!