Do you like quilting handmade gifts? It can be a whole lot of fun! If you have a special musician in your life, or maybe someone who loves music, why not make them one of these quilts for music lovers? This type of gift is both functional and artistic, surely to be treasured by the creative people you know.
Here are seven quilted projects and patterns that will make the perfect gift for the music lovers that you know.
Photo via Tandunn
Guitars
Stars and guitars make a stunning design in this musical quilt. Choose the recipient's favorite colors to really make the quilt special! The finish quilt is a large throw size measuring 81″ x1 17″. If you are looking for something a bit smaller, simply leave the border off.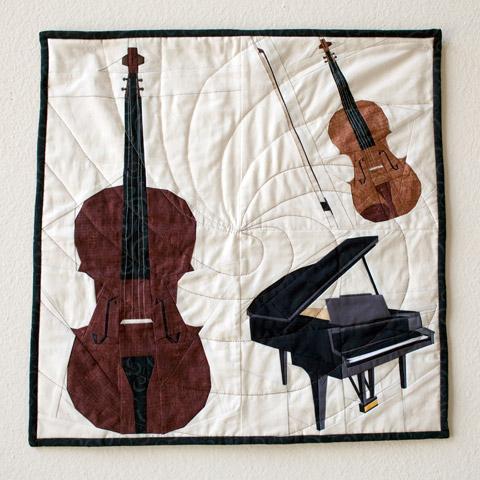 Photo via soma1776
Musical Instruments
Craftsy user soma1776 combined three patterns available in her pattern store to create her intricate mini quilt. The patterns are all paper pieced quilt blocks, and a diagram is provided with each. If you're unfamiliar with the process, you can learn how to paper piece quilt blocks in the Craftsy class Mastering Foundation Paper Piecing with Carol Doak.
Photo via Its Sew Emma
Urban Grunge
Use your favorite contemporary fabrics for this pattern, designed to look like a stereo equalizer! The finished project is a 50.5" x 59.5" lap quilt that is perfect for the men in your life.
Photo via soma1776
Musical Notes
Here is another musical pattern available in the Whims and Fancies pattern shop, perfect for all music lovers! This quilt block measures 10" square when finished, and a paper piecing diagram is included in the pattern.
Photos by Nan Baker

Memphis Ribbon and Blues
Inspired by Tennessee and its music, Nan Baker designed the Memphis Ribbon and Blues quilt pattern. In her words, "The rainbow color design was reminiscent of horns, particularly saxophones, and it just seemed to suggest the 'Music Beat' of the city."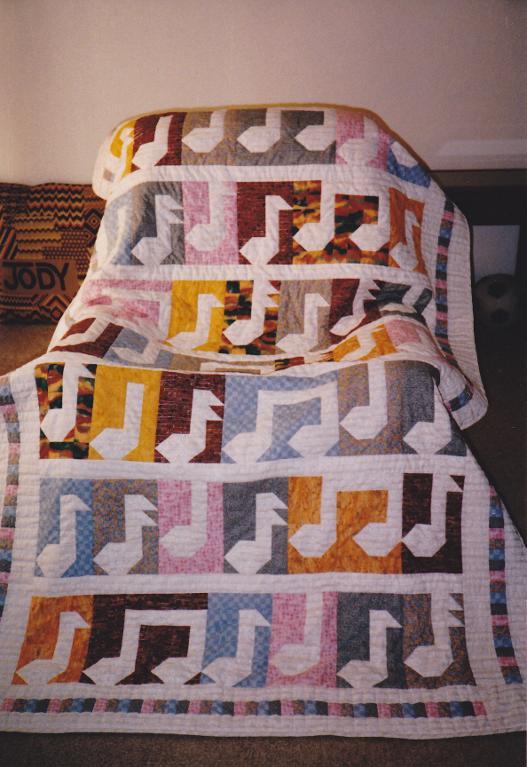 Photo via Jody Bizzle
Music
Check out the musical notes quilt by Craftsy member Jody Bizzle! She made this music-inspired quilt for a school fund-raiser. There was no pattern used, she made it up as she went.
Photo via 2strings
Violin
If you aren't ready to commit to a large musical quilt, this mini quilt is perfect for you! Fusible web appliqué, zigzag stitching, and a little embroidery work together to create an adorable mini quilt that will dress up your home. The pattern includes full-size templates, and the finished quilt measures 6" x 9.5".
Do you have a music lover in your life? What would you like to sew for them?