When choosing fabrics for quilting, you know that each kind of fabric gives a certain feel to a project. Soft and cuddly with a great weight, minky fabric is often used in quilted baby blanket designs, quilt backs and quilted stuffed animals. But did you know that it's not just for kids? We love seeing the luxe fabric incorporated into wearables or home decor or paired with cotton-fabrics for a sophisticated look.
Quilting with minky fabric is not that difficult, but it does help to follow some basic tips and tricks! Here are some of our favorites: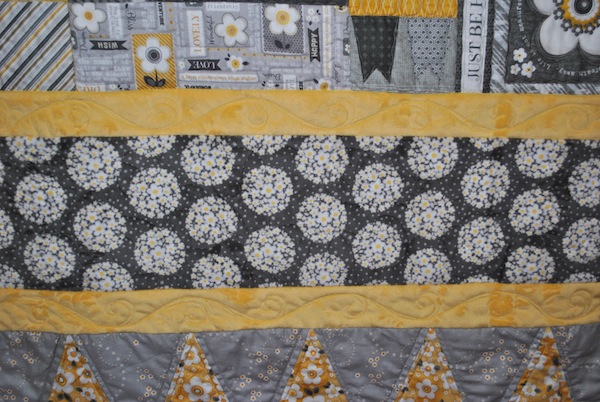 Photo via Lindsay Conner; Shannon Fabrics at Quilt Market
Cutting minky fabrics
If you're using minky fabric for a patchwork project, check the nap and grain of your fabric before cutting to make sure it all goes in the same direction. When quilting with minky fabrics, expect to get a bit of shedding while you cut. You can place just-cut Cuddle and a damp washcloth in the dryer on low heat for 10 minutes to help. Otherwise, keep a vacuum cleaner nearby. Move your rotary cutter, mat and ruler over to a hard surface, such as a table or wood floor, which can be easily wiped up after cutting. Once this initial shedding is over, Cuddle fabric won't fray.
Tip: Shannon Fabrics provides many free quilt patterns for sewing with Cuddle.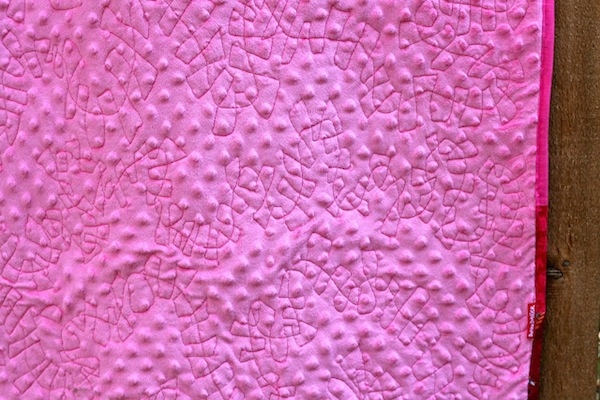 Photo via Bettina Danger
Batting or no?
Quilter Bettina made a Thomas the Tank Engine quilt for a little girl in her family and chose a free-motion railroad tracks quilting design. She chose to include batting between the quilt top and minky back, which she says turned out extra snuggly for winter. Although any battings will work with minky, some quilters suggest using Warm & Natural and Warm Bond from the Warm Company and Bamboo batting from Winline Textile Products.
Tip: Although you can make minky-style quilts without batting, Angela Walters recommends adding it in for more structure and weight to the quilts, especially larger projects. But if you're making a smaller quilt, you can also choose to leave it out, since the fabric is naturally thick.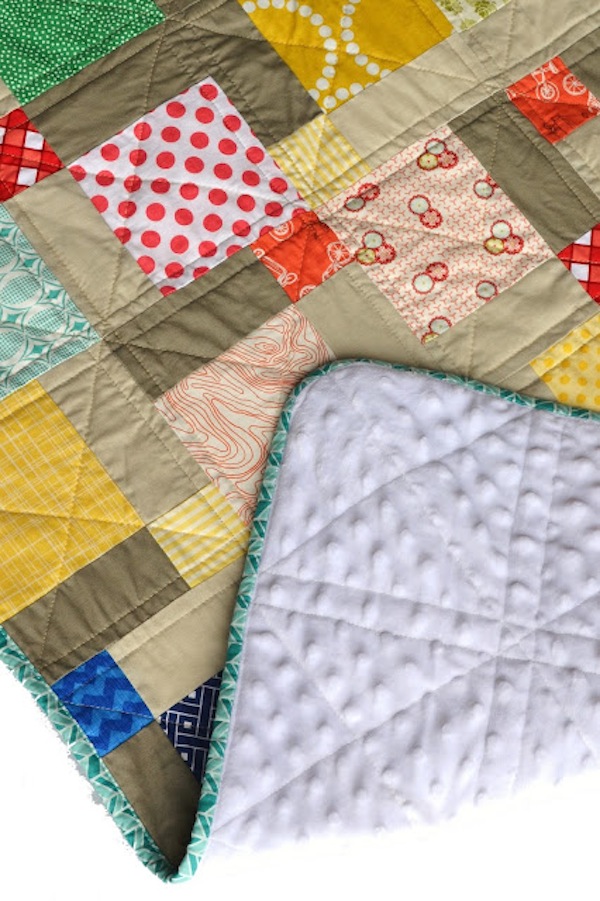 Photo via Cut. Sew. Press. Love.
Straight-line quilting with minky
If you are just getting started quilting with minky, it's not a bad idea to skip the free-motion quilting and try straight lines. This beautiful patchwork baby quilt by Melissa is backed in white minky fabric with raised dots. She says the quilting was not as difficult as she would have expected!
Tip: Use a walking foot for straight-line quilting and a size 90/14 ballpoint (stretch) needle for piecing. Lengthen the stitch length to 3mm or 3.5mm.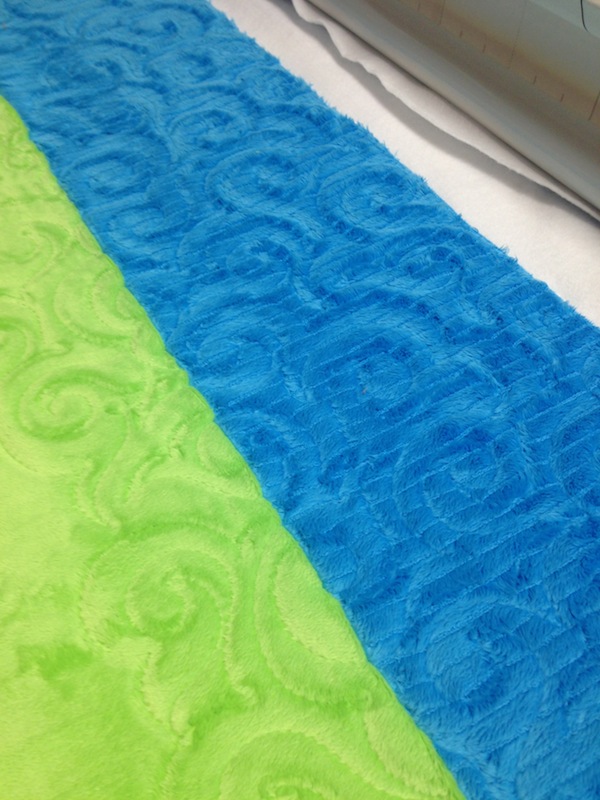 Photo via Shannon Fabrics
Free-motion quilting with minky
Craftsy instructor and longarm quilter Angela Walters shares some basics for quilting with Shannon Cuddle ™ fabric. She suggests that you keep your free-motion quilting designs a bit larger in scale, to help keep your quilt soft and without any tucks. The large swirls pictured are a good option.
Tip: If you're quilting with minky on a longarm quilting machine, make sure that the selvages run perpendicular to the leaders.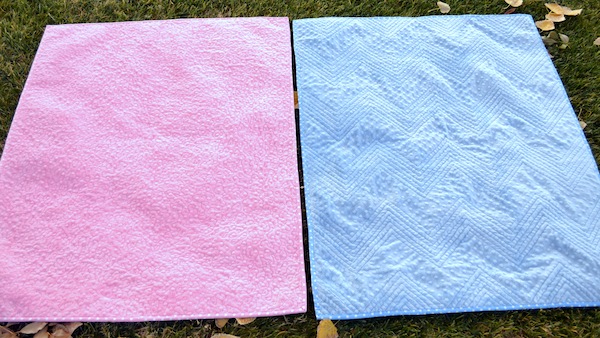 Photo via Craft Sew Create
Finishing the quilt
Ellie had fun making up these minky-backed quilts for twins for some new arrivals in her family. The quilt fronts are a patchwork chevron design pieced from cotton fabrics. She used free-motion swirls and hearts on the pink quilt. To keep the blue quilt more masculine, she used straight-line quilting to echo the patchwork design.
Tip: Spray basting is a great way to hold batting, backing and a quilt top together when quilting with minky.
Master basic quilting techniques, from choosing fabrics and a design to adding sashing and borders and basting your quilt, in the FREE mini-class Piece, Patch, Quilt: Basic Quiltmaking Techniques with Gail Kessler.
Come back to the Craftsy blog tomorrow for a roundup of mini charm pack quilting projects to try.
Have you ever incorporated minky into your quilt projects?