There are many options available when selecting threads for piecing and quilting. Beautiful threads in a rainbow of colors aren't just pretty to look at. Threads are the workhorses of your projects, and it's important to know what type of thread to use for quilting and piecing.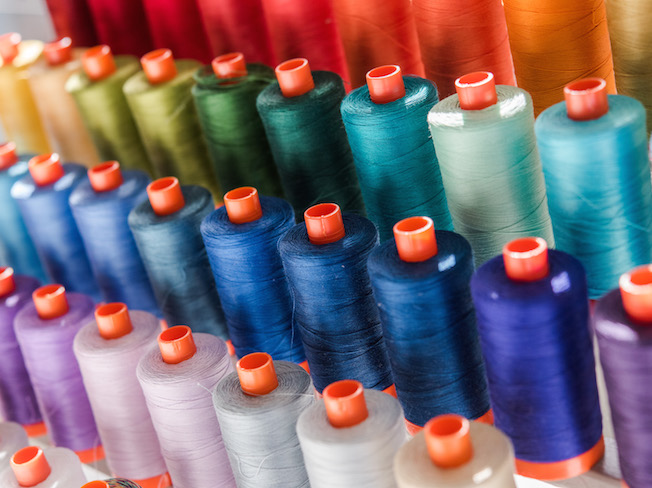 Here are some suggestions and tips for choosing the correct thread for your project.
1. If you are using high-quality quilting fabric, be sure to piece your projects with a high-quality thread.
When piecing with 100% cotton fabric, it is important to use a 100% cotton thread. Choose a neutral color (many quilters use white, cream or gray for all of their quilting projects) or choose a thread to match the fabrics you'll be sewing.
Good quality cotton threads produce less lint than lower quality cotton threads and are visibly "smoother" than the lower grades of cotton thread. High-quality threads, which produce less lint, are also good for your sewing machine.
An excellent thread choice for piecing is Aurifil Mako 50 weight cotton thread. This thread is silky smooth and fine, while at the same time, it's strong and durable.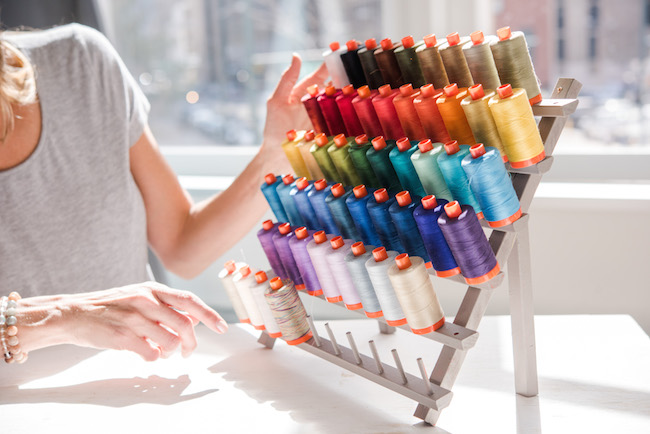 2. When looking for a thread to use for regular machine quilting, a 40 weight cotton thread is an excellent choice.
Because the 40 weight cotton thread is heavier than the finer 50 weight cotton thread, quilting stitches will show up more easily on the quilt. While the 40 weight cotton is heavier than the thread you'll want to use for piecing, it is still thin enough to easily be used in home sewing machines.
You may need to make slight adjustments to the tension setting on your machine when quilting and sewing with 40 weight and heavier threads.
3. For hand-quilting, use an even heavier thread, such as an all-cotton 28 weight thread.
The threads used for hand quilting need to be able to withstand the stress of pulling and stretching. Some quilters also like to use wax on their thread when hand-quilting to help the heavier thread glide easily through the fabric. Thread Heaven is one product specifically designed to condition thread, making hand quilting an easier task.
Many long-arm quilters like to use specialty polyester and metallic threads in order to achieve a variety of effects with their custom quilt designs. Superior Threads makes a variety of these specialty threads that are perfect for long-arm specialty quilting.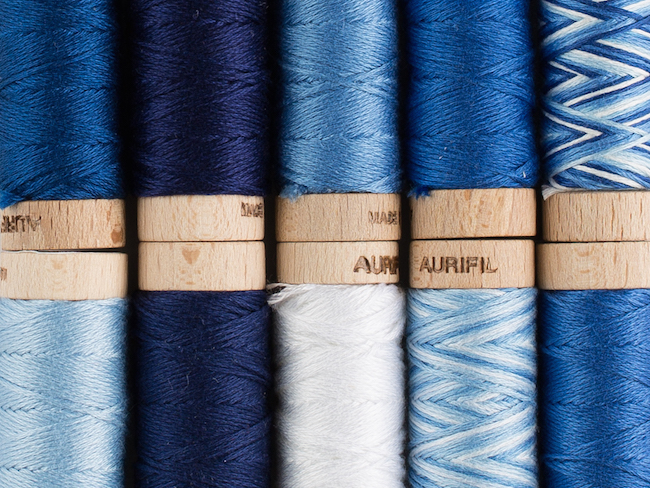 4. For binding, use the same thread weight used for piecing.
Also be sure to match closely the color of your binding thread to the binding fabric.
5. There are also several thread options for appliqué projects.
Using 50 weight 100% cotton threads in a color matching the appliqué piece is an excellent choice. However, some quilters prefer to use silk threads for appliqué. Silk is another strong natural fiber that comes in a variety of weights and colors. Many quilters feel that silk threads practically "melt" into the fabrics, making them nearly invisible and the perfect choice for hand and machine appliqué.
You may also enjoy my tips for choosing quilting pins and needles.
Shop for High-Quality Thread
Get quilters' favorite thread in dozens of shades, right here on Bluprint.Shop Now