Over the past year, I've fallen deeply in love piecing quilts by hand. I still piece many of my quilts on my machine but I always have a hand-pieced quilt project that I am working on as well.
Earlier this year, I made a commitment to myself to make at least a few stitches by hand every day for a year. Many of the projects include hand piecing quilt tops. I post what I'm working on daily to my Instagram account and a write weekly report on my blog.
By dedicating just a little bit of time each day to hand sewing, I'm able to accomplish a lot. Some days I literally make only a few stitches before bed. Here are some examples of what I've been working on: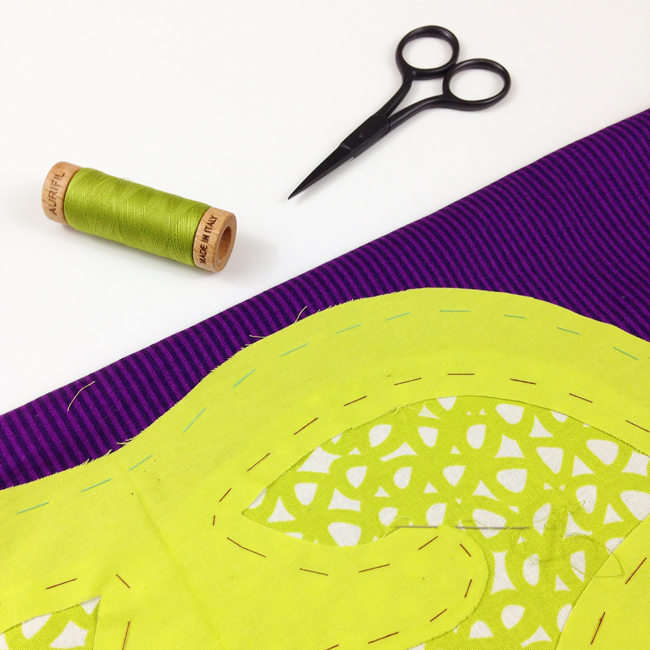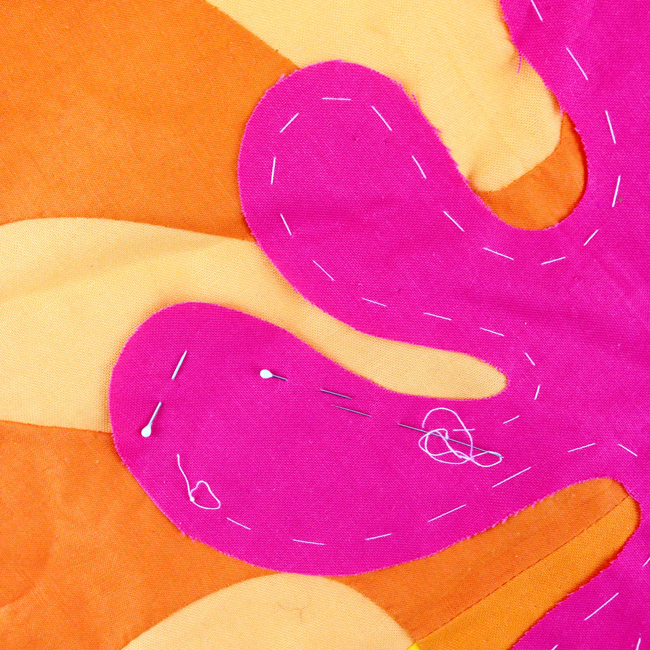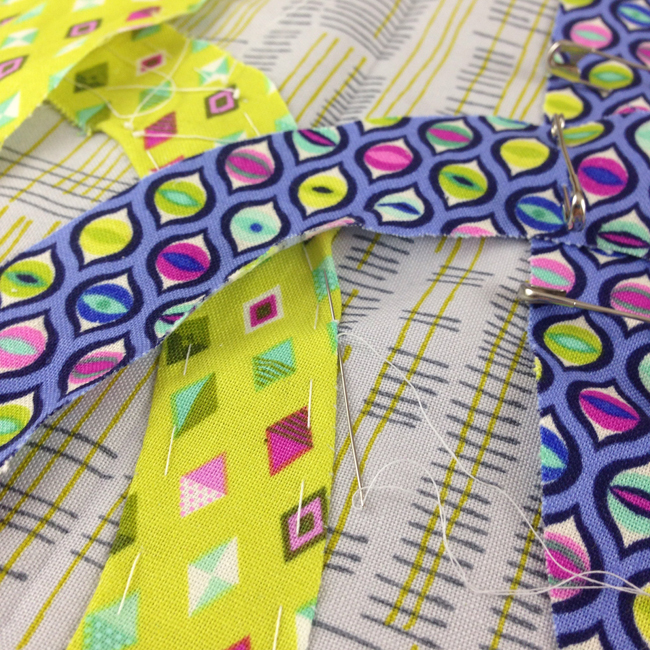 Photos via Sheri Cifaldi-Morrill of Whole Circle Studio
Everything old is new again — piecing quilts by hand is popular these days!
It's difficult to imagine what it was like to make quilts before the sewing machine was invented. (Personally, I think I would find it more challenging to live without my rotary cutter!)
Before sewing machines were mainstream, quilters had no choice but to both piece and quilt by hand. While handwork does take more time than piecing on our speedy sewing machines, there are benefits to hand piecing.
Need a portable project?
Traveling? Waiting at a doctor's office? Want something to do while watching television? Hand piecing is the perfect solution.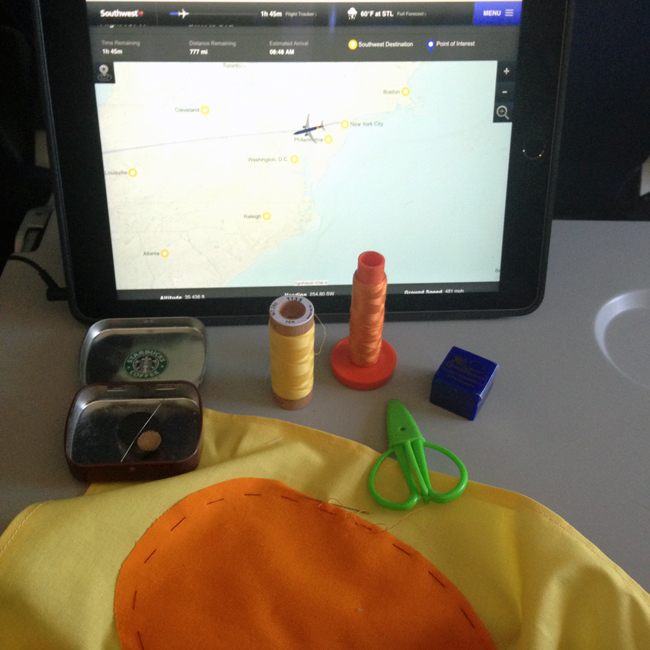 Image via Sheri Cifaldi-Morrill of Whole Circle Studio
One of the best things about handwork is that it can be done anywhere (even on a flight!).I always have a project prepared and packed up in a clear bag along with my tools and supplies. 
Don't have a lot of room to set up a sewing machine?
Hand piecing is not only perfect for those on the go, but is great for those who may not have a lot of room to dedicate to a sewing machine.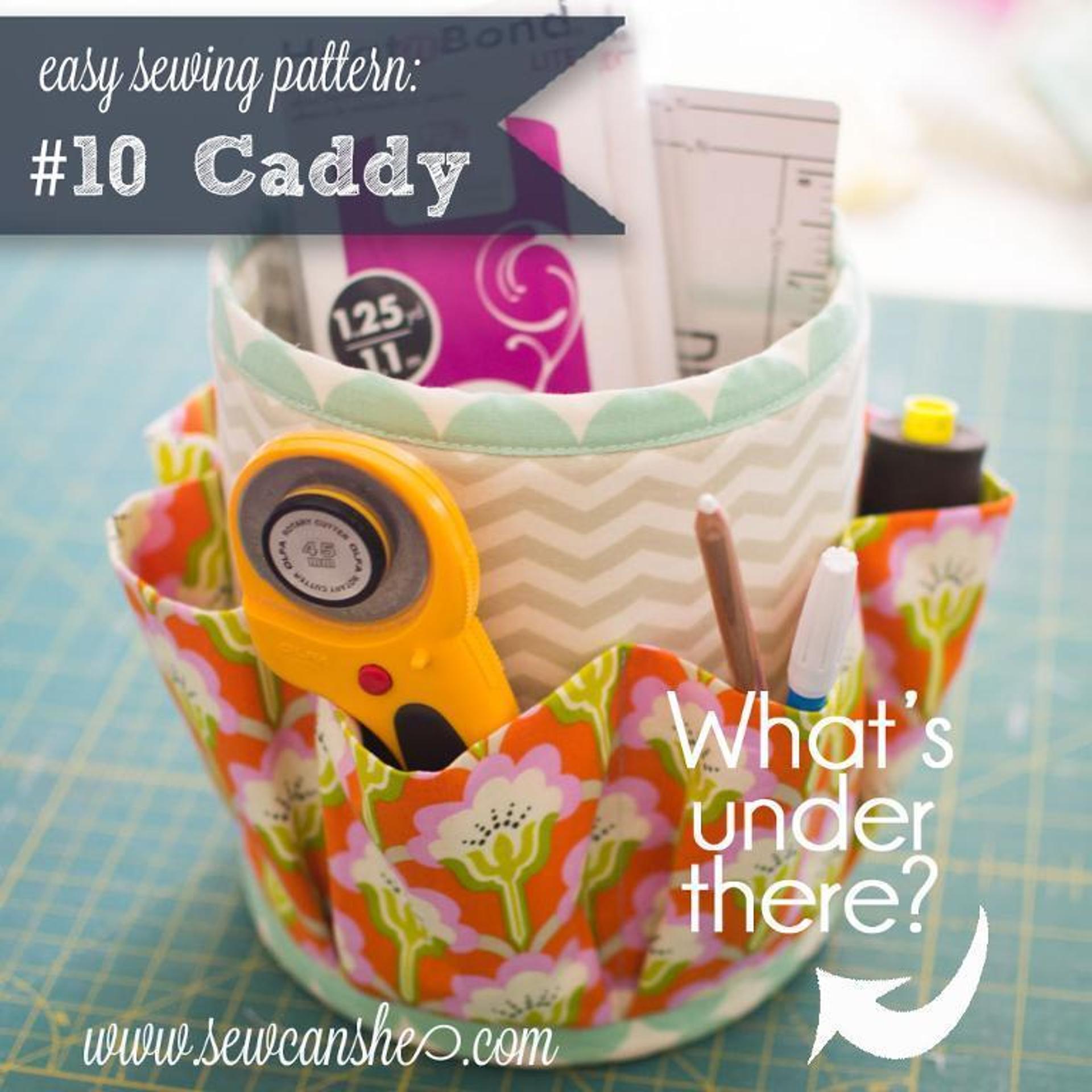 Purchase or make a sewing caddy (like the one above by SewCanShe), and you'll have all of your tools and supplies at your fingertips.
Looking for precision?
Because you're going slow, you can more easily control your stitches by hand than on a machine.
With some types of handwork, including needle-turn appliqué, you're able to piece designs that would be nearly impossible on a machine. Appliquéing by hand also creates crisp clean edges, that won't fray. I needle-turn appliquéd a Hawaiian-inspired design to create my Big Island Blossoms quilt shown here: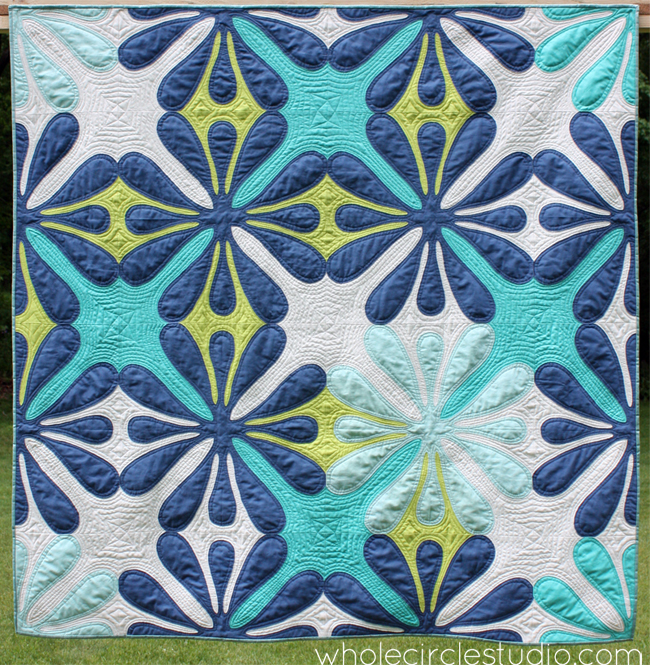 Image via Sheri Cifaldi-Morrill of Whole Circle Studio
Do you have issues achieving the perfect Y-seam on a machine? Give it a try by hand piecing The results are amazing!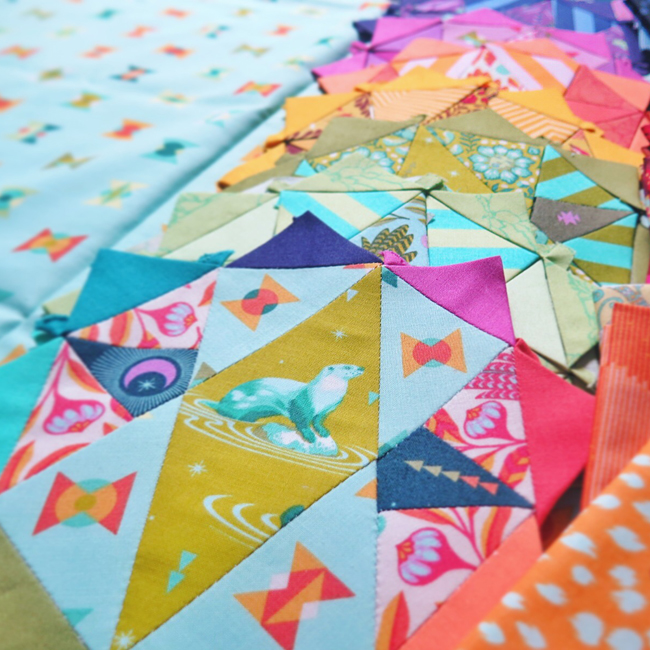 Image via Giuseppe Ribaudo, Giucy Guice
Want to chill out?
I enjoy the meditative quality of all hand stitching. There is a calming effect of stitching away. Put on your favorite music or encourage a group of friends to meet up and stitch away!
Keep your mind sharp!
Piecing by hand is great for your hand-eye coordination. You'll also find that the more you practice, the more your stitch quality will improve. I'm a big believer that being consistent makes you better and gets things done. Every stitch counts. Do what you can, stitch by stitch. Before you know it, you'll have a project done and will master a new skill.
Want to get started on a project? Check out these methods for hand piecing.
1. Needle-turn appliqué
With needle-turn appliqué, you layer one fabric on top of another and turn the edge over while stitching the pieces together. I love this method of sewing because I'm able to design quilts that I wouldn't be able to make with piecing on a machine.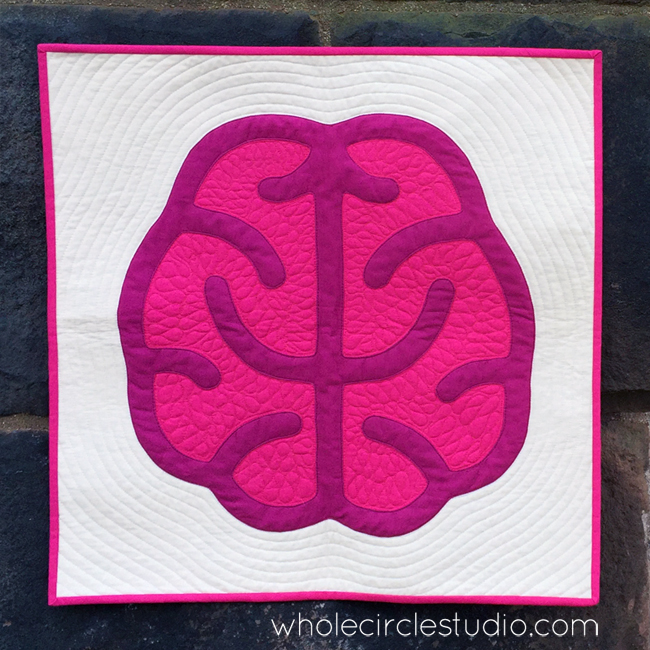 You can achieve a nice clean edge, with no raw edges that might fray. You're also able to have more control than machine appliquéing, especially around tight curves as shown above in my Think Big! mini quilt pattern.
Want to give needle-turn appliqué a try? Check out this free tutorial for tips and tricks.
2. English paper piecing
With English paper piecing, also called EPP, you wrap fabric around a stiff template (usually cardstock or plastic templates). After basting or gluing the fabric to the form, you stitch the shapes together by hand. Once all the pieces are sewn together, the foundation form is removed.
This fun technique is great for beginners and it is easy to piece tricky Y-seams. Since you are typically using small pieces of fabric for this technique, English paper piecing is a great way to use up your scraps!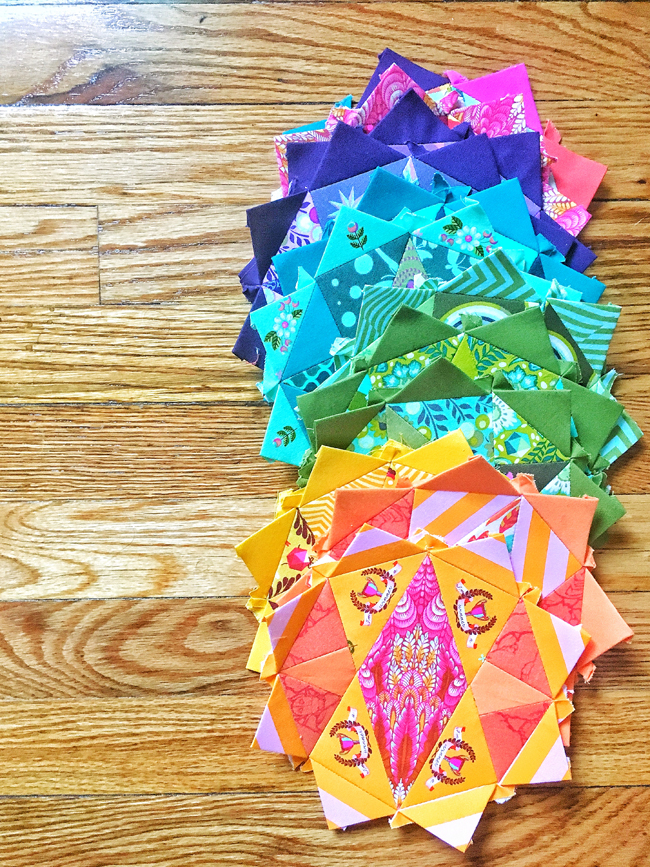 Image via Giuseppe Ribaudo, Giucy Guice
EPP is super popular right now with lots of modern quilters. You can purchase standard shapes, like hexagons or diamonds, to use as templates and design your own quilt. There are also EPP patterns you can purchase to make designed quilts, like the Moonstone pattern shown above, designed by Giuseppe Ribaudo.
Want to learn how to English Paper Piecing? Check out Helen Stubbing's Quick & Easy English Paper Piecing class.
3. Traditional hand piecing
If you can piece it on a machine, you can piece it by hand! All you need to know is how to make a knot and a basic running stitch.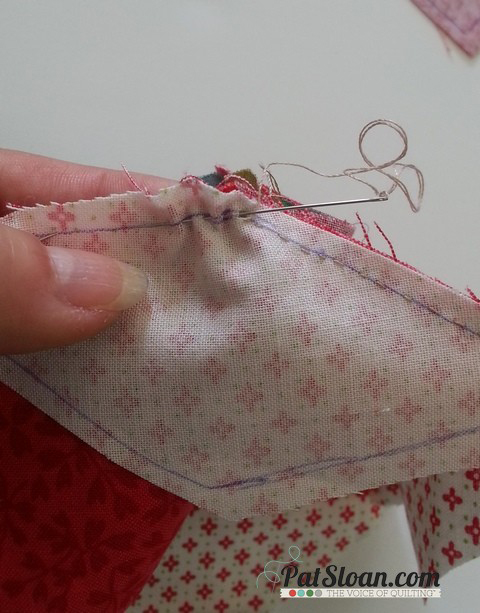 Image via Pat Sloan
Since you'll be stitching slowly and with a handheld needle, you'll have lots of control and can be precise with simple seams or tricky situations, like Y-seams. Pat Sloan has a great tutorial on basic hand piecing. 
If you've only pieced a quilt on a machine, give hand piecing a try. Start small and make a mini-quilt and join the slow stitch movement!
About the author
Sheri Cifaldi-Morrill is a designer, pattern writer and award-winning quilter. With the help of books and the Internet, she taught herself how to sew and discovered her love of designing and making quilts. As a trained and practicing graphic designer, her quilts start with a concept and research shapes the design. Her work is inspired by her everyday life and experiences. Sheri strives to make beautiful objects that inspire others to make and learn by providing clear instruction and encouragement. In 2016, she was awarded the first annual Craftsy Quilt Designer Fellowship. Learn more about Sheri and her work at wholecirclestudio.com and on Instagram or Facebook.