Have you heard of Instagram? It is a very popular photo sharing system, and it is my very favorite form of social media. It is so easy to use! This app was developed in 2010, and there are currently over 100 million users. In order to use Instagram, you need to have some type of device that you can download apps on. This can be a cellphone, like iPhones or Androids, or other Apple products, (iPod Touch, iPad, iPad minis). To begin, download the free app from iTunes or GooglePlay. Set up a free account, and you are ready to go! Simply snap a picture, choose a filter, and post your photo on Instagram. The other members that follow your account will see your photos. You can also share your photo with other social media networking services, like Facebook, Twitter, and Flickr.

Why do people like Instagram so much? It is fun and easy! Most cell phone pictures turn out average, but when they are edited with the provided digital filters, they change into beautiful photographs. Once they are posted, users can "like" and comment on each others pictures. This creates a great sense of community! Also, it can be difficult and time consuming to upload and then share photos in all of the different social networks like. Instagram makes it easy to take pictures, edit them, and then share them in multiple locations.
How does Instagram fit into the world of quilting? Extremely well, actually! Many people that are involved in the online quilting world have fallen hard for this form of social media. It is a quick way to share what you are working on that day, whether it is a work in progress or a finished quilt. Rather than taking the time to get out a real camera, upload it to the computer, and share them on a personal blog, many resort to Instagram because it is so fast.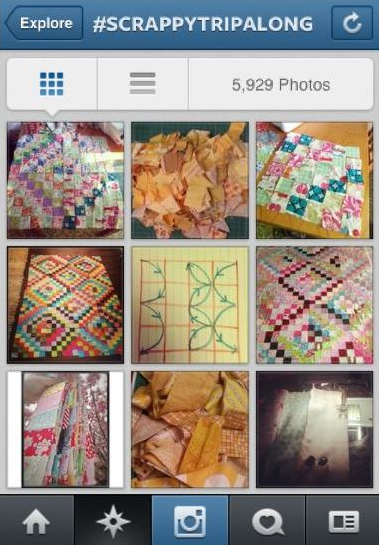 One of the aspects of Instagram that has brought a sense of community to quilting is the use of hashtags. A hashtag is a series of words, without spaces, that follow the # sign. These relevant words create a grouping of photos. For example, when you click on #honestcraftroom in Instagram, you will be shown all of the photos that users have shared of their own craft rooms, all that have been tagged with that hashtag. The use of hashtags has made it easy for quilters to sew together. Quilt-alongs have been formed through here, and participants tag their photos with the appropriate hashtags to add them to the pool. For example, the #scrappytripalong. This is a quilt-along that uses Bonnie Hunter's tutorial to create a Scrappy Trip Around the World quilt. Currently there are close to 6000 photos in this pool! My personal favorite is the Marcelle Medallion quilt-along, found at #marcellemedallion. The pattern is from Alexia Abegg's book, Liberty Love.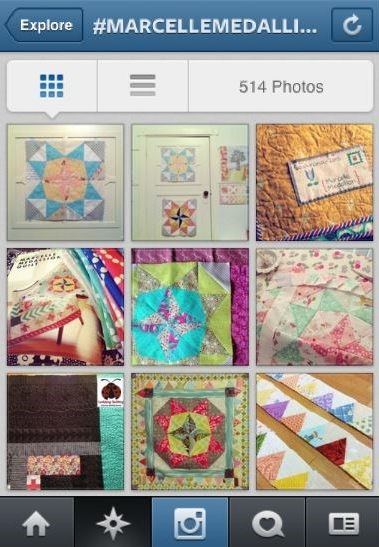 I hope that you will join the Instagram quilting community! It is quick, easy, and a whole lot of fun. Here are just a few of the Bluprint teachers that you can find on Instagram: @croskelley, @vchristenson, @elizabethagh, @sewmamasew. Bluprint even has an account @becraftsy!
You might enjoy exploring yo-yo quilts or continuous line quilting designs. Stay tuned to the Bluprint blog tomorrow for a fun look at quilting with solids.