Quilting frames are large structures that hold together the backing, batting and quilt top of a quilt, pulling them taut while you work. They can be used in hand quilting or machine quilting, and may be made of wood, metal or sturdy plastic.
Take a look at how quilting frames can help you stretch out and finish your next project!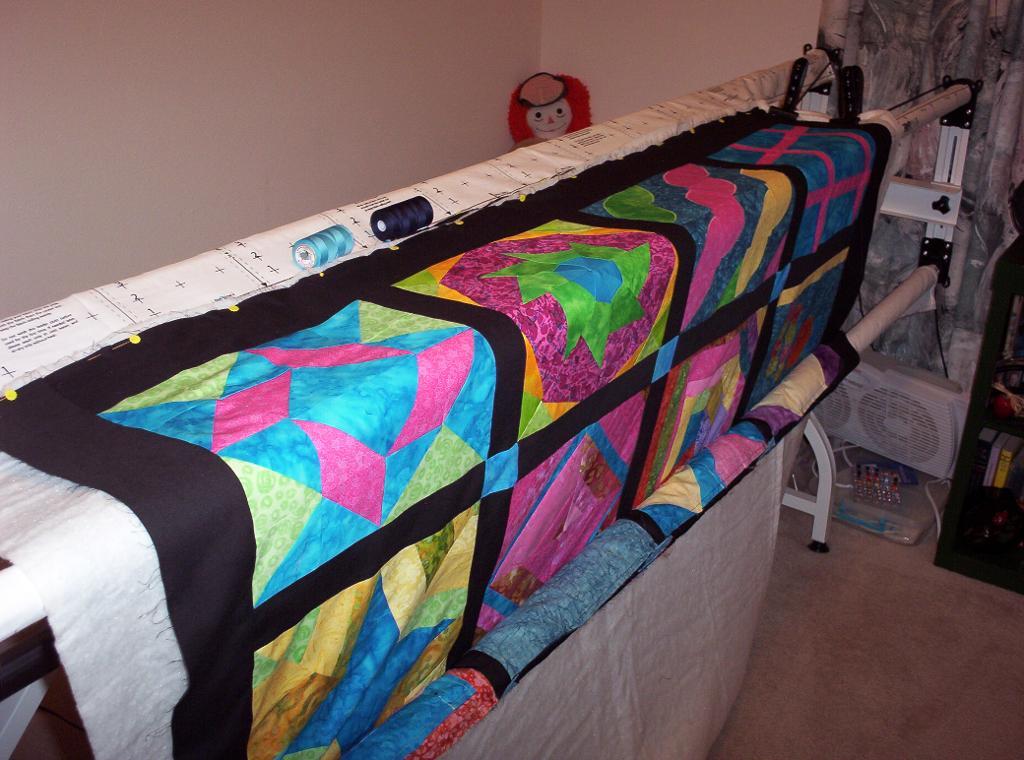 Photo via Craftsy member Scrappyendings
Some quilters consider quilting frames to be helpful tools in their hand or machine quilting process, especially if they prefer not to baste their quilts.
Hand quilting frames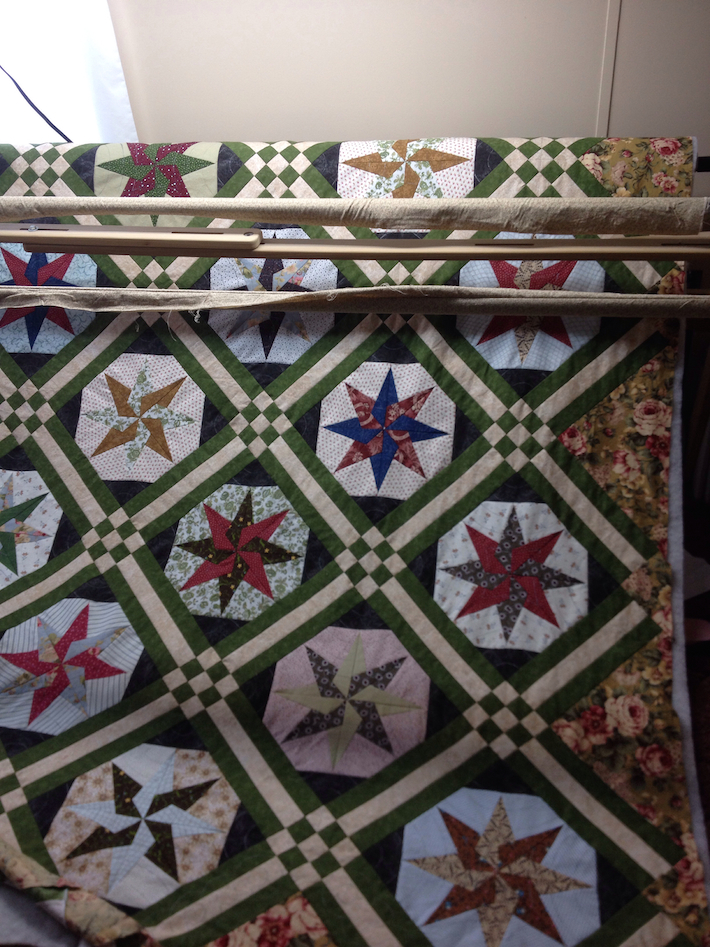 Photo via Craftsy member quiltfan61084189
Floor quilt frames
For quilters who have the space in their home to store a quilt frame, a quilt can be attached to a frame that's large enough for several quilters to work on it at the same time. This is actually the idea behind many quilting bees, an occasion when quilters get together and hand-stitch the layers of a quilt at the same time to speed up the process.
A quilt frame such as the wooden one used with the Vintage Dream Weaver's Quilt (pictured above) has bars to stretch the quilt and a rolling mechanism to keep the layers together when it's time to quilt a different section.
Lap quilt frames and hoops
The simplest type of hand quilting frame is a large wooden hoop. The hooped portion of a quilt is held taut while the quilter stitches the layers together.
If you don't have a lot of space available for a large quilting frame, you can try a lap frame such as these versions from The Grace Company and Barnett's. When using a lap quilt frame or hoop, start stitching in the center of the project and move outward.
Machine quilting frames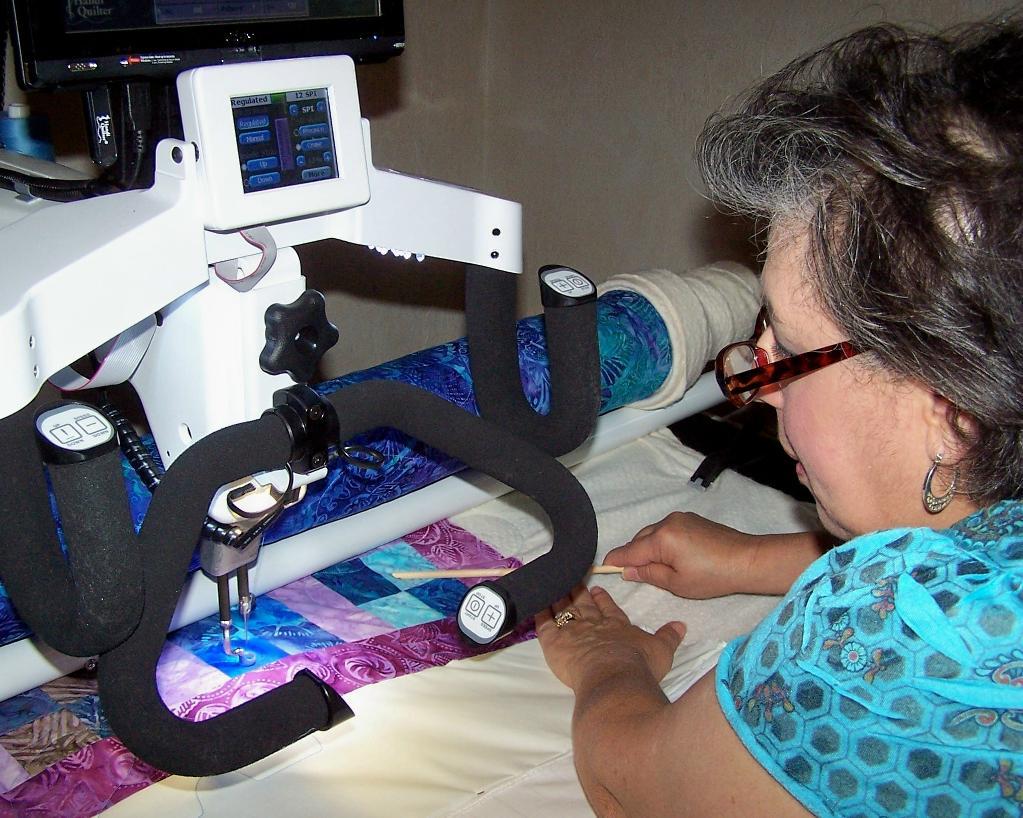 Photo via Craftsy member Sandyland
Though quilt frames originated to help hand quilters do their craft, many machine quilting frames are on the market to help machine quilters get great results.
Longarm quilt frames
Longarm quilters typically work with large, industrial-style quilt frames that hold the fabric and batting layers together. They can view a portion of the quilt while the longarm machine stitches and unroll more of the quilt as they are ready to work. When using a quilt frame, basting is not necessary.
Sandy's (pictured above) first longarm quilting experience helped her finish this wedding quilt as a gift. It was the first quilt to be loaded onto her friend's longarm quilting frame (and quilted with a computerized machine). She says, "We learned as we went along with the help of another friend, and it was great fun!"
Her advice is to make your outside sashings on the quilt top wider than you need and attach leader strips to the top and bottom so that you can quilt nicely as far out as you wish. "Also, smooth the surface ahead of the stitching with a ¼" wooden dowel broken into about a 14″ section, and leave one end jagged to easily sweep up stray thread bits."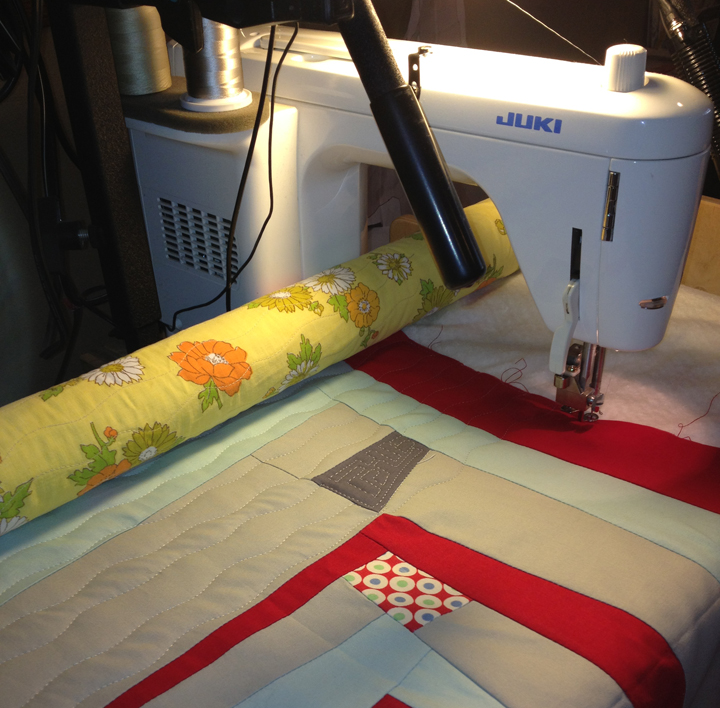 Photo via Reanna Lilly Designs
Sewing machine quilt frames
Did you know you can use a quilt frame with your regular home sewing machine? Quilter Jen Eskridge used a Hinterberg mid-arm frame with her Juki machine (pictured above).
All Grace Quilt Frames can fit a short-arm or mid-arm machine with a 13″ throat space. Quilter Elizabeth hooked up a vintage Singer on her quilt frame. Several models are recommended for longarm users (or those who may upgrade to a longarm someday). The Flynn Multi-Frame is another interesting device that holds all the layers together without basting.
Photo via Quarter Inch Mark
Tips for using a quilt frame
1. Quilt frame sizes can vary from smaller frames to larger ones that can accommodate king-size quilts. If investing in a quilt frame or the materials to make one, look into a model that can be adjusted for different project sizes.
2. When sewing on a quilt frame, remember to work from one side to the other (left or right). The quilt frame will keep the layers taut while you work. Also, stitch toward rather than away from yourself.
3. If you are looking to make a DIY quilt frame, here are some tutorials from My Sweet Petals. 
4. QNN shares tips for loading your quilt onto a frame in this video.
5. For more tips on how to set up your work area, check out this article from Flynn Quilt Frame Company.
Do you have a quilt frame, or do you prefer to baste your quilts?