The Bluprint community would be lost without our fearless instructors! Today, we are excited to shine the spotlight on an important member of our community, Nancy Smith. Besides sewing samples and designing patterns and projects for Bluprint, she also teaches two classes: Strip Your Stash and Fast and Flexible Log Cabins.
Read on for Nancy's genius tips on finishing up unfinished projects, where to donate extra quilts and tops and how to make the most of your fabric pre-cuts!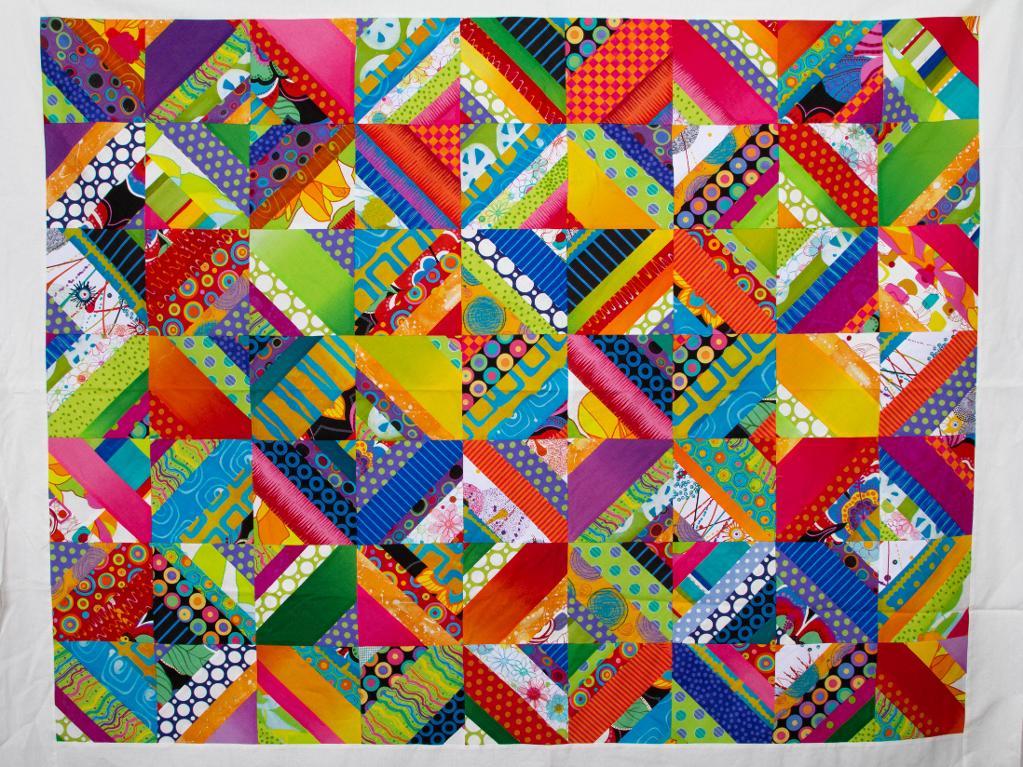 Carnival Squares via Bluprint instructor Nancy Smith
1) Nancy, you've filled so many important roles in the quilting community, from teacher and author to quilt shop owner and fabric designer. Do you have a favorite hat to wear these days? What gets you most excited and why?
Since we closed the store, Great American Quilt Factory, after a good 30-year run, I was at a bit of a loss. I had been so involved in all aspects of quilting including 1) running the store, 2) teaching around the country and also outside of the country, 3) working with our graphic people to design over 100 different fabric lines and 4) writing and publishing several hundred individual quilt patterns under the name of DreamSpinners, and 5) publishing over 70 quilting books under the name of Possibilities!
So these days, I have an incredibly wonderful balance and feel so completely fulfilled and lucky. I have found that I split my week about half time with volunteer service and half time with quilting and quilt-related projects. I work at food banks two to three days a week and quilt and do Zentangles the rest of the week.
Up until the first of the year, I was in charge of a local quilt group. I teach at local quilt stores and am involved with producing quilts for a local shelter as well as donating to several different service auctions. I love what I am doing!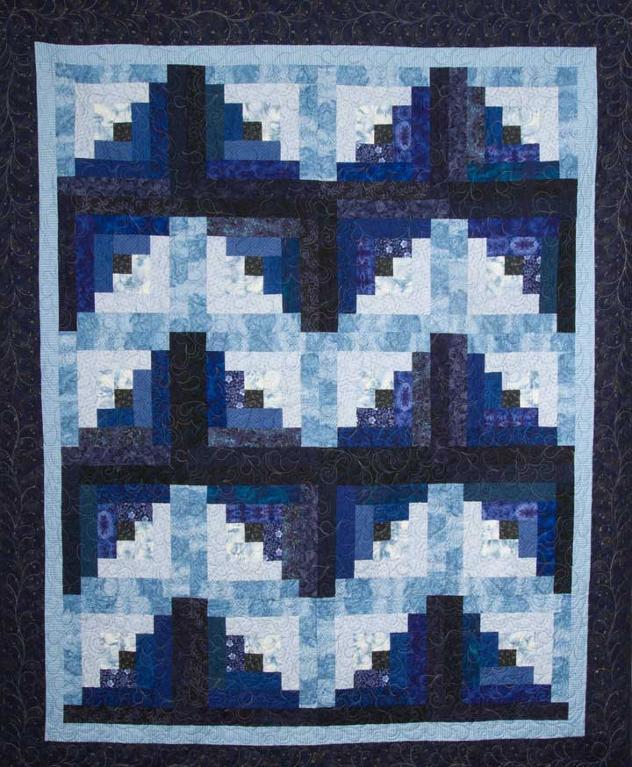 Log Cabin Quilt via Bluprint instructor Nancy Smith
2) Do you have any tips for finishing up UFOs (unfinished objects)?
I have lots of UFOs and often times I feel that I have learned what I need to know from doing the project that far. Sometimes I have lost interest and sometimes I just don't like it anymore. Some of the things that I have done:
Donate them to organizations that take unfinished projects and let them finish them. We have one in Denver called Hands All Around. They then pass them on.
I sometimes cut them up and make smaller things such as pillows, book covers, place mats and even end up making small jewelry pieces.
I am just starting to work on making some belts with smaller quilted pieces. I am not afraid to cut up tops that I no longer like as I can often add fabrics that change them and then away I go!
I also do a lot of mixed media things, jewelry, both quilted and stitchery, and Zentangle jewelry. You can cut up tops and make these.
Another great project is to make pillows for kids using their artwork. (Use in-progress quilt tops for the pillow backs and borders.) I have done this for school classes and done a lot of it for my grandchildren.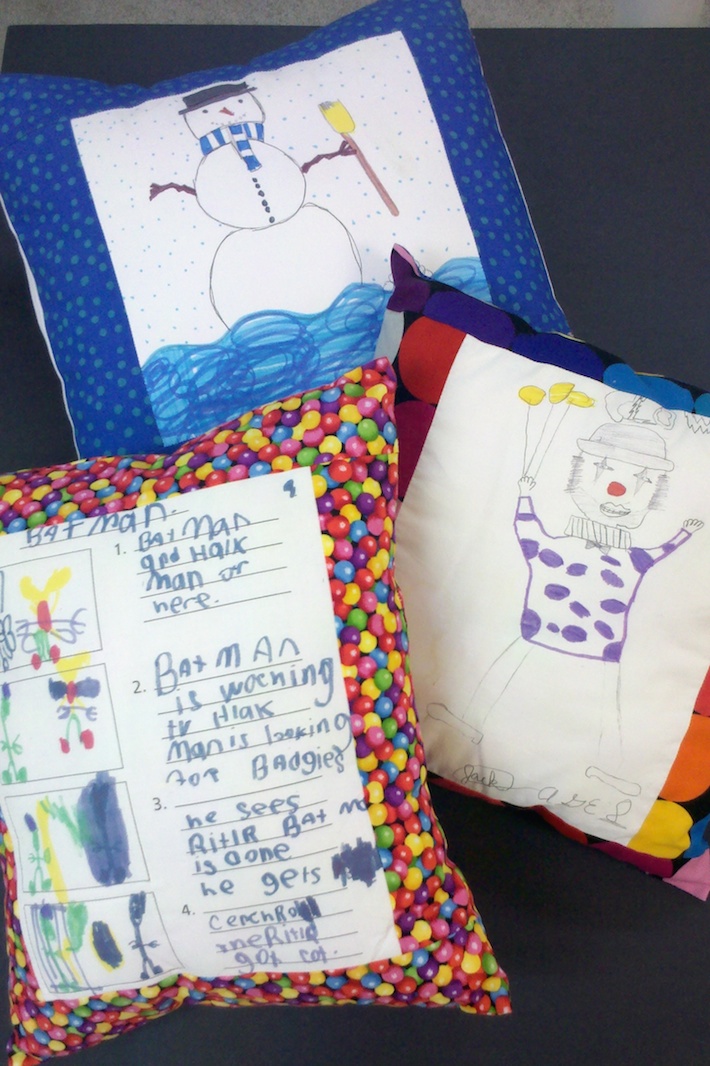 Photo via Nancy Smith
3) I know that many quilters end up with lots of finished projects over the years — more than they can use. What are some charities you can suggest that take donations of quilts?
We give a lot to Gateway Battered Women's Services. Over the last 25 years, our group has given about 200 quilts a year to them. Very impressive. We also have another organization called the Delores Project that houses homeless women and we give to them. Many other charities will take them for their fundraising auctions. We have "Cocktails for a Cause" and they will action off a quilt I donate and then give the money to the charity. It works well. You could also do this for a school fundraiser.
Watch a video of Nancy's stash-busting tips here!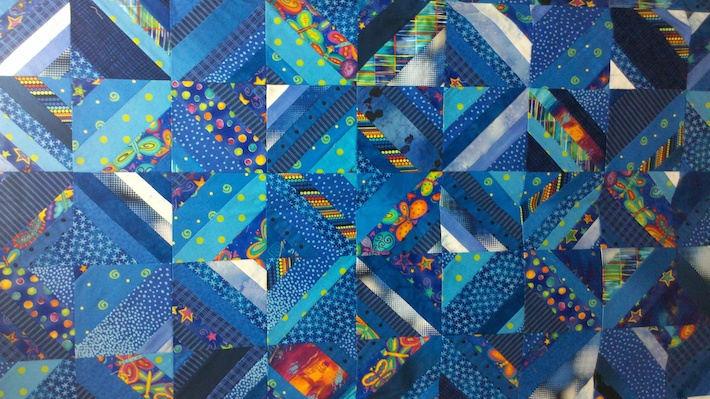 Photo via Nancy Smith; "Put your blues together, and just go for it!"
4) After watching your video about cutting fabric strips, I'm suddenly inspired to use up my stash! What are some of your go-to quilts or patterns for using fat quarters?
I don't have any specific patterns for using up the scraps. However, I often find some of the basic patterns are the best to work with. I LOVE stripping scrap fabric and I love being able to work with the different color ways. So I do a lot with just plain old squares. I find if I try too hard to make intricate patterns it just looks too busy. A lot of the time I can just add some white or black alternative blocks and that calms everything down. It is so much fun to just pull all of your "blues" for example together and go for it. Big squares, smaller squares or cut then in half or on the diagonal or go to a favorite pattern like a log cabin with wider strips.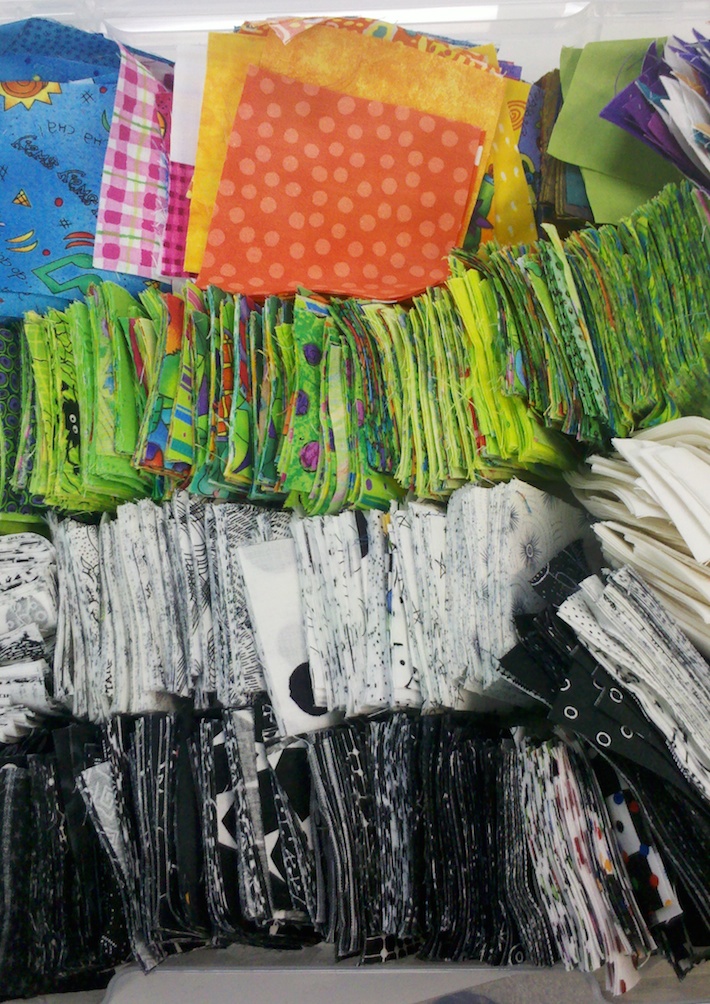 Photo via Nancy Smith; Store pre-cut fabric squares in boxes, sorted by color
5) Do you have any advice for keeping your sewing space organized and productive?
I am a fairly organized person, and I want to be able to find things when I want them. Since closing the store I have a little more fabric than I should but I am working on using a lot of it up!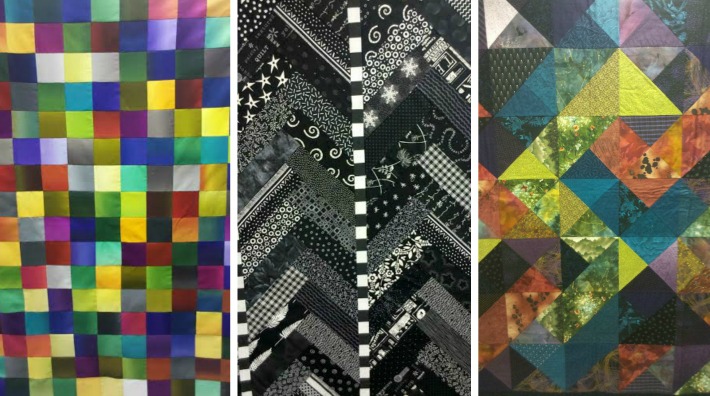 Photos via Nancy Smith. From L to R: Plain squares of fun colors, black and white combination, large triangles of scrap fabric.