The giving of handmade gifts can be a whole lot of fun. What do you make for the fellow quilting and sewing enthusiasts in your life? Handmade gifts, of course! Sure quilters and sewists can make their own projects, but they too appreciate having something handmade especially for them. Oftentimes they sew for others rather than themselves, so these types of presents are special treasures.

[box type="shadow"]

Looking for gifts you don't have to stitch? We've got you covered! Check out our gift guide for quilters here!

Show me now!


[/box]
Here are 7 handmade projects and patterns that will make perfect gifts for the quilters and sewists that you know:
Photo via Ellison Lane
Quilted coasters
Use this free pattern to create coasters that are both beautiful and useful. They are the perfect way to add a pop of color to your home. Coasters make great hostess gifts and are fun to customize for each individual or each occasion. This pattern gives you directions to create simple quilted coasters and includes templates for appliquéd mustaches, fall leaves and Christmas trees for embellishment.
Get the FREE Quilted Coasters pattern.
Photo via MichellePattern
Idea pouch
Sew a sweet case to hold and organize electronics or a Moleskin. There are two pouches in this pattern, a large one for your gadget or notebook and a second pleated pouch that has a pen slip pocket. The pleats in the front allow the idea pouch to open up a bit wider so it is easy to access and able to hold a lot!
Photo via Schlosser Designs
Sewing machine apron
Dress up a sewing machine with this charming apron. It features several pockets to hold all your sewing tools along with a detachable thread bin. It rolls up easily, making it possible to take all of your favorite tools on the go. Make one for yourself and for a sewing friend!
Get the Sewing Machine Apron pattern.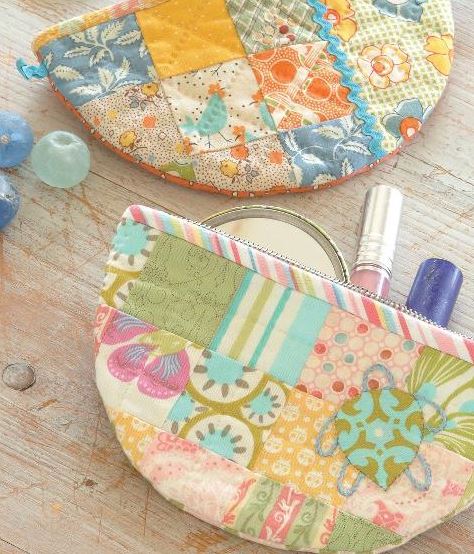 Photo via Amy Barickman
Patchwork accessory case
These small accessory cases are both adorable and practical. The uses are endless! Use traditional patchwork, appliqué and embroidery to make a few out of your scraps. Easy zipper access and the an interior pocket divider provide the perfect finishing touches on this pouch measuring approximately 4" by 7".
Get the Accessory Case pattern.
Photo via Seraphym
Quilted ironing board cover
Spice up your a craft or laundry area with a quilted cover for your ironing board. This cover is a mixture of herringbone and scrappy squares. Perhaps this will make ironing fun!
Get the Quilted Ironing Board Cover pattern.
Photo via the Patchsmith
Quilted mug rug
Use the alphabet mug rug pattern to create a personalized gift for a sewing friend. Simple quick-fuse appliqué along with a machine blanket stitch allow for a quick afternoon project.  The pattern includes a full set of uppercase and lowercase letters. Think outside the box! Make a charming JOY mini for Christmas, LOVE for Valentine's Day, or USA for Independence day.
Get the Appliqué and Mug Rug Alphabet pattern.
Photo via Bluprint instructor Tara Rebman
Quilted patchwork bag
Learn the theory behind the quilt-as-you-go technique in Tara Rebman's Quilt-As-You-Go Patchwork Bags class. Work your way through a scrappy potholder before creating the "Tinker" patchwork bag from blocks you create on the fly. Tara shows you how to use scraps from your stash to build out from a single square using a unique free-handed approach. Add a simple pocket or follow Tara's instruction for a painless hidden zipper pocket. Finish off your quilted bag with a magnetic closure and eye-catching bias binding.
What is your favorite pattern to sew for quilters? Or as a quilter, what would you like to receive? Please share!