The largest modern quilting event in the world, QuiltCon is now an annual quilt show, with the largest display of modern quilts in the world. QuiltCon 2015 will take place in Austin, Texas from February 19-22. QuiltCon West will take place in Pasadena, California, from February 18-21, 2016. QuiltCon East will take place in Savannah, Georgia, from February 23-26th, 2017.

What to expect at the show
QuiltCon will feature a beautiful display of over 300 judged and non-judged quilts, several special exhibits and four days of lectures and modern classes taught by some of the leading modern designers and quilt makers in the industry. It will also include a large vendor hall complete with the latest modern fabrics and supplies, plus demos throughout the long weekend.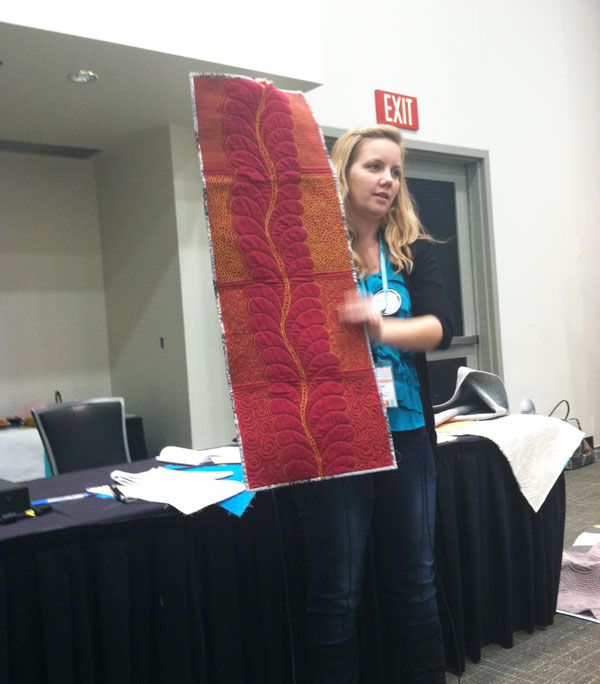 Angela Walters, Bluprint instructor and QuiltCon keynote speaker in 2017
Tips for first-time attendees
QuiltCon is a quilt show unlike any other, full of technologically-savvy attendees that are most likely meeting many of their online friends for the first time. Don't be afraid to go up and introduce yourself in person to people you've met through social media, and be open when people do the same to you.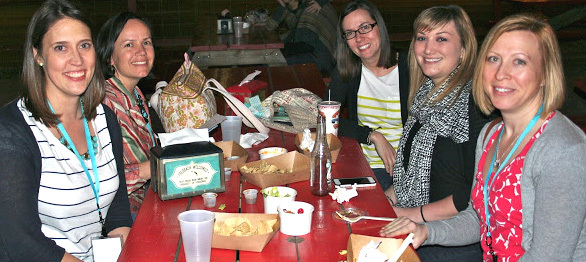 Online friends Katie Blakesley, Christa Watson, Faith Jones, Holly DeGroot and Lee Heinrich meet up for dinner. Spontaneous meet-ups happen all the time at QuiltCon.

Take lots of pictures of to share with the folks who couldn't be there and be sure to give proper credit to any show quilt. (Ask the vendor's permission for photography in their booths.) For easy documentation, take a picture of the desired quilt, and then a separate picture of the informational card that goes along with each quilt.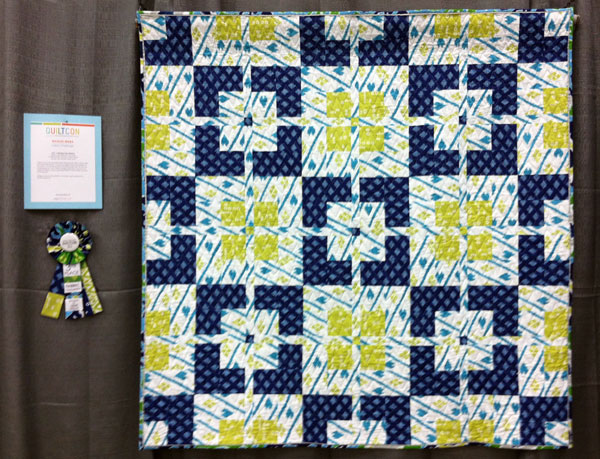 Snap a picture of your favorite quilts, along with their informational display cards.
Be sure to take breaks throughout the event. Although it is tempting to run around everywhere and see everything, you will want to schedule some downtime for meals and visiting with friends. Even if you come alone or don't know anyone from the start, chances are you will make fast friends by the end of the event.
Things to bring
A smile on your face
Supplies for workshops you are attending
Pen and paper (or smartphone) for note-taking
Button-style pins to trade with your custom social media logo
Business cards to exchange
A water bottle and a large bag for carrying your loot
An extra battery for your phone, and/or your charging cable
Comfy shoes for daytime walking and jazzy outfits for an evening out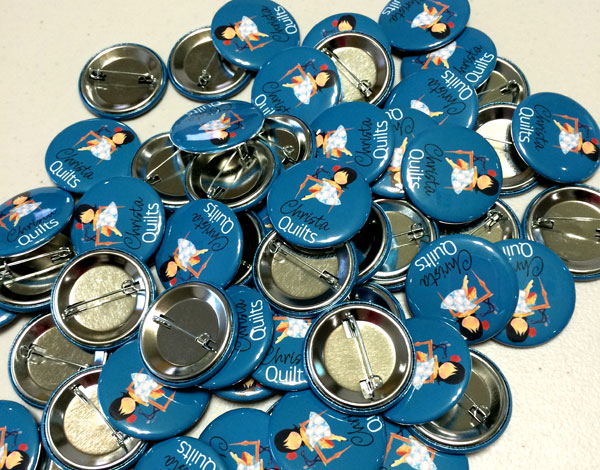 Many showgoers like to bring custom pins, buttons or stickers to swap with friends.
Oh, the quilts you will see
Here is just a small sampling of the beautiful quilts that will be on display at QuiltCon in 2015. These quilts were part of the Modern Quilt Guild Exhibit shown at the International Quilt Show in Houston, Texas this year.

If you can't attend in person…
Many enthusiastic quilters won't be able to make it to QuiltCon this year. Fortunately, the Modern Quilt Guild has teamed up with the editors of Modern Patchwork to publish a special edition of QuiltCon Magazine, available on newsstands March 3. It will feature exclusive patterns for a dozen quilts by MQG members, stunning photographs of special exhibit and juried quilts, interviews with four of Austin's own fabric designers, a taste of tattoo fever from the show floor, and so much more!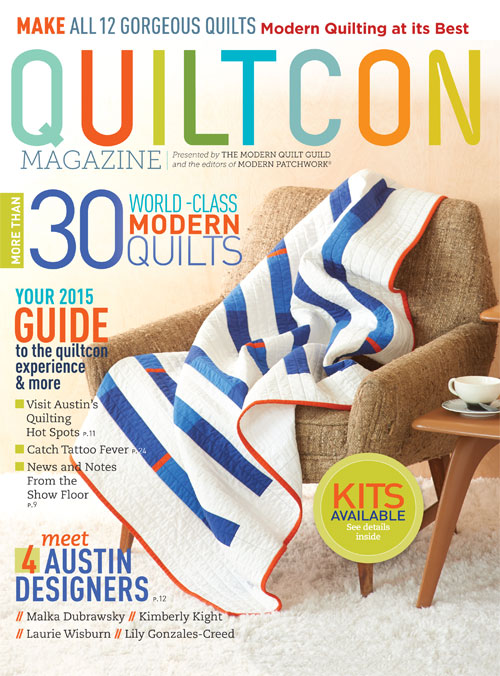 You can also follow the show virtually via social media, especially on Instagram. Check out the hashtags #quiltcon #helloquiltcon and #quiltcon2015 to keep up with the fun.
To get a feel for what QuiltCon is actually like, click here for snippets and talks from the QuiltCon Lecture Series from 2013, produced by Bluprint.
Are you planning on attending QuiltCon or any other quilt show in the near future? If so, which show(s)?
Quilting Kits You'll Love!
Your next project, made easy: Get a designer pattern & perfectly paired fabric.Shop Kits Now>>