The jet lag is slowly slipping away but the memories are still vividly fresh from my trip to Austin, Texas for QuiltCon 2015. The sights, the sounds, the laughter, the inspiration… I will be buzzing for a while yet from the experience!
It's the lessons I learned about modern quilting that will be impacting my creativity and my work forever.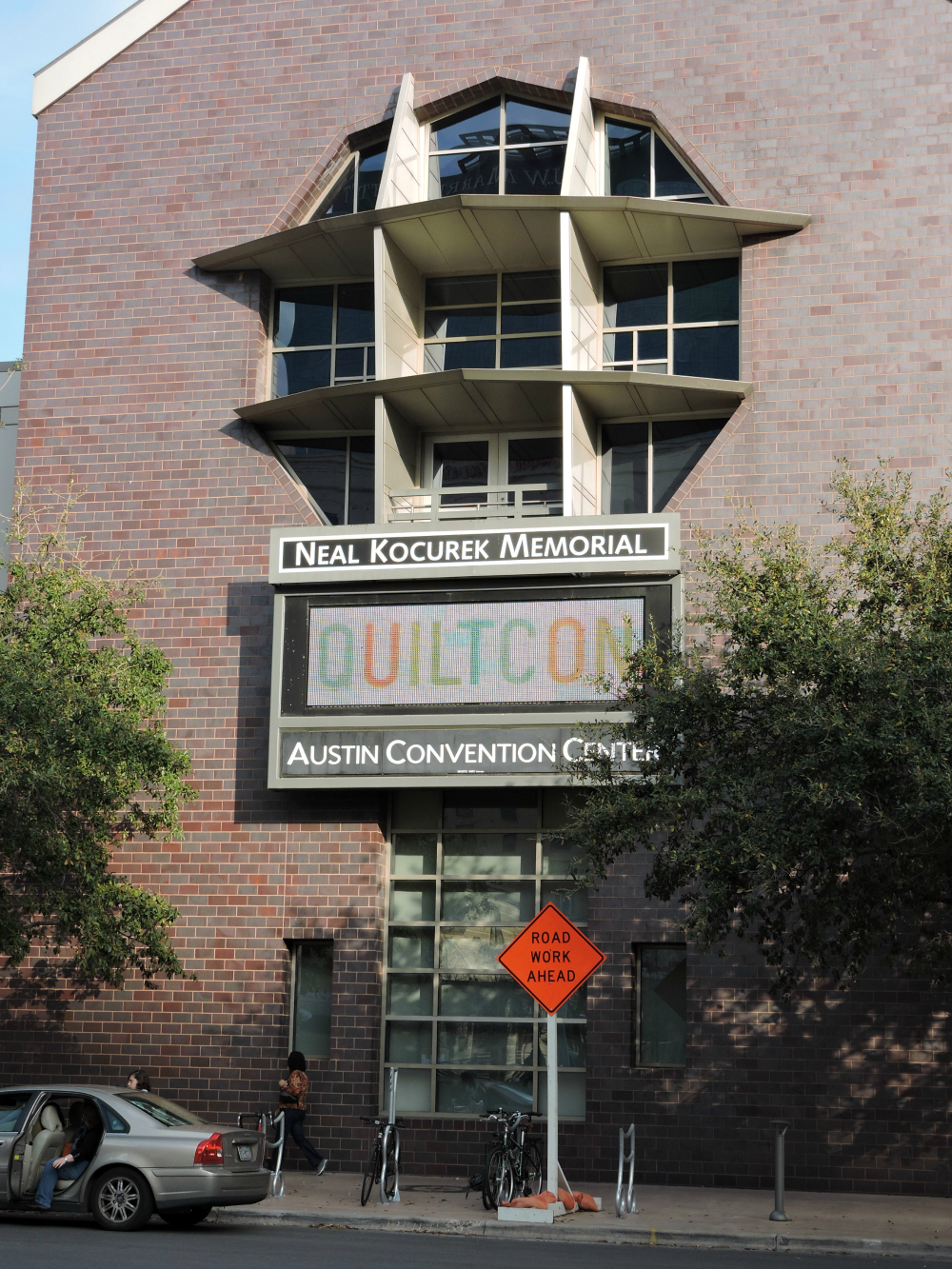 Photos via Blossom Heart Quilts
#1: Get involved in the community.
In one sense, quilting is a solitary pursuit. You can lock yourself in your sewing room and just create all day long. But it's when you step outside that door that modern quilting comes alive. For almost three years, my sole source of quilting community has been online — through blogs, Instagram, Facebook groups and email conversations. Being able to connect in person, to meet long-time friends and to make new ones, was the biggest highlight of QuiltCon.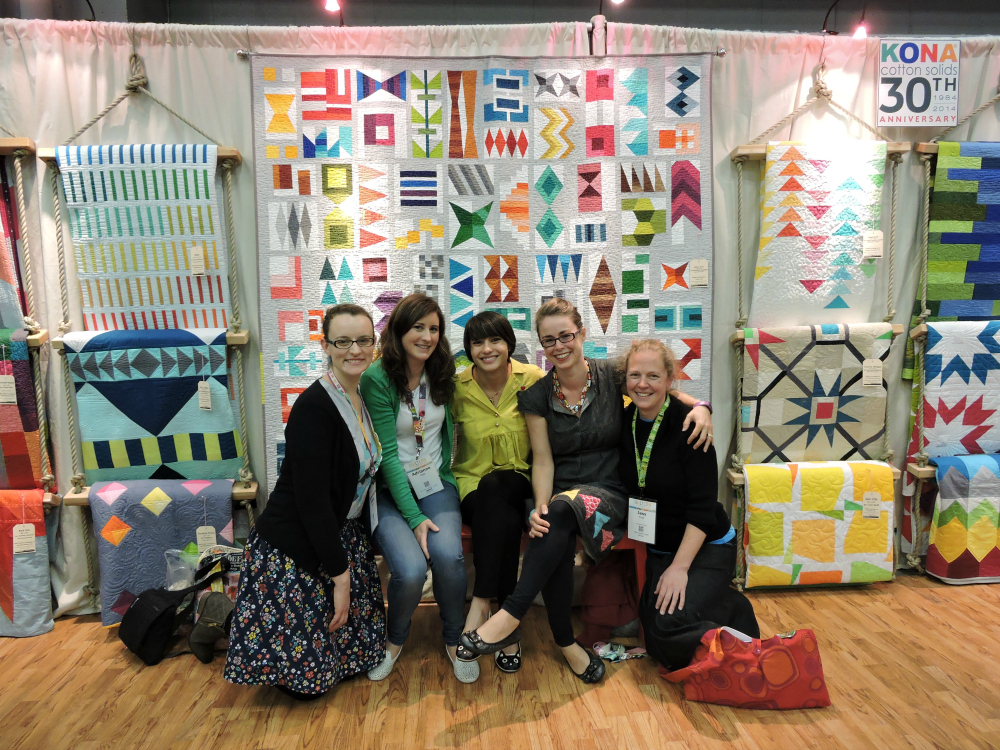 Pinprov Bee group at the Robert Kaufman display: myself, Adrianne, Elisabeth, Gemma, Jess
Quilters understand. They get that need to create, to play with fabric, to buy more fabric. Get out there, make friends, comment and share on social media, make connections and network to collaborate. Your quilting will be richer for it!
#2: Keep learning.
I signed up for a long list of lectures and three workshops because I was so excited to be able to learn in person. I have watched the QuiltCon 2013 lectures several times over, so I knew they were going to be good! And other than having to skip a couple of lectures to make sure I ate food, I have no regrets about the load. I have come away incredibly inspired and motivated to experiment, to create just for the sake of creating, to design just for the sake of designing.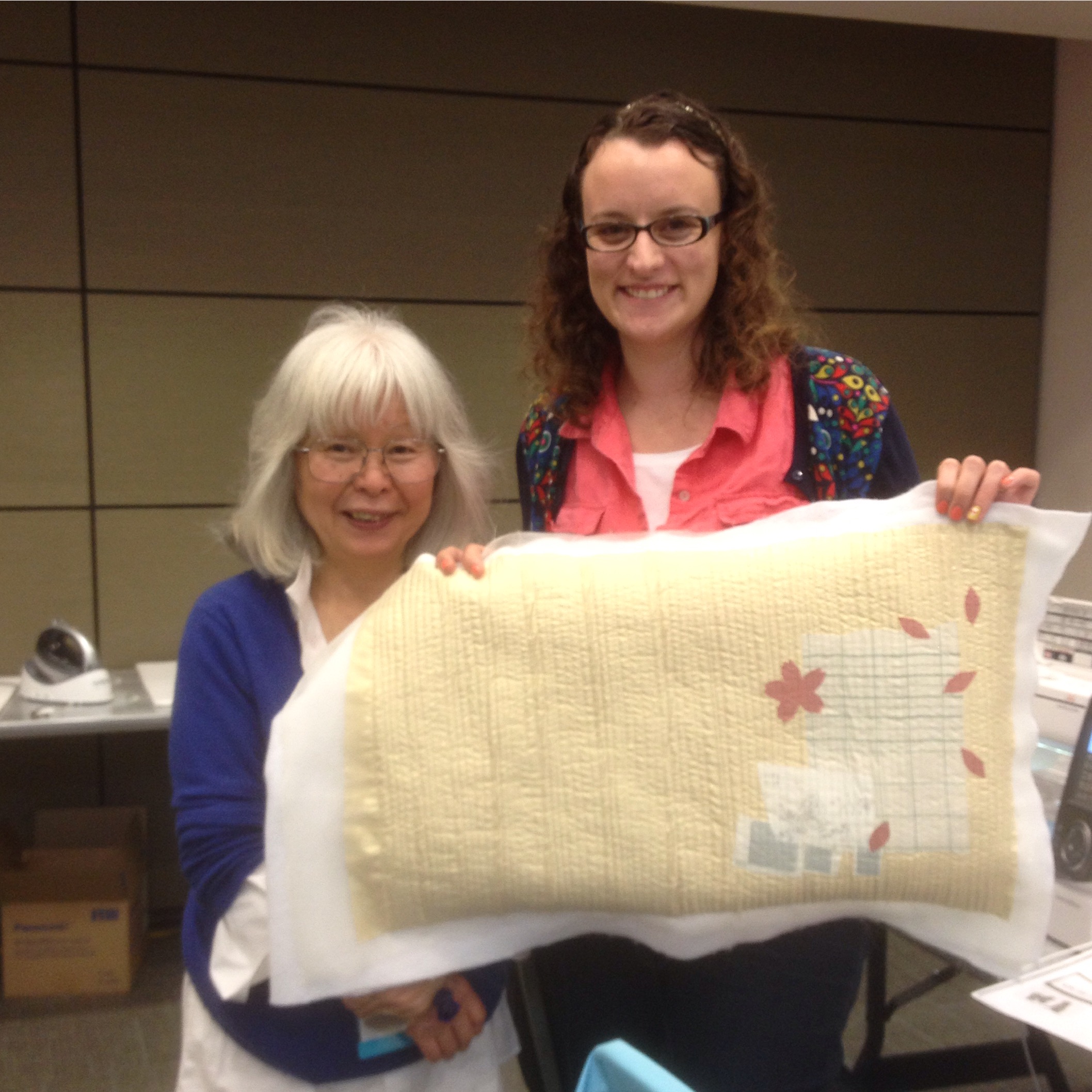 Yoshiko Jinzenji's workshop
Read, watch, listen and never stop — even the "experts" take lessons! Many QuiltCon instructors and lecturers were taking classes themselves: Casey York was a classmate of mine in Yoshiko Jinzenji's class and Denyse Schmidt was spotted in Anna Marie Horner's Mod Corsage workshop.
For this trip, I stayed safe, choosing classes I knew I would want to implement in my own quilting. But next time, I am determined to step outside that comfort zone and take classes just to learn. I may never screen print my own fabrics, but just to learn how to do so and try something new is exciting!
#3: Experiment!
Try new styles, new skills, you never know what you may find… Or what may find you! Don't just stop at learning, apply that newfound knowledge to your work and try it on for size. Make it your own and see where it takes you!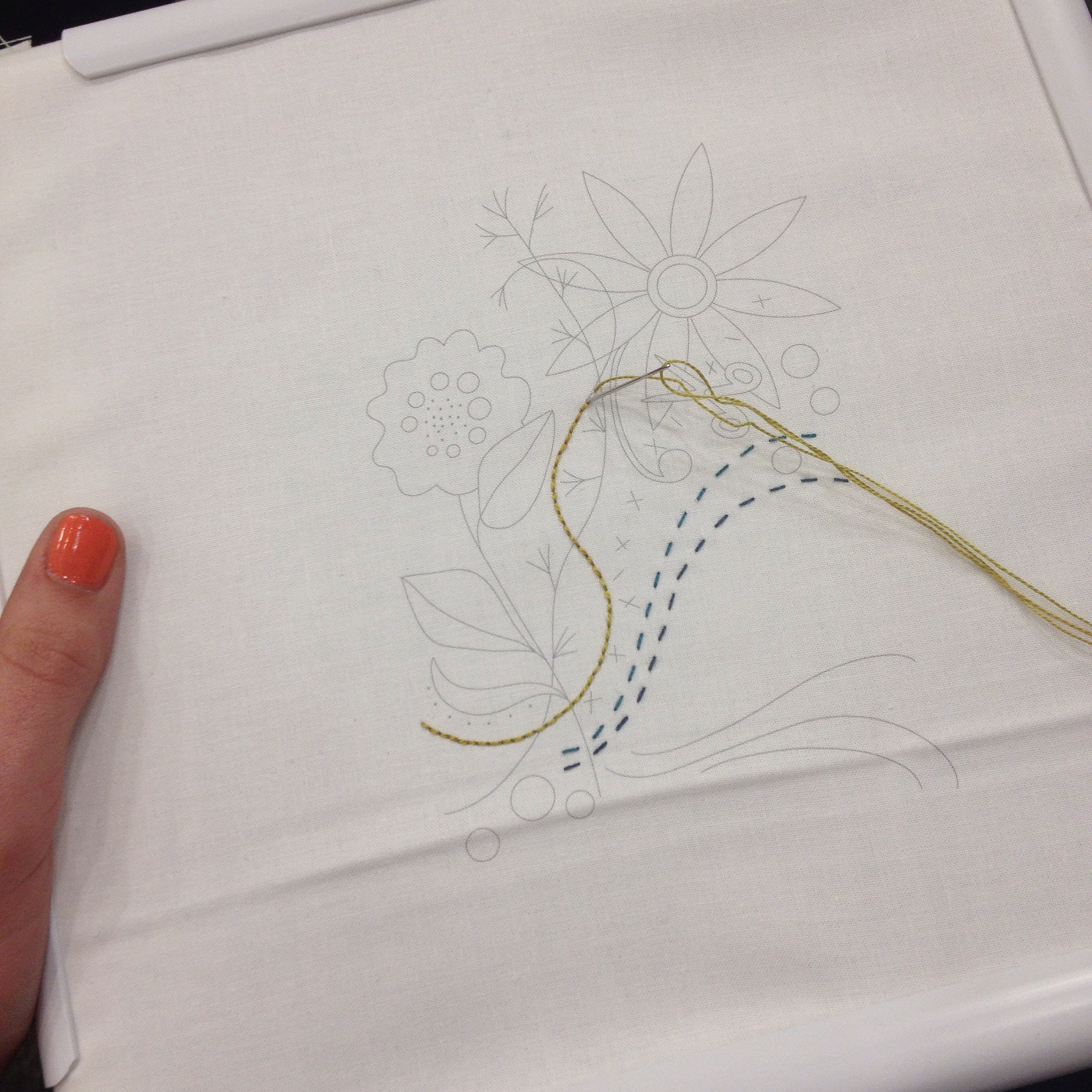 Alison Glass embroidery class sampler
#4: Share your work.
Modern quilting is essentially about breaking from the traditional rules and style and forging a new path. You cannot do this without building upon what you've already learned from others. To continue the cycle, it's important to share your own ideas and techniques so that others can take those and run with them in their own style!
Share your work, share your wisdom, share your ideas — work together and collaborate to create something new and unique. You don't need to become a designer or teacher, it can be as simple as sharing your work on Instagram or a blog! Don't be afraid to share your voice.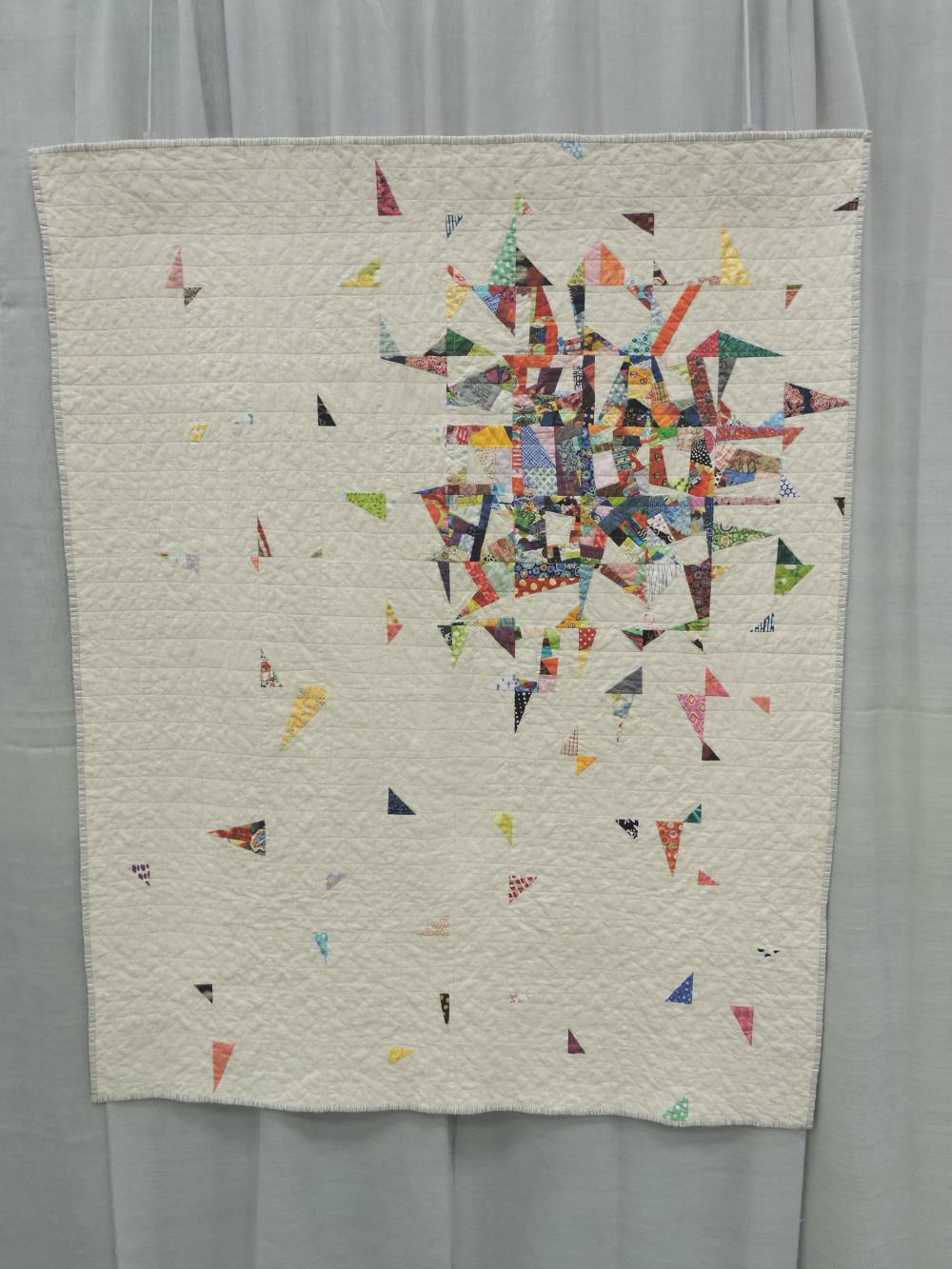 'Entropy' by Elisa Albury – Improvisation category
#5: Develop your own unique voice.
Use all these lessons to find your own style, whatever that may look like. This piece of wisdom was repeated several times over the conference, in many lectures by many people. Whether it was a tip for helping to get published or promoted as the reason to find inspiration from art history, it is clear that modern quilting is about finding your own unique voice and style of quilting. This may be that you love using charm packs to create patchwork quilts, or maybe your quilts are scrappy improv, or perhaps your solids collection is measured in bolts. Find what you love and pursue that.
QuiltCon is a four-day modern quilting show and conference that has previously been hosted every second year, but is now changing due to the overwhelming response worldwide: QuiltCon East will be in Pasadena, California in February, 2016 and QuiltCon West is in Savannah, Georgie in February, 2017. No matter your age, skill level or interests, QuiltCon has something for you!
Quilting Kits You'll Love!
Your next project, made easy: Get a designer pattern & perfectly paired fabric.Shop Kits Now>>