Quilt museums help preserve the heritage of quilts and the stories of quilt makers, by offering a place for admirers to see quilts, textiles, garments and tapestries in a gallery setting. But many quilt museums in the U.S. take it a step further by offering education and enrichment opportunities which can help carry on the legacy of quilting in America and around the world. Here is a rundown of some of the top quilt museums in the U.S., by region.
Note: Many quilt museums across the U.S. have been forced to adjust their hours or close their doors in a changing economy, so make sure you call ahead to confirm before planning a visit.
Quilt Museums in the Midwest
1. Located in Lincoln, NE, the International Quilt Study Center & Museum, housed at the campus of the University of Nebraska-Lincoln, is home to the world's largest public collection of quilts. Founded in 1997 with a single donation of 950 quilts, the museum now features more than 3,200 quilts from 24 countries. Some of the permanent collections at this quilt museum include more than 90 Amish crib quilts, a rare collection of doll quilts, and exhibits featuring French and African-American quilts. The university offers a Master's Degree in Textile History, and the quilt museum's collections can be browsed at the museum's online catalog.
2. The Quilter's Hall of Fame and Marie Webster House in Marion, IN is a historic home turned non-profit organization, dedicated to recognizing outstanding quilters. Although tours are closed for the winter, the museum is open throughout the rest of the year with exhibits on quilts and their makers. The museum's namesake, Marie Webster wrote the first book of quilt history in 1915, called Quilts: Their Story and How to Make Them. Her home is listed on the National Register of Historic Places.
3. Although the museum just opened its newly renovated barn location in 2011, the Wisconsin Museum of Quilts and Fiber Arts in Cedarburg, WI began in 1988, with a group of local quilters who were dedicated to quilt history and preservation. Today, the museum houses over 200 vintage sewing machines as well as the Joe and Mary Koval Collection of 27 vintage quilts and a large collection of 18th and 19th century fabrics, valued at a half-million dollars.
4. The Kalona Quilt and Textile Museum in Kalona, IA is home to Midwest-made quilts and new exhibits quarterly, as well as an interesting spool cabinet collection.
5. The Great Lakes Quilt Center is located on the campus of Michigan State University Museum in East Lansing, MI.
Quilt Museums in the South

1. The National Quilt Museum in Paducah, KY is the most spacious of the U.S.-based quilt museums at 27,000 square-feet. While the quilt museum's permanent collection has 320 works, rotating exhibits visit 10 to 12 times per year. With a focus on youth education, the National Quilt Museum hosts quilt camps and the annual School Block Challenge sponsored by Moda Fabrics. Experienced quilters also flock to the center to take classes from master quilters, like Ellen Anne Eddy (pictured). Paducah was named the ?National? quilt museum in 2008 by the U.S. Congress and it currently brings in around 40,000 visitors each year.

2. One of the few quilt museums in the south, the Levy County Quilt Museum in Chiefland, FL also sells handmade items.
Quilt Museums in the East & New England
1. In 2012, the Lancaster Quilt and Textile Museum (above) in Lancaster, PA was forced to close the doors to its quilt museum, home to 3,700 pieces. But thanks to a partnership with the city's cultural history museum, visitors can now view the quilts along with paintings, historic photographs, furniture and more at the Lancaster County Historical Society. Lancaster is also home to an AQS quilt show and is the birthplace of America's 15th president, James Buchanan. Also in the Keystone State is the Packwood House Museum in Lewisburg, PA, which features traveling quilt exhibits and other items in its 18-room museum with well-kept gardens.
2. The American Folk Art Museum in New York, NY features quilts and coverlets as part of the museum's permanent collection. The Brooklyn Museum of Art in Brooklyn, NY will host the "Workt by Hand: Hidden Labor and Historical Quilts" exhibition, on display through September 15, 2013.
3. The Abby Aldrich Folk Art Museum in Williamsburg, VA hosts quilt displays, such as the ?Quilts in the Baltimore Manner? exhibition at the which runs through May 11, 2014.
4. The Daughters of the American Revolution (DAR) Museum in Washington, DC is host to traveling exhibits as well as a permanent collection of quilts as well as ceramics, furniture and period rooms, most of which depict life before 1840. The nearby National Museum of American History, also features quilts, which can be previewed in an online video tour.
5. The Newark Museum in Newark, NJ hosts domestic and international quilts in its Decorative Arts collection.
6. The New England Quilt Museum in Lowell, MA has collected and preserved more than 400 quilts and quilt tops during its first 25 years in existence, and is a host to many lectures and workshops of interest to contemporary quilters.
7. The Shelburne Museum in Shelburne, VT features a traveling exhibit each year, which showcases around 30 quilts.
Quilt Museums in the West & Rocky Mountains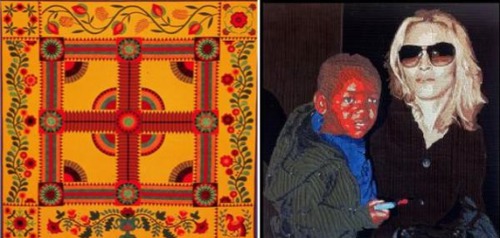 1. The Rocky Mountain Quilt Museum in Golden, CO is host to more than 350 quilts in its permanent collection, all of which are listed in an online archive. Traveling exhibits to the quilt museum in 2013 include machine quilts by Sue Nickels and Pat Holly (above left) as well as work from Luke Haynes (above, right) and the Manhattan Quilter's Guild.
2. The San Jose Museum of Quilts and Textiles in San Jose, CA showcases a permanent collection of 850 quilts, from historical pieces to contemporary art quilts and even garments. Tapestry designer and San Francisco native Mark Adams has work on display, as well as the P&B Textiles collection of 2 historical and 24 contemporary quilts. Many of the quilts on display are from Bay Area quilters. The museum opened it doors in 1977.
3. The Museum of International Folk Art in Santa Fe, NM features some quilts as well as other textiles and costumes in its impressive collection of more than 135,000 artifacts.
4. The La Conner Quilt Museum in La Conner, WA hosts quilts and textiles from contemporary quilts to pieces dating back to 1820, as well as a number of traveling exhibits.
5. In addition to its museum of permanent and traveling quilt exhibitions, the Latimer Quilt & Textile Center in Tillamook, OR offers demonstrations in weaving, spinning and textile arts.