Many hand and machine quilters like to mark their quilts before they begin quilting. Some like to freeform quilt and make up their designs as they sew, but others like the security of having marked lines to follow. These lines can be from stencils, templates, or from a person's imagination. Others like to mark in order to make their straight line quilting even and uniform. There are so many different quilt marking tools to choose from, so let's look at a few popular choices today.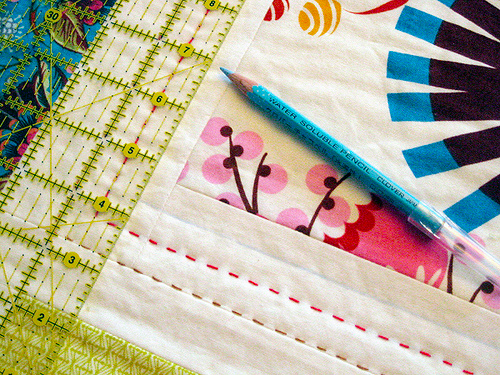 Photo via Stitched in Color
Fabric mechanical pencils. These pencils have an eraser on the back to erase the excess lines.
Washout pencils and pens. They are available in different colors and wash out of most fabrics.
Air soluble pens and markers. Depending on the humidity of your location, the quilt marking disappears after 24 hours.
Chalk. It marks clearly and can be easily wiped away. Be careful that you don't brush it away unintentionally! Chalk comes in a variety of colors.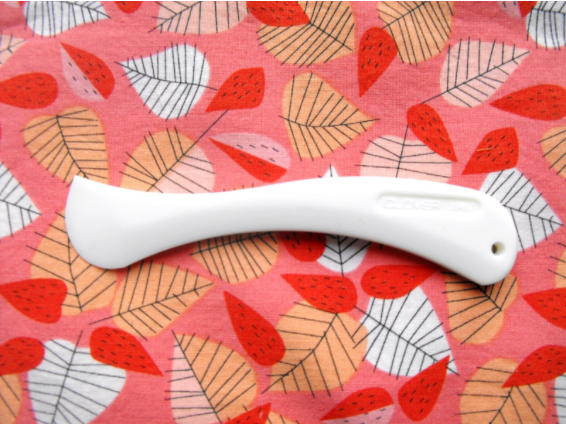 Hera marker. The sharp edge of this small tool allows you to temporary crease the fabric, creating lines to follow. This is a very effective way to prepare a project for straight line quilting.
Quilt pounce. This is the fastest way to transfer template design. It is a chalk filled tool that is pounced and swiped across a stencil. The special powder is unlike regular chalk. It stays on the fabric until it is removed according to the manufacturer's instructions.
Painter's tape. This is another popular way to mark for straight line quilting, especially with larger quilts. Long strips of tape are placed strategically across the quilt, and those straight edges are followed during quilting.

Photo via Something Sewn
Are you worried that the markings won't disappear from your fabrics? This is a valid concern! Here are a couple tips to help you out:
Read and follow all of the directions on the package when using any marking product. If you misuse the tool or expose it to certain elements (like heat or water) when you shouldn't, the markings will not disappear!
Always test out your marking tool on scraps of the fabric from quilt top that you are working on first. Do this before you ever mark your project. Make sure that the product disappears completely from these fabrics before you try it on your precious quilt!
Don't press too hard when writing on your fabric. If you use too much force, the fabrics will be distorted.
Never use a really sharp pencil. A slightly blunt or dull tip works best and will not harm your fabric.
And be sure to check out Craftsy classes that include tips for marking your quilts: Hand Quilting with Andi Perejda and Beyond Basic Machine Quilting with Ann Peterson. What is your favorite way to mark a quilt? What tools work best for you? Please share your quilt marking tips in the comments!
Come back to the Craftsy blog tomorrow for our Free Pattern Friday roundup of fantastic free quilting patterns!