Unless you shop for extra-wide 90" or 108" fabric for quilt backs, chances are that you are familiar with piecing together multiple pieces of fabric for your backs when quilting. While you are at it, perhaps you'd like to use that step to add a design element to the back of your quilt.
Patchwork or pieced quilt backs are ideal for showcasing quilt blocks or fabric scraps that didn't fit onto the quilt top. It's also perfectly acceptable to make new quilt blocks specifically for the back of a quilt or to use large cuts of solid or printed fabric. You can create designs featuring stripes, squares, stars or any other patchwork you'd like.
If you're looking to get some ideas for how to design your next quilt back, sign up for the FREE Bluprint class Creative Quilts Backs with Elizabeth Hartman. You'll learn how to make the back of your quilt just as interesting as the front, how to arrange blocks on a design wall, and how to effectively use large-scale prints on your quilt backs.
If you are new to creative quilt backs, these design ideas will help inspire you when it comes time to back your next quilting project.
Some of the designs are sparser and others are very detailed, making them more like double-sided, reversible quilts!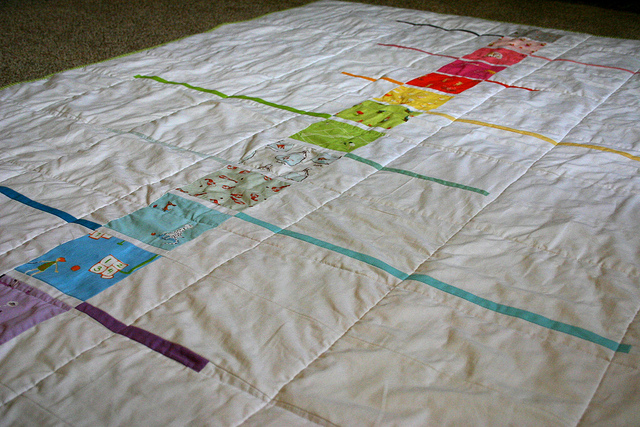 Cara of the blog Me? A Mom? says this quilt back turned out so great, she thinks she likes it more than the front! The center stripe features charm squares and skinny strips of solid fabric running horizontally along the quilt center.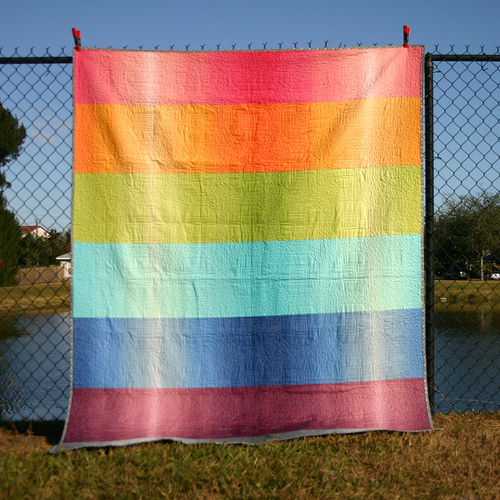 The back of Elizabeth Dackson's Color My World quilt features solid strips of equal width. To see more interesting quilt-back design ideas, visit Don't Call Me Betsy, where Elizabeth shares her favorites from around the Web. There's also a free pattern for baby, crib, and lap-size quilt backs to go along with her Sliced Coins quilt-along. Her favorite designs feature lots of negative space, using large panels of solid fabric and patchwork squares or strips of print fabric.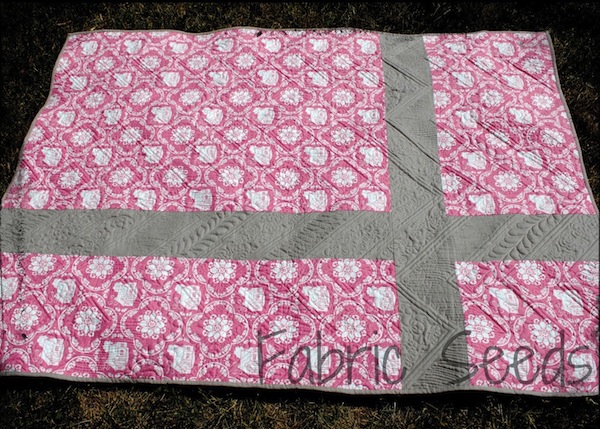 Sarah of Fabric Seeds shares her Chevron Accent quilt, which features a lot of negative space on the quilt back. She added a vertical and horizontal stripe across the quilt back to make a cross design in complementary colors to the front. Adding stripes to a quilt back not only adds an interesting design element, but it can help you extend your yardage if you don't have enough of your main fabric for the backing.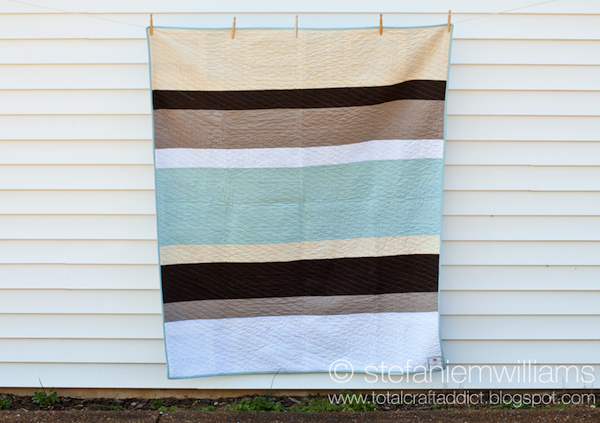 Quilter Stefanie Williams says she is a big fan of pieced quilt backs. She created this striped-solids design to complement her Cascade quilt, which features the same fabrics on the quilt front. The soothing color palette and modern design makes this quilt one of her husband's favorites.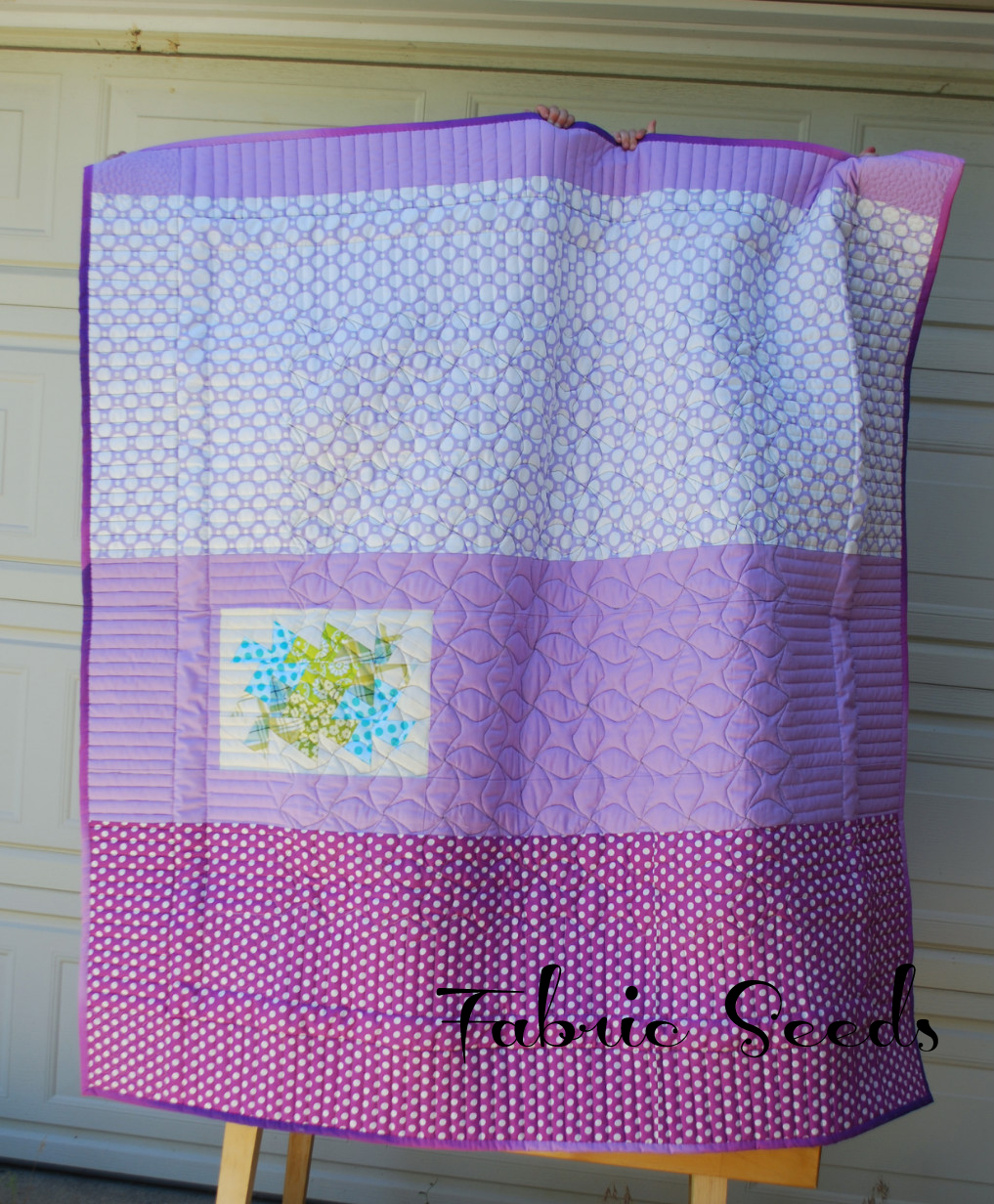 Another idea for a pieced-quilt back is to use a block from the front of the quilt and bring it to the back. In her Lil Twister quilt, Sarah from Fabric Seeds frames a mini twister block off-center between four stripes of purple fabric. The quilt back incorporates negative space and is a minimalistic variation of the design on the front.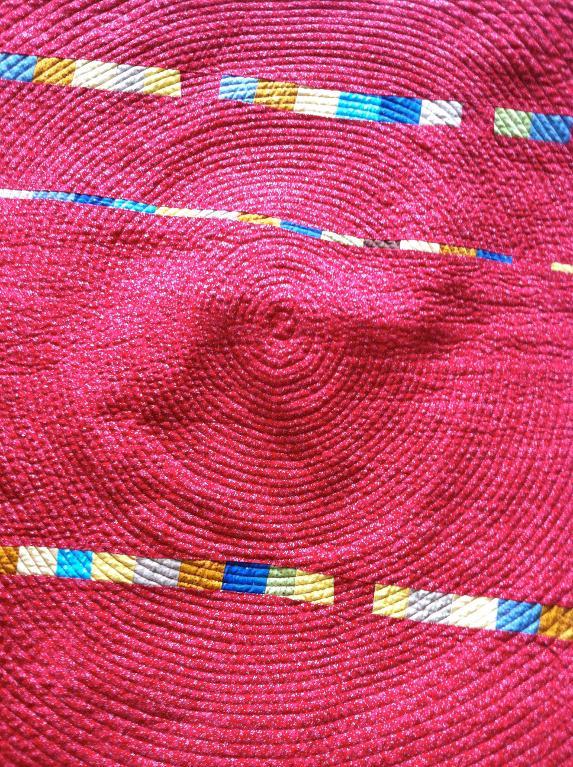 Bluprint member carmenghia designed this stunning quilt back with minimal patchwork and lots of negative space.
Hopefully that gave you some great ideas for quilt back designs. Be sure to come back to the Bluprint blog tomorrow for more quilting fun. We'll be taking a look at some picnic quilts that are perfect for summer!
How about you? Do you enjoy designing creative quilt backs, or do you prefer to use one piece of fabric?