If you love quilting but lack the time to devote to complex patterns and tedious techniques, there are plenty of shortcuts in the quilting world to help you save time! Author of the new book Fabulously Fast Quilts (Martingale) and the blogger behind Diary of a Quilter, Amy Smart is here today to share some of her favorite quick quilting tips, plus an exclusive giveaway of her book!
[box type="shadow"]
Enter to win a FREE copy of Fabulously Fast Quilts
One lucky winner will receive a free copy of Amy Smart's Fabulously Fast Quilts. To enter, just head here by May 29th, 2014. Then, share your favorite "quick quilting tip" in the comment section below for your chance to win a copy of Amy's new book! We'll randomly select a winner on Friday, May 30th. 2014.
[/box]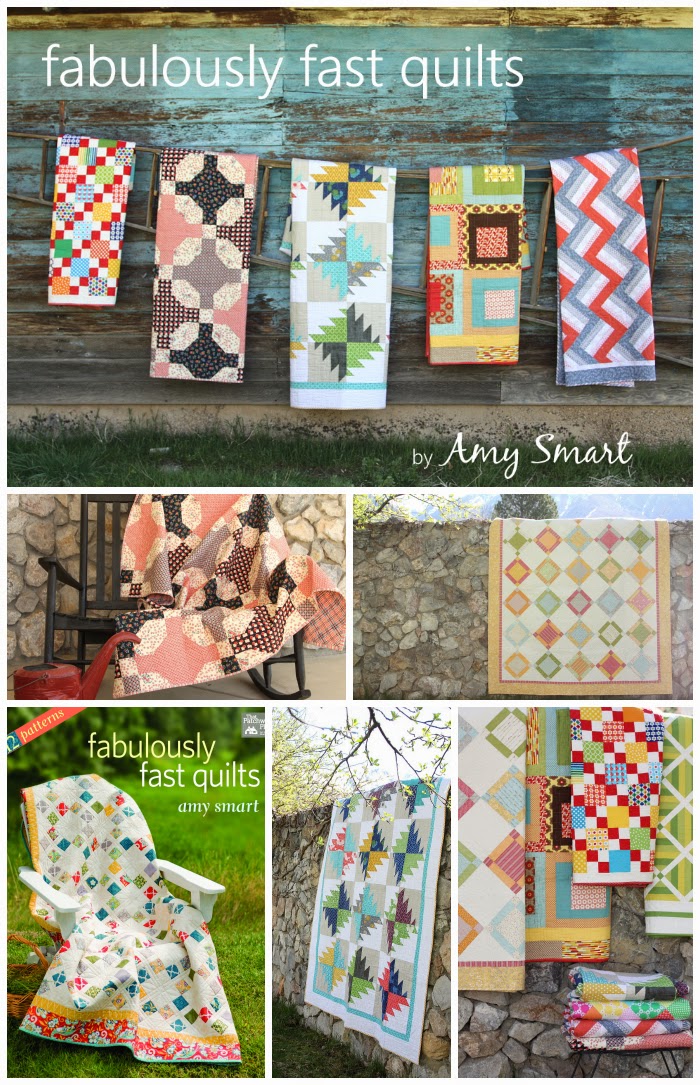 Photos via Martingale & Co.
Let's learn more about Amy and her new book along with a couple of quick quilting tips for you!
Amy, congratulations on the release of your book, Fabulously Fast Quilts! Can you tell us a little bit more about what inspired you to write these patterns?
I love making quilts (obviously) but life is full and time is limited. I also have a short attention span and am easily distracted by new projects I want to make. I like pretty designs, so I love when there are short-cut techniques that speed up the process. I figured I probably wasn't the only one in this boat, so I collected a bunch of designs and ideas that had been floating around in my head for a while, and put them down on paper.
What are some of your favorite quick quilting tips?
Strip piecing is one of my all-time favorite techniques for saving time. It's so much quicker to sew strips together and cut them into usable units than it is to cut up a lot of little pieces.
I also love chain piecing, sewing seam after seam through the machine without cutting the threads.
Another tip is to use a piece of tape as a guide on your machine to sew diagonal lines on squares without having to draw diagonal lines on your fabric like Camille demonstrates here.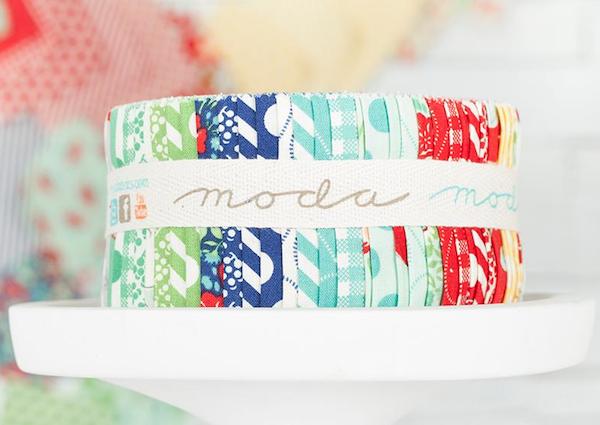 Do you enjoy using pre-cuts? If so, what is your favorite type of pre-cut for making quick quilt tops?
I LOVE pre-cuts. I think they're a genius way to get a large variety of fabric colors and prints without having to spend a lot of money or have a lot of fabric left over. It's awesome how many patterns are available geared toward pre-cuts. I included patterns geared toward pre-cut collections in Fabulously Fast Quilts because they are such a huge time-saving device as well.
I don't know if I could choose a favorite type of pre-cut. Each one is so useful for different designs. I included patterns geared toward 2 1/2" strips, 10″ squares and 5″ squares in the book.
You've spent some time teaching beginning quilting classes. Have you noticed any common mistakes that can make the quilting process take longer?
I think there are two basic aspects of quilting that save so much headache in the long run as well as make everything look well put together: Being consistent about a 1/4" seam allowance and pressing carefully. At first those two things can seem tedious, but it is so worth the effort to sew accurately and slowly if needed until you get the hang of sewing a consistent 1/4″ seam. I liken it to learning to drive a stick-shift car for the first time. At first it takes concentration, but after doing it for a while, it becomes effortless. Pressing is a step that I see people skip often, but just taking the time to carefully press seams makes such a difference in how the block and eventually the whole quilt come together.
I also like to do all like steps at once. For example, cut out the whole quilt, piece the same step, press all the seams for that step, etc.
How long does it typically take you to piece a quilt top? Do you have a record for the quickest project you've assembled?
It depends on the deadline. And the number of children who need me at a given moment. I know I've done a quilt top in a day when needed, but typically I work in starts and stops. I'm grateful to have a space where I can leave my machine set up and work when time allows, coming back and forth frequently.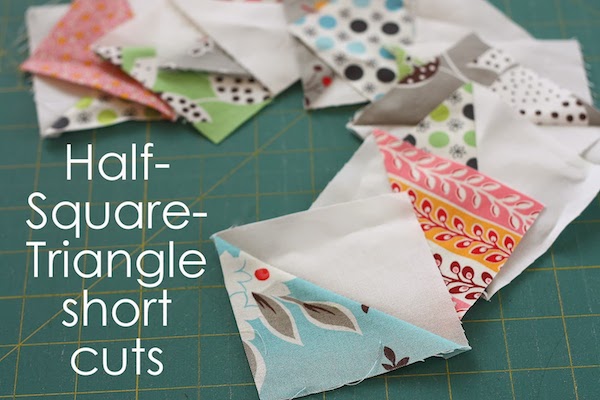 Photo via Diary of a Quilter
What's your favorite quick quilting tip to share?
My favorite recent short-cut discovery is a faster method for squaring up half-square triangle blocks. I don't know what took me so long to figure it out. It saves SO much time!
I also love using fabric design to my advantage. Letting the pattern in the fabric do more of the design work, tricking people into thinking the quilt is more complex than it already is like in this Dresden pinwheel quilt.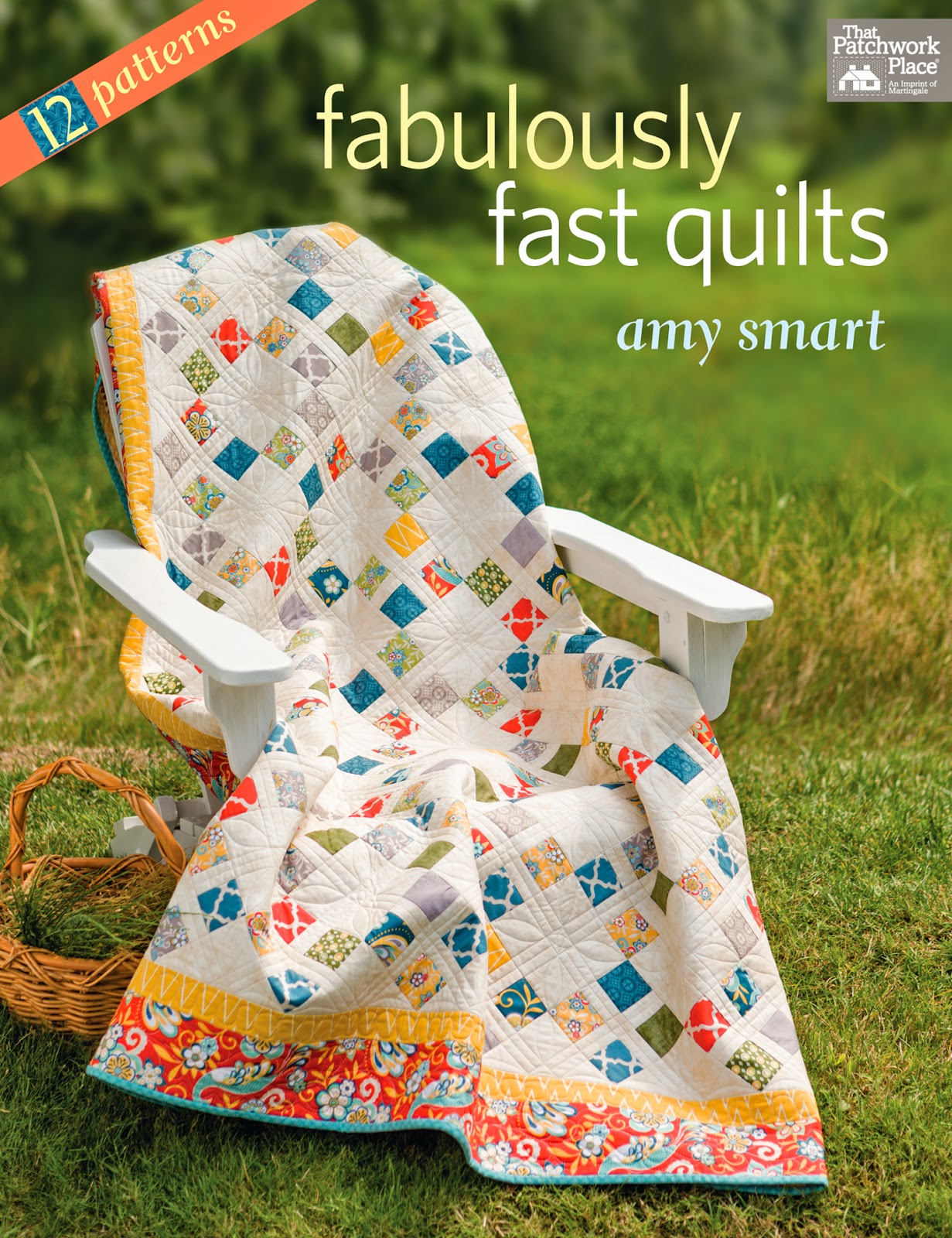 Photo via Martingale & Co.
[box type="shadow"]
Enter the giveaway!
Click here to enter Bluprint's Fabulously Fast Quilts giveaway, then leave a comment on this post telling us your favorite way to save time quilting or your favorite pre-cut. We look forward to reading your quick quilting tips!
Please note: Giveaway open worldwide. (U.S. winner will receive a hard copy; international winner will receive an e-book).
[/box]