Making greeting cards doesn't have to be a labor-intensive process. Sometimes you need a card at the last minute, or several cards, and today I'll show you how you can whip up these four fun Thank You cards with just one die and minimal supplies.
Read on to discover 4 fun ideas for quick handmade cards!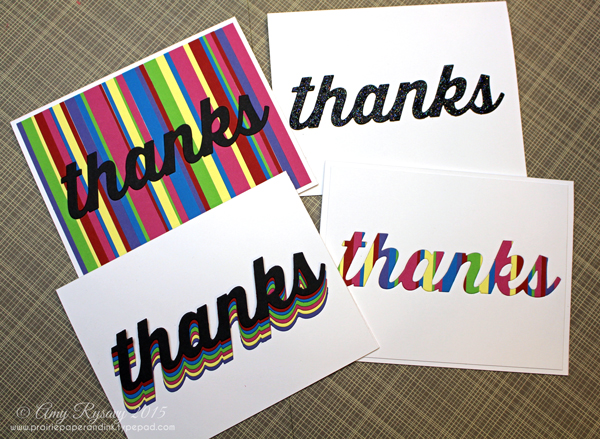 Never give a boring Thank You card again!
Enjoy expert instruction from cardmaker Kimber McGray as you learn versatile techniques for unique cards in her online Craftsy class Cardmaking Essentials: Thank You Cards.
Sign Me Up!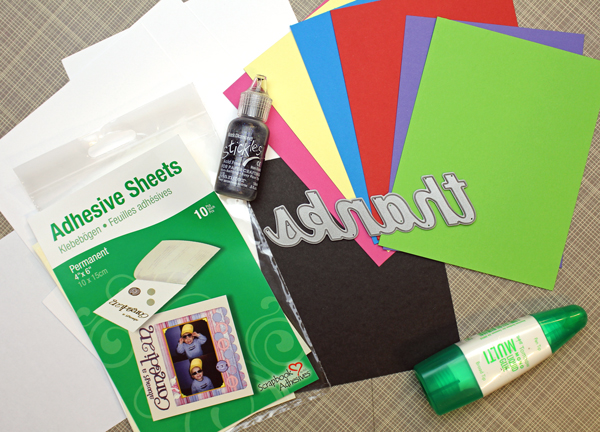 Supplies you'll need:
Sentiment die (MFT Die-namics Many Thanks used here – there are TONS of great sentiment dies on the market that will work for this!)
Die-cutting Machine (I use a Big Shot)
White card stock for card bases
Black card stock
Various card stock colors
Liquid adhesive
Adhesive sheet (can be done without but makes the one technique much quicker and easier)
Copy paper
Stickles Glitter Glue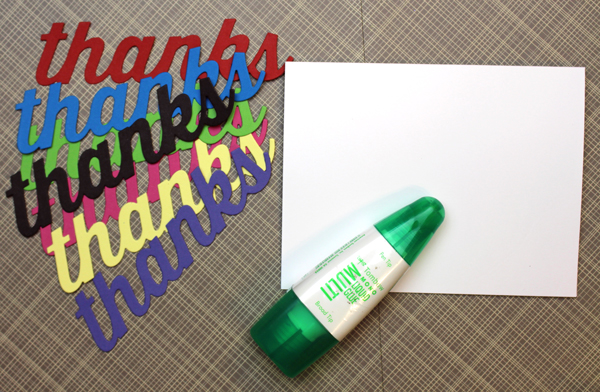 Card 1:
To make the first card, it's as simple as die cutting the sentiment several times. Cut it once from black card stock, then cut it out of each color of card stock. Depending on the thickness of your card stock, you may only want to use three or four colors, but you get more impact if you use more colors.
Then all you do is stagger the colors from bottom to top as you adhere them, letting each color peek out from the layer above. An alternate way to do this is to adhere them all precisely on top of each other so that the colors are only visible when you tilt the card to the side. Either way it's a cool look!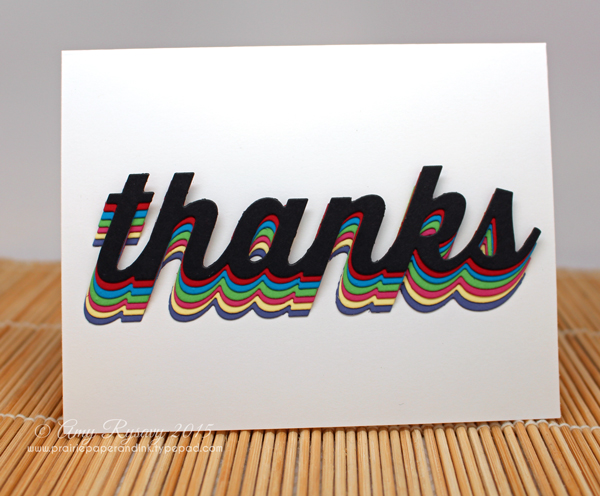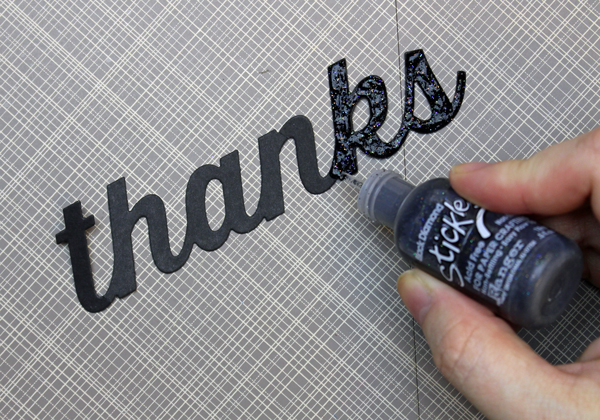 Card 2:
To make this card, die cut the sentiment from black card stock then embellish as desired. Here, I've coated the entire piece with Black Diamond Stickles Glitter Glue, then set aside to dry before adhering to my card.
You could also coat the sentiment with Glossy Accents or other dimensional adhesive to make it look more like a "puffy sticker." Another option is to heat emboss it with different embossing powders — there are so many options to dress up a simple die cut sentiment!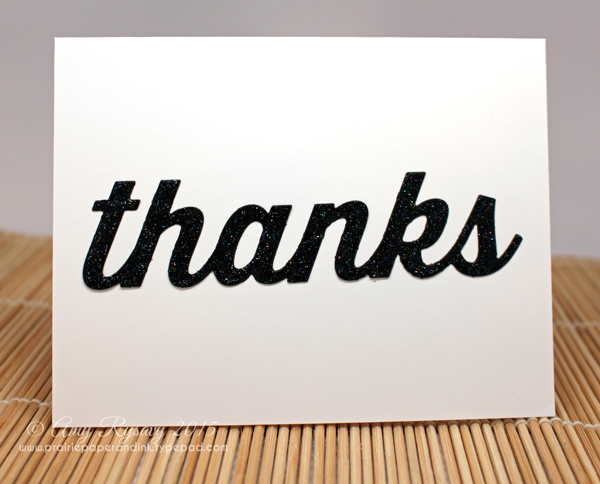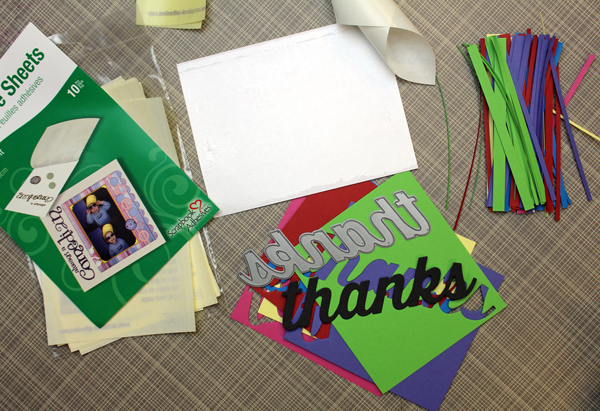 Cards 3 and 4:
To create the last two cards, I lined a piece of copy paper with an adhesive sheet. You can do this without an adhesive sheet and just use your adhesive of choice, but the sheet makes it a lot faster and easier! I used copy paper for the backing because it's a lot thinner than card stock and will go through my die-cut machine much easier.
I cut thin strips from all the colored card stock pieces I had left over from creating the first card. I didn't measure the strips and cut them at various widths, as it creates more visual interest. Once I had enough strips cut, I adhered them to my sticky-sheet-coated copy paper. This was the most time-consuming part in the whole process of the cards, but the end result was worth it, and you get two cards!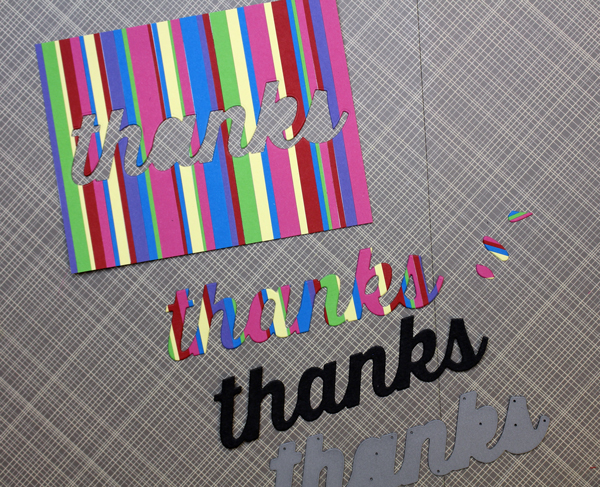 After adhering all the strips of colored card stock to the copy paper, I trimmed off any pieces hanging off the edges with my paper trimmer. I then ran it through my die-cut machine with the "thanks" die. Make sure not to discard any inner pieces if there are any (in this case the center of the a, k and s) as you need them to finish the card.
If you wanted you could skip the die-cut step and simply adhere the black card stock die cut over the striped paper, but if you die cut as I have you end up with two cards and a neater finished look.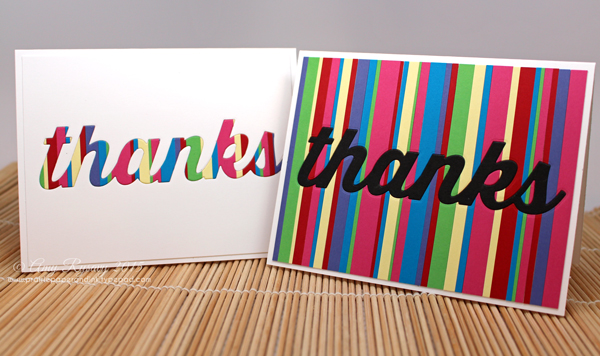 To finish the card with the black sentiment, I simply inlaid the sentiment inside the die-cut opening I'd created, and made sure to inlay those interior pieces I said not to throw out!
To get a second card out of it, I die cut a piece of white card stock and inlaid the striped thanks into that. By inlaying the die cuts the entire card front has a smoother finish and the recipient wonders how you made it.
I hope this gives you some ideas on how to quickly whip up some fun and colorful cards when you need one at the last minute!