Daylight saving time ends this weekend, giving us a bonus hour! Many of us look forward to getting an extra hour of sleep, but there are better things we can do with our time. Check out these quick embroidery projects!
The days are getting shorter and the nights are getting cooler. Holidays are just weeks away. As sunlight fades, turn on the lights and cozy up with your favorite quick embroidery projects.
Here are 10 quick embroidery projects to fill that extra hour!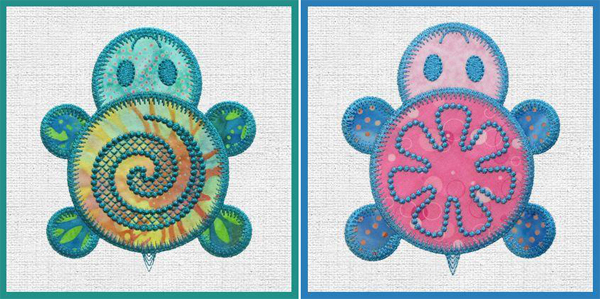 Photos via Bluprint member Marjorie Busby of b-quilts
Stitch more, cut less
Whether you quilt or embroider, you can spend 54 minutes of every hour sewing instead of cutting with an AccuQuilt GO! die cutting system. Suddenly, appliqué is so much less tedious, particularly when paired up with AccuQuilt compatible designs by Bluprint member Marjorie Busby of b-quilts.  Just think of all of the adorable things you can create!
Get the Turtle Treks designs here.
Image via Bluprint member StitchX Cross Stitch Designs
Build an ark (at least on fabric)
These adorable Noah's Ark redwork hand embroidery designs stitch up quickly. Arrange them all together on a wall hanging or stitch them out, block by block, to create a larger quilt.
Get the Noah's Ark pattern here.

Images via Bluprint members Sanity's Machine Embroidery Designs (left) and Twistedknickers (right).
Stitch a candle mat
Stitch up a decorative candle mat. Nothing exudes relaxation quite the same way as the soft glow of an aromatic candle on a cool evening.
Get the In the Hoop Doily Applique Pumpkin machine embroidery design here.
Get the Ging-y-bread hand embroidery pattern here.

Photos via Bluprint member Shelley Gadsby of Pretty Practical (left) and Bluprint instructor Sue O'Very (right)
Make a pot holder in the hoop
Everyone can use a pot holder, especially as cute as these. Both are made in the hoop and could not be easier.
Get the Heart Oven Mitts design here.
Sign up for the In the Hoop Gifts class with Sue O'Very here.
Photos via Bluprint member Carole Baker Designs
Create subway art, from the comfort of your home
Whether you stitch it for yourself or for a quilting or embroidery friend on your gift list, this machine embroidery design says it all. Stitch it on a T-shirt, sweatshirt or tote bag!
Get the All About Stitching machine embroidery design.
Get the All About Machine Embroidery machine embroidery design.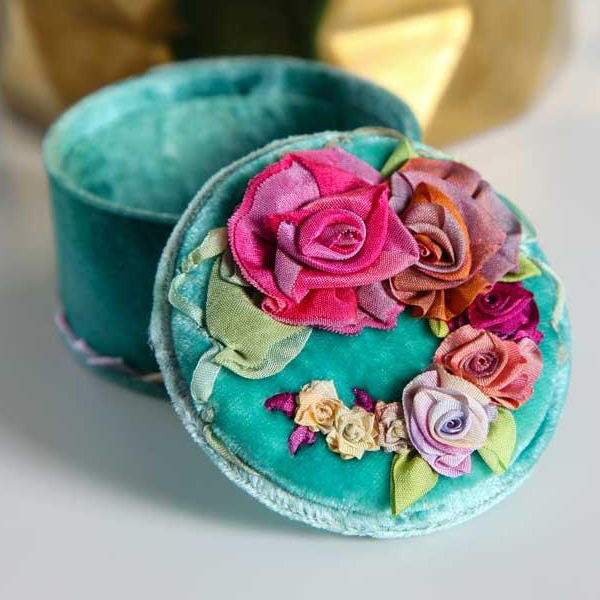 Image via Bluprint instructor Mary Jo Hiney
Become enlightened, take a class any time of the day or night
One of the biggest advantages of a Bluprint class is that you can access it any time you like, as often as you like, forever. Have an extra hour? Take in two or three segments of a Bluprint class. No need to block out an entire afternoon. Most classes are broken down into a half-dozen or more segments that, on average, range in length from 20 to 30 minutes. This velvet box was created by Mary Jo Hiney in her Bluprint class Embroidering With Ribbon.
 
Photo via Bluprint member EmbGarden
Enjoy a warm beverage, with monogrammed style
It is the season for hot, delicious beverages and these wraps can be customized to any taste in sizes for 12, 16, and 20 oz. cups. Better yet, they include the monogram so you do not have to combine fonts with stitch files before embroidering.
Get the In the Hoop Monogram Coffee Sleeves design here.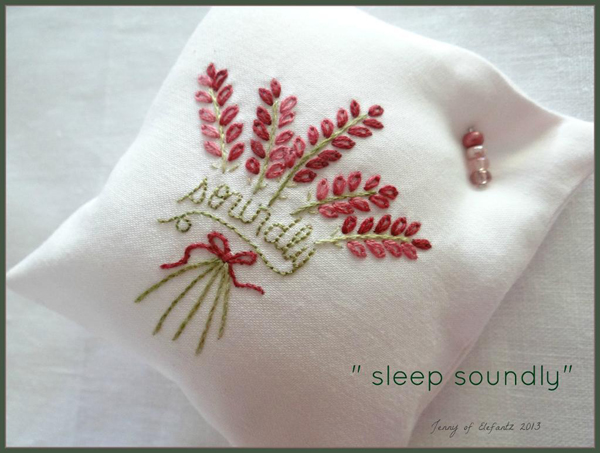 Photo via Bluprint member Jenny of Elefantz
Sleep soundly
When it does come time to sleep, these hand-embroidered sachets from Jenny of Elefantz will sooth your worries away.
Get the Sleep Soundly Sachets pattern here.
What are you going to do with your extra hour?