Who says that wedding cake decoration needs to be traditional?
A wedding cake should be a reflection of the couple getting married, and as these punk rock wedding cakes prove, even edgy leanings can be used creatively in cake decorating.
While these cakes may not be traditional, their beautiful execution and creativity are worthy of a black-tie affair — but only if the attire includes leather jackets, combat boots and mohawks.
These amazing, edgy punk rock wedding cakes are the perfect for only the coolest hard-rock couple.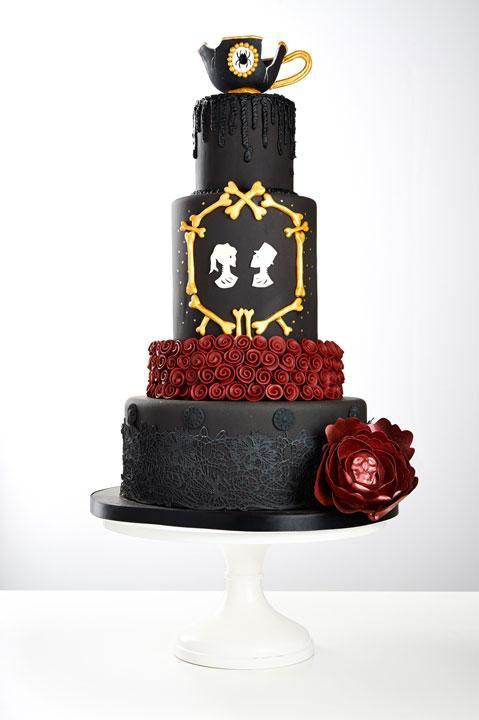 Gothic cake instructor Tracey Rothwell
Steampunk wedding cake
Tracy Rothwell, instructor of the Craftsy class Stretch Your Style: Designs for Any Client, created this precise yet quirky cake that's a mash-up between steampunk and punk rock. Black fondant is the jacket which holds a cake decorator's bag of tricks: skulls and crossbones, red roses, and a broken teacup. Yet the offbeat subject matter remains appropriate for an upscale creatively attired event, thanks to sweet stencils, a delicate border, and a lifelike flower on the bottom edge of the cake.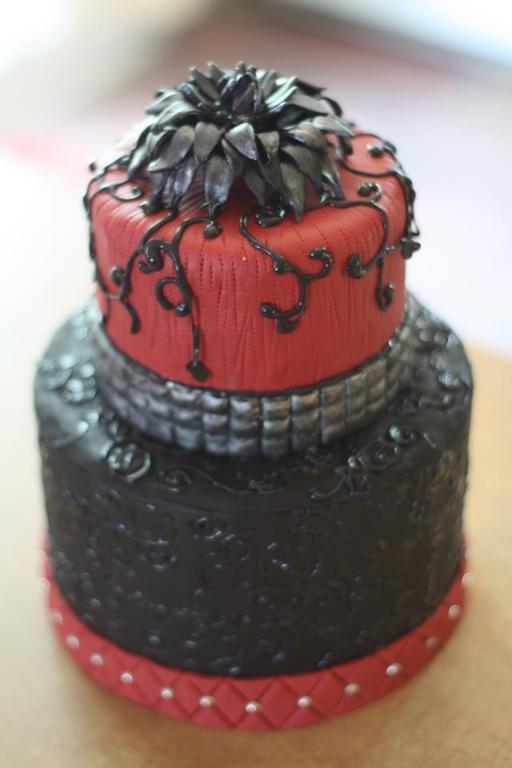 Punk rock fashion inspired cake via maelina
Punk rock fashion inspired cake
Layers of blood-red and deep black fondant make up the two layers of this offbeat wedding cake, which takes cues from punk rock fashion. Playful metallic fondant studs form a band to divide the two layers, which each feature black gel icing curlicues. But the real crowning glory is the black chrysanthemum on top of the cake, which is formed from individual petals made from gum paste.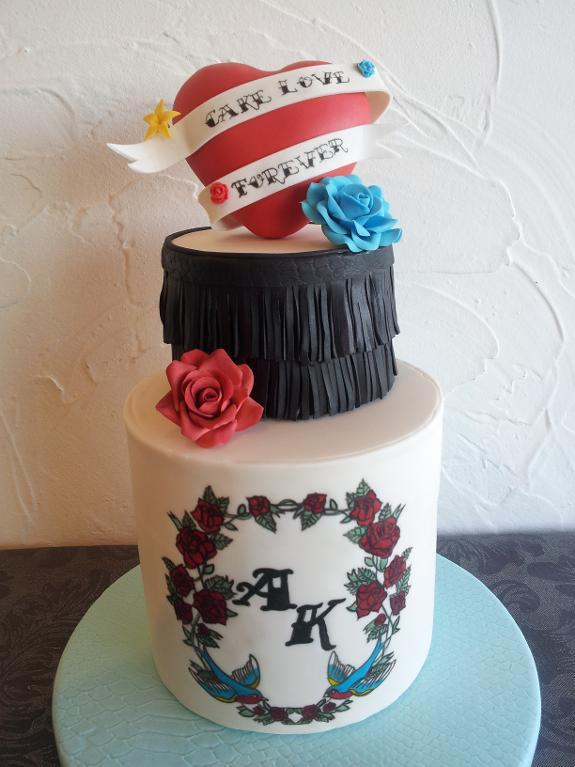 Cake love via Craftsy member yumkat
Tattoo-themed wedding cake
The only pain involved with this tattoo-themed cake is the painstaking hand-painted lettering and imagery on the scroll and bottom layer of the cake. Playful fringed fondant in black adds an edgy appeal to the second layer.
"Old Skool" tattoo cake via Craftsy member Cakebakermoney
Hand-painted tattoo cake
Along similar lines, this cake features old school tattoo motifs painted on panels and adhered to the sides of a fondant-topped cake. The face of the cake is studded with dots of delicate white icing, which works as a pretty backdrop to the hand-painted elements.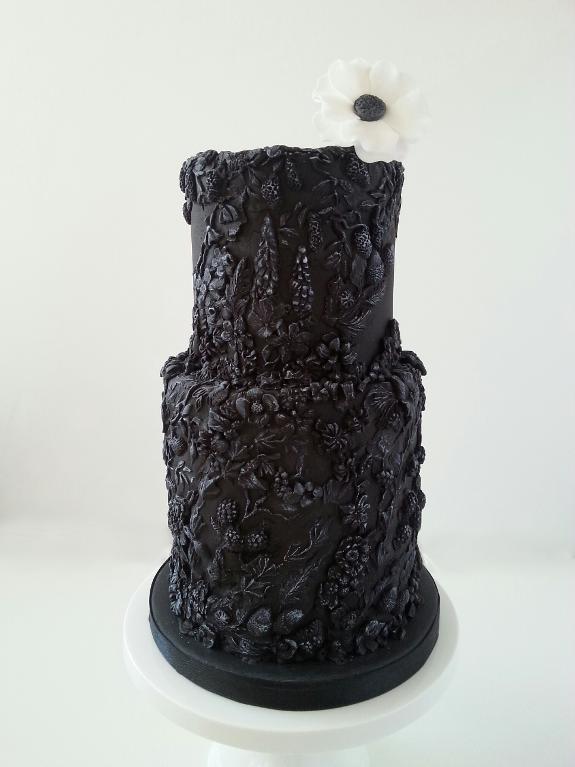 Black wedding cake via Craftsy member Cakes by Grannie
Glam black wedding cake
This cake is equal parts goth and glam. Black is the only color used for this unique cake, which features intricate flower detailing made using silicone molds, then dusted with metallic luster dust, which gives the fondant topped cake an ornate yet slightly antiqued finished look, like a piece of relief art. It's an absolutely stunning work of fine cake art, with an attitude that is definitely punk rock.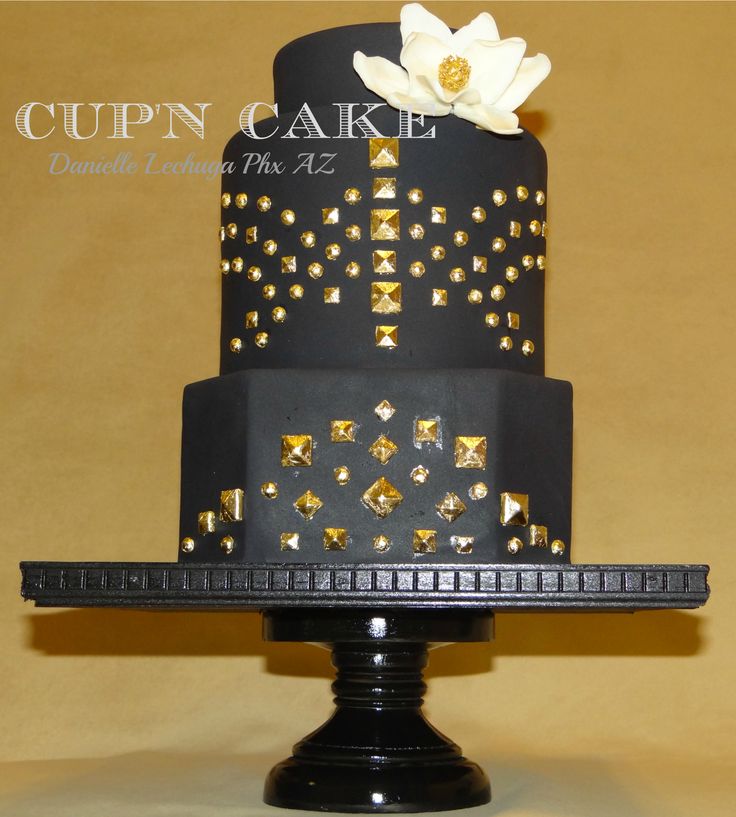 Studded cake via Cup n' Cake
Studded wedding cake
Is black the new white for wedding cakes? Yes, if they're as pretty as this studded cake by Arizona-based baker Cup n' Cake. Circles of different heights form the two top tiers, which sit atop a hexagonal tier. The unusual pairing of shapes is united by design: an all-over coating of black fondant, which is dotted with metallic studs for edgy feel but a sophisticated final look. A contrasting white sugar flower with a shimmering golden center finishes the look with panache.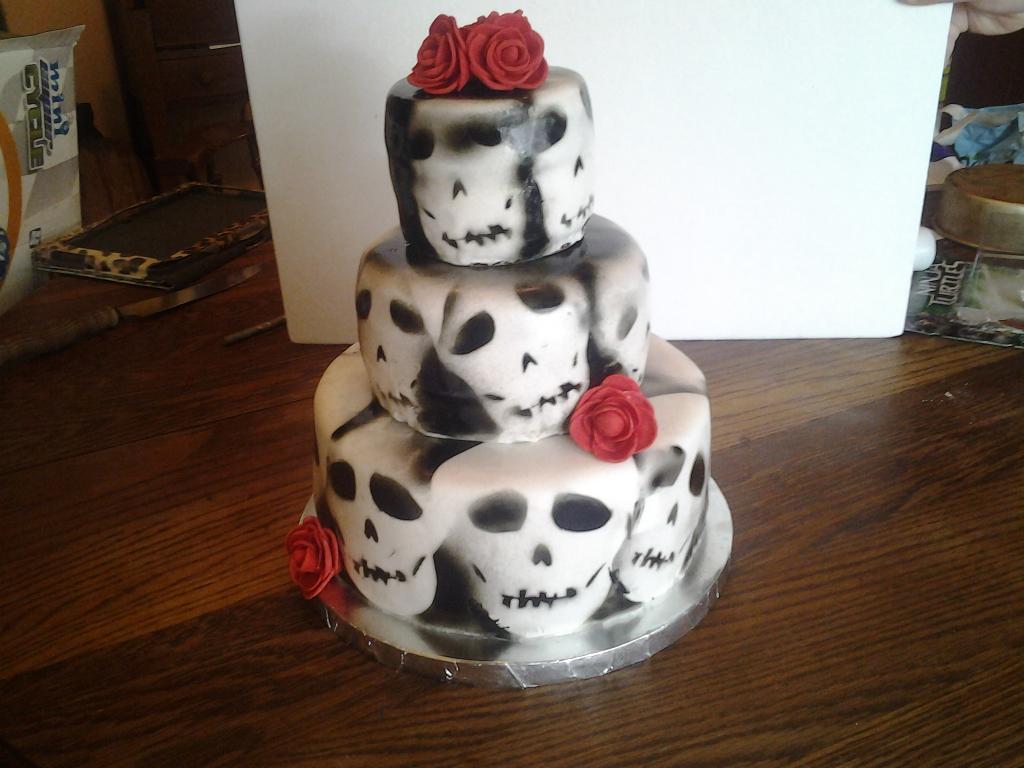 Punk skull cake via Craftsy member barrypatc3042516
Skull wedding cake
This cake is no misfit, even though it features airbrushed skulls which resemble the logo of a famous punk band. Too spooky for a wedding cake? Not in this case, with red fondant roses present to add a classy touch and a more formal feel which differentiates this cake from a Halloween treat. 
For the bridal party
While perhaps not wedding cake material, these cakes would make fabulous additions to a punk rock wedding.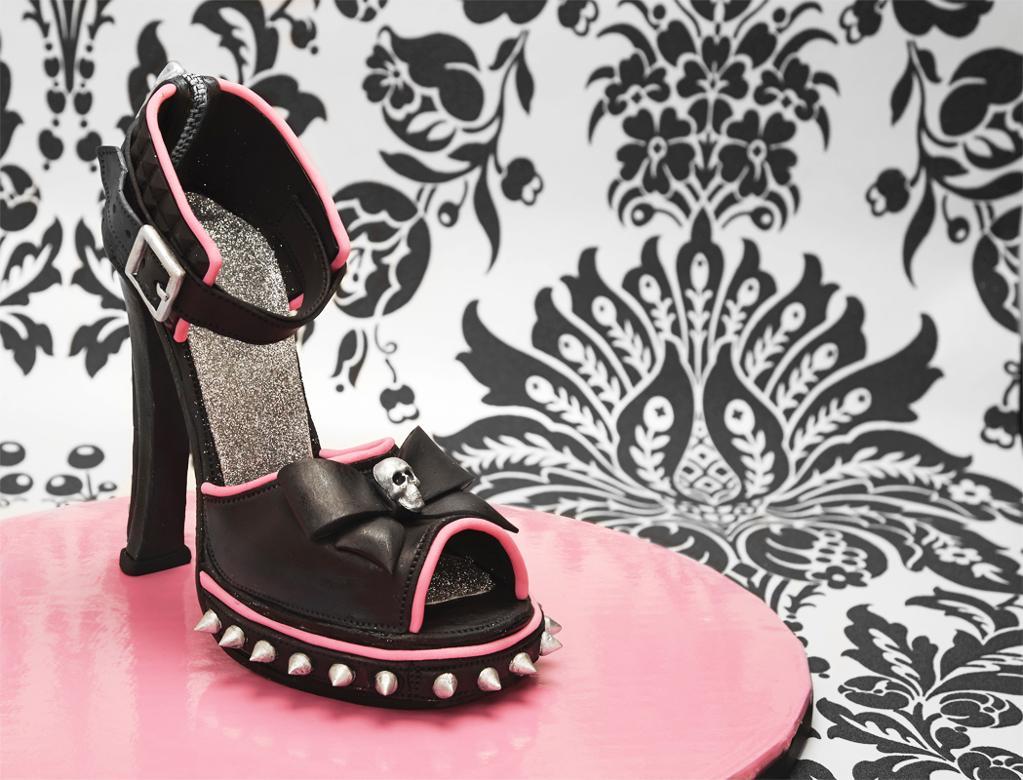 Goth shoe via Craftsy instructor Elisa Strauss
Goth shoe cake
A goth-punk shoe made from cake and elaborately decorated using gum paste, fondant, and a number of clever tricks for perfect finishes, would make a great cake topper for a bridal shower at a punk rock affair.
Boot cake via Craftsy member sarah1974
Doc Martin cake
A realistic lug sole boot made from cake would make a great groom's cake, or could even be employed as a cake topper for a punk rock wedding.