The arrival of autumn brings a bountiful harvest of pumpkins, fall gourds and falling leaves. It's time to bring the colors of fall indoors by making a pumpkin wall hanging, table runner, mug rug or lap quilt for your home. We've rounded up some of our favorite pumpkin quilt patterns to inspire your next project. Whether you are a fan of appliqué and patchwork, you'll find something here just for you!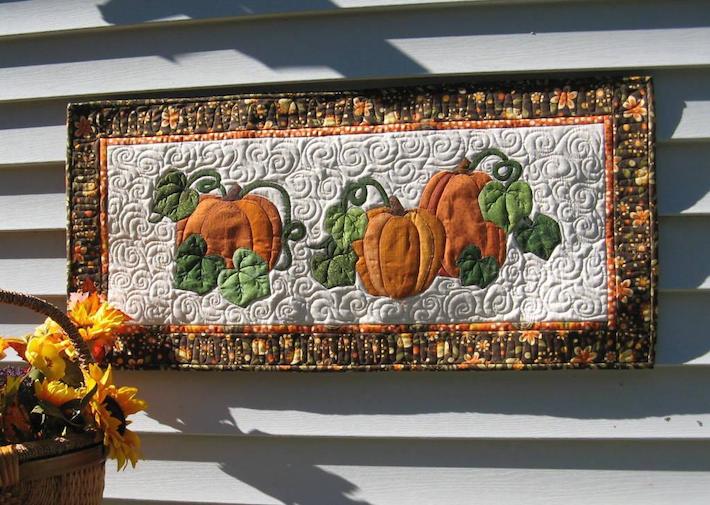 Photo via Bluprint member 2strings
1. Pumpkin Patch Table Runner
The weeks leading up to Halloween and through Thanksgiving are the ideal time to deck your doorstep with pumpkins. But don't forget to decorate your dining table! This fusible appliqué pumpkin quilt pattern makes a stunning table runner, perfect for setting up a warm family dinner.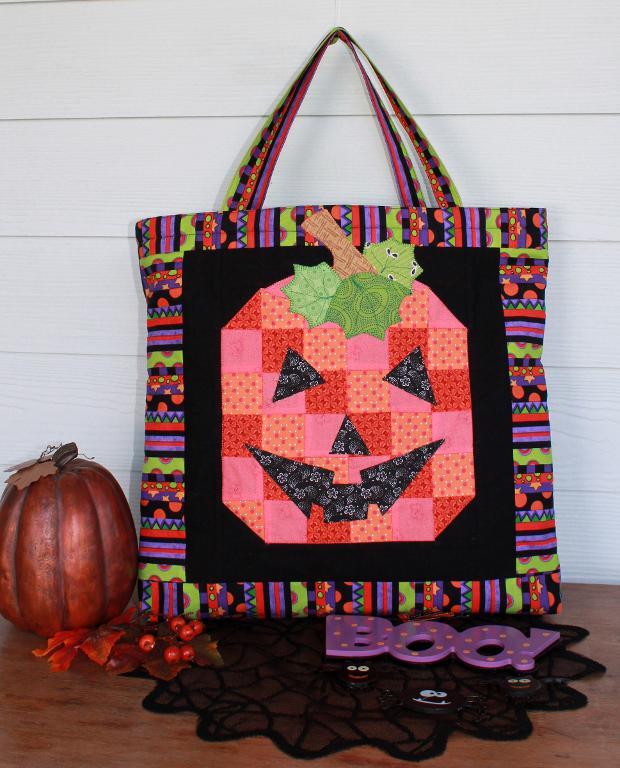 Photo via Bluprint member Jo-Lydia's Attic
2. Boo! Halloween Treat Bag & Wall Hanging
What trick-or-treater wouldn't love collecting candy in this sweet patchwork bag? Start a new holiday tradition with a pumpkin quilted bag that lasts from year to year. The center pumpkin block gets framed with fabric strips in a stitch-and-flip method that beginners will love. The pattern includes full-size templates for the appliqués.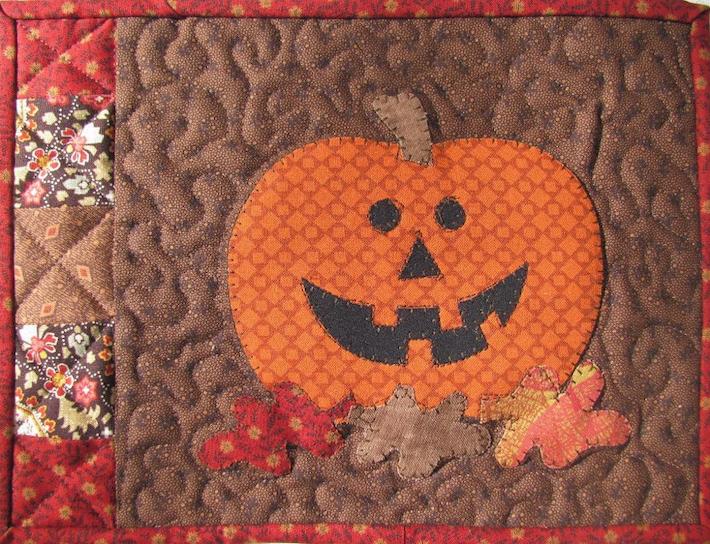 Photo via Bluprint member Quilt Doodle Designs
3. Pumpkin Mug Rug
Savor your pumpkin latte and breakfast pastry on this quilted mug rug. This festive pumpkin mini-quilt also makes a sweet candle mat or housewarming gift. Quick and easy, this project can be finished in one afternoon!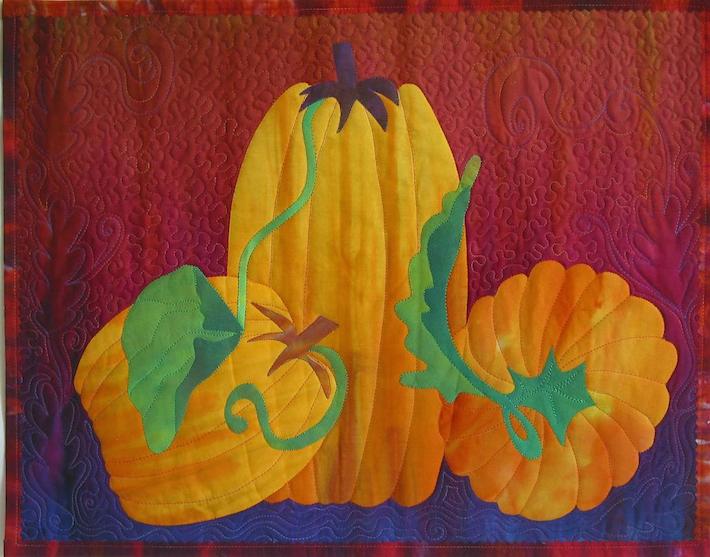 Photo via Bluprint member FrieStyle Designs
4. Three Pumpkins
This 20″ x 16″ wall quilt pairs fusible appliqué with pretty dyed fabrics for an artistic touch! The pumpkin quilt pattern makes a nice table topper as well. Give it a try and bring the beauty of fall gourds indoors.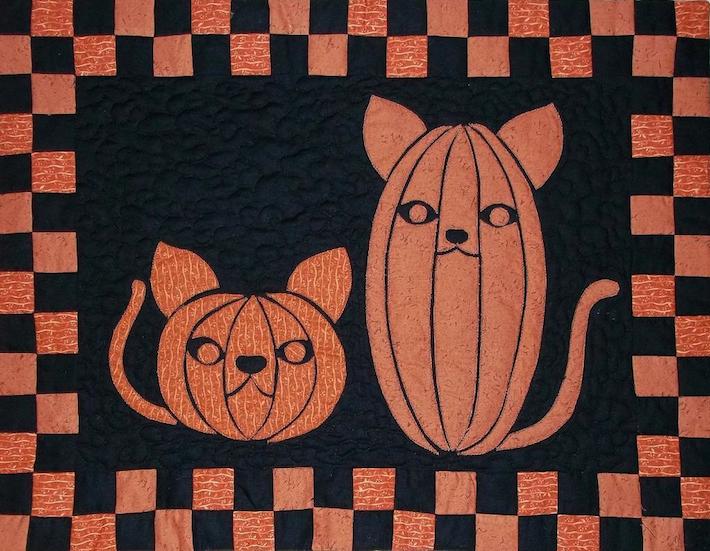 Photo via Bluprint member Six Gables Designs
5. Cinnamon & Nutmeg, Pumpkin Spice Kitties
A patchwork border and fusible appliqué make for a fun and fast mini-quilt for fall. Featuring two kitties, this humorous pumpkin quilt pattern finishes a 26″ x 20″.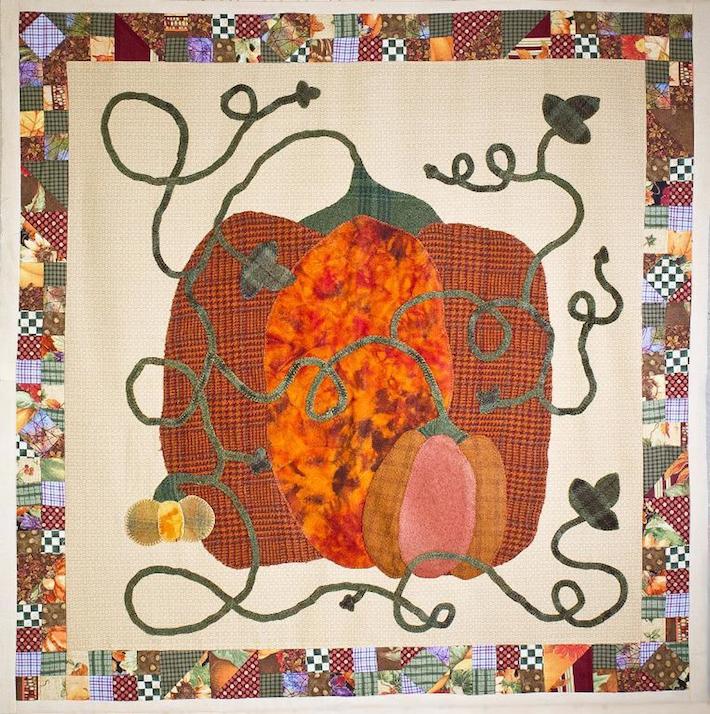 Photo via Bluprint member Intimistic Quilt Company
6. Wild Pumpkin
Whimsical and colorful, the Wild Pumpkin wall quilt is a great beginner-friendly fall quilt pattern. All applique templates are included, and a patchwork border frames the art quilt. The 39″ square quilt looks stunning on the wall or tossed over the couch.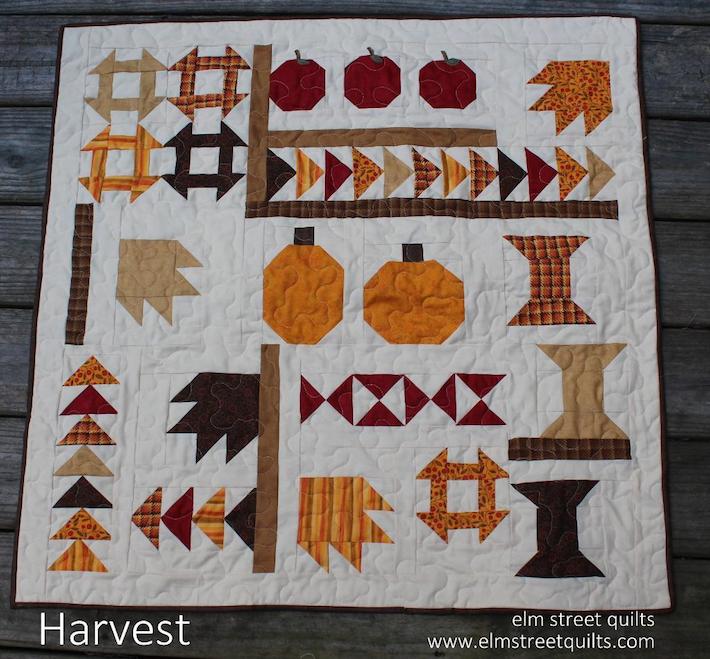 Photo via Bluprint member Elm Street Quilts
7. Harvest Quilt
The golden colors of fall fill this sampler quilt, featuring pumpkins, apples, flying geese and other classic quilt blocks. Look forward to fall's hues with this quilted pumpkin wall hanging that is fun to assemble. You'll need seven fat quarters plus 2¼ yards of fabric for the background and backing.
Genius Hacks Every Quilter Should Know
Discover insider quilting tricks for making every project easy & efficient!Get My FREE Guide »