Pug dogs are not only adorably cute with their tightly curled-up tails and sweet "boggly" eyes, but when modeled out of fondant, they make rather fetching cupcake and cake toppers — perfect for birthday treats or thank you gifts. We especially love the idea of a pair of super cute personalized pug dogs perched atop a wedding cake to mimic the happy couple!
So, here's a fun tutorial on how to create an irresistible little fondant pug topper that'll win hearts and clients!
How to make an adorable pug cupcake and cake topper
Photos via Juniper Cakery
Materials and tools
Dark brown fondant
Light brown fondant
Black fondant
Pink fondant
White fondant
Cocktail sticks
Edible glue
Paintbrush
Veining tool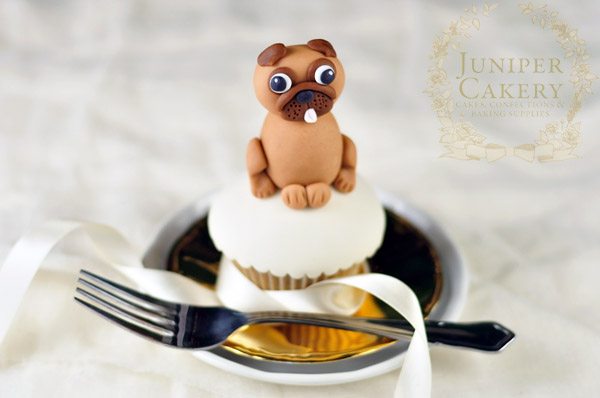 Step 1:
To start you will need a medium sized ball of light brown fondant (approx. 2″ x 2″). Work the ball of fondant in your hands to smooth any visible cracks and begin molding into a "pear" shape. This will be your little pug's body.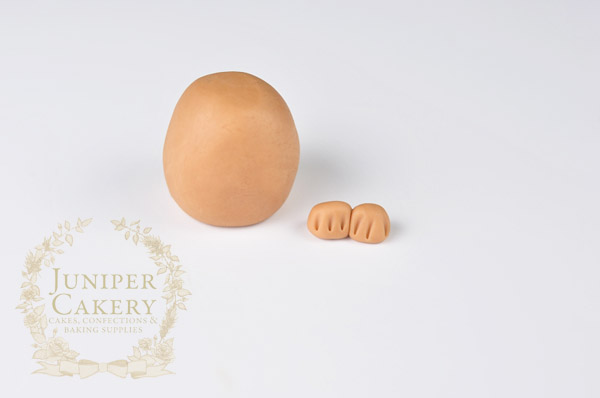 Step 2:
For the paws take two very small pieces of light brown fondant and roll each piece between your finger and your thumb until you have two round paws. Use a veining tool to mark three little toes on each. Attach to the pug using a paintbrush and edible glue.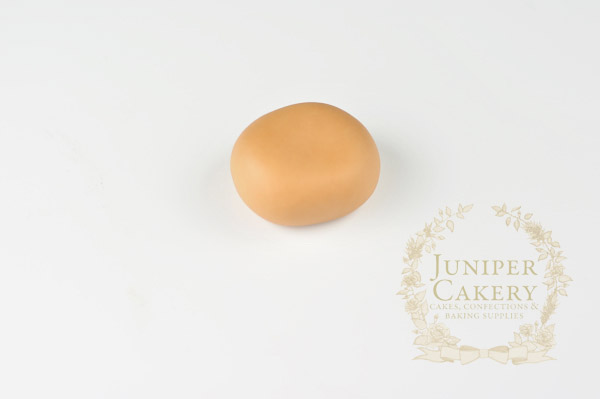 Step 3:
Take a small amount of light brown fondant (approx. 1″ x 1″) using the heat from your hand when working the fondant to make sure there are no visible cracks begin to mold a "pebble" shape. This will become your pug's face.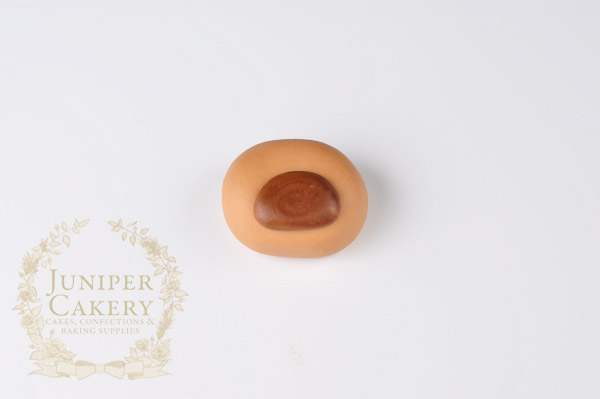 Step 4:
With a small amount of dark brown fondant begin to mold a rounded triangular shape between your fingers, flatten this out against a non-stick surface and attach to the muzzle area of your little pug's face. Use a cocktail stick to indent where whiskers would appear and indent a small triangle for a mouth using a veining tool.
Step 5:
One of the most recognizable features on a pug are those cute protruding tongues! To make one simply take a little light pink fondant and flatten between your finger and thumb, creating an oval shape as you go. Attach to the small triangular mouth you engraved earlier with edible glue and a paintbrush.
Step 6:
To make a miniature nose for your pug, you'll need a small amount of black fondant. Use your finger and thumb to mold, and affix to your pug's snout with edible glue.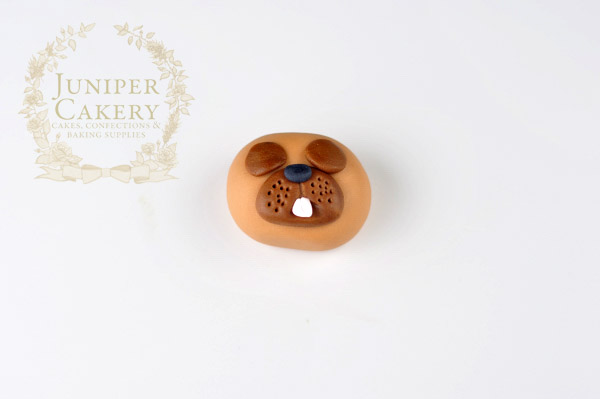 Step 7:
For the pug's signature poppy-out eyes you'll need to layer dark brown, white and black circles of fondant. Begin with the dark brown by flattening against a non-stick surface: This will be the largest circle so be sure to decrease the size of the white and black accordingly. Repeat the step with the remaining colors and layer in place with edible glue.
To complete the eyes, attach a small dot of white in each pupil to give the illusion of a shine. This can be quite tricky, so try using the end of a cocktail stick or dressmaker's pin to help attach into place.
Step 8:
Now your pug's eyes are in place take a piece of dark brown fondant, and begin rolling it beneath your finger on a non-stick surface to make a "worm" shape. Lay this over your pug's muzzle, above the nose to create a cute little wrinkle.
Step 9:
To make the pug's little ears, take two small balls of dark brown fondant, and mold each between your finger and thumb into rounded triangles. Stick onto your little pug's head with a small amount of edible glue with the "points" facing forward.
Step 10:
To make the pug's curly tail take a small amount of light brown fondant and roll into a taper rope before curling it in on itself and attaching to the base of the back of your figure with a little water or edible glue.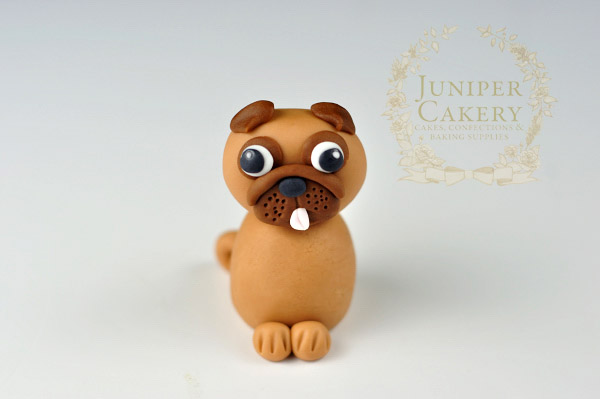 Step 11:
Now you've completed your pug's head, squished little features and all it is time to attach it to the body! Vertically insert a cocktail stick down between the pug's shoulders so that 1 cm or so of the cocktail stick is still protruding. Paint the stick with edible glue, carefully sliding your pug's head into place.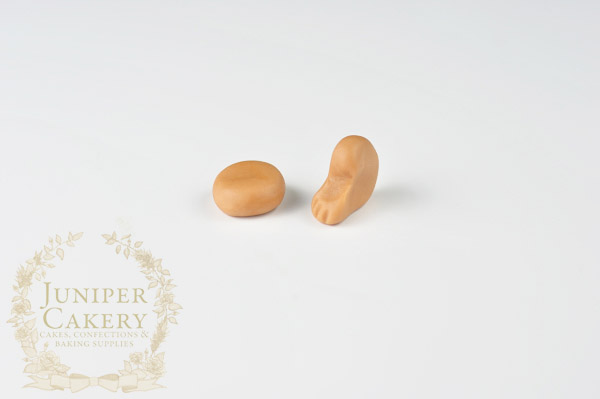 Step 12:
To make hind legs mold two balls of light brown fondant into thick, flat circles. Place them on a flat, non-stick surface and indent the side facing inward on each one with a veining tool. Now use your fingers to carefully define a paw, mark three little toes on each with a veining tool and stick in place with a small amount of edible glue.
After completing each step you should be left with a cute yet cheeky little pup ready to adorn a delicious cake or cupcake!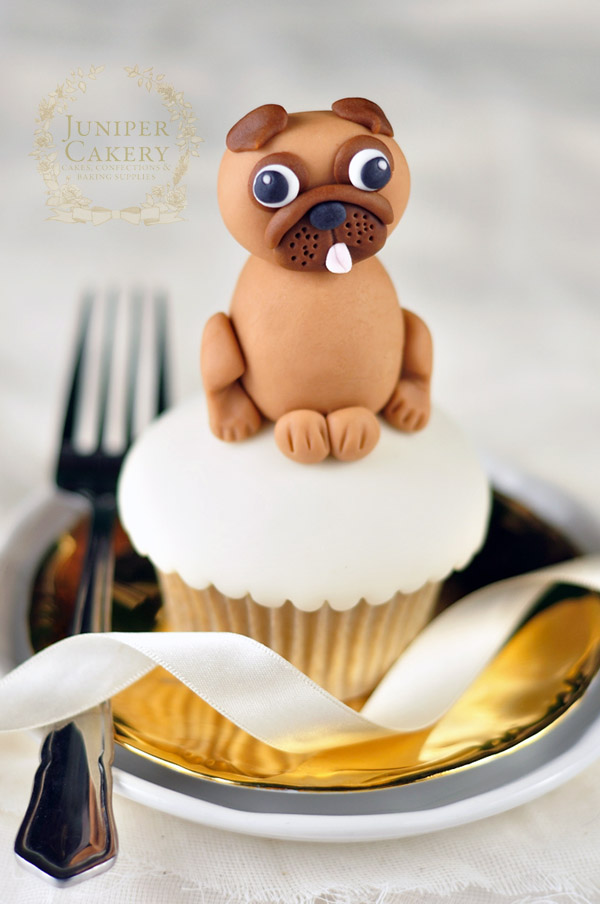 The fantastic thing about this tutorial is that you can customize it to suit your own needs. Add a collar and tag for a personalized touch, a vibrant party hat and curled fondant streamers for a fun party pug or make tiny bones and dog toys for some extra detail. You can even adjust the shapes and sizes of the ears, use a different color palette or change the muzzle to create different breeds or characters — whatever you create you're bound to make something adorable!
To discover how to make more adorable animal cupcake and cake toppers why not enroll in Sharon Wee's Cake Topper Techniques: Fondant Animals class and learn some fantastic tips, tricks and techniques!
What's your favorite animal cupcake topper to make?