When it comes to baking and decorating a beautiful tiered wedding cake, there are a number of essential steps and aspects to consider before you even begin: design, transportation, dietary requirements, storage details, the venue, etc.
For the aspiring professional decorator creating a gorgeous and show-stopping wedding cake is definitely an exciting and rewarding process, of course it comes with its fair share of trials and tribulations, but with our handy advice it should leave you eager for your next project!
Without further ado, here are professional wedding cake tips to help ensure sweet success.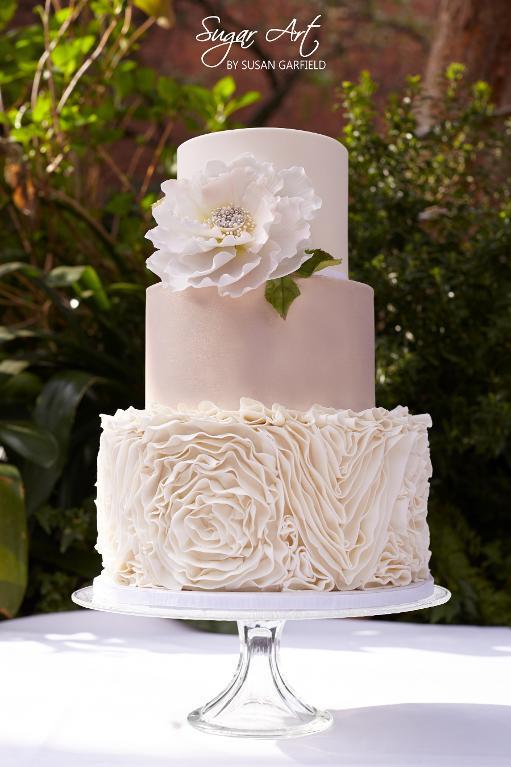 Photo via Bluprint member SugarArtbySusan
Cruel summer: Consider the season
Summertime and humid weather is a cake decorator's worst nightmare. The threat of some horrific cake breakdown lingering in the moisture laden air is enough to send you into a panic stricken frenzy. If you keep your cool (yes, pun intended) then everything should be OK.
From the moment your clients reveal their wedding date you need to ask yourself a million questions: What are the weather conditions for that time of year; what about the time of the reception? Then there's the dreaded "They want delicate fondant ruffles in the middle of July… in Texas… for an outdoor reception?!" scenario. Be confident with your experience, so you can offer advice. The couple in front of you are there for your skill and as the decorator you need to consider different issues that could ruin your clients' big day!
Our tip for delivering a ruffled cake in humid weather is to chill it considerably before hand and make sure you know where your cake will be positioned, allowing you to make any adjustments; e.g. move the table away from windows in direct light or negotiate a more shady spot at an outdoor reception!
To create a romantic ruffled look why not enroll in Maggie Austin's Fondant Frills class today! This look is perfect for vintage-themed weddings.
Photo via Bluprint member Alex Narramore
The place to be: Venue & delivery
It helps to research any venue where your work will be displayed as well as how your work will get there — be it a wedding fair or ceremony to avoid any mishaps. If you can't find out enough info online consider visiting the venue and take some notes about doorways, steps, slants, vents, windows, etc.! Being overly cautious is so much better than looking like a novice to the couple and their guests!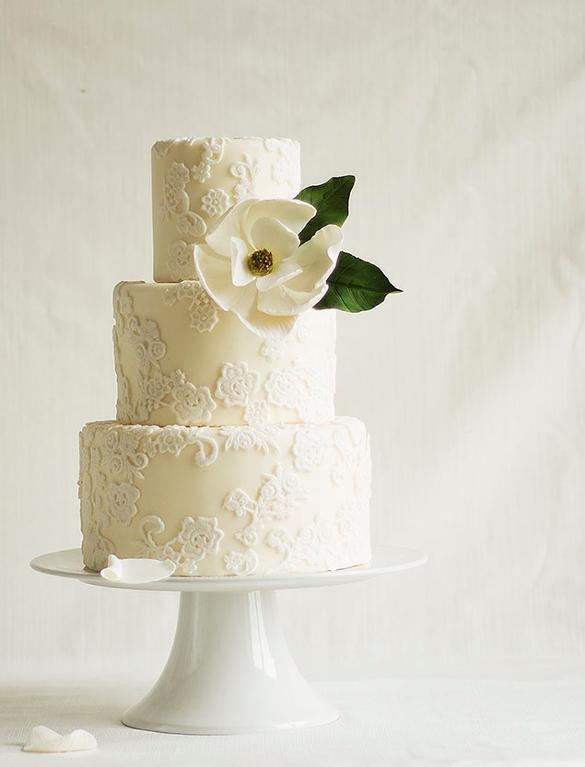 Photo via Bluprint member ModernLovers
When it comes to the delivery, if you're setting up consider the size of the vehicle your using. Try a quick test with some cake dummies stacked up to the correct size and height to check the fit. Also, if it's warm weather and your car or van is usually parked outside make sure you do your best to cool it down! Heat plus a finished cake doesn't bode well.
A top tip is to always have a handy toolbox full of essentials. That way if you're caught off-guard by a sugar flower hitting a small door frame and falling off you can swoop in to the rescue! It's also a good idea to make a few extra flowers as speed-bumps are not a cake decorator's friend!
To discover how to make realistic sugar flowers, why not sign-up for Nicholas Lodge's Mastering Modern Sugar Flowers class? Creating stunning flowers and leaves is a laborious yet rewarding process, so we're sure you want your work to stay the way you intended it!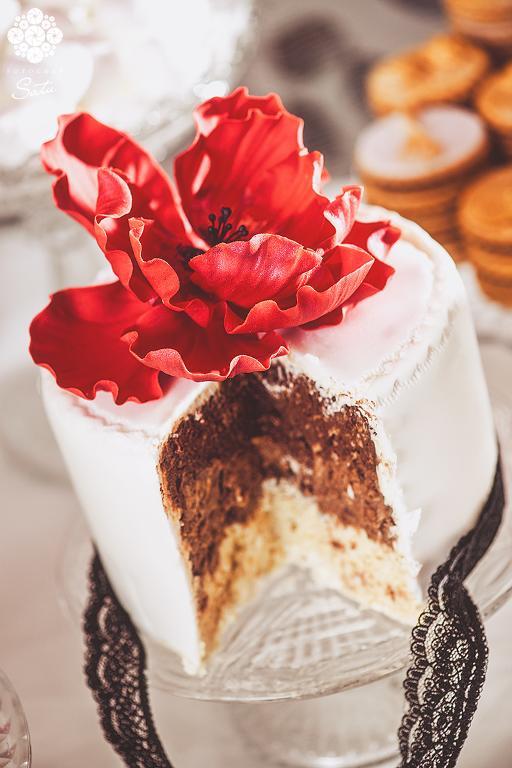 Photo via Bluprint member Sockerrus
Insider trading: Cake structure & stability
As with anything in life, if you get the foundations right, then you've got a brilliant start. Make sure your structure and cake layers are perfect or else you're in for an even bigger and more stressful workload later on. Torte all layers to the exact same height, make sure each layer is soft yet stable, prepare in advance and have all the tools you need ready (dowling rods, scrapers, cake lever…)!
Another tip for when you're working with building up your cake and stacking each tier is to sketch out your layers, measurements, steps and ideas for a stress-free process!
Get to grips with baking, torting, filling and stacking cakes with Beth Somer's The Wilton Method®: Baking Basics class and pick up a wealth of handy tips and advice for making your cake structure perfect!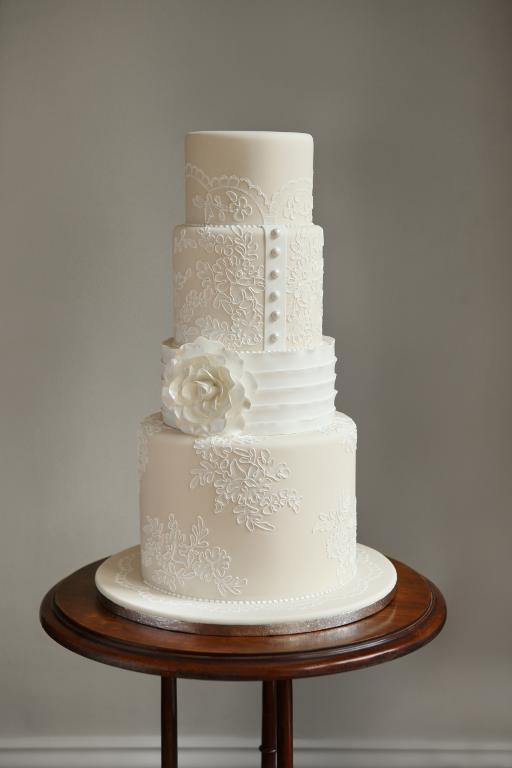 Photo via Bluprint instructor Zoe Clark
Showcase your talent: Design & look
When designing professional wedding cakes, an important thing to establish is your unique look whilst managing to cater to whatever styles a couple may ask of you. Some decorators thrive on creating baroque-inspired masterpieces and some prefer to work within a more sleek and modern cake design ethos. Make sure that you work on what your "look" is, do it well and be flexible and clever at incorporating your client's style into your designs!
To offer the best and most customized service, most decorators gather all the information they need from their clients once booked and create a series of sketches based around the collection of ideas! Always offer a good variety from a few that are similar and offer placement ideas, a plain and un-fussy style and a "wildcard" that offers up a more creative and perhaps envelope pushing design.
Another fantastic way to arm yourself with the best tools, advice and knowledge possible when creating a professional wedding cake is to enroll in Wendy Kromer's Dream Wedding Cakes class!
Photo via Bluprint instructor Rachael Teufel
Creating a wedding cake professionally is an incredible achievement and hopefully with our set of handy tips and advice you should find yourself aching to start on another fabulous project once you've finished!
The best tip of all is to enjoy what you do — if you're tired, stressed, and sleep (or food) deprived but still excited and happy with your work then you're bound to make some wonderful wedding creations!
All you other pros out there, what wedding cake dec words of wisdom can you share with our aspiring professionals?
Special Savings on Popular Cake Decorating Classes
Learn from the best instructors. Get up to 33% off classes you can watch anytime, anywhere, forever.Enroll Now to Save »