Companies or individuals that hire event photographers often request prints on site. If you don't do this often, it can be a bit of a daunting request, but with the right process and pricing, printing photos on location can add value to your business and give guests a memento to remember you the next time they need a photographer.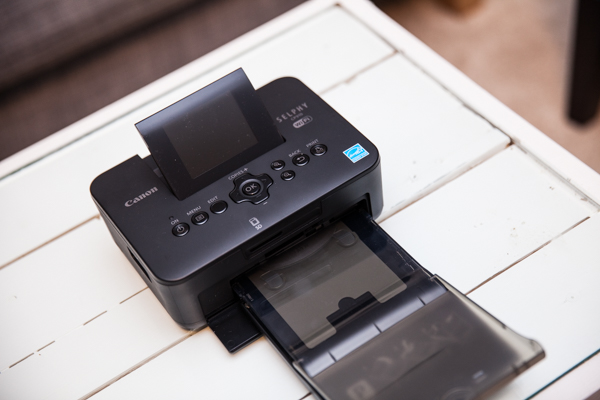 Questions to ask your client:
How many prints? Settle on an estimate up front so you know how many printers and supplies you need. For example, the client is expecting 300 guests and most of them are couples, so we will plan for 200 photos.
What is the budget? You must make sure your supply costs do not exceed your price. We either price per print or per hour, knowing how many prints can be achieved per hour and our cost for materials, per print.
How quickly do we need the prints? If you need 300 prints done in one hour and your printers print 50 photos per hour, you will need 6 printers running continuously to meet the deadline.
Items you need:
Printers: Depending on your prints per hour figure, you may need more than one high quality digital printer. I recommend having two at minimum in the case of printing malfunctions. We like Canon Selphy 4×6 printers for speed and ease of use.
Photo paper and ink cartridges
Printing table: You're going to want a table for your equipment that is as close to you as possible but in a place that does not tempt guests to touch things.
Display area: Secure a display table of some kind where you can put the prints. It can be a nice touch to add a paper frame with your logo on it if you have the budget.
Computer: If you want to do any editing or cropping you will need a computer. It's possible to just pop your memory card right into the printer and get quick images. Most photographers I know are enough of a control freak that they will need to do some type of post-processing before making a print.
Keep in mind:
Photographing an event AND printing photos is two jobs — It's a good idea to hire an assistant if you don't think you can handle both at the same time.
Printing is expensive — Don't undervalue the cost per print and the time it takes to set up your printing system. I know you can get prints cheaply from the internet, but there is a premium for your client to have them immediately.
Printing takes time — I spent several hours problem solving the kinks in my workflow and figuring out how to use multiple printers. One model was slightly older and printed slightly differently, so I had to spend some time creating a standard printing template in Lightroom. Factor this into your cost equation because more than likely, you will have some technical difficulties along the way.
People love prints — While we are in a digital age, a nice-looking, high-quality print is still excellent for display and remembering meaningful moments and events. Keep in mind that adding print functionality to your services will build your brand and leave guests (read: potential clients) something in their hands to remember you by. In the here today, gone tomorrow, world of social media, a print is something that we can hang on to.
Have you tried printing on site? Do you have any other tips for making it easy and profitable?
Special Savings on Popular Photography Classes
Learn from the best instructors. Get up to 33% off classes you can watch anytime, anywhere, forever.Enroll Now to Save »