There is no doubt that the dream of many little girls is to be a princess and celebrate their birthdays with an extravagant royal celebration! Help bring their fairy tale wishes to life with magical and timeless princess cupcakes fit for a majestic ball.
Get inspired by this collection of regal cupcakes and desserts that will fulfill the fantasy of any aspiring princess!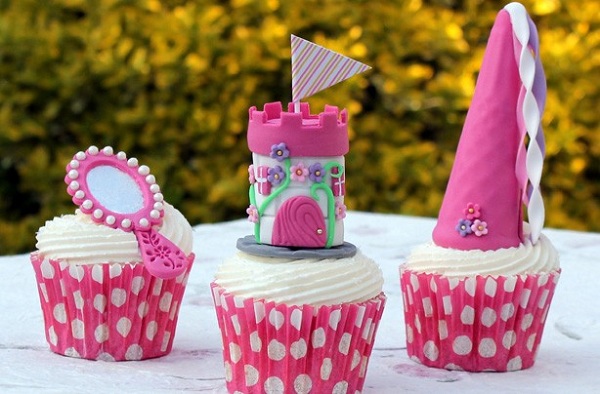 Photo via Victorious Cupcakes
Pretty in pink princess cupcakes
For Good to Know Recipes, Victorious Cupcakes created a tutorial for these adorable and precious princess cupcakes, including a castle tower, mirror and a princess cone hat. These cupcake toppers were modeled with fondant, as well as Rice Krispie treats and ice cream cones for extra stability. The use of edible sugar pearls and a paper flag add further dimension to the cupcake embellishments.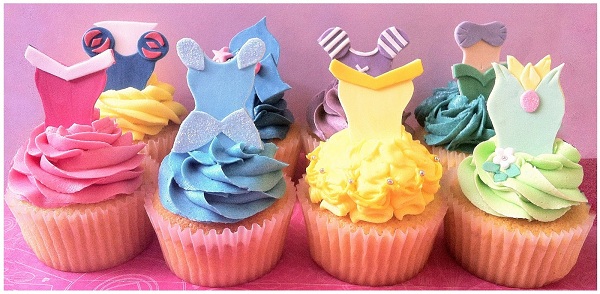 Photo via Top the Cupcake
Royal cupcake wardrobe
It's virtually impossible to refer to princesses and not think of the iconic Disney characters. Top the Cupcake created these precious and sweet cupcakes, representing the different Disney princesses' recognizable dresses with the use of both fondant adornments and various piping techniques for the icing. Learn to re-create your own princess dress cupcakes with the tutorial for the Sleeping Beauty dress and get creative for expanding the royal cupcake wardrobe.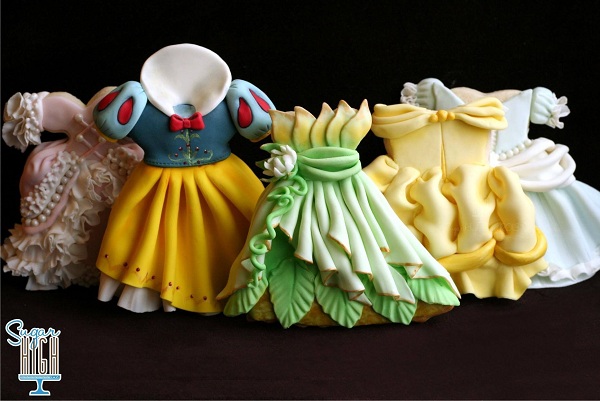 Photo via Sugar High, Inc.
Sweet and fancy gown cookies
Sugar High, Inc. was also inspired by the princesses' classic gowns to create these absolutely gorgeous dress cookies. The fondant apparel was modeled by hand, especially utilizing the ruffling technique, and small details were added throughout, setting this collection apart!
Learn more about ruffling fondant  in Fondant Frills with Maggie Austin!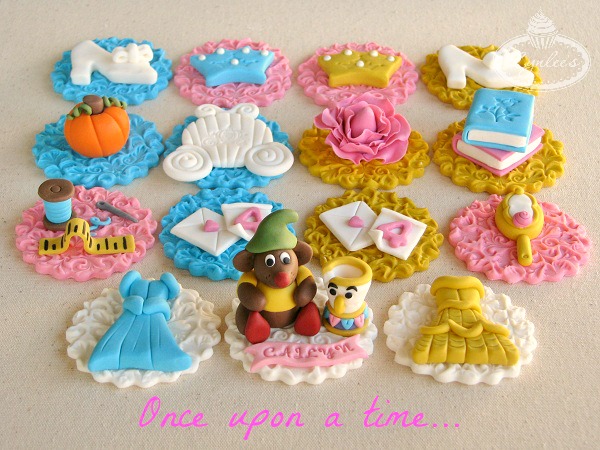 Photo via Lynlee's Petite Cakes
Once upon a time cupcakes
When it's hard for a girl to choose her favorite princess, what's a queen to do but combine themes? These fondant cupcake toppers represent elements from both the Cinderella and Beauty and the Beast movies, inclusive of three-dimensional figures, as well as smaller details relating back to the princess stories. A great and simple way to personalize the toppers are to use names, initials and ages of the guest of honor and infuse them into your designs.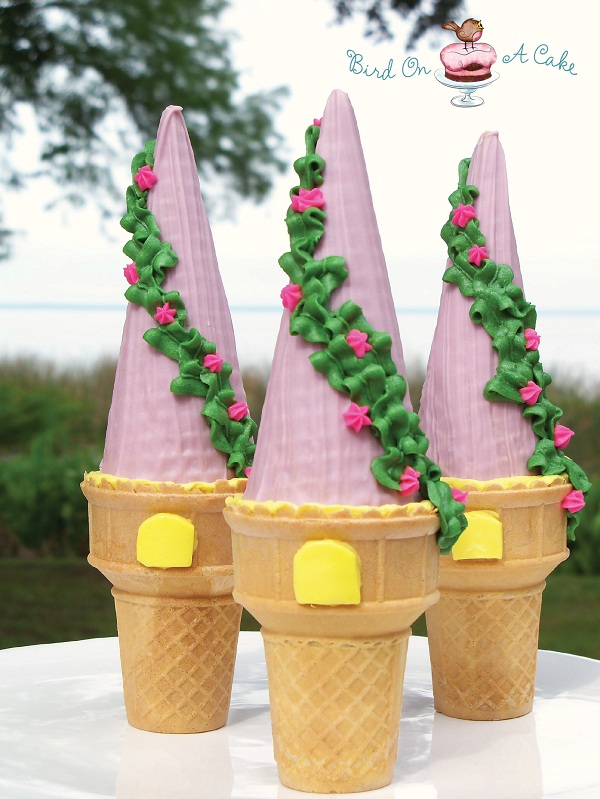 Photo via Bird on a Cake
Rapunzel tower cupcakes
Castles and towers remain a popular icon when it comes to princesses, but no royal had to spend more time in a tower than Rapunzel! Bird on a Cake shows you how to create these precious tower cupcakes in a tutorial, baking the cupcakes directly into the wafer cones and building the remainder of the tower with sugar cones. They can be used for a variety of princesses or the Rapunzel theme can be taken even further by adding locks of hair cascading down from the window.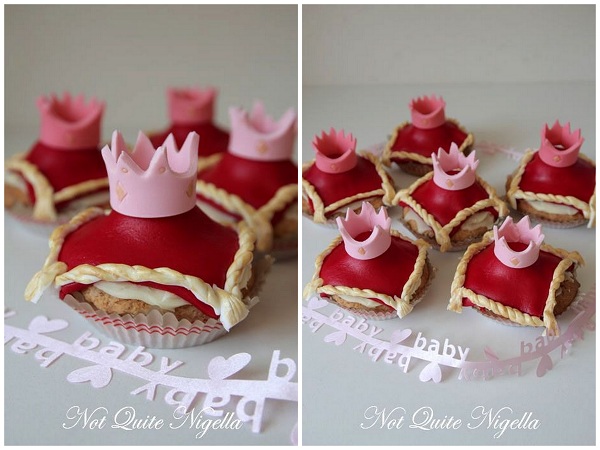 Photo via Not Quite Nigella
Princess crown cupcakes
Royal sweets can also be the perfect way to celebrate and welcome a new little princess (or prince) to the world. Not Quite Nigella created these majestic crown cupcakes for that very reason and with step-by-step instructions, shows you how to re-create the fondant crowns and tasseled pillows fit for any princess!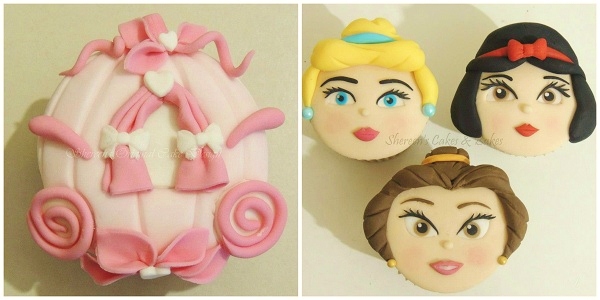 Photo via Shereen's Cakes & Bakes
Princesses and their carriage
A princess' favorite mode of transportation is a fancy carriage and Shereen's Cakes & Bakes shows you just how to cover a cupcake to resemble one in this carriage tutorial (sorry, the tutorial went missing). This super sweet and pretty carriage originates as a dome over the entire surface of the cupcake and the pretty embellishments are added directly to the top. With the same cupcake covering technique, Shereen demonstrates how to replicate these darling faces in the princess tutorial to complete the set.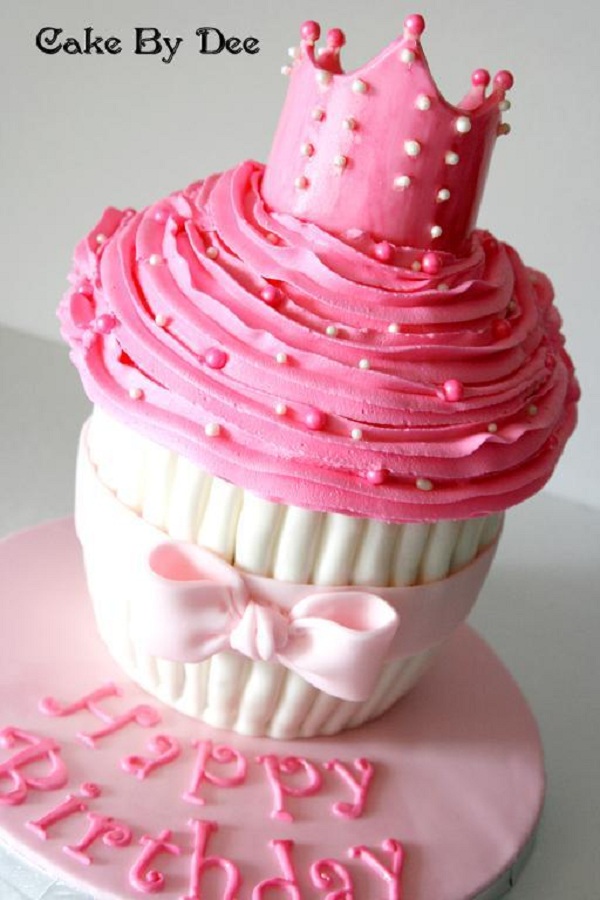 Giant Princess Cupcake via Bluprint member CakesByDee
Giant princess cupcake
After taking the Bluprint course Advanced Fondant Techniques with Marina Sousa, CakesByDee created this adorable pink giant cupcake topped with a majestic crown that any princess would love! The addition of a fondant bow and edible pearl candies add the perfect girly details and complete the royal confection.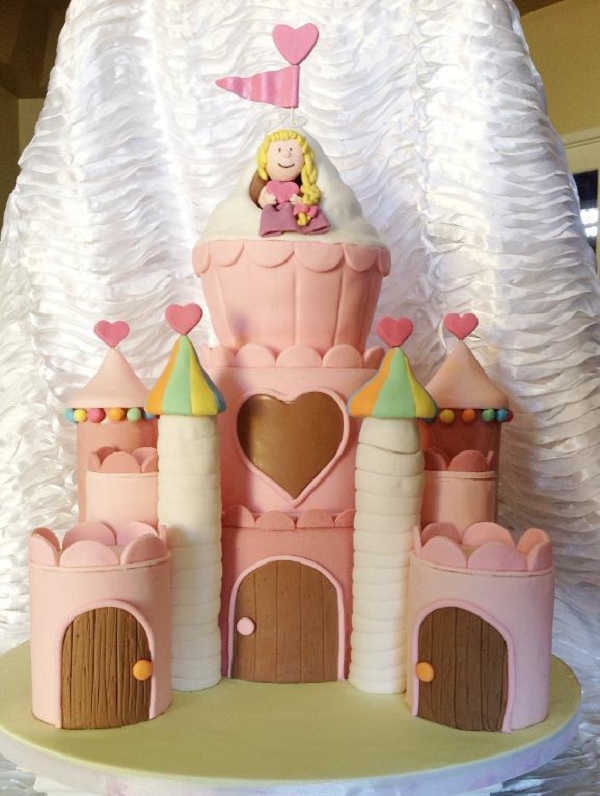 Rainbow Princess Cake via Bluprint member angsaban
Princess castle cake
How adorably sweet is this castle cake topped with a cupcake tower and princess? Cake artist and Bluprint member angsaban took the course Design Your Own Castle Cake with Sharon Wee and created her own work of art. Making slight modifications, such as replacing some castle components with a rainbow effect and customizing the princess' dress and hair in this case, you can easily personalize your cake for the guest of honor.
Whether the royal honoree has a specific favorite princess or simply dreams to become one herself, any one of these creations will make her fairytale fantasies come true!
How will you roll out the royal carpet (or fondant) for your princess?