Blooming embroidered silk petals adorn a simple project, transforming the ordinary into something charmingly romantic. Discover a new way to use button cover embroidery designs to create pretty in-the-hoop flower petals using the same technique employed in sewing garment facings.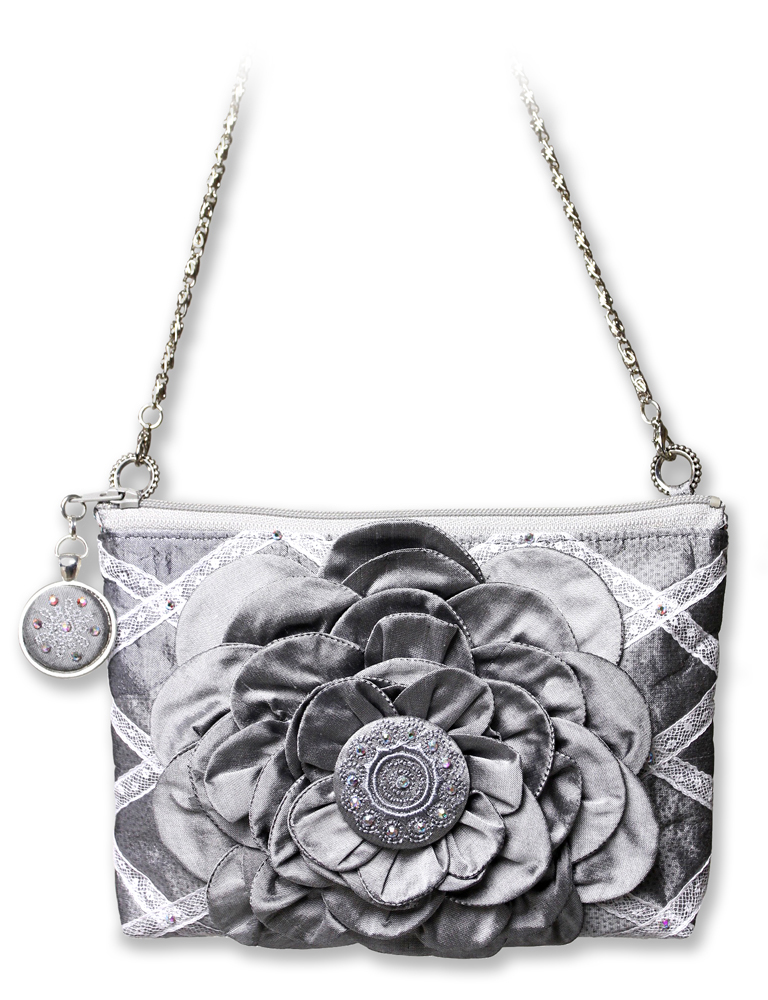 This technique is a lot of fun and super simple to create. Use it to embellish just about anything, from the front of a tote bag to a pillow or table topper.
To create a flower, you will need lots of flower petals, so grab your computer and your largest hoop, and lets get started!
Combine multiple circles in Floriani, and then use repeat function and color sort, and grab images of this for directions.

Embroidery products needed:
Embroidery technique:
The embroidery CD (found here) is used to create pretty little embroidery designs you can use to embellish a covered button shell. It contains a digitized circle, which can be used as a centering template when used with a professional fabric button cover machine. By using the same concept of creating a facing for a blouse neckline, you can use the little all over lacy designs to create in-the-hoop flower petals by simply altering the design slightly. See how easy it is below.
Directions
Step 1:
Cut a piece of silk fabric large enough to fill your largest sized embroidery hoop, and back with fusible lightweight mesh cutaway stabilizer. Hoop the fabric using your largest hoop.
Cut (36) 4.5" squares of silk for embroidered facings.
Step 2:
To make the embroidered petals:
On a computer, enlarge "Frames & Borders Button~Ups" design "225_Cali_n" 20 percent so it measures 75 mm x 75 mm without changing the density or color sorting. Center and combine design with the free download "75 mm Circle." Color #1 is the center and color #2 is the circle.
Step 3:
Embroider 18-20 designs as demonstrated below.
Note: In an embroidery software program, such as Floriani Total Control Professional, you can easily combine multiple repeats of the same design by using the repeat function as show below. This is much easier than trying to program each design on your embroidery screen.
Digitizing Designs
Learn more about digitizing machine embroidery designs with Bluprint instructor Cookie Gaynor, an expert embroiderer who takes students step-by-step through translating embroidery designs to the digital world.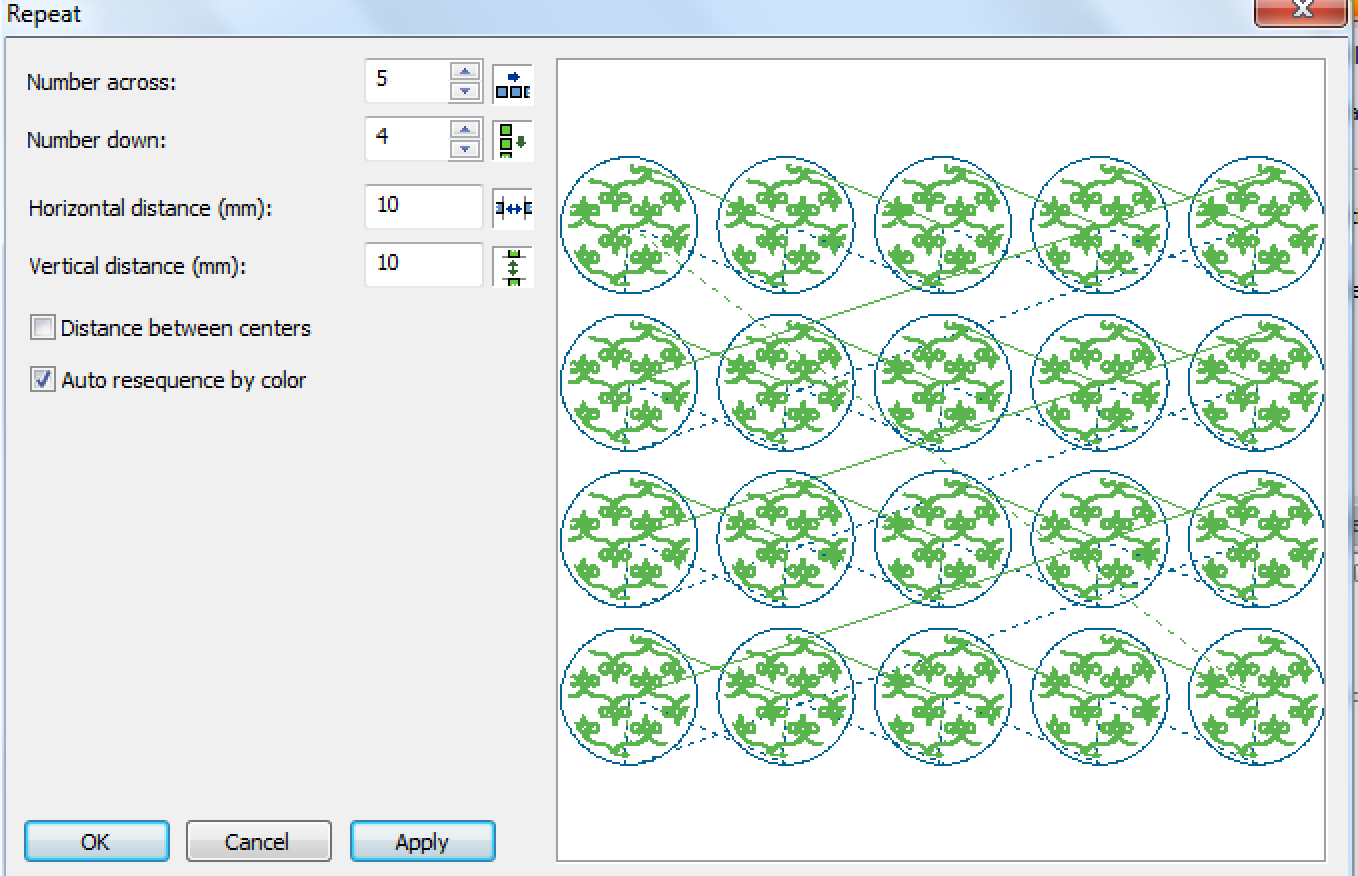 Embroider color #1 using matching embroidery thread. Before embroidering color #2, center a 4.5" square of silk over color #1 with the right sides together. Continue to embroider until you have 18 circles with embroidered facings on top.
Step 4:
To create petals, cut outside each circle leaving 1/8" seam allowance. Cut down the center of each circle creating two equal halves. Turn the right side out, smoothing the curves, and press using a sewing clapper to flatten seams. Serge raw edges of each petal using a 3 thread narrow overlock stitch.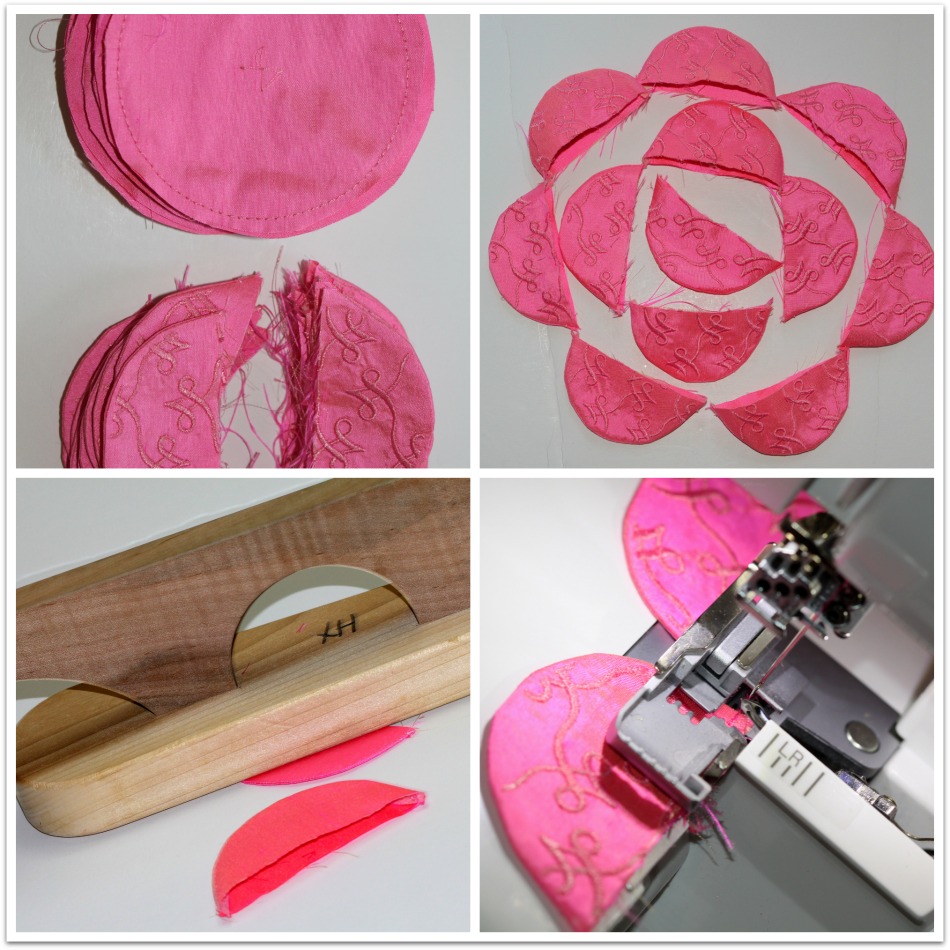 Step 5:
To arrange the petals on your project, draw a circle, tracing around a round plate or a bowl with chalk.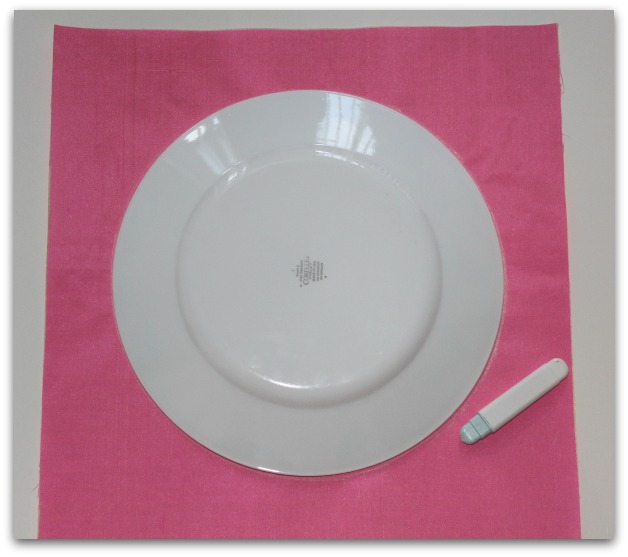 Step 6:
Next, arrange the first layer of petals so they overlap as desired, and use a water soluble glue or pins to secure the first row of petals in place.
If using glue, allow to dry and then straight stitch over the serged edge to secure.

Step 7:
Repeat to add other rows of petals. Add a layered flower or button to the very center and enjoy!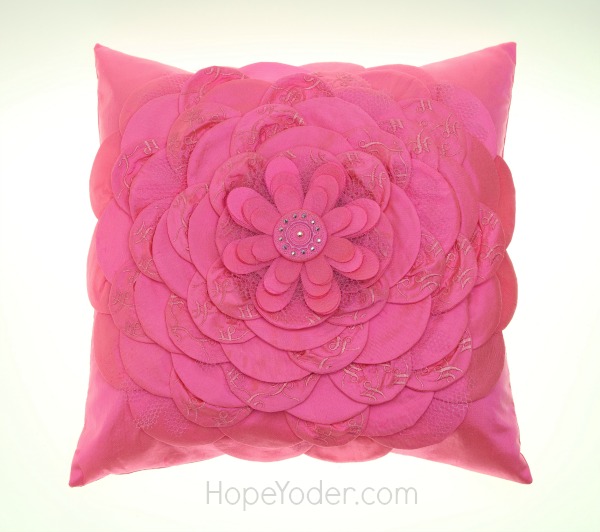 What will you embellish with these pretty petals?