Sewing with pre-cut fabrics is fun, satisfying, and faster than cutting your own quilts from yardage! Learn some awesome quilt room hacks tailored to sewing with pre-cuts (charm packs, jelly rolls, fat quarter bundles and more), from storing pre-cut fabric to pinning tips and more.
Tip #1: Buy enough pre-cuts for the job
How many charm packs do you need for a queen-size quilt? What size quilt can you make from a roll of pre-cut strips?
Here's a quick guide:
| # | Pre-Cut | Quilt Size |
| --- | --- | --- |
| 1 | Charm Pack | Baby quilt |
| 3 | Charm Pack | Lap quilt |
| 5 | Charm Pack | Twin-size quilt |
| 8 | Charm Pack | Queen-size quilt |
| 1 | Layer Cake | Twin-size quilt or smaller |
| 2 | Layer Cake | Queen-size quilt |
| 1 | Design Roll | Twin-size quilt or smaller |
| 2 | Design Roll | Queen-size quilt |

These guidelines, based on this information, assumes that a charm pack includes 42 pieces of 5″ squares, a layer cake includes 42 pieces of 10″ squares, and a design roll includes 40 pieces of 2½" strips.
What about fat quarters? Fat quarter bundles vary so much in how many pieces of fabric are included. As a general rule of thumb, you'd need 10-11 fat quarter pieces for a twin size quilt and 21-22 for a queen-size quilt. 
Tip #2: Sew tiny stitches instead of pinning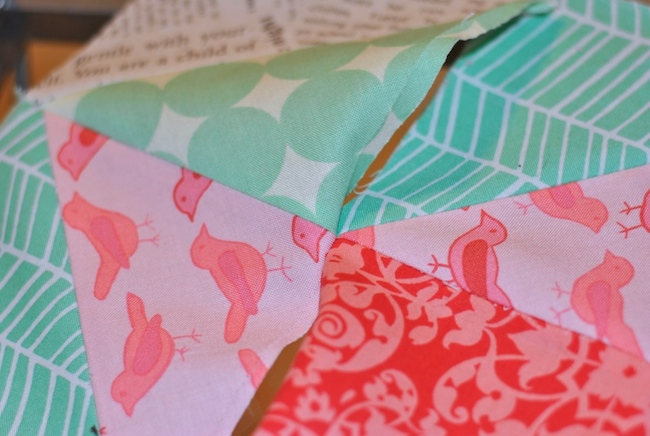 Photo via Craft Buds
When sewing together pre-cuts or any pattern with a number of seams that need to line up, try this tip! Instead of pinning at the seams, use the "tiny stitches" method:
Align the two units and place the intersection under your presser foot. Sew forward and then backward a couple times to secure your work. Then check if the seams are aligned. If they're not, rip out the seams. If they are, move on to the next intersection. Once all the seam intersections are aligned and sewn together, sew along the entire seam for perfect points.
Tip #3: Mark a ¼" seam with washi tape
Do you struggle to find that perfect quarter inch seam? Once you've found the right measurement, use a piece of washi tape to mark it for good on the base of your sewing machine. You can use the tape to line up your future patchwork blocks along that straight edge.
Tip #4: Use a lint roller for pre-cut fuzz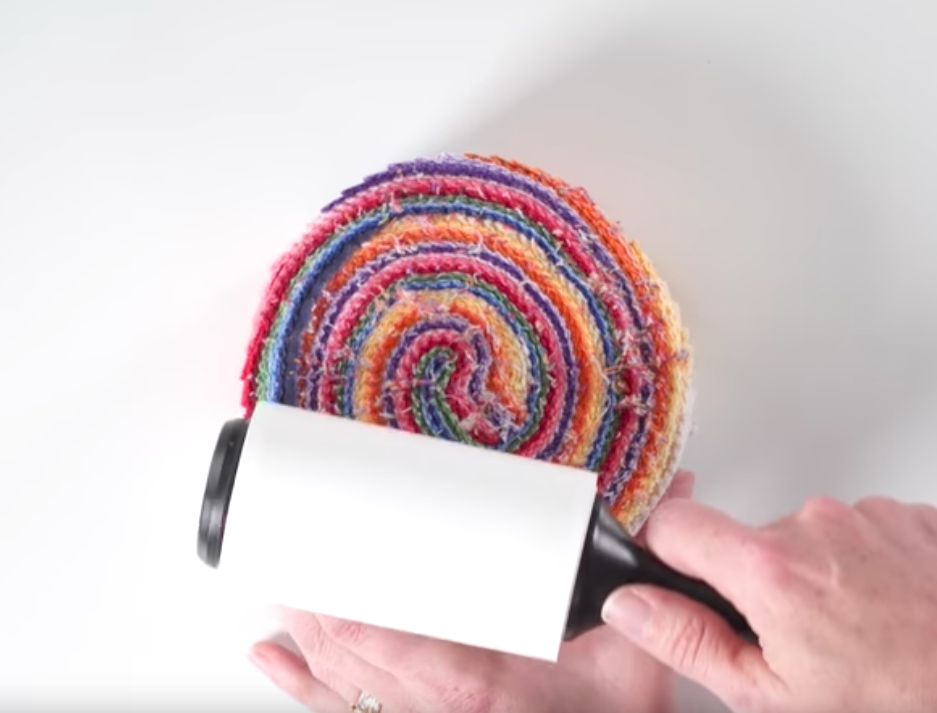 After unwrapping a jelly roll from the plastic wrap, you can use a lint roller to control the fabric fuzz along the pinked edges. If you change your mind about sewing with that fabric, use a rubber band to re-wrap the roll and save it for next time.
Tip #5: Organize pre-cut fabrics by type
Store mini charm packs together in the same area, and keep fat quarters together — even if that means mixing different fabric lines together. Keeping your fat quarter bundles tied up with string may make you afraid to cut into them, but once you've untied them, you'll be more likely to use them.
Related: 10 more helpful sewing room organization hacks
Tip #6: Keep pets away from pre-cuts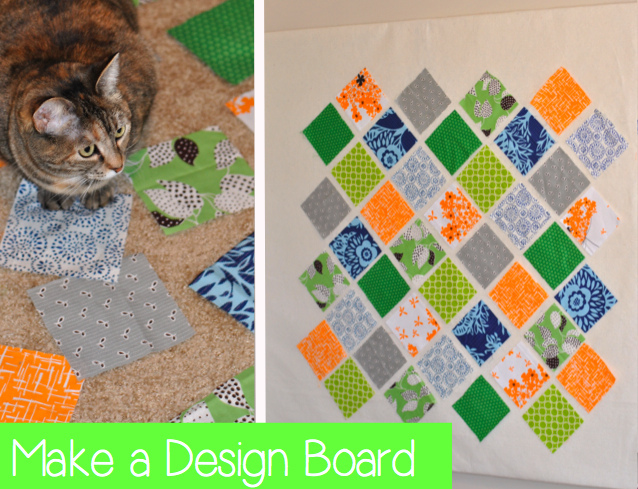 Photo via Craft Buds
Learn how to make a portable design board with quilt batting and styrofoam board from the hardware store. That way you can keep the cat from laying on top of your charm squares, and move the board from the wall directly to the sewing machine!
Tip #7: Use a magnetic pin dish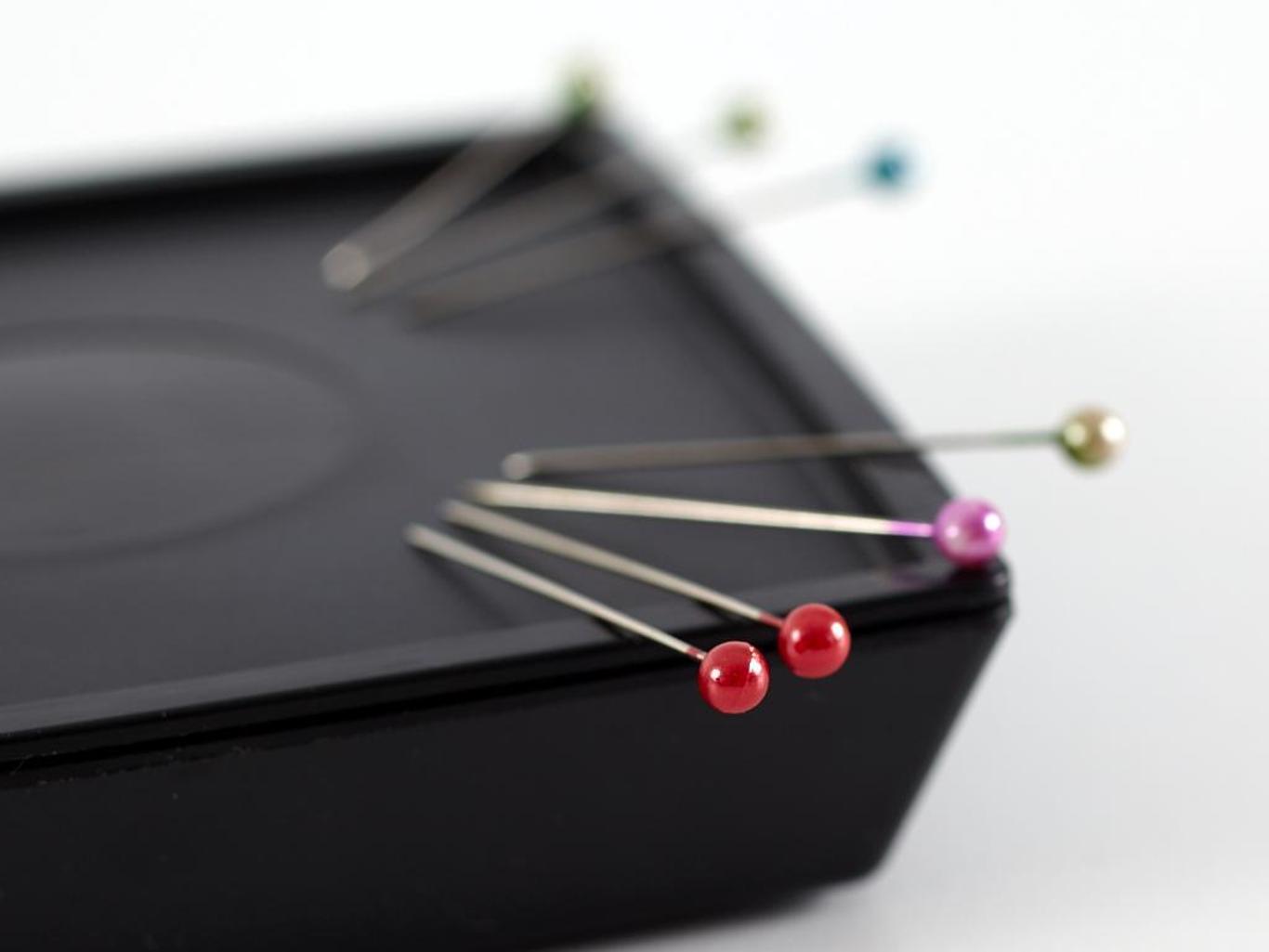 When sewing with pre-cuts, you'll probably do a lot of pinning! Make sure you keep those sewing pins nearby with a magnetic pin dish, like the Zirkel Magnetic Pin Organizer. Or, go the DIY route by gluing magnets to a pretty ceramic dish.