Looking for a garden style that is a little on the wild side? Maybe a kind of garden that doesn't require your attention every day of the week? How about a garden design that doesn't require you to take out a loan to pay for the watering bill? Maybe a garden style that would grow amazing with natural rainfall and harvested rainwater? Prairie-style garden design is perfect for gardeners who can be a little carefree.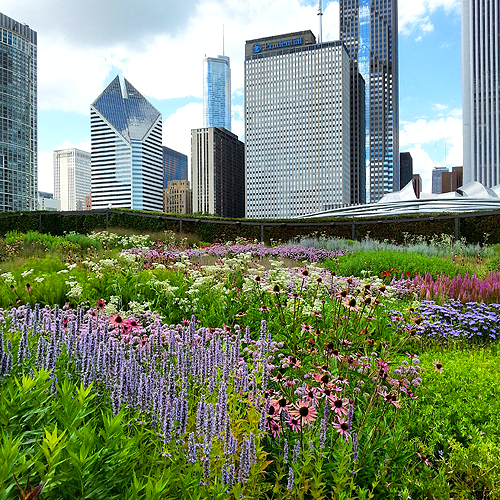 About prairie gardens
Tallgrass prairie once covered parts of 14 states in the Midwest, according to the U.S Fish and Wildlife Service. But prairies aren't all just tall and boring grasses. There is a surprising amount of diversity to be found in prairies. And garden designers are doing a good job highlighting the floral and textural interest that can exist withing a prairie-style garden. Take the prairie garden above, located in Chicago's Millennium Park. Let's take a look at some of the plants that make this garden such a showstopper in summer that you could easily incorporate into your garden, big or small.

Yes, you can create your own prairie-style garden!
The cool thing about today's prairie garden design is that it isn't just for purists. More and more we're seeing non-native plants incorporated into these garden designs. Take these red daylilies for example. Hemerocallis 'Chicago Apache' obviously chosen for its striking color, but there are so many cultivars that you can choose from just about any color you want for your garden. A good trait of these plants is how tolerant they are of dry conditions in the garden, which explains why they are added to prairie-style gardens even though they aren't native plants.

The Echinacea genus is used a lot to fantastic effect in prairie gardens. This garden is home to eight varieties of Echinacea, including  'Sunset,' 'Pixie Meadowbrite,' E. tennesseensis and E. simulata. If you are looking for easy-to-grow plants to add to a prairie-style garden that will attract pollinators, make sure to add a lot of purple coneflowers.

Ornamental onions like 'Summer Beauty' bloom for weeks, and the "heads" of these flowers move and nod in the summer breezes. In the fall, the seed heads remains and provide winter interest.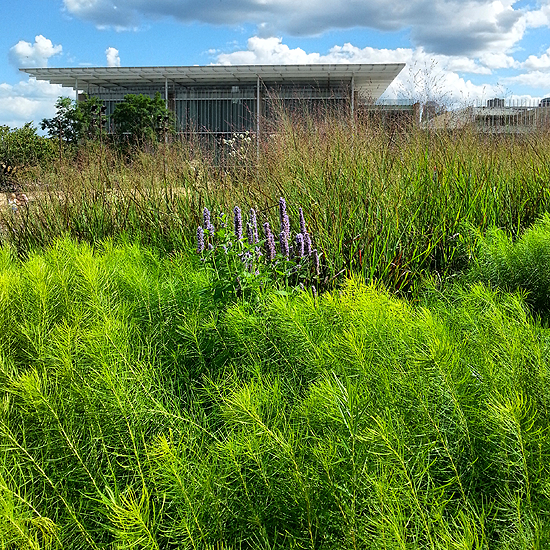 A prairie-style garden wouldn't be much of a prairie garden without grasses. There are 19 varieties of  grasses in the garden pictured in this post. The blue-lavender blooms in the center are from the aromatic giant hyssop.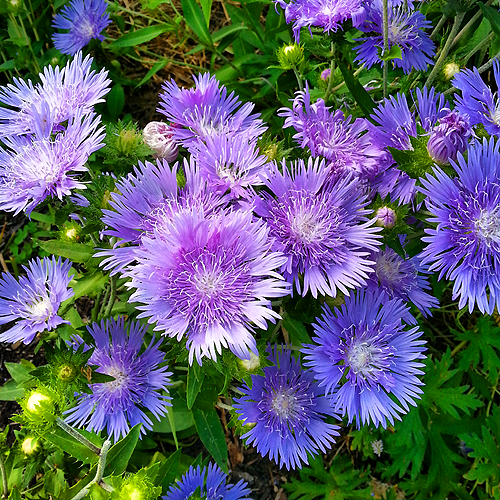 Asters don't get enough love outside of fall plantings. The lack of aster-love is probably because people don't know that they bloom in colors other than drab earth tones in the fall. Take this Stoke's aster for example as one of a few asters you can add to your garden.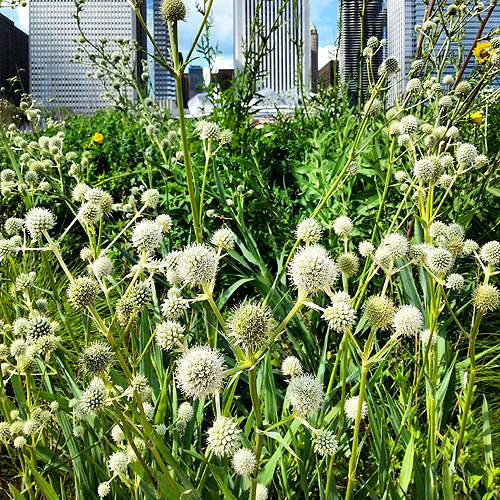 One of my favorite plants in this garden is the rattlesnake master pictured above. It is tall, structural and the silver-hued heads are really attractive. Rattlesnake master is paired nicely with compass plant in this garden.
Prairie gardens and gardens that are in the prairie-style are as versatile as any other garden design styles that you can try to recreate in your own garden. Native plants and cultivars that are less dependent on fertilizers, pesticides and water help make gardening more environmental and fun. When you're not stressing about garden pests and having to spray chemicals, you have more time to enjoy your garden. Are you inspired to add some native plants to your garden and create a prairie-style oasis? Look over the full plant list of this prairie garden for more pictures and inspiration.
FREE mini-class!
Learn to see your garden through new eyes with the (free!) Craftsy mini-class Transform Your Garden Design, taught by professional landscape designer and author Rebecca Sweet. She'll show you how to elevate your uninspired or chaotic garden to one filled with harmonious color, texture and form!
What's your favorite native plant?