We've already covered making prairie points two ways, the traditional way or a faster ITH method using your embroidery software program. Today's tutorial is a spin-off from that post.
What if we didn't want sharp angles as on the prairie points? Sometimes you need smoother line angles or just want to go a step beyond the traditional.
Prairie circles have the look and feel of their traditional quilting counterpart, but they are hip and edgy and can be used to embellish anything from garments to quilts.
Materials
For this technique, start with a circular button-cover embroidery design, like Button~Ups Embroidery Collection, originally intended for making pretty covered buttons. This type of design works perfectly, without having to use an embroidery software program.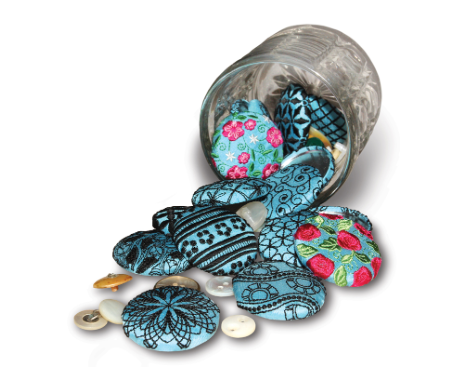 Tip: Select an all over design that doesn't include an abundance of satin stitches such as the ones shown below.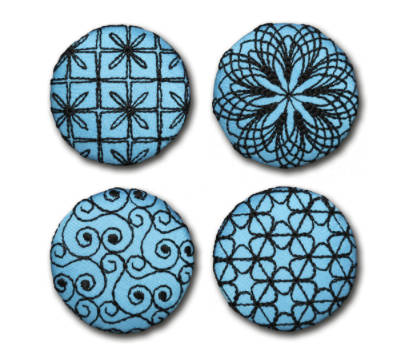 To use the collection (as intended) to make covered buttons:
Choose light to medium weight fabrics such as cotton quilting fabrics.
Hoop fabric with a tearaway stabilizer in a 4" x 4" embroidery hoop.
After the embroidery is complete, remove the excess stabilizer, and cut along the embroidered template circle outline (outline fits 1 ½" button cover kit which can be found at your local fabric store in the notions aisle).
Follow the manufacturer's directions to cover the button shell with fabric.
Now let's dive into making the ITH prairie circles.
For the ITH prairie circle I'm using an all over embroidery design from the Hipster Chick pattern.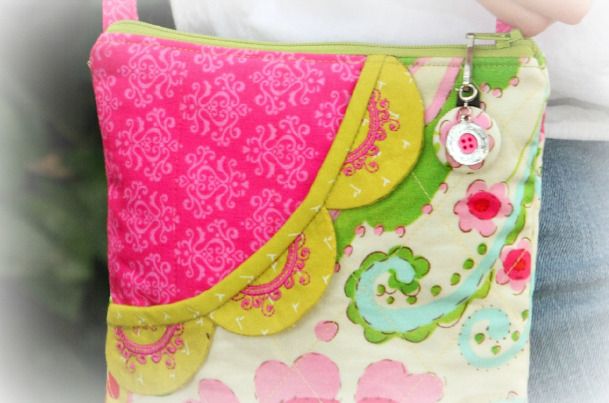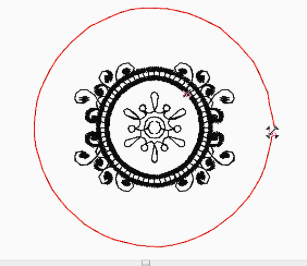 The circle that was originally used as a template to create a button shell, will be used in a different way to make prairie circles. Before I explain the technique let me give you an illustration of what we are trying to achieve.
Think back to when you made a facing for a ladies' round neck blouse. Why did the pattern call for a facing? Normally it's to make perfectly turned-under edges of the seam allowance, following the curve of the round neckline. Using a facing is just an easy way to fold under raw edges neatly, so you don't have to try to use your hands and turn under the edges. By stitching a second piece of fabric to the neck, such as a facing, around the curved neckline, it allows for a smooth finish that could not be achieved when trying to turn under the edges any other way. For a refresher on garment facings enroll in the Sassy Librarian Blouse with Christine Haynes.
Now look at the circle around the embroidery design one more time. Let's pretend that circle is the facing. This means we will need a second piece of fabric to make a button cover facing.
Step 1:
Embroider the design on fabric that is hooped using a light weight tearaway stabilizer.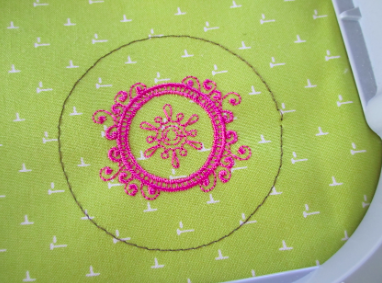 Step 2:
Have another piece of fabric handy and spray starch it lightly and press dry.
Step 3:
Before you embroider the circle stitching in the design, lay a second piece of fabric over the embroidery hoop with right sides together. Make sure there is plenty of fabric that will go outside the circle stitching line.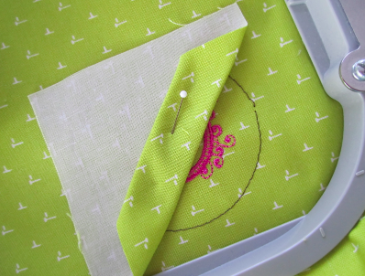 Step 4:
Embroider the circle stitching line through both layers of fabric as shown and remove from the hoop. Cut around the circle, through both layers of fabric, leaving a ¼" seam allowance.
Step 5:
Use a rotary cutter, mat and quilting ruler to cut up the center of the design.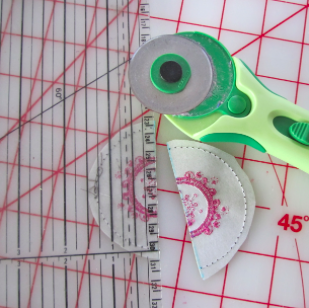 Step 6:
Gently remove the tear away stabilizer being careful not to pull out any of the embroidery stitches.
Step 7:
Turn the fabric right sides out and press using a steam iron.
Step 8:
Repeat to make several prairie circles.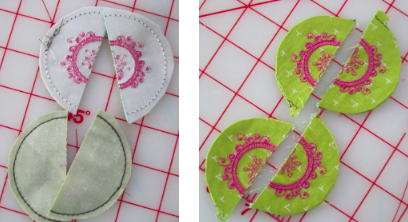 Step 9:
Overlap the prairie circles and use them any place you would insert a piping or trim in between two seam lines. Use over the edge of fabric and then apply bias binding.
 Now you know how to make in the hoop prairie circles! What project will you apply this embellishment to first?