I'm going to give you a quick tutorial on retouching portraits in Photoshop. There are many different ways to retouch and you can spend hours on a single photo to get it perfect. This post is meant to show you how to clean up an already good image in just a few minutes without altering the way your subject really looks.
Here are 5 quick steps that will give your images a little extra touch:
Before —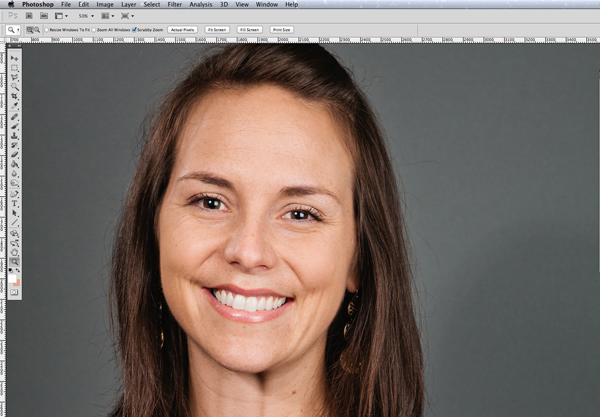 After —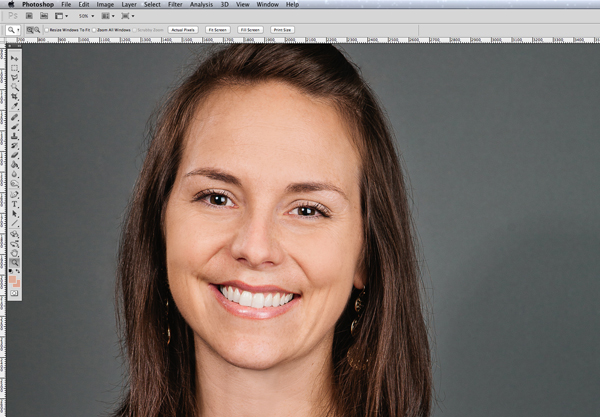 Step 1: Clone Stamp
I use the Clone Stamp to remove spots and blemishes. Small imperfections in the skin can be hidden by cloning surrounding skin areas that are clear. You can also use the Healing Brush to similar effect, but with less control. Depending on the skin, one may be faster than the other. I try not to remove distinct beauty marks or other distinguishing features. I want the person to look like themselves, just on a really good skin and hair day.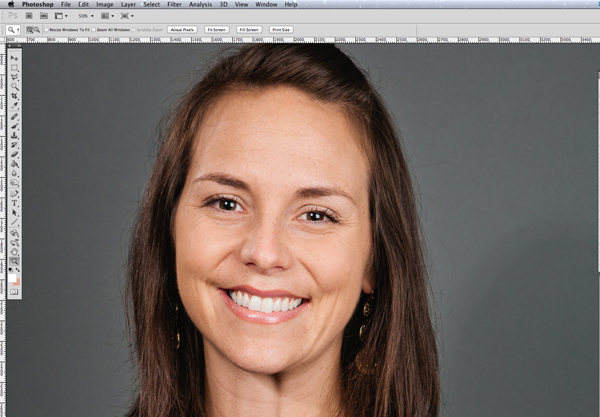 Step 2: Healing Brush
On a simple background, like the example here, the Healing Brush works really well to remove flyaway hairs. Women with long hair, in particular, have a difficult time getting their hair just right. If there is any static in the air or they aren't using much hair product, there are bound to be at least a few hairs out of place. Run the healing brush along these hairs to make them disappear into background. You could use the clone tool to change the shape of someone's hairstyle, but in this case we are just cleaning up — not changing the look of the photo.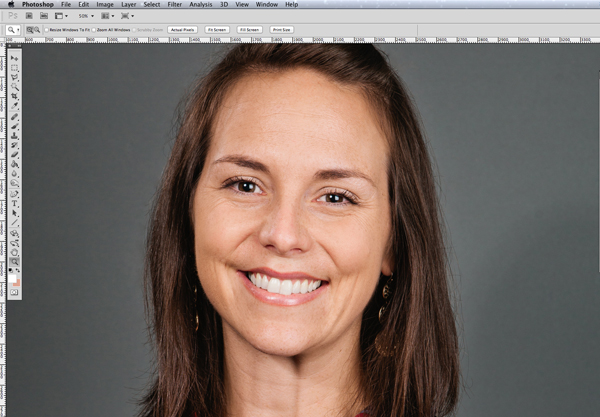 Step 3: Paintbrush
When used in conjunction with blending modes, the Paintbrush tool can subtly reduce wrinkles and have the appearance of makeup. I start with wrinkles around the eyes. Using the Eyedropper, I select a light skin tone on her face near where I'll be working. Then, I make a new layer, change the blending mode to lighten, and adjust my brush opacity to 10%. Zooming in, I'll brush along the darkest areas of the wrinkle, over and over again. At 10%, it may take a few passes to see a noticeable difference. Build up the effect slowly. You don't want to remove the wrinkles (this looks unnatural) but you do want to make them more even toned. Sometimes, I will also make the teeth and eyes whiter using a white brush at 10% with the lighten blending mode.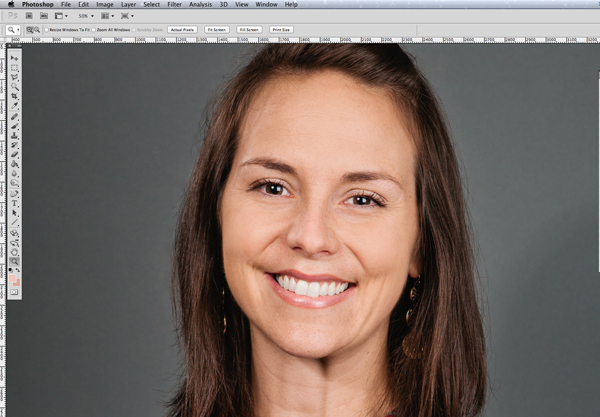 Step 4: Gaussian Blur
Merge all your painted layers with the background layer. Then duplicate this layer. Under the Filters menu, find Gaussian Blur. Apply this filter to your duplicate layer so the image is only slightly blurry, add a layer mask and then invert the mask so that you can't see the blurred layer anymore. Now, use the Brush tool (up to 50-100% opacity) to mask in just the skin. This leaves the skin slightly blurry, a softening effect, while the eyes, mouth and hair remain sharp. I use more blur for women and less for men so that the guys are not as soft looking.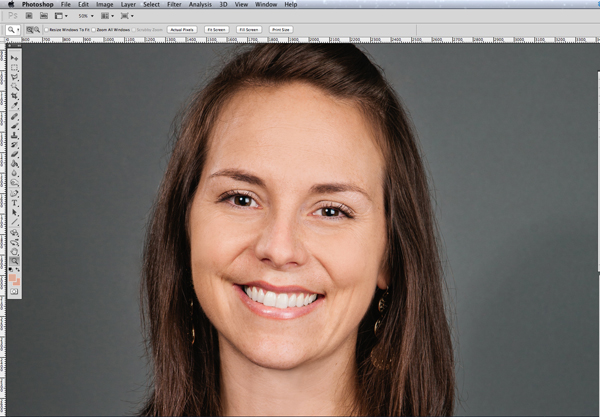 Step 5: Sharpen
Use the Smart Sharpen filter to give your image a little extra pop. The amount of sharpening you apply depends on whether you are using the image for print or the Web and at what size you are publishing it. If the sharpening ends up accentuating parts that you don't want, you can do the reverse mask of Step 4 so that only the eyes, mouth and hair are sharpened.
Once you get the hang of it, this should be a 5-10 minutes process. Your clients will thank you for the extra touch!
Learn how to take portraits like a pro in Neil van Nieker's class Portraits With an On-Camera Speedlight. You might also enjoy Bluprint's brand new FREE mini-class Professional Family Portraits with Kirk Tuck.
Retouching is a touchy subject because some people overuse it to make people look unrealistic. Where do you draw the line?