Oui oui, madame! It's poodle cake time here on the Bluprint Blog! What is it about poodles that makes them so chic? Could it be there finely trimmed cuffs of curly hair and prancing, dancing trot? Or is it because fashionable women dressed in heels and smart modern dresses keep them close by?
Feminine, fluffy and altogether funny, poodles not only make great pets — they seem to make great cakes, too. From impressive sculpted dog cakes to gorgeous fondant creations and funny little "pup" cakes, these adorable confections are sure to make you smile!
Take a peek-a-boo at this roundup inspired by the chicest pup of the bunch: poodles!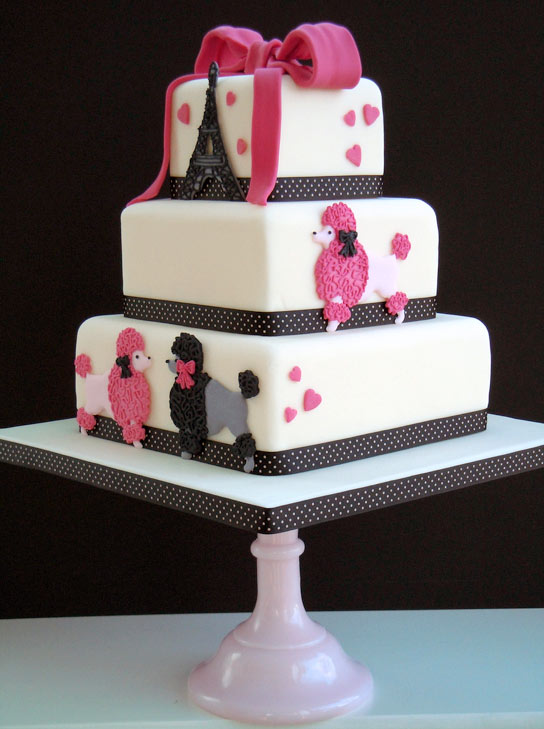 Photo via Gardeners Delights
Chic tiered French poodle party cake:
Gotta love this gorgeous streamlined cake by Gardeners Delights. Pink hearts, adorable big-haired poodles and the Eiffel Tower, too — ooh la la! The poodles and the tower are made using the ultra talented and cake design queen Peggy Porschen's run-outs designs. Wondering what run-outs are? Learn about them here. This cake would be wonderful for a chic bridal shower or a girly girl's birthday party, complete with truffles and pink champagne!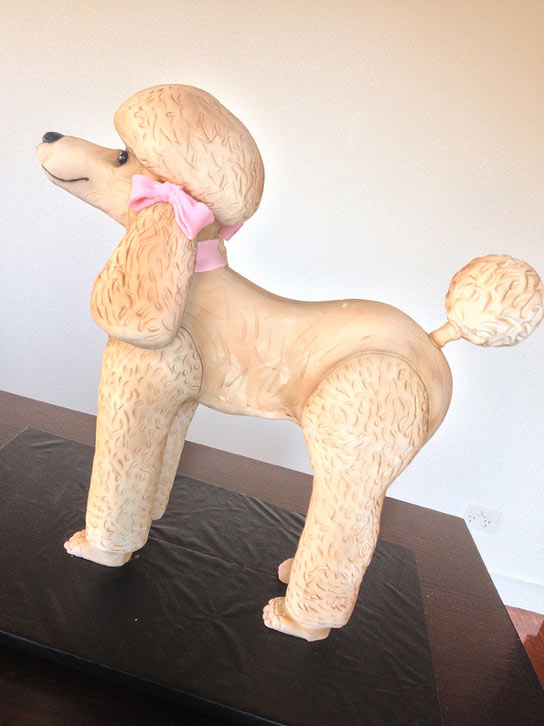 Photo via Cake Envy
3-D standing poodle cake:
This awesome sculpted dog cake was created by Cake Envy of Melbourne, Australia. Imagine your own pet poodle coming face to face with its cake counterpart? Poodle face-off!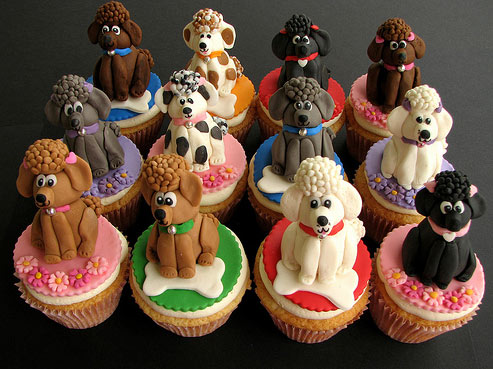 Photo via Tri Poodle
Poodle collection cupcakes:
These poodle cupcakes are certainly using their noodle — colorful, cute and fun! I love how every single one is different and each are sitting on their own fondant cut out a scalloped circle with either little fondant flowers or a bone. Tri Poodle is obviously a poodle fan to put such care into this awesome collection. Inspiring, indeed!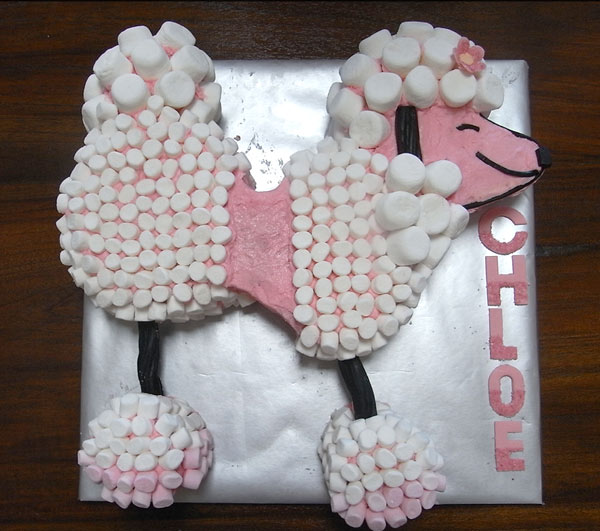 Photo via Muffin Cup
Marshmallow poodle cake:
A great poodle cake idea — two sizes of fluffy marshmallows for the poodle's fur and black licorice for her legs, ears and details. An easy decorating idea if you're not yet sold on your own skills in buttercream piping or cake carving.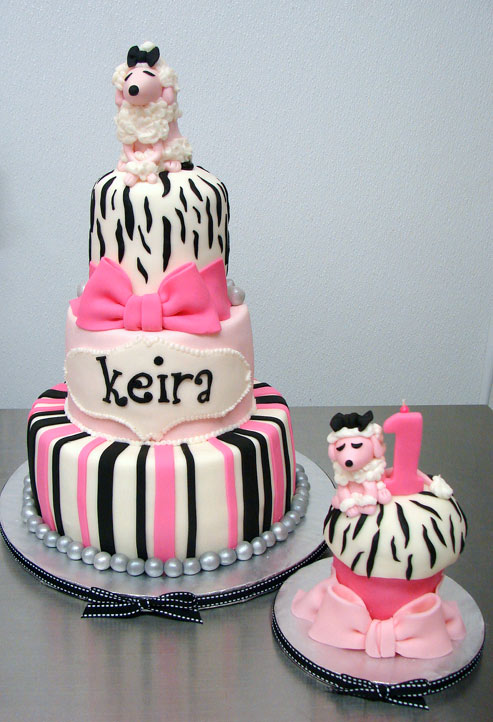 Photo via Little Sugar Bakeshop
Matching poodle cakes duo:
How cute is this duo of "poodlerific" cakes? Pink bows, silver pearls, zebra stripes and hot pink make these cakes as girly as can be — and each topped with a pink fluffy poodle of their own. Love the adorable mini cupcake smash cake matching the larger tiered cake! Great job, Little Sugar Bakeshop! So much fun.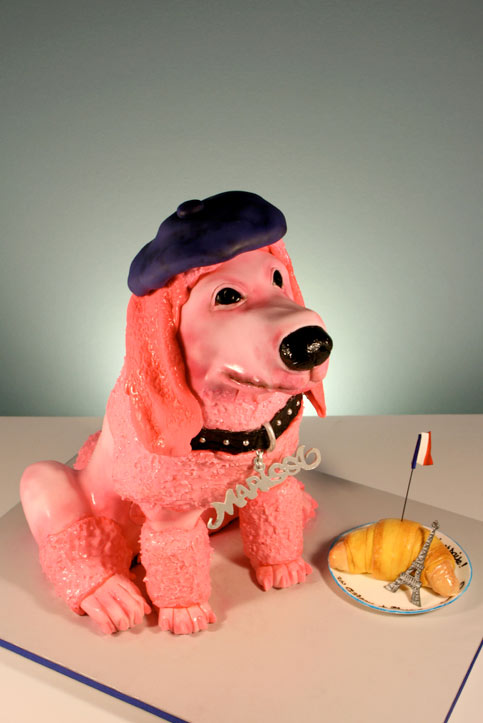 Photo via Mark Lie
French pink poodle with croissant cake:
C'est magnifique! Love this 3-D pink poodle cake, complete with beret and cake croissant, too. Now that's a cool pink pup. She's created out of cake, fondant, modeling chocolate and Rice Krispies Treats. Cut into this poodle and you'll find chocolate cake with chocolate buttercream.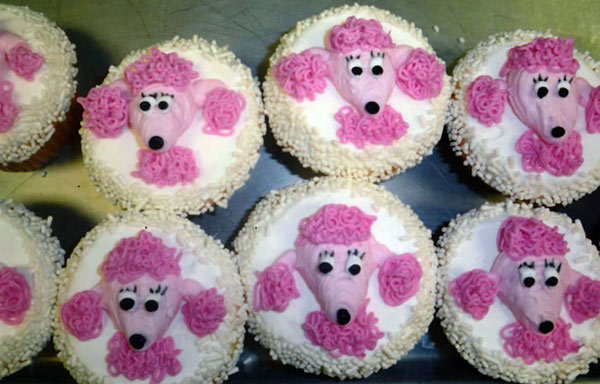 Photo via Susie G's Specialty Cakes
Cartoon iced poodle cupcakes:
These cute little pink haired rascals are created using buttercream icing — all piping here, no fondant! A multi-opening tip (also known as the grass tip) created the puffy pink haired squiggles, and I like how the cupcakes are each bordered with white candy sprinkles. Crunchy yummy!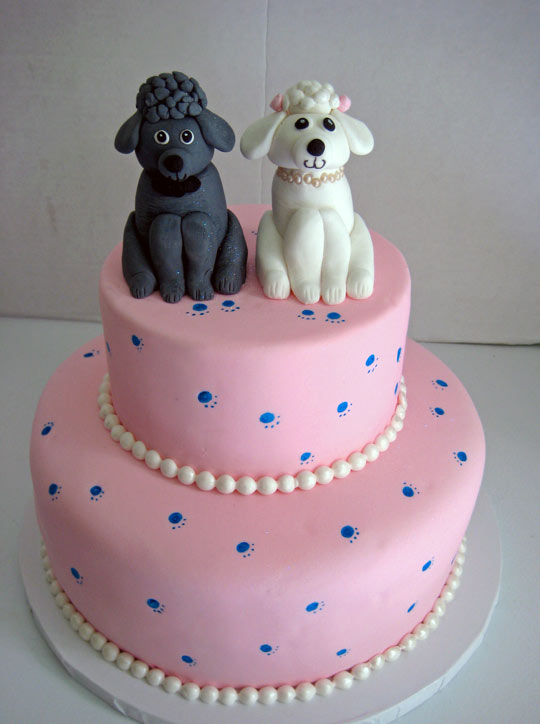 Photo via Cakes By Shara
Pink wedding cake with bride and groom poodle toppers:
Two tiers of pink fondant-covered cake dotted with paw prints, a pearl border and two adorable little bride and groom fondant poodle toppers — adorable! For some reason, I kept thinking that two dogs were getting married…perhaps I have these two dogs on my mind!
Want to try your hand at your own 3-D poodle cake? Check out Elisa Strauss's Bluprint class Sculpted Dog Cake. You'll be carving out a ruffly, puffy-haired poodle of your own in no time!
Do you prefer animals cakes that are a little more fierce? Check out yesterday's roundup of tiger cakes!
 Which of these adorable poodle cakes do you like best?