Pomegranates are a very special fruit. Contained in an unremarkable, almost beet-shaped firm red shell, once cut into, they reveal what seem like thousands of glistening, ruby colored jewel-like round formations. Technically, these are seeds covered in a firm pulp.
As unromantic as that might seem, it's these seeds that are edible and delicious. Surrounded by an astringent, spongy white membrane, they can be tough to extract, but they're worth it. Pomegranate seeds have a tart yet mellow flavor that's inimitable.
The flavor translates deliciously into a number of different recipes, from breakfast muffins to salads to cakes. Here's a collection of 10 we think are worth trying!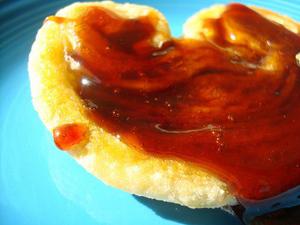 Photo via Cake Spy
Pomegranate Breakfast Recipes:
CREAM CHEESE TOAST STUFFED WITH POMEGRANATE
According to the recipe's creator, "the bit of tart zing in pomegranate is a great foil for the sweet elements of the bread and cheese."" Pomegranate would likely be a fine addition to an overnight French toast casserole, too. Recipe here.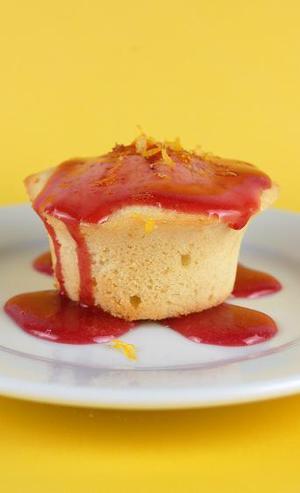 Photo via Hidden Ponnies
POMEGRANATE OATMEAL MUFFINS
The use of oats or grain cereal along with pomegranate seeds makes these muffins healthy, but a streusel topping ensures there's no lack of delicious flavor. Recipe here.
Pomegranate Snacks and Meals:
QUESADILLAS with POMEGRANATE and AVOCADO
Rich in cheese and avocado, these quesadillas benefit from the addition of pomegranate seeds, which punctuate the finished savory snack or light meal with a tart flavor and a nice little crunch. It's a surprising but rather delicious flavor. .

Photo via J. Kenji Lopez-Alt for Serious Eats
ROASTED PEAR SALAD WITH ENDIVE, POMEGRANATE, BLUE CHEESE, AND HAZLENUT VINAIGRETTE
The title is certainly a mouthful. So is the salad itself, and a delicious mouthful at that. The slight bitterness of the endive works beautifully with the sweetness of the pear, the tartness of the pomegranate and the creamy assertiveness of the cheese. Recipe here.
POMEGRANATE BEEF IN A SLOW COOKER
Beef might not seem a likely candidate for pairing with light, bright pomegranate, but have some trust. The unctuous beef responds wonderfully to the tartness of the pomegranate seeds. Add some vegetables, spices and raisins, and you've got a dish with a slight Middle Eastern flair, but all the makings of serious comfort food. Recipe here.
Pomegranate Drink Recipes:
PEANUT BUTTER POMEGRANATE SMOOTHIE
Do you think peanut butter is just for sandwiches or pairing with chocolate for tasty desserts? Think again. This antioxidant and energy-rich smoothie relies on peanut butter as a base for a myriad of fruits, which balance out its singular, rich flavor. Recipe here.
POMEGRANATE MARTINI
Shaken, not stirred. Vodka, Cointreau, fresh pomegranate juice, a squeeze of lemon and garnished with pomegranate seeds, this makes for a refreshing beverage that will have you positively tipsy with its tasty factor. Want more pomegranate flavor? Consider making an infused vodka with pomegranate seeds. Recipe here.
Pomegranate Desserts and Confections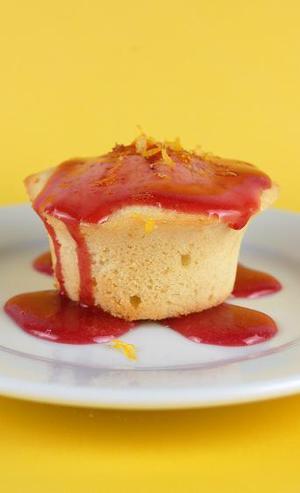 Photo via Culinary Concoctions by Peabody
MEYER LEMON POUND CAKE WITH POMEGRANATE JELLY GLAZE
The pound cake is already dense and bursting with bright lemony flavor. But a pomegranate jelly glaze certainly doesn't hurt. It's bright enough to stand up to the lemon, but does not cause a flavor conflict. Recipe here.
DARK CHOCOLATE AND POMEGRANATE BREAD PUDDING
Pomegranate fruit spread makes for a tart and sweet combination that pairs well with the dark chocolate and creamy custard quality in this interesting bread pudding variation. Tip: learn how to make artisan bread and experiment with different styles of bread for an added twist to this recipe. Recipe here.
POMEGRANATE CAKE
The cake itself is (tasty!) standard fare, but what makes it really special is the buttercream, which is infused with pomegranate for a unique flavor and subtle color, and the addition of pomegranate seeds on top, which makes the cake look jewel-laden. It makes for easy cake decoration, a pretty presentation and easy eating. Recipe here.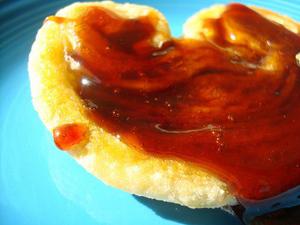 POMEGRANATE PALMIERS
Buttery and flaky palmiers get a zing of flavor from the addition of a pomegranate juice reduction. Still lightly tart but sweetened with sugar and by cooking it down to a syrupy thickness, the coating not only makes the flavor intriguing, but makes the palmiers extra pretty.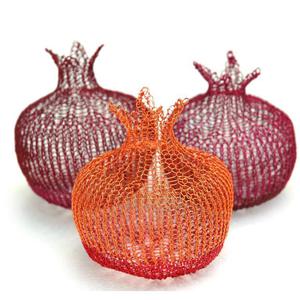 Photo via Yoola

Tip: Any pomegranate recipe tastes more delicious at a well-outfitted table. Wouldn't wire crochet pomegranates enliven your table setting?

Looking for fruit-centric food craft? Take a look at our posts on how to preserve lemons and how to make roasted fruit jam.