A picnic is the perfect answer to summer and early fall evenings. I love eating with a cool breeze attempting to blow the paper plates off the table, the piney scent of trees in their full summer coats, and lingering of the meal that happens once the kids run off to play. Also, I love that there are very few dishes to be done once the picnic has ended.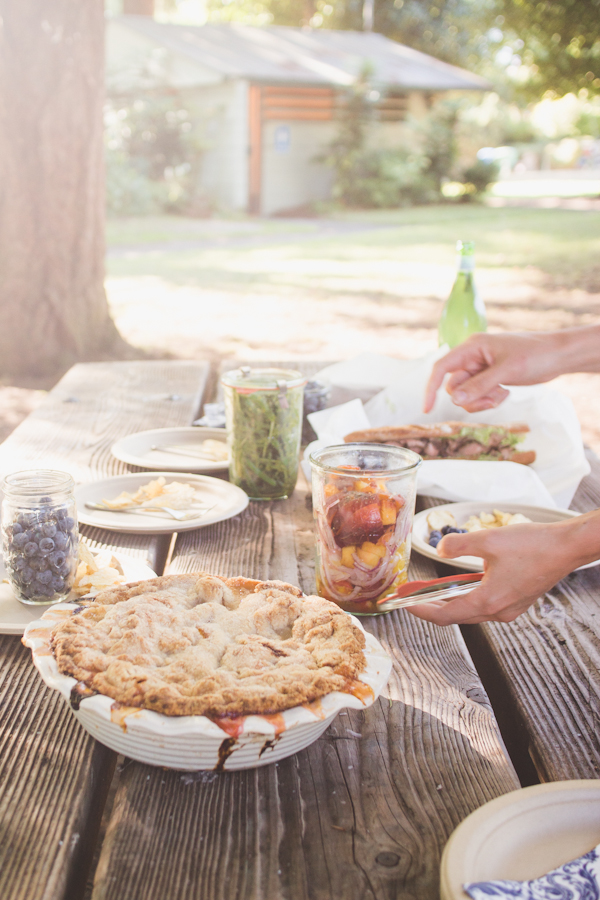 Recently, when the sun was shining bright, our house was too hot and the grocery store brimmed with produce so ripe and fragrant that very little needed to be done in order to call it dinner, we set out on a picnic.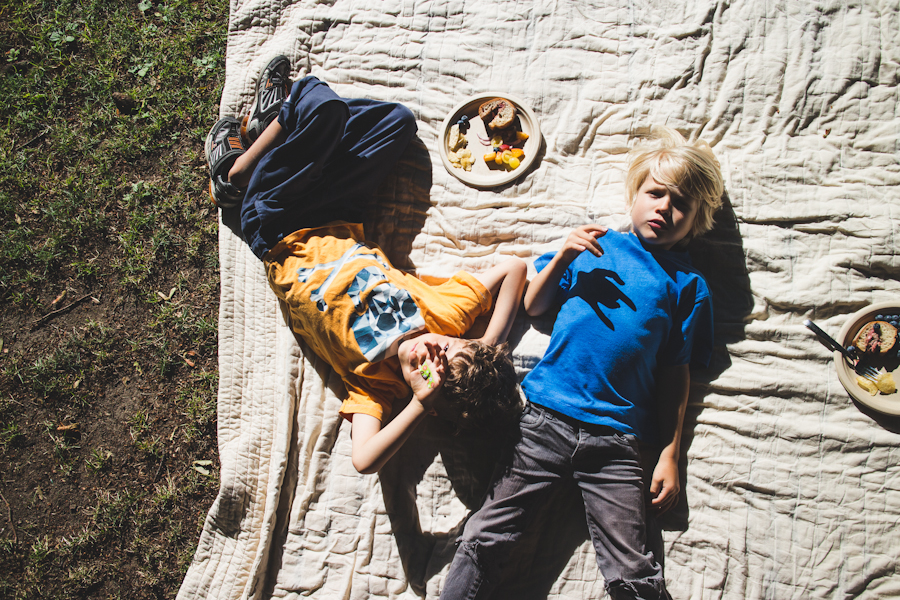 Crafting a picnic
A picnic can be as easy or as complicated as you want it to be. You could throw your picnic basket in the car, stop by the store and pick up everything you need, and then be on your way to eat without preparing a thing in your kitchen. Or, you could do a little prep, plan well and create a delicious and unique picnic using the recipes below.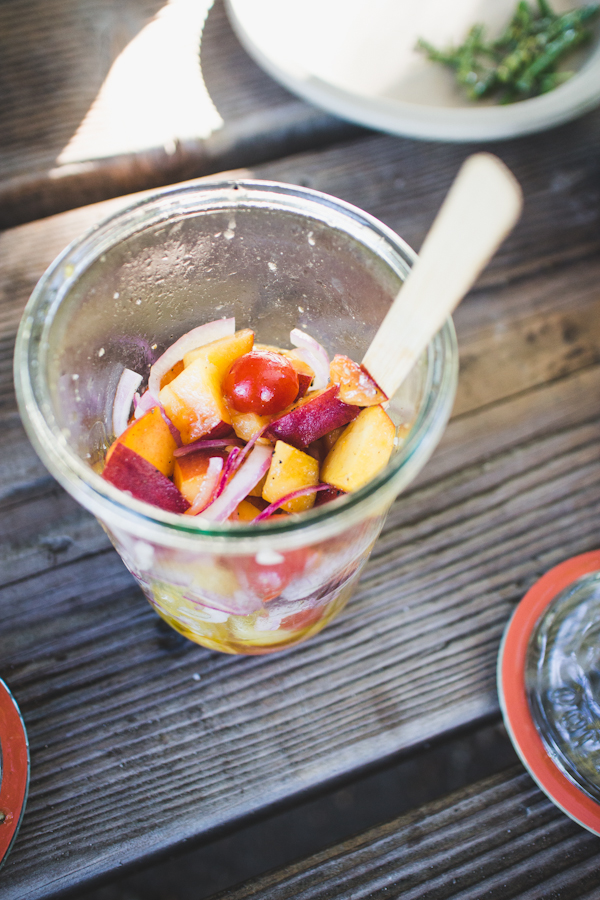 The essentials:
When picnicking you should always bring paper plates, napkins, paper or plastic cups and disposable utensils. If it's a date picnic where a little romance is involved, then I actually recommend bringing actual plates and cutlery. For this, I really love enamel plates and utensils. And these days they are doing great things with bamboo, so you can have an attractive set of utensils that don't need to be taken home to wash.
Bring a tablecloth or picnic blanket. Even if picnic tables are around, it's always a good idea to have a cloth in case the table is too worn, or you could always lay the cloth out and have a picnic on the ground.
I tend to stay away from foods that need immediate refrigeration, like mayonnaise or sour cream based salads. When picnicking I like to stay relaxed as possible rather than having to worry about food safety.
Pack ice to keep drinks and foods cold and for using in beverages. Packing ice in plastic bags doubles as a cooler and then can be used for drinks.
Don't forget some sort of post-picnic hand cleaners, like I often do. Baby wipes or even just a cloth that you can dose with water helps with the inevitable sticky issues — particularly when kids are in attendance.
Games are always a good idea for after the picnic.
Pack a trash bag for easy clean up.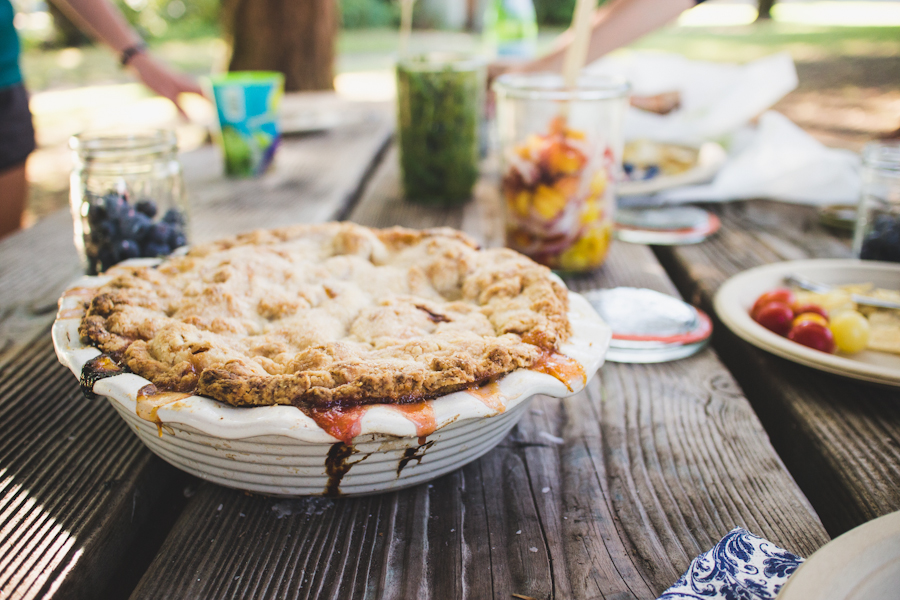 The quick grab-and-go picnic:
A quick stop at the store can provide you with all you need for a great picnic. Before you leave the house grab your basket, a blanket, a wine key or can opener, some ice (or you can get that from the store), plates and utensils (again, the store has those too), salt, a knife and small cutting board.
At the store grab a couple of artisan cheeses, crackers and baguette. Scan the deli section for a few assorted meats and prepared salads. Let your nose lead you through the produce section to find the most fragrant fruit for dessert.
Grab a bottle of chilled rosé, some water (sparkling for me) or a beer if that's your style (I like your style).
This just might be the perfect meal.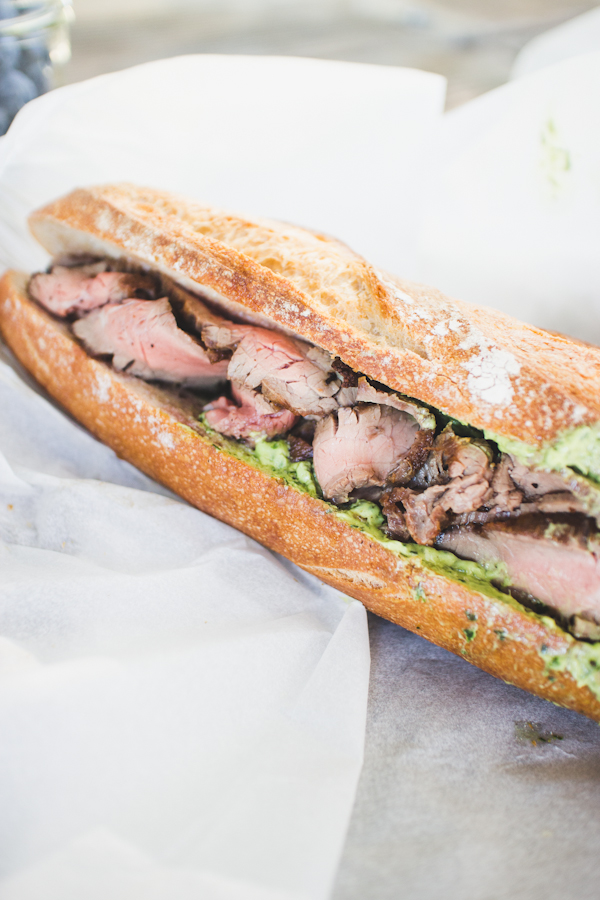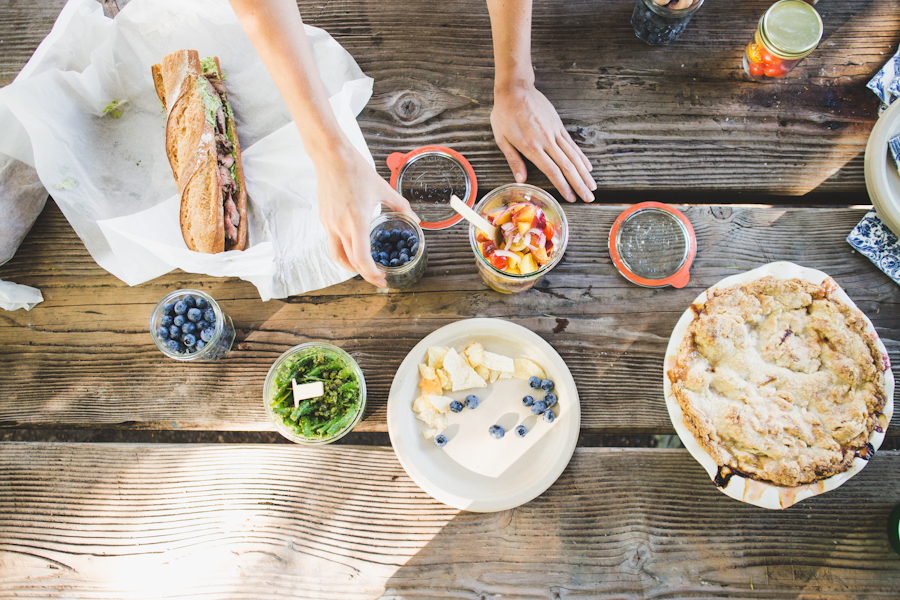 Three simple recipes for a great picnic
With these recipes, you can have ready a picnic for a crowd in under an hour. It's what I'd consider the quintessential summer picnic.
Tomato, peach and red onion salad
Serves 4
1 cup halved cherry tomatoes
1 ripe peach, diced
1/2 small red onion, thinly sliced
2 tablespoons olive oil
juice from half a lemon
salt and pepper
Combine everything in a large jar or plastic container. Seal the container and shake to combine. Taste and adjust seasonings.
This is best made the day of the picnic.
Green beans with pesto and capers
serves 4-6
1 pound green beans, trimmed and blanched
1/2 cup pesto (store-bought or your favorite recipe)
2 tablespoons capers
1-2 cups arugula
Combine everything and taste to correct seasoning.
This salad can be made a day in advance.
Steak sandwich with horseradish butter
serves 4-6
1 1/2 lb flank steak
1 1/2 teaspoons kosher salt
1 teaspoon fresh ground pepper
3 tablespoons oil
horseradish parsley butter (see below)
1 fresh baguette (store bought bread or your own homemade bread) split open longwise
1 small red onion, thinly sliced
1 hour and up to 24 hours prior to cooking, season steak with salt and pepper on both sides.
Preheat a 12-14" cast iron or stainless pan over high heat until just smoking. Add steak and sear on each side for 6-7 minutes, a total of 12-14 minutes for medium rare. Remove steak to a plate and let rest for 45 minutes. The long rest makes the meat tender and juicy. Slice it very thinly across the grain/on the diagonal.
Spread baguette top and bottom with all the butter and layer on the sliced steak.  Finish with a sprinkling of good salt, thinly sliced red onion or a squeeze of lemon.
Horseradish parsley butter
1/2 cup high quality salted butter (such as Kerrygold), softened
2 tablespoons prepared horseradish (less if you don't like too much heat)
1/4 cup chopped fresh Italian parsley
1/2 tablespoon fresh lemon juice
Combine ingredients in a bowl or a food processor and mix to combine.
Will keep for several days in the fridge.
Enroll in the Bluprint classes Artisan Cheese Making and Artisan Bread Making, and pack your picnic basket with homemade bread and cheeses that are sure to wow your family and friends!
What do you like to pack in your picnic basket?