Most people think of a pot pie with its traditional filling — creamy chicken and veggies. But a pot pie shouldn't be limited to one filling! That's why we're obsessed with this pizza pot pie.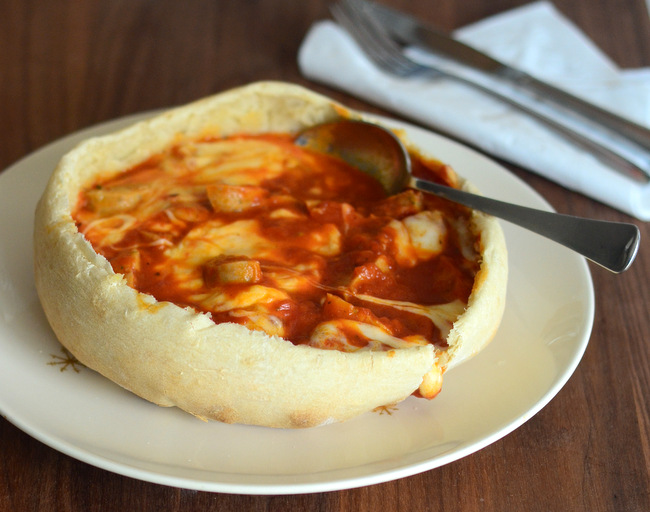 Whether you're a pizza fan or a pot pie fan, this easy recipe is well worth trying.
Pot pie, in general, is a savory stew baked in a deep dish and topped with a pastry crust. This pizza pot pie, a very unusual twist on a traditional pot pie, fits the description! The dish ends up being very close to a deep dish pizza.
Like a regular pizza, this pizza pot pie only has a few primary ingredients: pizza dough, cheese and sauce.
Unlike a regular pizza, however, it is put together a bit backwards.
First, you'll line an oven-safe bowl with cheese. Cheese is fatty enough that you don't have to grease the bowl first (though you certainly can if you have any doubts about the non-stickiness of your bowl). I recommend using sliced mozzarella — or a similar cheese that has good melting properties such as fontina or havarti — because the slices are easy to layer into the bowl.
I used a fairly deep soup bowl. However, everyone is going to use different sized bowls, so you'll have to use your judgement about how much cheese to use for your individual pizza pot pies.
Next, you'll add the sauce to the bowl. Instead of using pizza sauce, I prepared a marinara sauce with spicy Italian sausage added to it.
Marinara sauce is a good choice for this style of pizza because it can stand up to a lot of sauce once it's baked. I added sausages simply because I like it on my pizza, but you can fortify your tomato sauce with any other meat or vegetable toppings that you would normally pile onto a pizza. If you typically go for pizzas with extra cheese, add in another layer of cheese before the sauce. You should heat up the sauce on the stovetop before adding it to your pizza pot pie bowl.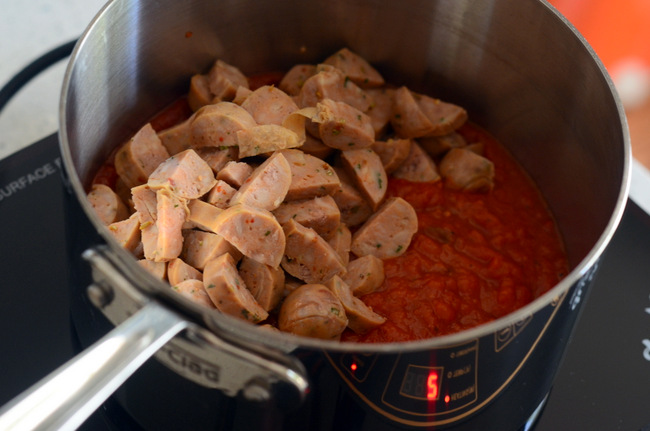 Then, you'll ladle the sauce into the bowl and top it with a round of pizza dough. Again, the amount of dough that you need will depend a bit on the size of your bowl. For the majority of bowls, an 8 ounce portion of dough should be plenty to work with. If you opt for a pre-made dough, as I did here, that means you'll be using half of the dough for one pot pie.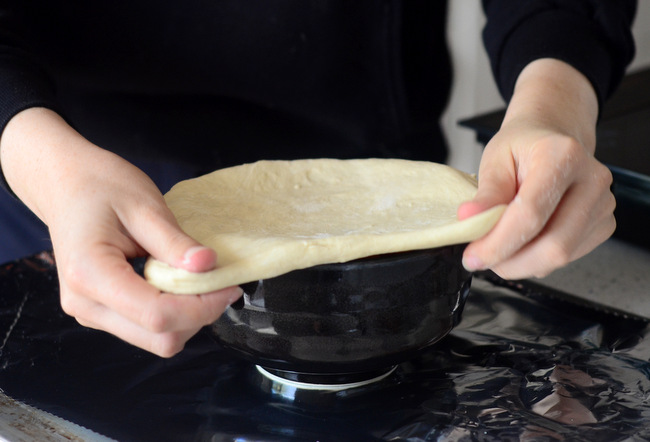 Once your bowl is covered, put it straight into a very hot oven to bake until the dough is puffed up and golden brown. After it is done baking, immediately invert it onto a serving plate and carefully remove the bowl from the dough. You may need to run a knife around the outside edge of the bowl, if the crust sticks a little bit.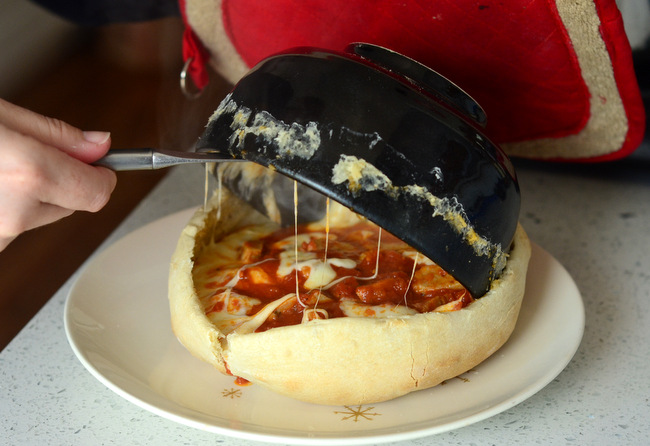 Believe it or not, the pizza pot pie can actually be sliced and served like a deep dish pizza! My pot pie (pictured here) was enough to serve two people, but could easily serve as a single-serving pizza for one very hungry person.
They're easy to make and the presentation is just incredible, so it is well worth putting this pot pie on your "must try" list for dinner this week!
Pizza pot pie
Serves 1-2 people
Ingredients:
8 ounces marinara sauce
2 spicy Italian sausages
5-6 slices mozzarella cheese
Approximately 8 ounces pizza dough
Step 1:
Preheat the oven to 450 F. Chop up the Italian sausages into small pieces and brown in a medium saucepan. Add marinara sauce and bring to a simmer. Remove from heat.
Step 2:
Line a deep, oven-safe soup bowl with slices of mozzarella cheese to form an even layer over the bottom and sides of the bowl. Ladle in sauce until bowl is at least half full.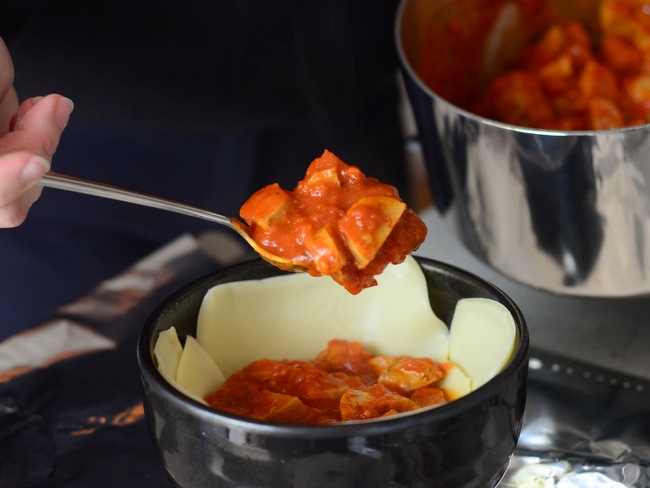 Step 3:
Stretch out pizza dough on a lightly floured surface until it is just large enough to cover the top of the bowl. Place over the sauce-filled bowl, pressing the edges down slightly so the dough does not slip.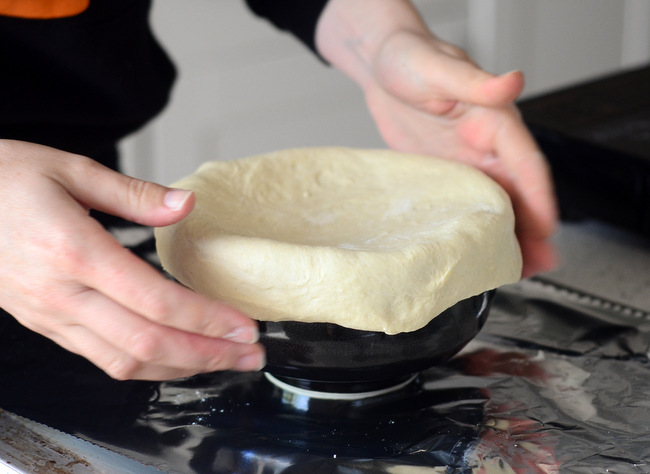 Step 4
Bake for about 14-17 minutes, or until crust is golden brown and feels crisp when touched.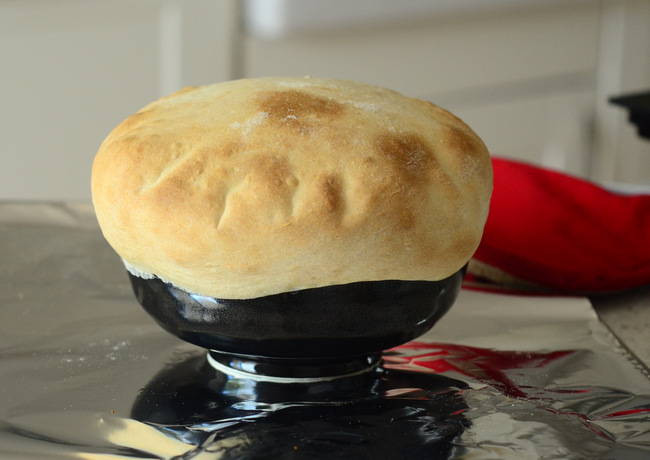 Step 5
Place a serving plate on top of the bowl and carefully invert the bowl (using a pot holder) onto the plate.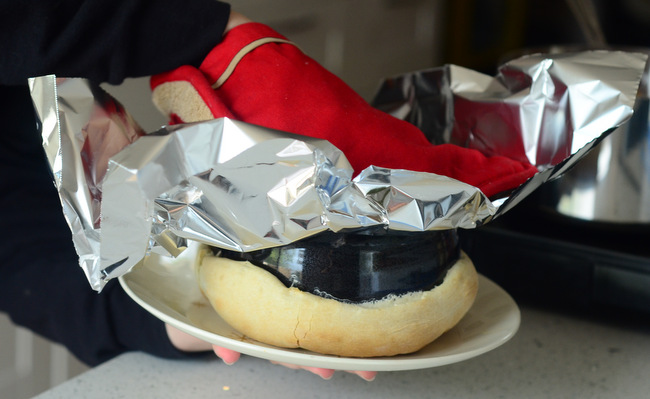 Use a knife to loosen the edge of the dough and remove the bowl. Serve immediately.