By definition, a pixel is a basic unit or area of composition on a display screen, one of a multitude that together form an image. These pixels are shown on a TV, computer, or a similar screen device. A pixel is just a sampling of the overall image. It is hard to tell what the picture is by only seeing one unit, but when they are all together the picture is clear.
Have you heard of a pixel quilt? A large image is formed on a quilt top, comprised of many small pixels or fabric squares. It is hard to determine the overall picture on the quilt when only looking at a few pixels, but when they are viewed together as a whole, the image appears. Many quilters call this a photo quilt. A photo is chosen and then pixellated on the computer through a photo editing program, revealing all of the small squares and colors. The photo, in pixel form, is then translated into a photo quilt.
Are you interested in making a pixel quilt of your own?
There are plenty to be seen on the web, including free patterns and quilt alongs. Here are a few of my favorites!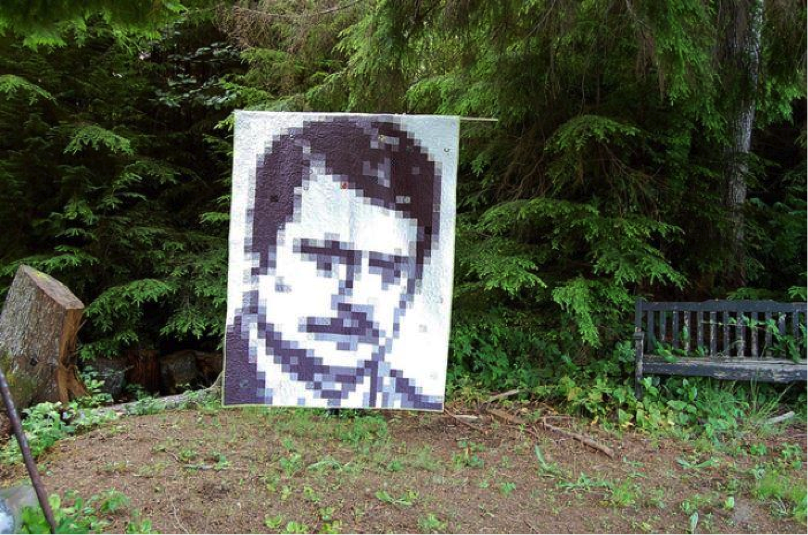 Photo via Monica Solorio-Snow/Happy Zombie
Monica Solorio-Snow of Happy Zombie is the creator of the Ron Swanson quilt, a tribute to her favorite character on her most favorite show, NBC's Parks and Recreation. Not only did she design the quilt, she shares the free pattern and quilt along on her blog. This stunning quilt was even photographed with the real Ron Swanson, actor Nick Offerman! Read all about the Ron Swanson quilt's amazing adventure right here.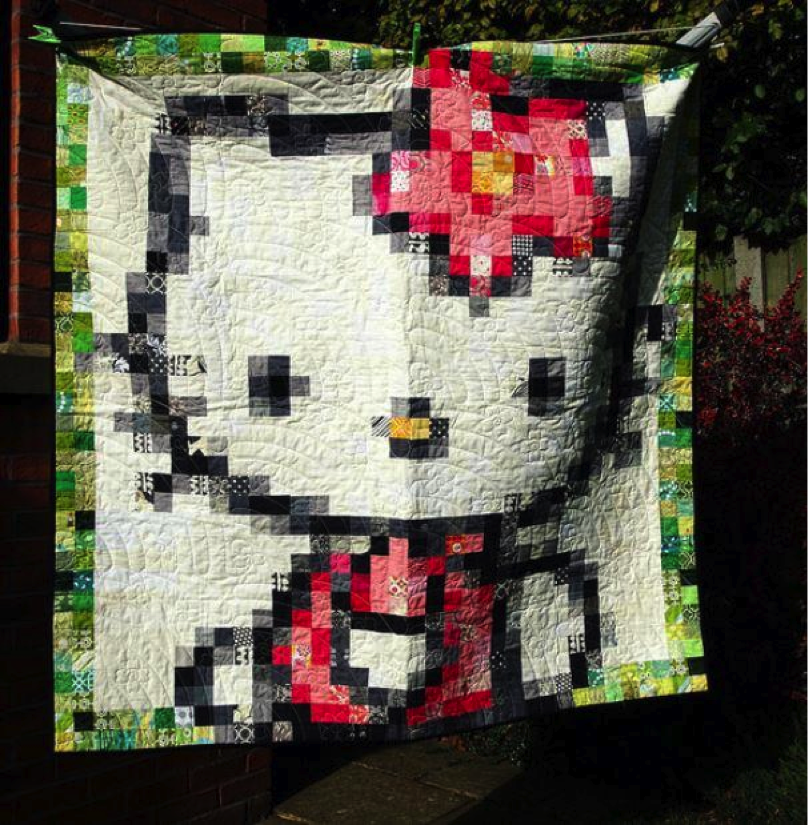 Photo via: designed and pieced by Amy Nguyen Newbold, photographed by Katy Jones
This adorable quilt is the result of a friendly swap between two talented quilters. Their combined love for this character resulted in a Hello Kitty pixel quilt. Amy Nguyen Newbold designed and pieced the quilt top prior to giving it to a friend in a swap. Read all about it over on Katy Jones' blog.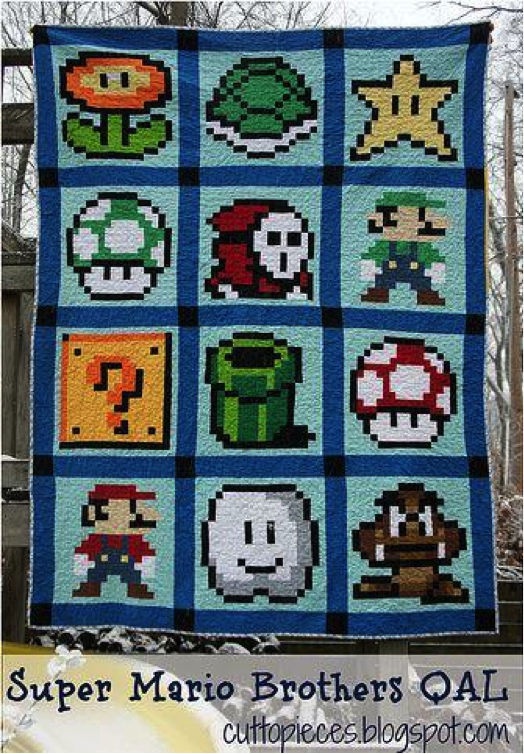 Photo via Angela Pingel
As you can see, it is very common to come across video game and cartoon themed pixel quilts. Angela Pingel of Cut to Pieces combined key elements of the beloved Super Mario Brothers game to create a 12 block pixel sampler. The free pattern and quilt along are available here on her blog.
Now that you know all about pixel quilts, head over to Pictures to Pixel Quilts with Caro Sheridan on Bluprint. Caro provides step-by-step instructions on how to choose, pixelate, and transfer photos into beautiful quilts of your own.
What are some of your favorite pixel quilts?