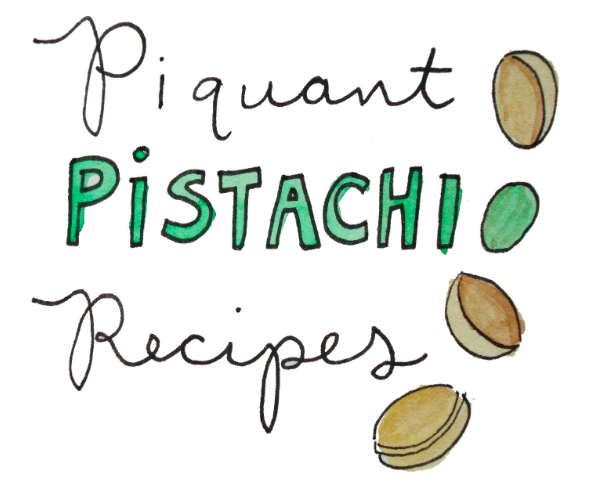 If you love pistachios, you're in good company. Apparently, the Queen of Sheba loved pistachios so much that she demanded that the entire region's pistachio harvest be set aside for her. Talk about a nutty sense of entitlement! However, these days one need not be royalty to eat like the Queen. Here's a collection of 13 delicious pistachio recipes, including tasty vittles for morning, afternoon, night, and including snacks and desserts!
In the morning
Pistachio frittata:
Breakfast is the most important meal of the day, so start on a tasty note. This frittata features vegetables, spices, and coarsely chopped pistachios for a hearty and protein-packed vegetarian-friendly meal.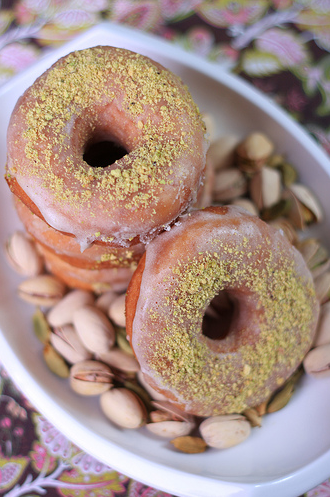 Photo via Olives For Dinner
Doughnuts with cardamom-pistachio glaze:
Like doughnuts? Then you'll love these ones, which are fancied up with cardamom-pistachio glaze which gives them an exotic, Middle Eastern flavor. They remain somewhat virtuous, too–the doughnut base is vegan. Recipe here.
Snacks and sides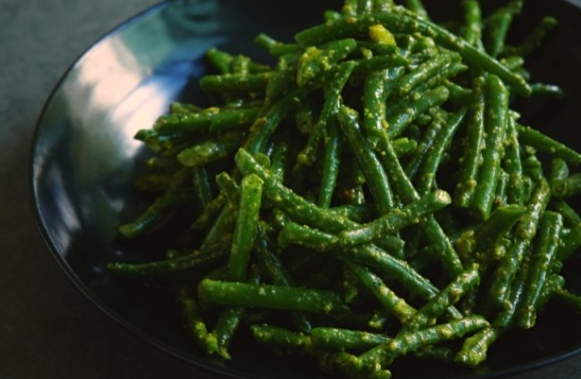 Photo via Food Republic
Green beans with pistachio pesto:
Swapping pistachios for pine nuts in a pesto recipe gives the classic sauce a more nuanced, deep flavor. Use it to top fresh, snappy green beans, and you have yourself a bright, vibrant side dish. .
Pistachio and chorizo cake:
Have you ever tried a savory quick bread? If not, here's a fantastic recipe for your first attempt: a spicy chorizo and pistachio packed quick bread that is moister and more substantial than a cracker, and a perfect savory snack. Recipe here.
Fig and pistachio crackers:
These crispy crackers are good enough to eat plain, stuffed as they are with sweet, mellow figs, and toasty, salty pistachios. But they also beg to be topped with a delicious cheese for a classy pre-dinner party nibble. Recipe here.
Succulent savories
Apricot pistachio chicken salad sandwiches:
The recipe for these sandwiches is inspired by a sandwich served at a museum cafe. Serve spread on thinly sliced bread for a teatime treat, or heap it on a heartier slice of artisan bread for a satisfying meal. Recipe here.
Pistachio Crusted Pork chops:
Pork chops, a sometimes ho-hum dinner staple, gets a gourmet upgrade with the addition of a pistachio-studded bread crumb topping. It adds a rich, unexpected dimension to the flavor. Recipe here.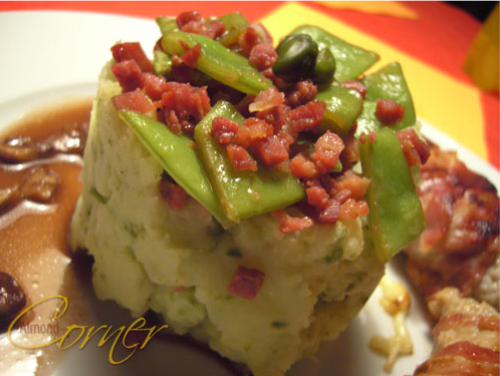 Photo via Almond Corner
Mashed potatoes with pistachios:
Pimp your potatoes with panache. This recipe, while simple to make, yields fancy-looking (and tasting) results, with a pistachio-studded mashed potatoes topped with decadent ham cubes and beans which take it from side dish material to meal-worthy in its own right. Recipe here.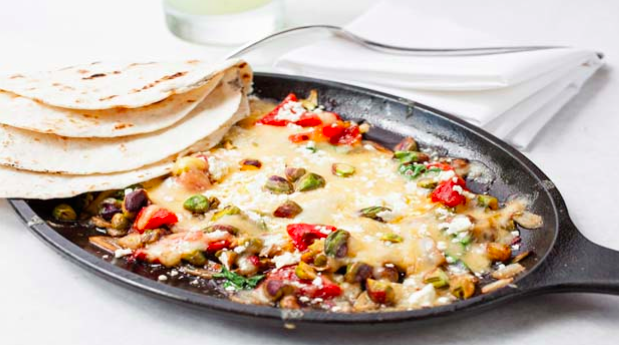 Photo via Americanpistachios.org
Pistachio poblano chile mole with tortillas:
For a satisfying and flavorful dish, try this delicious poblano chile mole studded with pistachios. Warming and comforting, it is a dish that certainly classifies as comfort food on a high degree.
A sweet finish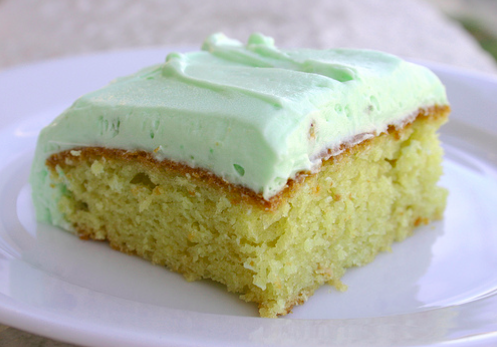 Photo via Wendolonia
Pistachio pudding cake:
A tender, moist, flavorful cake that is slightly…green? No, your eyes don't deceive you. Pistachio pudding mix is the secret ingredient. It tastes even better when topped with chopped pistachios. Recipe here.
Pistachio milk fudge:
After a boldly flavored Indian meal, something sweet is in order to cleanse the palate. Rich with milk, ghee (clarified butter) and pistachio and scented with cardamom, this super-sweet confection is a welcome reprieve. .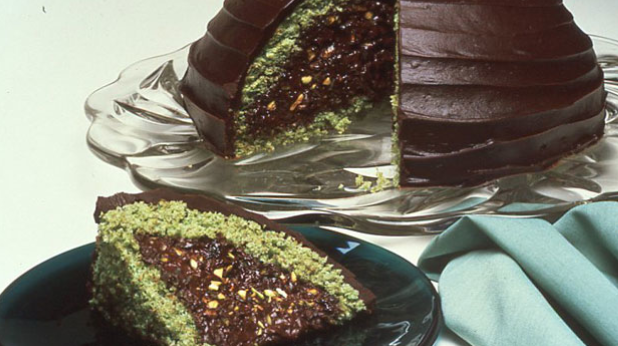 Photo via Americanpistachios.org
Pistachio boule:
"Boule" comes from the French "ball" . In cake or bread form it generally refers to the shape, but incidentally, you'll have a ball eating this delicate, egg white raised chocolatey pistachio cake which is easy to make but looks awfully fancy when served. .
Pistachio macarons: After spying a Craftsy project featuring pistachio macaroons, you'll definitely have an interest in trying out this fancy French cookie. While you're at it, why not try them with a salted pistachio buttercream? Recipe here.
You may also enjoy our post on how to make pistachio pudding mix cake, aka Watergate Cake.
If pistachios appeal to your palate, then consider this recipe roundup a delicious treasure. Which culinary adventure will you embark upon first with pistachios?