Biscotti really are the best cookie to keep around. Check out this simple recipe for a sour cherry, pistachio biscotti and help your coffee find its new best friend.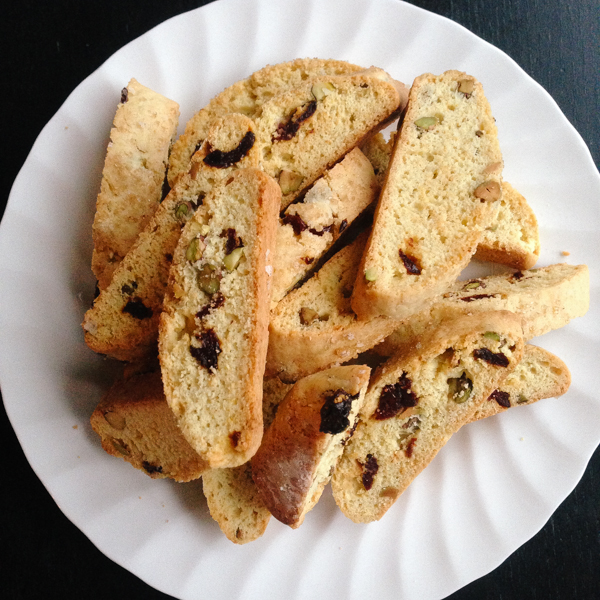 The other day I made a random stop at a friend's house in the late morning. I was just there to drop something off but when I got there she offered me a much needed cup of coffee and a fresh-from-the-oven biscotti for dipping. Her's was laced with almond extract and dotted with  M&M'S®. It's crisp exterior softened in the warm bath of my coffee as I repeatedly plunged it into the cup.
I walked away from that visit warmed by the coffee and cookie and vowed to make biscotti more of a regular routine as my friend does; she is never without a cookie jar full.
And, as far as cookies go, biscotti are great to have around. They actually improve with age and can be made very quickly. Oh sure, there's the two part baking, but most of that is hands off time and the perfume that fills the house from the multiple bakes is worth any trouble that there may be.
Biscotti means twice cooked in Italy where the cookie originates from. Classically biscotti is studded with almonds and flavored with almond extract, yet really anything goes in my book. I tend to shy away from almond extract which is why you won't see it in my recipe but you can use it if you'd like.
This is a simple recipe for a sour cherry and pistachio biscotti. However, feel free to use this recipe as simply a base. I was tempted to add shards of dark chocolate to the mix or even to finish the cookies with a chocolate drizzle. While not a bad idea, right now I'm rather enjoying their simplicity.
Biscotti are the perfect cookie for an unexpected visitor or to accompany that afternoon cup of coffee or tea.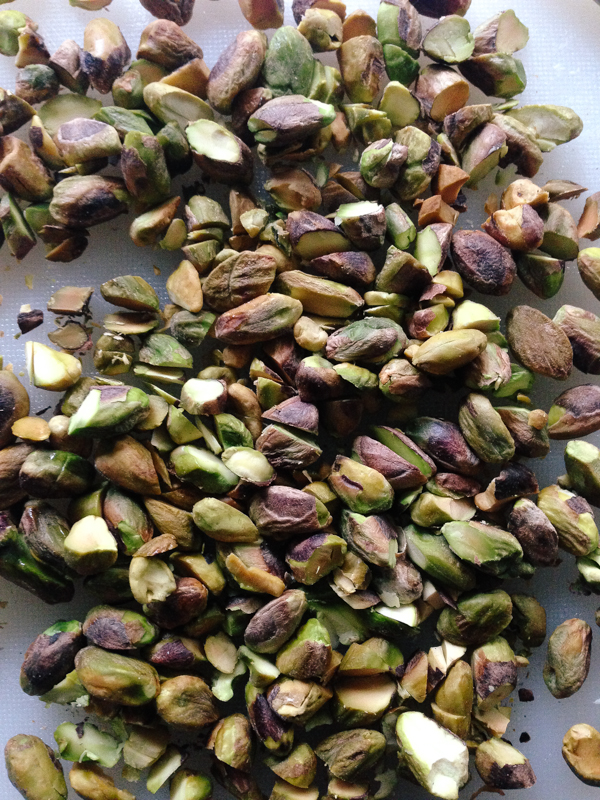 Sour Cherry Pistachio Biscotti
adapted from epicuious.com
1 cup sugar
1 stick unsalted butter, melted
3 tablespoons brandy
1 tablespoon vanilla extract
1 cup pistachios, lightly toasted , cooled, and coarsely chopped
1 cup dried cherries
3 large eggs
2 3/4 cups all-purpose flour
1 1/2 teaspoons baking powder
3/4 teaspoon kosher salt
1. Stir together sugar, butter, brandy, and vanilla extract in a large bowl, then stir in pistachios, dried cherries and eggs. Stir in flour, baking powder, and salt until just combined.
2. Chill dough, covered, 30 minutes.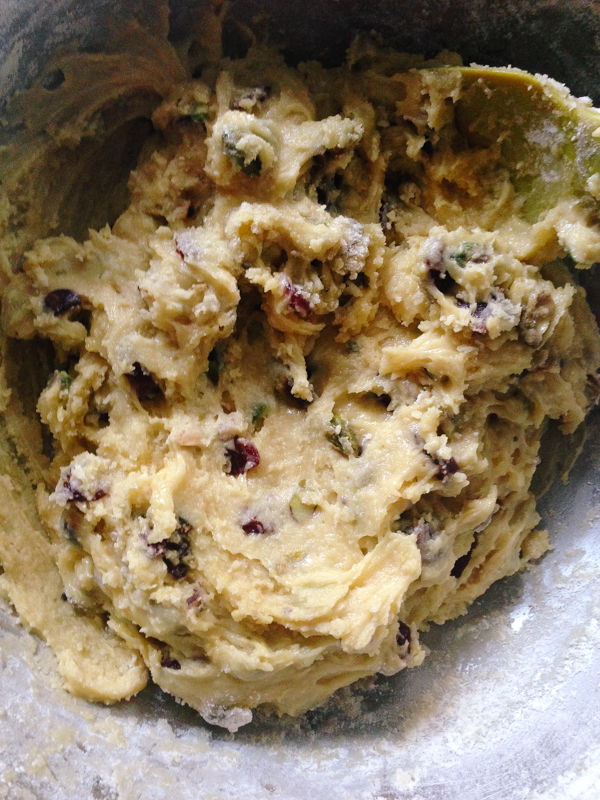 3. Preheat oven to 350 F with rack in middle.
4. Using moistened hands, halve dough and form 2 (16-by 2-inch) loaves on an ungreased large baking sheet.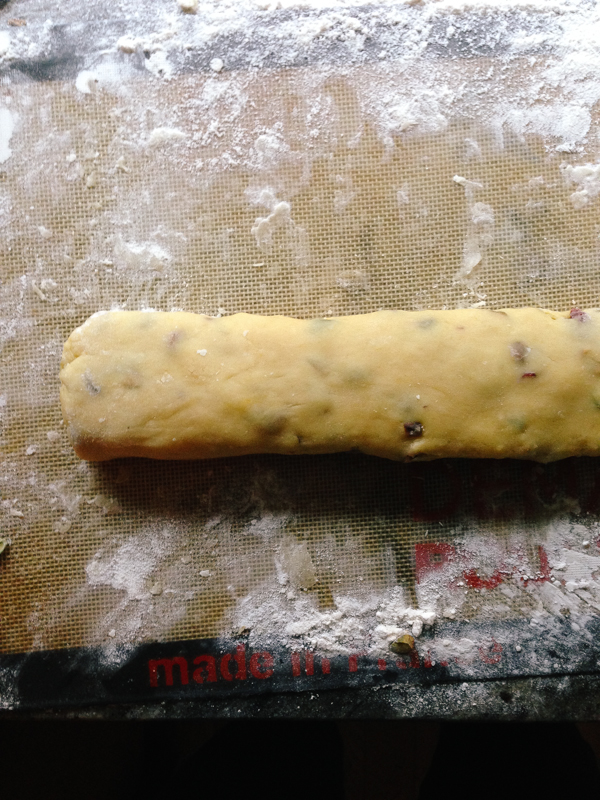 5. Bake until pale golden, about 30 minutes. Carefully transfer loaves to a rack and cool 15 minutes.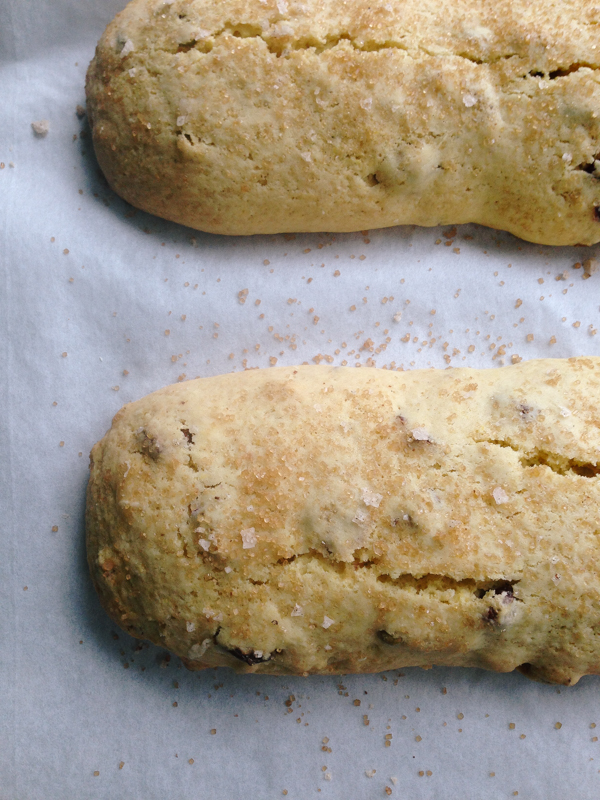 6. Cut loaves into 3/4-inch slices with a serrated knife.
7. Arrange biscotti, with a cut side down, on a clean baking sheet and bake until golden, 20 to 25 minutes. Transfer to rack to cool completely.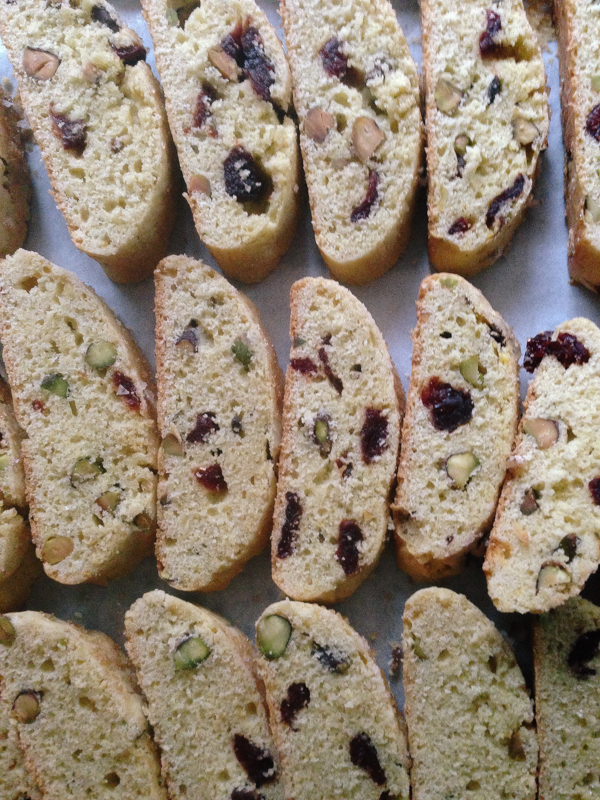 Baking tip: I bake mine until they are crisp but not rock hard. I find they are more pleasant to eat when I'm not gnawing on them.
Biscotti actually improves with a bit of age. Keep the cookies in an airtight container for up to two weeks. Frozen, these cookies will keep for up to 3 months.
They make the perfect cookie to gift along with some nice tea or coffee beans.
Have you made biscotti before? If so, I'd love to hear about some of your favorite flavor combinations. Now that biscotti is a part of my regular routine I'm always on the look out for creative flavors.