Ahoy, matey! Arrrr you ready to have some fun? You ought to be, because you sea (get it?), today is International Talk Like a Pirate Day!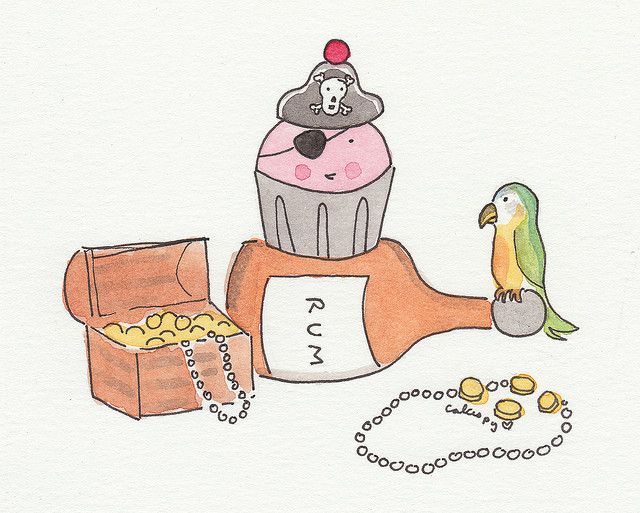 This is a day when silliness abounds, so loosen up, eat something delicious, and have some fun!
Ready to throw a pirate-themed party? Here are some ideas to put you in a celebratory mood. Oh, and as you read, please imagine that everything written below is being said in a pirate voice.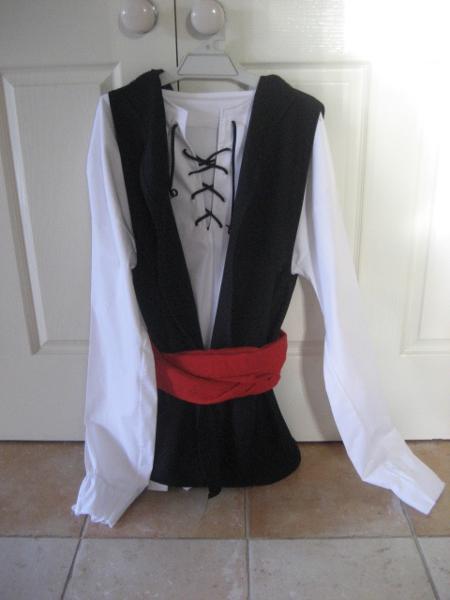 Photo via Bluprint member Tandunn
Suggested attire: Pirate shirt
Before you talk the talk, you've got to walk the walk. No matter if you're enjoying a low-key celebration or an all-out beach-themed bash, this pirate shirt, which can be made in an hour, will get you in the right mood for celebration.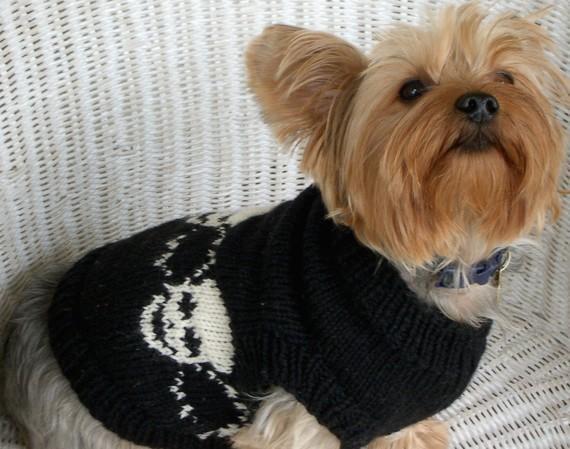 Photo via Bluprint member Kay Graves
For your first mate: doggie pirate outfit
Don't forget Fido! Let your pet join the fun like Bluprint member Kay Graves, who worked up a handmade sweater featuring a skull motif for her adorable pup. While he or she may not be able to enjoy the rest of the festivities, you can rest assured that you'll both be looking your seafaring best.
Now that you're looking good, you'll need some refreshment.
Yo-ho-ho and a bottle of rum
It's no secret that pirates have an affinity for rum. They also are said to fancy a dark and stormy sea. The rum-infused dark and stormy cocktail will certainly satisfy these pirate preferences without making you seasick. Dark rum pairs beautifully with spicy ginger beer and lime adds brightness while also preventing scurvy.
Dark and stormy cocktail recipe
1/2 lime, sliced in two pieces
2 ounces dark rum
4 ounces ginger beer
Fill a highball glass with ice. Squeeze one of the pieces of lime over the ice. Discard the squeezed piece of lime. Pour the rum over the lime-scented ice. Pour the ginger beer on top. Garnish with the remaining lime. Enjoy Responsibly.
Ahoy! Savories and snacks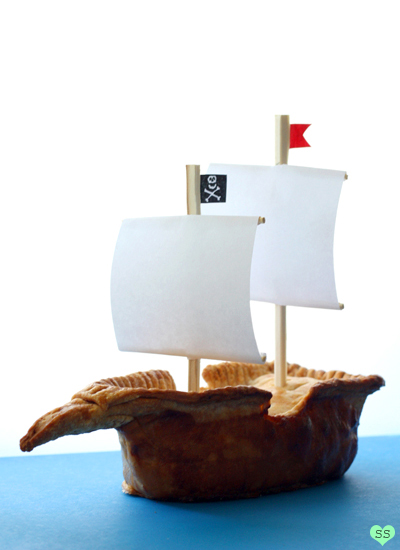 Photo via Diamonds for Dessert
Pie-rate ships:
Pirates love pastry, as proven by these "pie-rate" ships, which feature pie crust cleverly configured to resemble boats. Though the tutorial shows how to make them as apple pies, you could easily tailor the treat to your liking with any number of sweet or savory fillings. Recipe here.

Cheese and apple ships:
Incredibly easy, but also incredibly cute. These pirate ships are made by spearing a slice of cheese and affixing it to apple slices. Healthy, fun to make with kids, and a fantastic pairing with homemade bread or "Polly-want-a" crackers. Recipe here.
Homemade "pirate booty" snack mix:
Inspired by a commercial treat, this homemade version combines popcorn, spirulina, nutritional yeast, and salt popped in a mix of coconut and vegetable oil for a flavorful and healthy snack. A perfect pirate appetizer. Recipe here.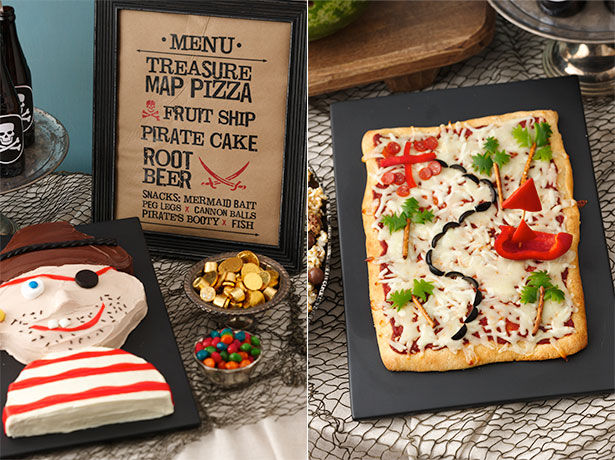 Photo via Betty Crocker
Treasure map pizza:
Give a homemade pizza a seafaring twist when you decorate it to resemble a treasure map! This version, dreamed up by the folks at Betty Crocker, is easy to create using your favorite pizza recipe. Simply decorate with a trail of sliced black olives, trees formed from green peppers and pretzel sticks, and an adorable red pepper pirate ship. Homemade pizza tutorial here.
Of course, don't forget to make a salad, too. Why? Because pirates love lettuce, especially arrrrrrugula!
Sweet finish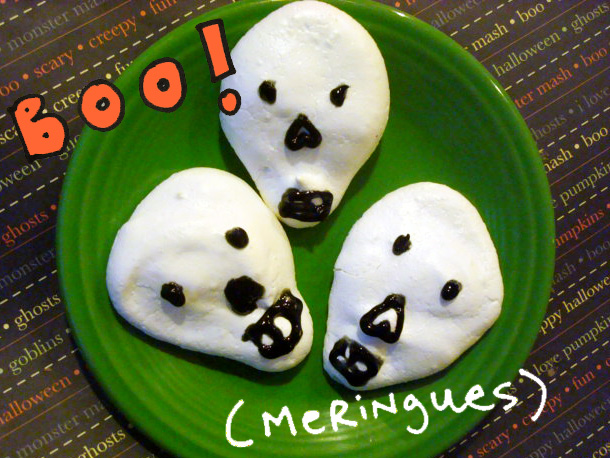 Photo via CakeSpy
Skull and crossbone meringues:
For a treat that works well for International Talk Like a Pirate Day as well as Halloween, look no further than these skull meringues. Pair them with some meringue bones and you've got yourself an edible jolly roger motif. Recipe here.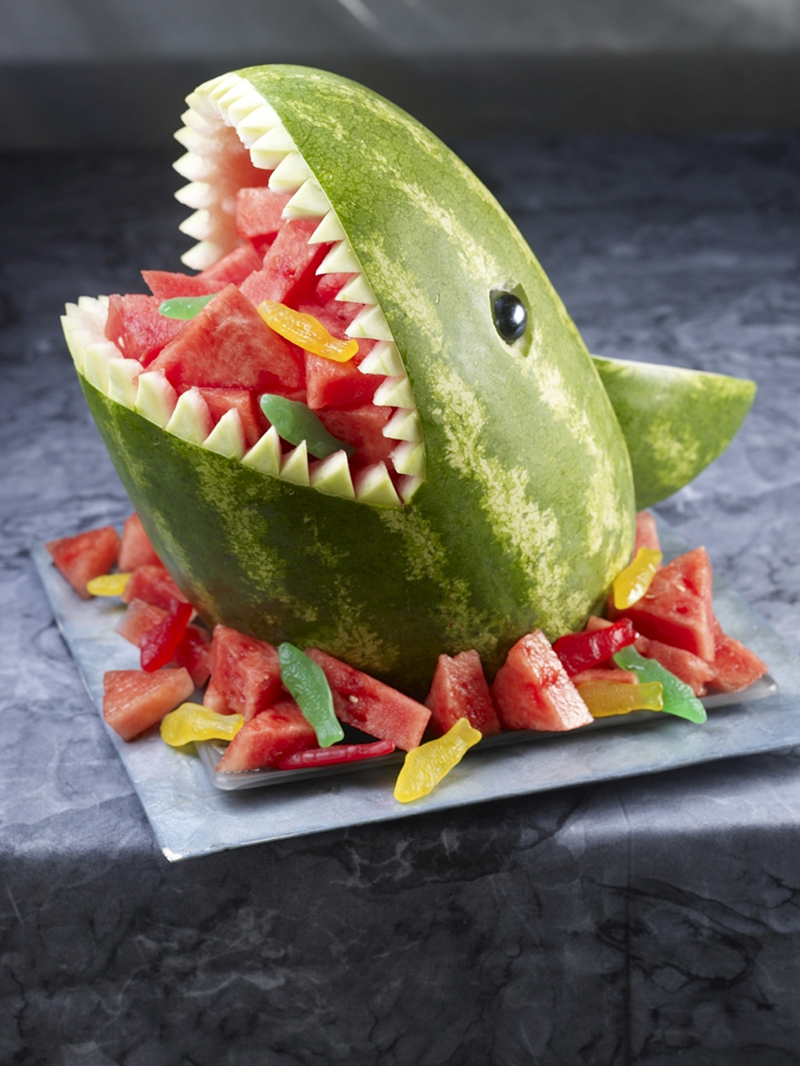 Photo via National Watermelon Promotion Board
Watermelon shark:
A healthy food becomes downright dangerous when it's served in the mouth of a shark! This festive shark is cleverly carved from a watermelon shell and is the perfect way to serve sliced fruit. Recipe and instructions here.
How will you celebrate International Talk Like a Pirate Day?