When it comes to quilting handmade gifts for little ones, pinwheel baby quilts are a great go-to choice. They're a gender-neutral pattern, they call to mind the pinwheel toys we played with as kids, and they can be among the easiest quilts to piece. But in addition to the traditional approaches to pinwheel baby quilts, modern and creative approaches make them anything but ordinary.
Check out these pinwheel baby quilt patterns for some inspiration that will make your head spin!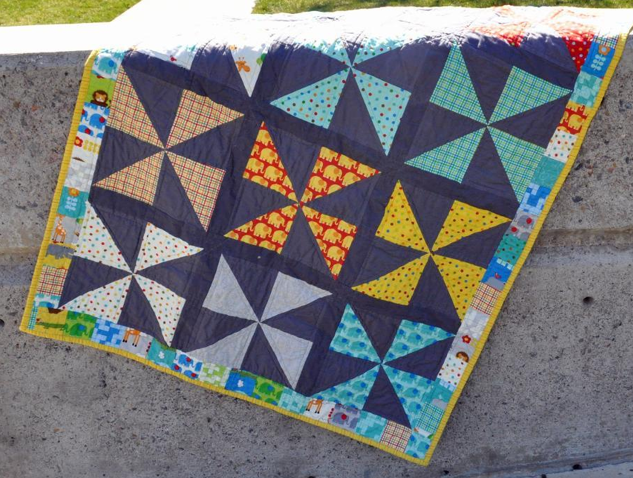 Quilt by Craftsy member Richard Healey
Pinwheel baby quilts + HSTs = perfection
Traditional pinwheel quilts are one of the easiest quilts to make because of their reliance on half-square triangles. Once you've created your triangle blocks, simply arrange four of them to form alternating triangles stemming from a center point. Congrats! You've made a pinwheel. There are many different approaches here: you can alternate your colors or keep your background color the same throughout; you can place all of your blocks consecutively or use sashing in between to set them apart from one another; you can include a contrasting border or leave it out.
Another choice to make here is the size of your pinwheels. While it's traditional to have quite a few in a quilt, all arranged in a square grid pattern, don't be afraid to vary their sizes or create a few super-sized pinwheels for a more modern look. Heather Jones Studio's Pinwheel Spinning Around quilt is a great example of how to adapt a traditional pattern for a more modern aesthetic (and it's a great way to feature cute baby prints)!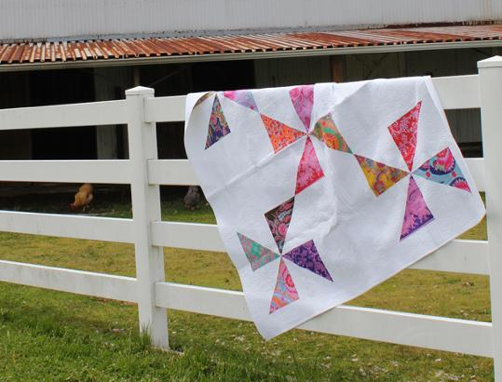 Pinwheel Spinning Around pattern by Craftsy member Heather Jones
Alternative "pinwheel" baby quilts
While the traditional half-square triangles make adorable pinwheel baby quilt patterns, there are definitely other approaches for those who are looking for more of a challenge. This quilt top, designed by Lee Heinrich and made by Craftsy member anitra e, features hexagons made up of equilateral triangles rather than squares made up of right triangles. It's a bit more involved than simple half-square triangles, but it creates a gorgeously different pinwheel.
Pinwheels by Craftsy member anitra e
I also enjoy ways designers have combined traditional quilt patterns to make new hybrids. The popular Circle of Geese pattern mixes the flying geese block with the pinwheel to create a circle of consecutive triangles. It's a great paper-piecing pattern, and I had a lot of fun arranging the blocks and changing their orientation to make a spinning pinwheel baby quilt.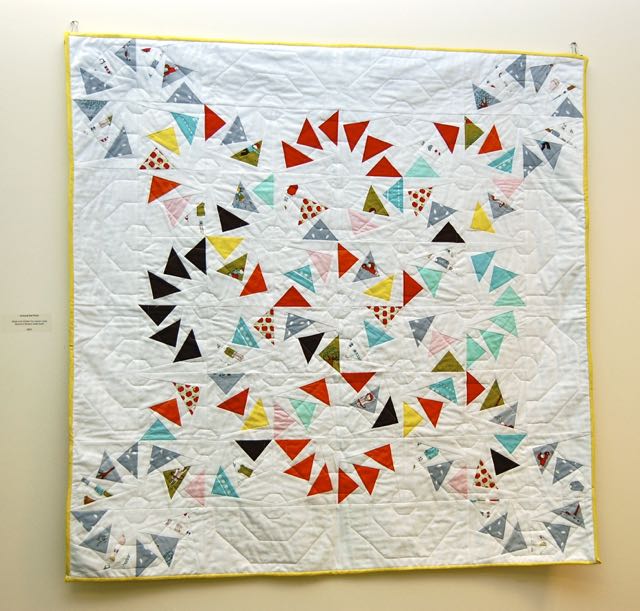 Photo via Craftsy blogger Lauren Lang
Don't forget the quilting possibilities
When I made my daughter her first "big girl" quilt (she's four), I went straight for the pinwheel design. I chose a fabric that was whimsical and that featured little European towns with windmills, and then after I pieced it, my longarm quilter created swirls of "wind" from edge to edge. If you don't have the time or money to invest in a detailed quilting motif, no problem! Play around with the lines created by the half-square triangles; extend the piecing lines, for example, or try echo quilting the spokes of the pinwheels that you want to stand out.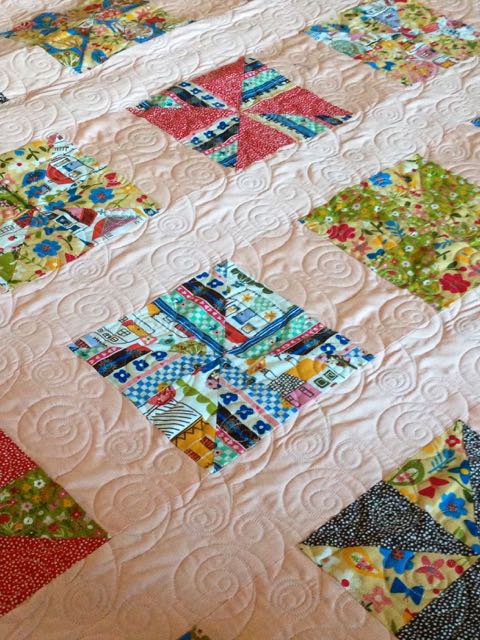 Photo via Right Sides Together
When it comes to pinwheel baby quilt patterns, there is so much traditional and modern inspiration out there, and pinwheels make a great theme for both beginning and advanced quilters. If you're looking for a fun baby gift to make, pinwheel quilts make a solid choice.
What is your favorite pinwheel baby quilt pattern?