The combination of rich, dense pound cake and a thick layer of creamy whipped topping makes for a heavenly dessert that's a summer delight!
This pineapple pound cake topped with a pineapple whipped cream is like a tropical and modern version of a strawberry shortcake, except made with pineapple!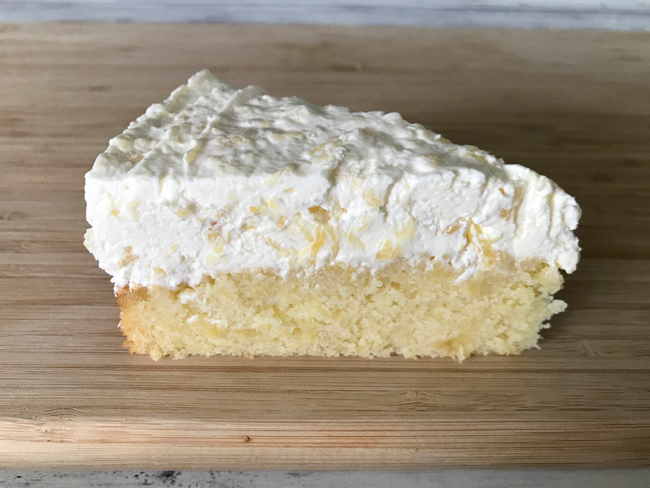 Do you love everything pineapple?
I was on a mission to create pineapple cake that's not just delicious, but easy to make and refreshing. This two-layer cake fits the bill.
It's far from the typical pineapple upside-down cake. It's not too sweet and the pineapple is woven in delicately, giving a fresh flavor that isn't overwhelming.
Let's get our pineapple party started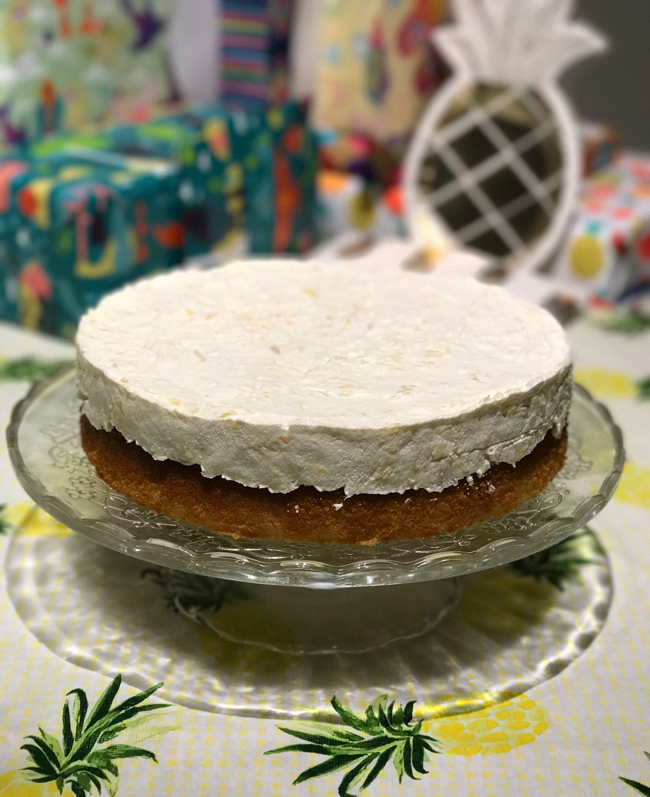 Pineapple pound cake recipe
Makes one 9″ cake
Ingredients:
1½ cups flour
½ teaspoon baking powder
¼ teaspoon salt
¾ cup unsalted butter, at room temperature
1 cup sugar
3 eggs, at room temperature
½ teaspoon vanilla extract
2 tablespoons milk
½ cup crushed pineapple
For the pineapple topping:
½ cup unsalted butter, at room temperature
4 ounces cream cheese, softened
1 cup powdered sugar
2 cups whipped cream
1½ cups crushed pineapple, drained well.
Note that you need just one can (20 ounces) for both the cake and the topping.
Making the pound cake
Step 1:
Preheat oven to 325 F. Grease the sides of a 9″ springform pan and line the bottom with parchment paper. In a small bowl, whisk together the flour, baking powder and salt. Set aside.
Step 2:
Cream the butter and sugar until it's nice and fluffy. Add vanilla and one egg at a time until completely combined; wait until the yolks are no longer visible before adding the next egg. Scrape the sides as necessary.
Step 3:
Add the flour mixture and mix over medium-low speed. Add milk one tablespoon at a time while the mixer is whirling. Scrape the bowl then continue to beat on low speed, adding crushed pineapple until the pineapple pieces are thoroughly incorporated into the batter.
Step 4:
Spread batter into the prepared spring form pan. Bake for 45-50 minutes or until a cake tester from the center comes out clean.
Cool completely on a wire rack.
Making the whipped topping
Step 1:
Beat the butter and cream cheese until smooth. Add powdered sugar and beat over medium-high speed until thoroughly combined. Scrape the sides as necessary and beat until completely smooth and free from any lumps.
Step 2: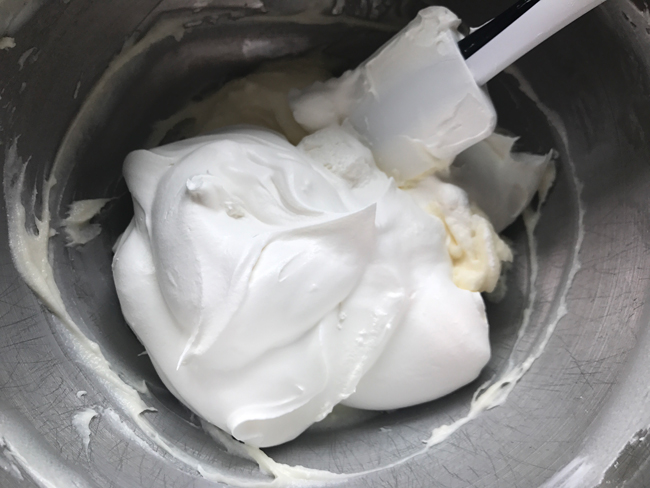 Fold the whipped cream into the cream cheese mixture (You can use store-bought whipped topping or freshly whipped cream).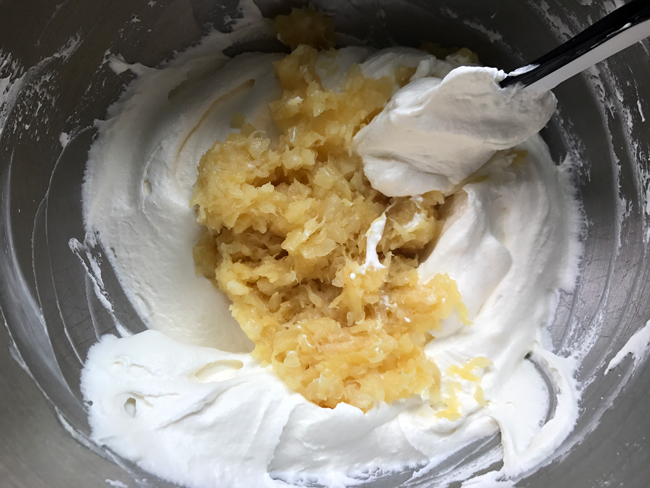 Then gently fold the drained crushed pineapple into the mixture.
Step 3: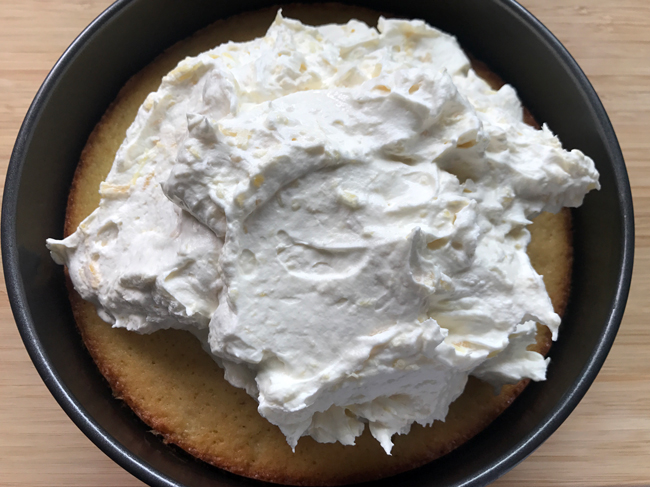 Spread the topping over the cooled pound cake, making sure to spread the topping into the sides where the cake meets the pan.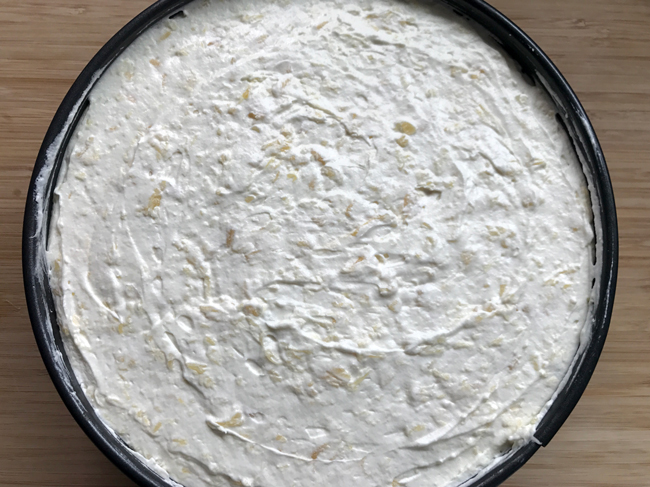 Push it down to ensure that small crevice-area is filled. Cover with plastic wrap and refrigerate for at least 4 hours or overnight.
Step 4: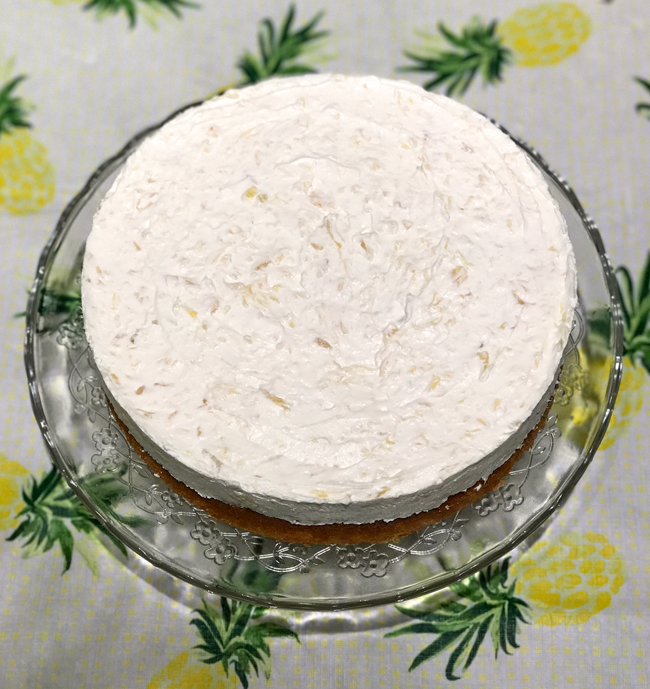 Run a knife around the edge of the pan before unhinging. Once it's on the serving plate, smooth the sides of the cake topping with a spatula if necessary for an even surface. Serve cold or at room temperature. Refrigerate leftover cake for up to one week.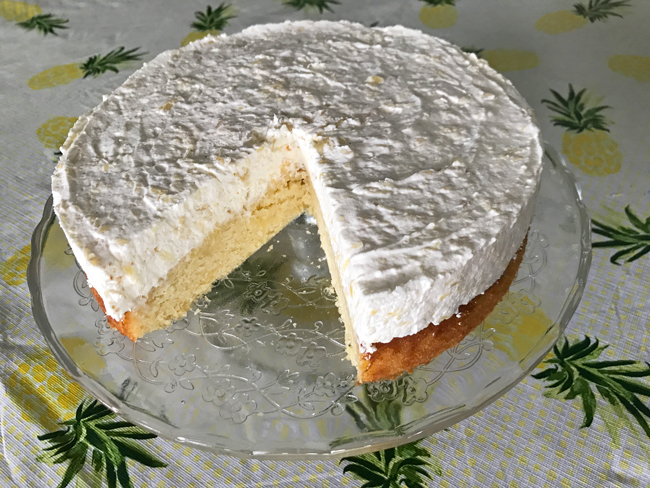 Enjoy this pineapple dessert of your dreams! In the comments below, let us know when you plan to serve this.