Machine embroidery is not just for embroidery. Many quilters use the embroidery machine to piece quilt blocks in the hoop, and there are several ways to quilt in the hoop. Piecing quilts with machine embroidery is a wonderful way to achieve precision-pieced quilt blocks, as well as quilt blocks with beautiful decorative elements. You might be interested in the Embroidered Quilts class by Amanda Murphy who shows how to use machine embroidery to embellish quilt blocks.
Let's take a look at the many options for piecing quilt blocks in the hoop!
Blocks can be pieced entirely in the hoop or only the most intricate portions of blocks may be pieced in the hoop and the remainder of the quilt block is stitched with a domestic sewing machine.
Sew and flip method
This airplane block is a great example of a novelty block created using the sew and flip method for piecing quilt blocks in the hoop.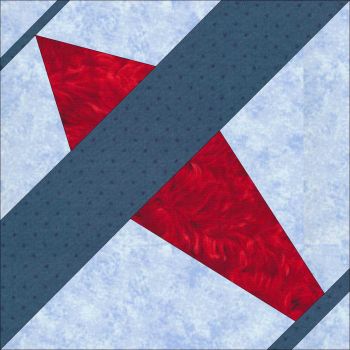 Photo via Kenny Kreations
Machine embroidery quilt blocks that are pieced in the hoop use a technique that is very much like the paper piecing method that quilters use. This is also called the sew and flip technique. The individual pieces of the quilt block are placed on a template. After each seam is completed, the fabric is flipped over, pressed, and the next piece is added and stitched. You can find a diverse collection of these quilt blocks at Kenny Kreations. In addition, you will find a free sample block to download as well as video instructions for completing the quilt blocks.
This block is a multi-hoop pieced block called Balkan Puzzle and requires four hoopings to complete. The image below shows one fourth of the block which is completed in one hooping.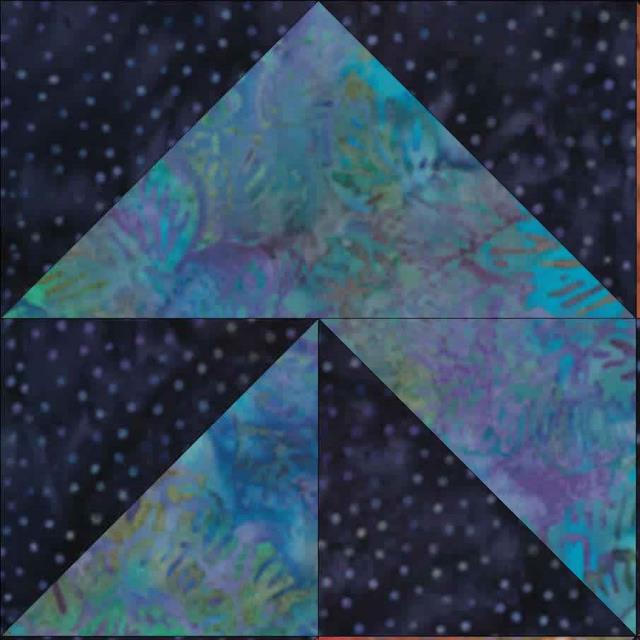 Photo via Kenny Kreations
This single unit is stitched four times in the embroidery hoop to make this complete quilt block.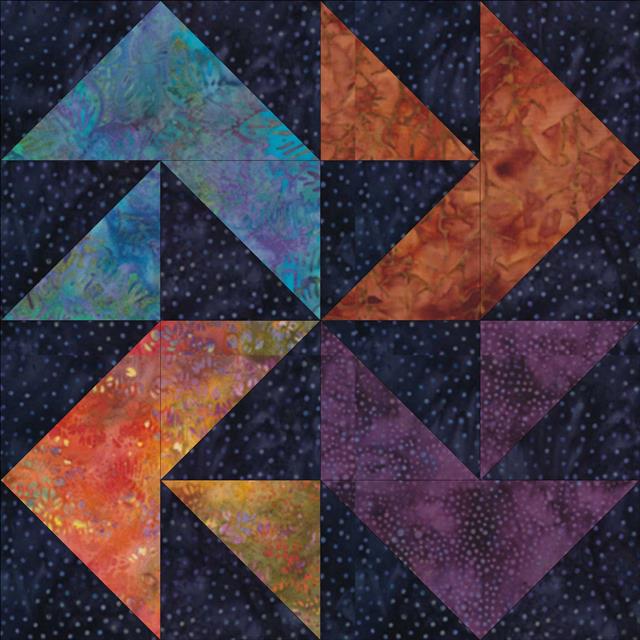 Photo via Kenny Kreations
An even more intricate and beautiful quilt block is seen in this quilt with a pieced Kaleidoscope block by Kenny Kreations.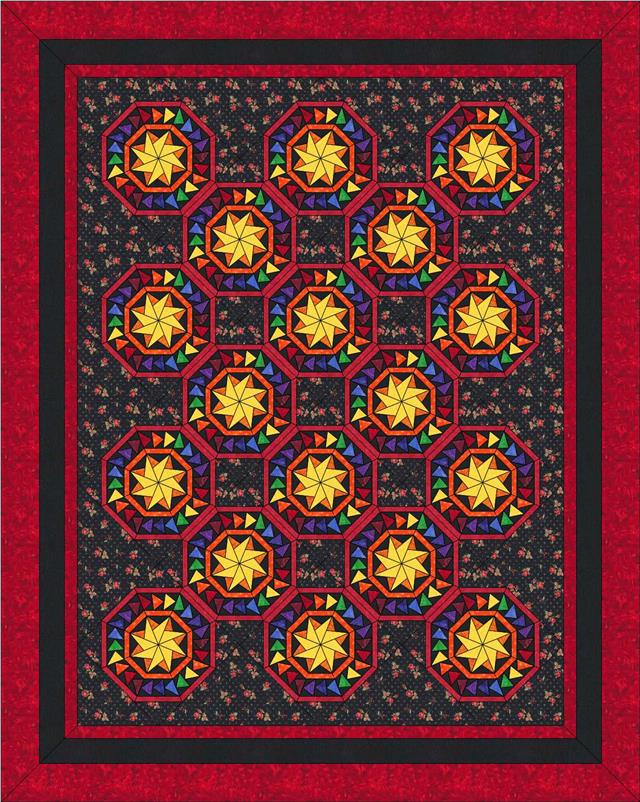 Photo via Kenny Kreations
The blocks themselves are stitched in eight hoopings. The diagram below shows the two different templates and the way the block is divided into sections for stitching in the hoop.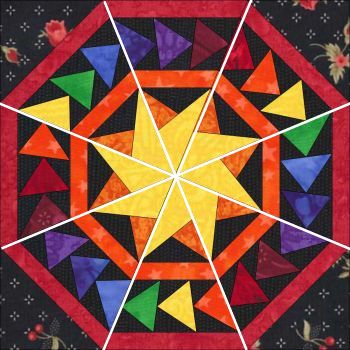 Photo via Kenny Kreations
Appliqué techniques
Another way to use machine embroidery to create quilt blocks is shown with these crazy quilt blocks that can be stitched and embellished in the hoop using an appliqué technique.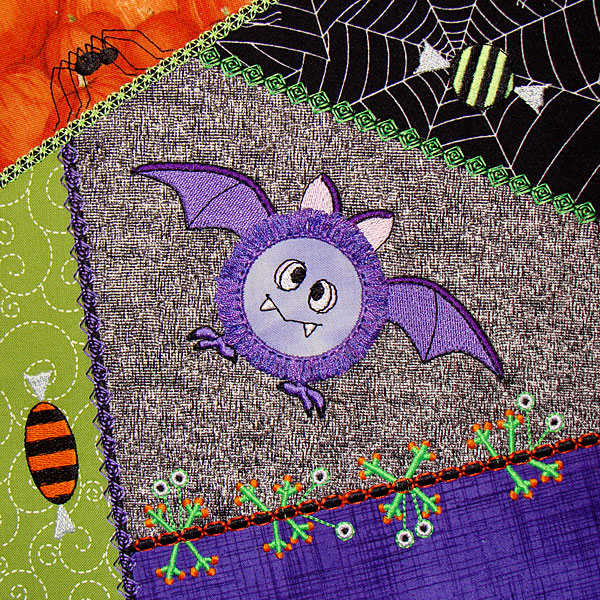 Photo via Molly Mine
This wonderful technique for creating quilt blocks in the hoop has been perfected by Molly Mine Embroidery. She uses a traditional appliqué method of tackdown stitches and trimming the fabric before adding the satin appliqué and decorative stitches to the blocks. I wanted to try one of these beautiful blocks, but decided that rather than the tackdown and trim method, that I would create a cut file for my Silhouette Cameo machine. It worked beautifully. These blocks can be joined edge-to-edge or with sashing to create a crazy quilt or other quilted projects. The blocks below show some of the techniques used for the decorative stitching.
This holiday quilt block uses metallic thread for extra sparkle. And the tree and drummer boy are reminiscent of traditional crazy quilt blocks that were stitched long before sewing machines existed.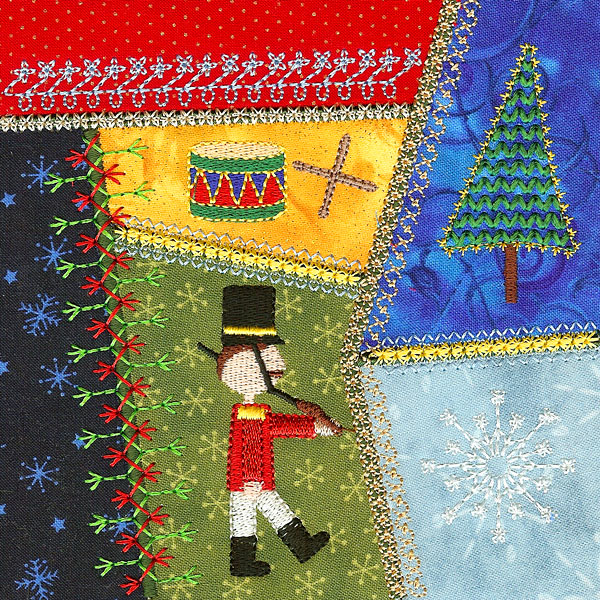 Photo via Molly Mine
This block is embellished with fringe made with machine embroidery. You can also see the fringe technique in the Halloween block above.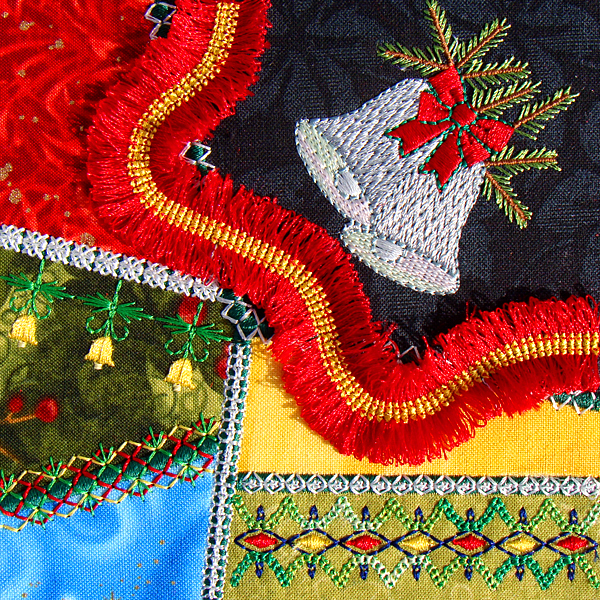 Photo via Molly Mine
And just so you know that the crazy quilt blocks are not just for holidays, here's a beautiful block for any time of the year.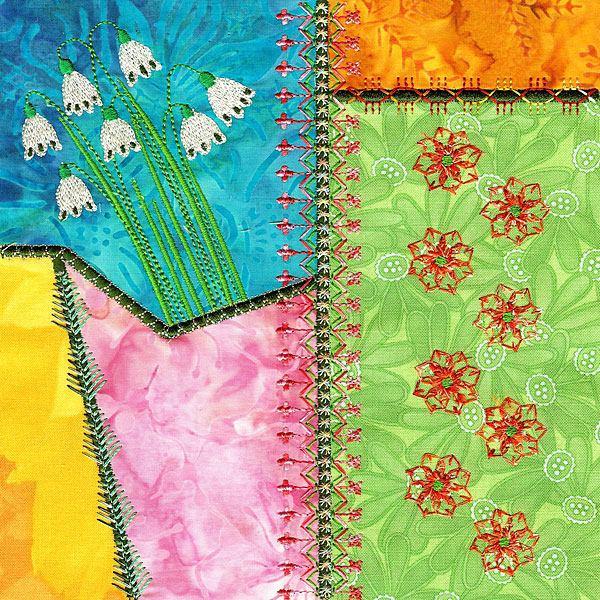 Photo via Molly Mine
You might also enjoy our posts on making Trapunto blocks and tips for successful in-the-hoop embroidery.
Also, be sure to check out Free Motion Machine Embroidery to learn how to create exquisite embroidered designs. 
What do you like about piecing quilt blocks in the hoop?