Recipe courtesy of Evan Kleiman from Perfecting the Pie Crust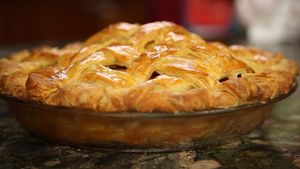 Ingredients
12 ounces (340 g) all-purpose flour
1 teaspoon kosher salt
2 tablespoons sugar
8 ounces (225 g) chilled butter, cut into 6 pieces
4 ounces (115 g) very cold water
Directions
In a bowl, mix together the flour, salt and sugar. Add the butter, separating the pieces if they're stuck together, and toss them with the flour mixture. Cut the butter into the flour mixture until there is a mixture of almond/walnut-size pieces and pea-size pieces. Drizzle the water over the butter-flour mixture. Mix with fork.

Dump the mixture on the counter. Use a bench scraper to gather the crumbs into the mass of dough. Use the heel of your hand to smear the mixture away from you one-third at a time. If the mixture is still dry rather than crumbly, add more water a tablespoonful at a time, sprinkling it over the dough. Gather the dough together with the bench scraper. Repeat again and then again if necessary.

Cut the dough in half with the bench scraper and form each half into a puck shape. Wrap in plastic wrap and refrigerate.