Adept with an arsenal of piping tips or feeling the need to brush up on your piping techniques? Perhaps you've never picked up a pastry bag filled with buttercream or royal icing in your glorious cake-making life?
These pretty piped cakes will inspire you to grab your spatula and the nearest batch of icing to load into a pastry bag fitted with a tiny open circle tip.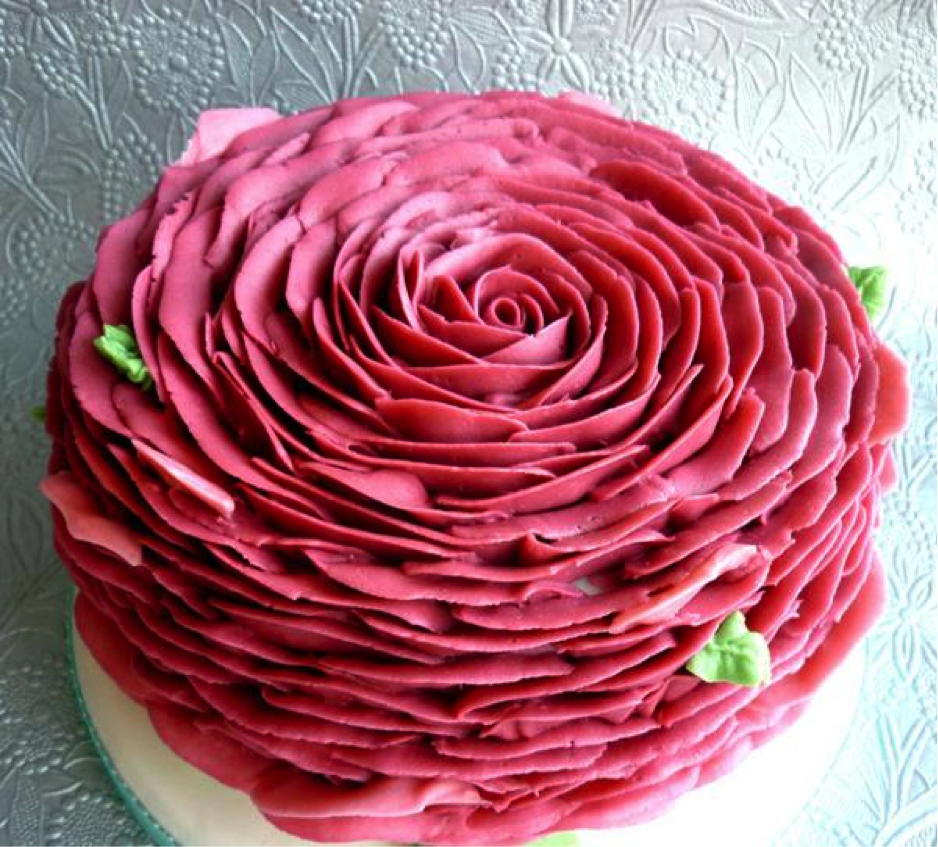 Photo via Star Bakery
Petal to the metal rose cake:
Holy roses! This gorgeous multi-layered petal confection is by Star Bakery. It was inspired by the many rose-topped cupcakes she has seen lately. I love the little pops of green leaves poking out of this; now that's confidence with the rose petal tip!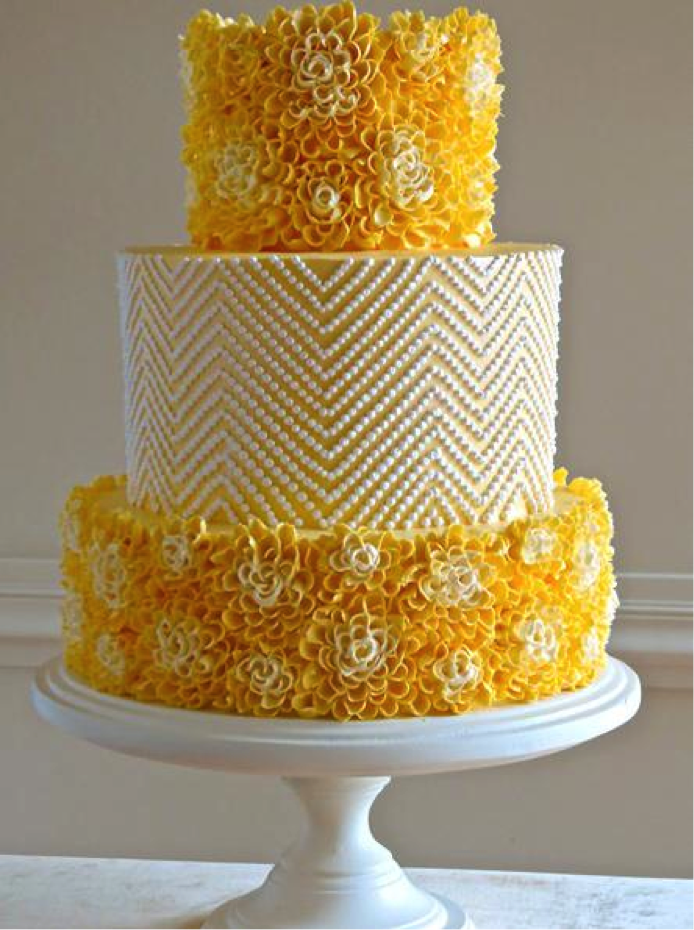 Photo via Jim Smeal Cakes
Bright yellow piped flowers and dots cake:
This awesome three tiered, fully piped cake is gorgeously loaded with piped buttercream dahlia flowers. I love how the middle tier takes a break from dahlias and takes on a lovely little pearl-dot chevron pattern. The white centers of the piped dahlias make the flowers stand out even more! Gorgeous work and a really fun, bright cake.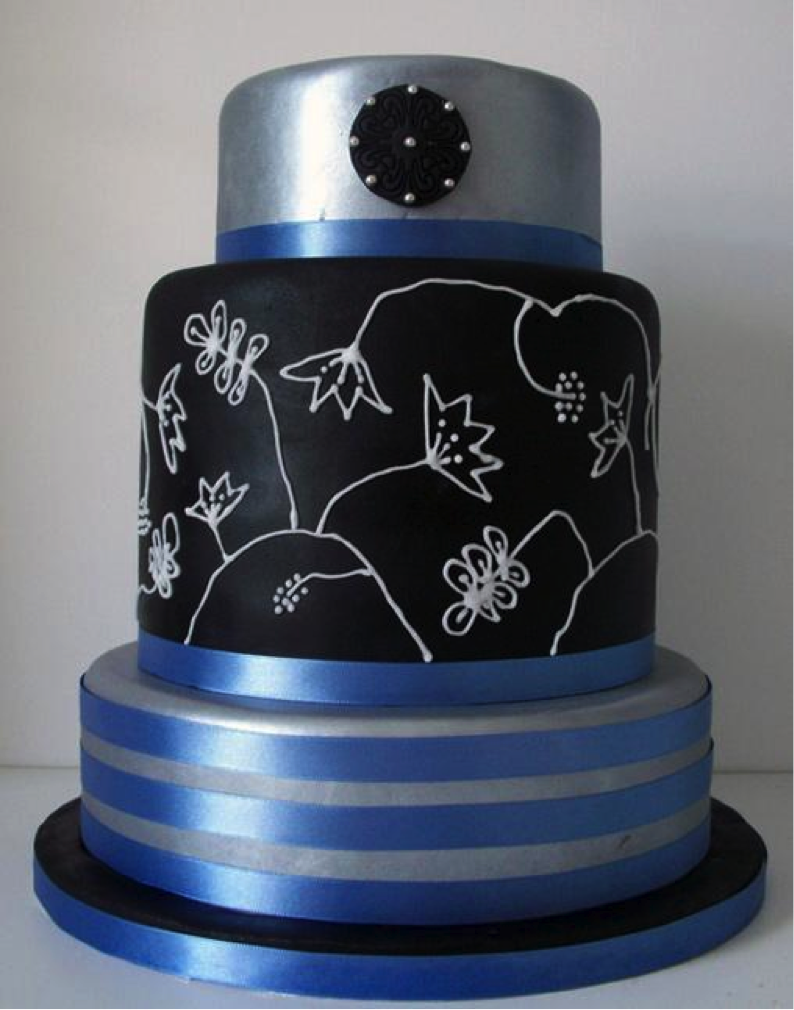 Photo via Pagan Cake Girl
Silver, black and blue cake:
This cake defies conventional style, which is why it stands out. I love the black fondant middle tier and the royal icing piped floral designs! The high contrast of the white icing on black fondant really pops– it also reminds me of a 1960s fabric pattern.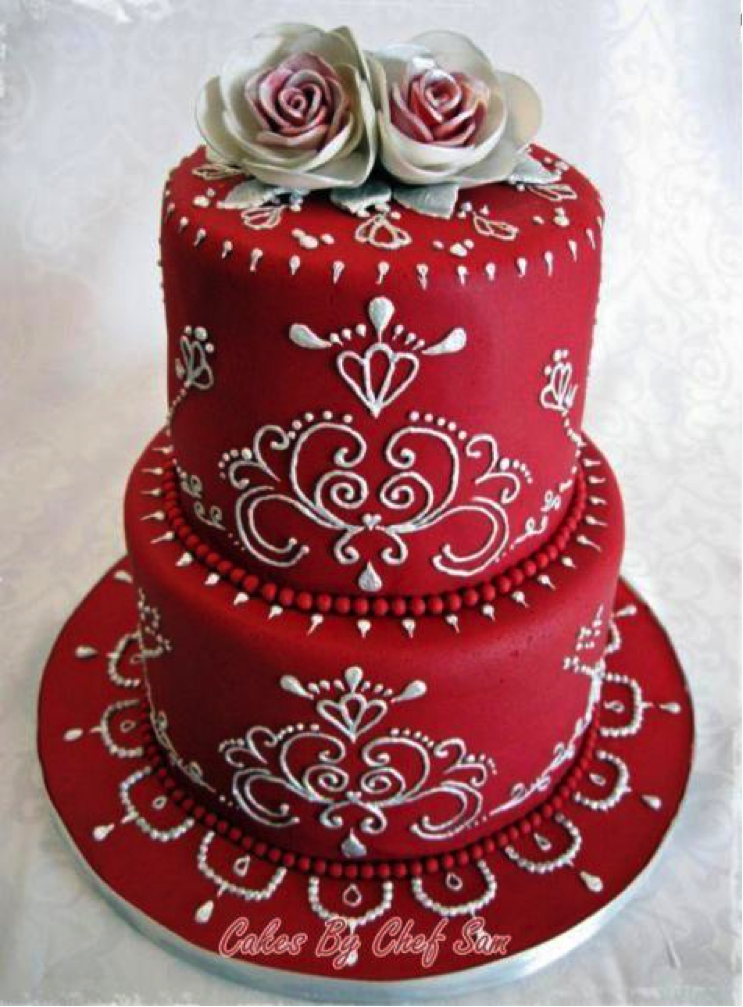 Photo via Bluprint member Chef Sam
Red and silver piped Indian wedding cake:
Chef Sam took Crafty's online class Modern Piping with Joshua John Russell and created this red and silver beauty in the theme of Indian wedding cake! The piping work reminds me of intricate henna, and the silver against the bright red fondant provides stand-out contrast.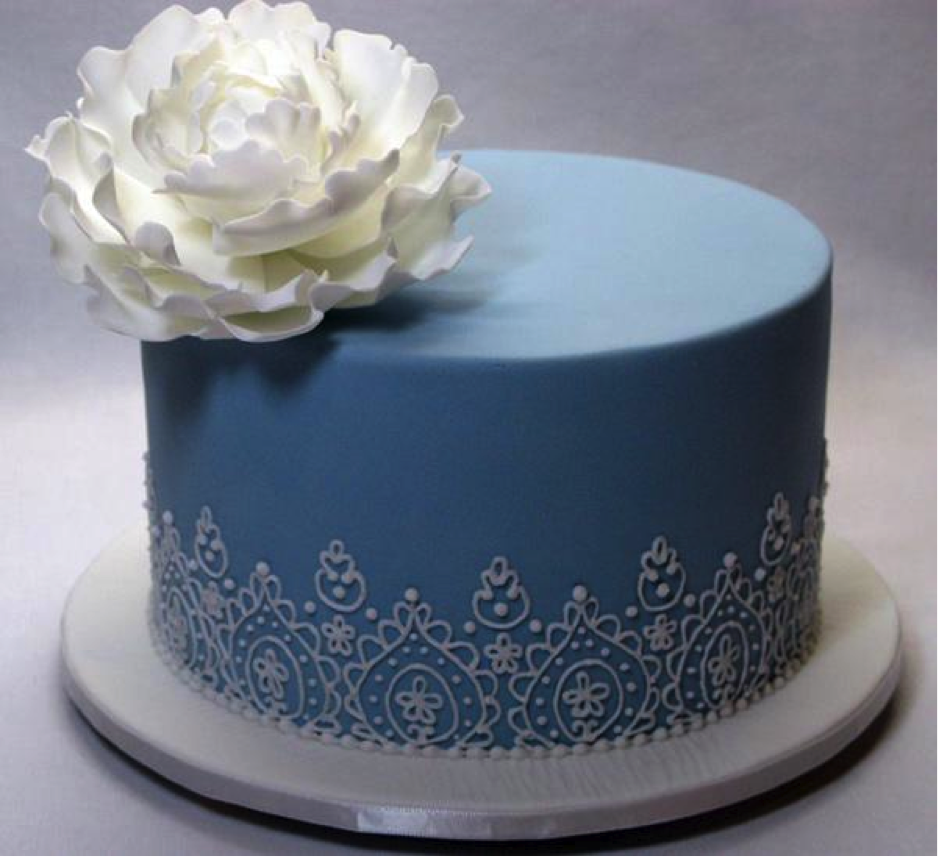 Photo via Creative Cakes by Julie
Blue and white lace mini wedding cake:
This single tiered dusky blue cake with royal icing piped lace would be such a lovely centerpiece for a modest but beautiful dessert table. I love the ruffled white gum paste peony perched on the side, like a hair accessory. Believe it or not, this cake artist had only ever piped lace once previously, and she had never made a gum paste peony before. I hope my first sugar flower turns out as lovely.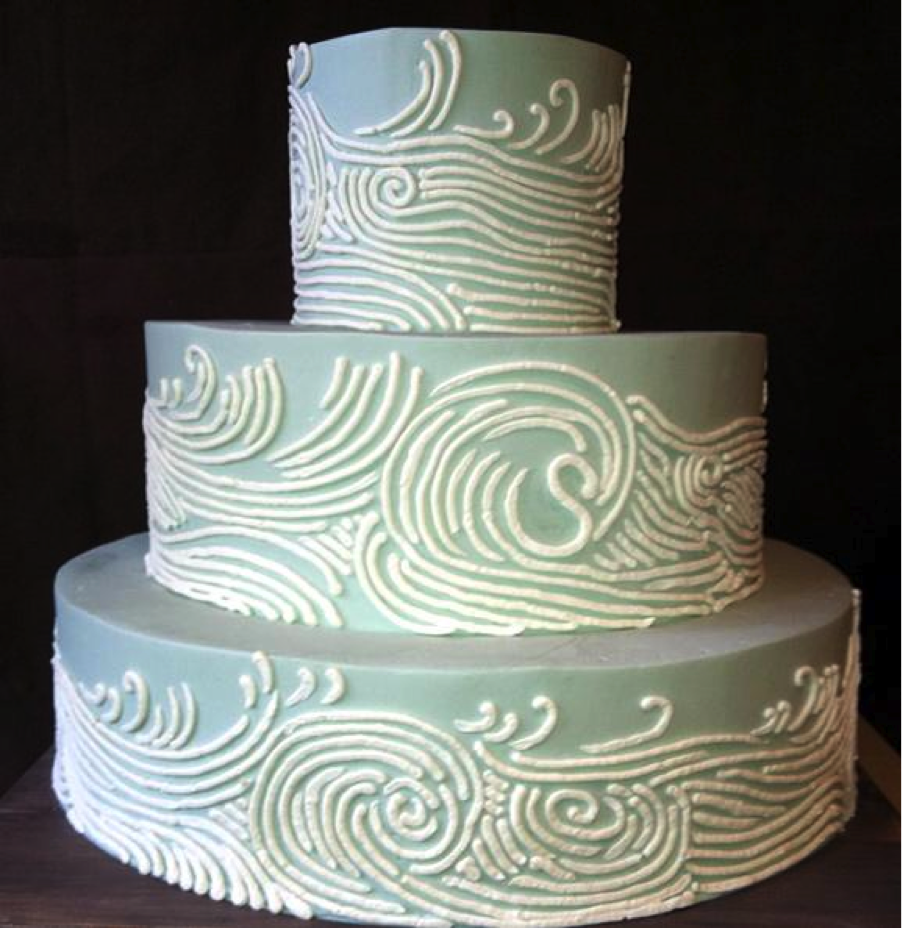 Photo via Jim Smeal Cakes
Graphic ocean waves cake:
This three tiered all-buttercream cake is a real beauty. I love the piped waves as they look like they are truly in motion! The cake has a minimalist feel with only two colors, but the piped waves provide so much for the eye to take in. A great example of how you can create visual impact without too much fuss.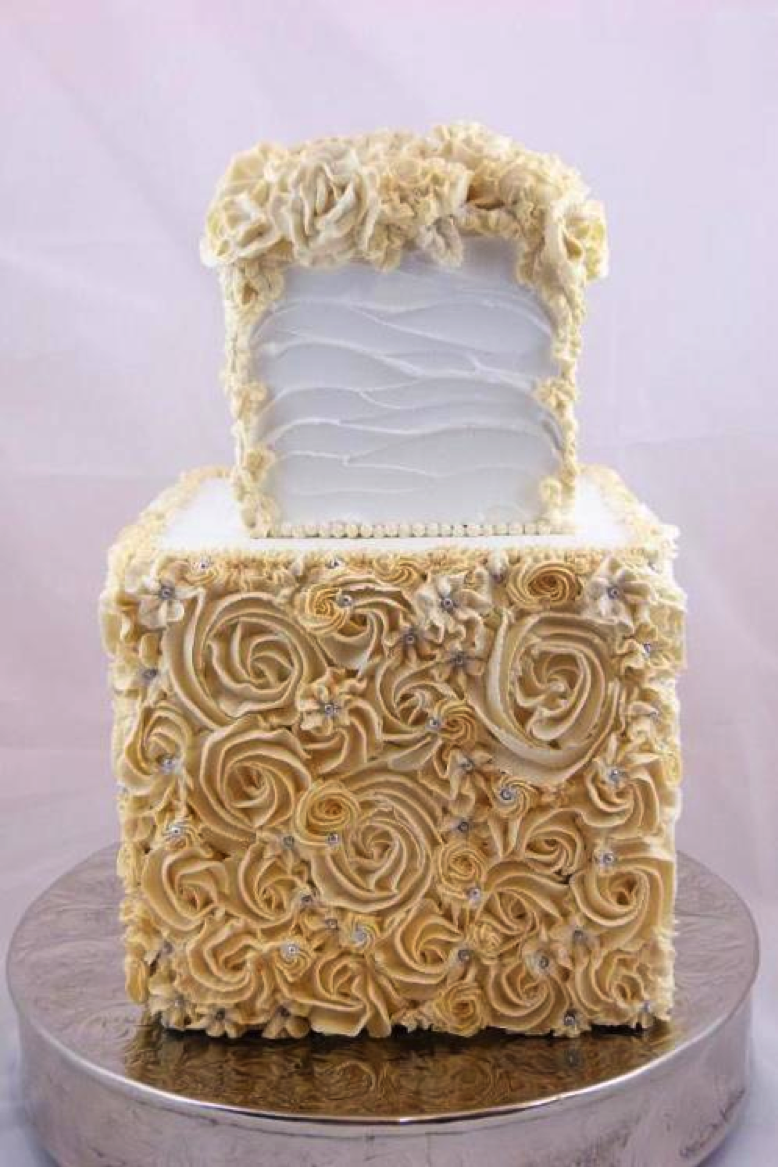 Photo via Bluprint member Mrs.Gillespie
Square tiered and ivory rosette piped cake:
Bluprint member Mrs.Gillespie really rocked it on this two tiered buttercream piped cake! She used a large open star tip for the rosettes and a petal tip for the blossoms. I love the variance of sizes of the rosettes, and how she filled in the bare spots with a different flower technique: drop petal flowers. Great job, Mrs.Gillespie!
Feeling inspired but not quite sure what to do with all those piping tips? Enroll in Piping Buttercream Borders with Roland Winbeckler and you'll be piping a cake with the speed and ease of a true professional.