Life's a picnic when shared with friends. But it's even more delicious when you've got a picnic themed decorated cake for dessert! For a collection of cakes inspired by eating outdoors, look no further. From cheeky designs featuring ants carting away tasty morsels to adorable teddy bear picnic scenes, there's something here to suit everyone's picnicking preference!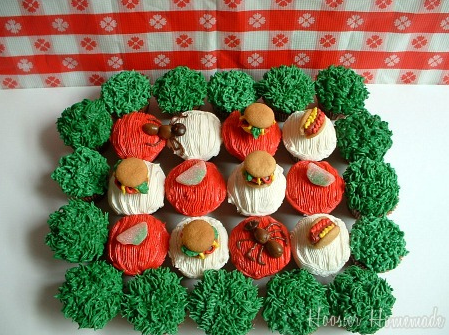 Photo via Hoosier Homemade
Cupcake Picnic Cake:
Cupcakes are cleverly configured to form a picnic-themed cake! This sweet look was attained by alternating three rows of red and white frosted cupcakes to form a checkerboard, a theme which is accentuated by ant, fruit, and burger and hot dog decorations atop each cupcake. Then, this checkerboard is surrounded by a row of cupcakes piped with green frosting using a multi-opening decorating tip to form a grassy border.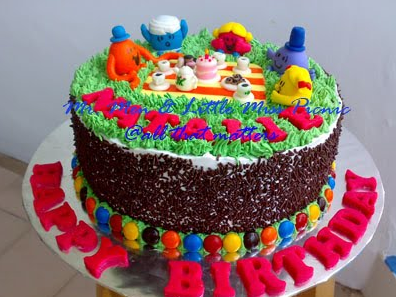 Photo via Piccolo Yogashiten
Mr. Men Picnic Cake:
For this adorable cake, inventive use of materials adds up to a perfectly sweet picnic scene! Brown sprinkles applied all over the sides of the round layer cake make for a "dirt" effect, and delicately piped green buttercream forms a textural grassy surface on the top of the cake. It's then garnished adorable hand-formed figures and picnic accoutrements, and cutout letters to form the birthday recipient's name.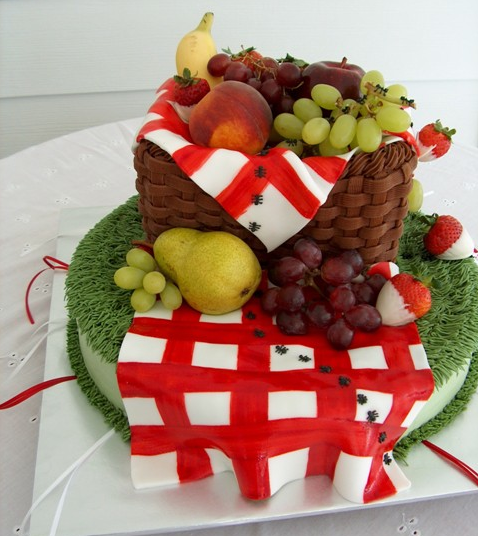 Photo via Teresa's Cake Art
Realistic Picnic Cake:
Did you do a double take? You're probably not alone. This cake is so realistic it could pass for the real thing! But when you take a closer look, you'll see that the grass is really green buttercream, piped with a multi-opening cake decorating tip. That blanket is actually fondant, hand decorated to have a checkerboard pattern. And the basket is actually decorated using, well, you guessed it–a basketweave tip!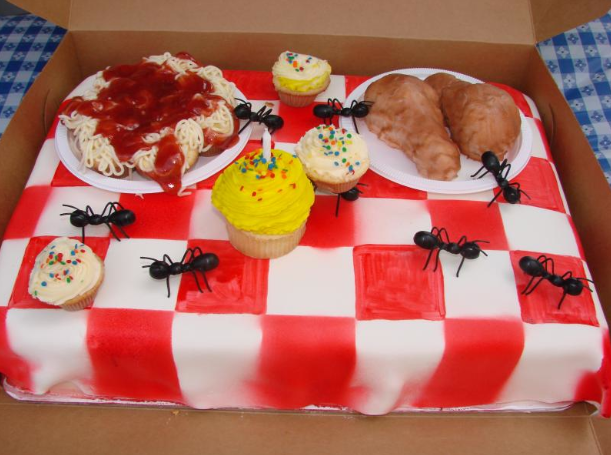 Photo via Sandra's Cake Creations
Picnic Sheet Cake:
This diorama-esque cake started with a simple sheet cake, but became a picnic-themed masterpiece! First, a red checkerboard design was applied, and then the clever toppings were added: cupcakes, sweets made to look like plates of spaghetti and fried chicken, and then, to really bring the picnic theme home, a sprinkling of (fake) ants!
Photo via Celebrate with Cake
Sweet Picnic Scene Cake:
Here's a wonder in fondant and buttercream! A sweet scene indeed is set with this gorgeously decorated layer cake, featuring hand-sculpted fondant treats such as mini cookies, cupcakes, finger sandwiches, and coffee. But wait, there's more: the cake is surrounded by a patch of adorable cupcakes, each decorated with flower and butterfly details. All of this cakey goodness sits atop a bed of green buttercream piped to resemble grass, in which letters spell out a message to the very lucky recipient!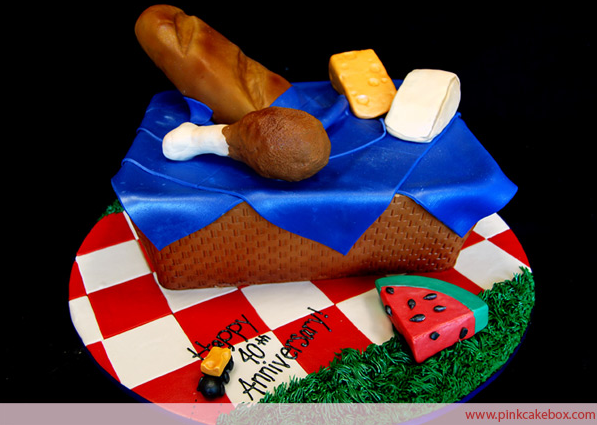 Photo via Pink Cake Box
Sophisticated Picnic Scene Cake:
Brie, baguettes, chicken, watermelon…check! While the basic equipment appears to be in place for a beautiful picnic, this setup has a secret: it's actually cake! All of those vittles are actually hand-molded from fondant and gumpaste, and they sit prettily atop a basket made of cake, draped with squares of fondant that resemble napkins!
Photo via Bluprint member Miriam Pearson
Teddy Bear Picnic Cake:
What's the way the teddy bears have their picnic? In sweet style, according to this cake! Featuring textured fondant to form a pretty backdrop and gorgeous lacy tablecloth, every single thing on the cake–including the the hand-sculpted bears, flowers, and even cups and saucers–is edible.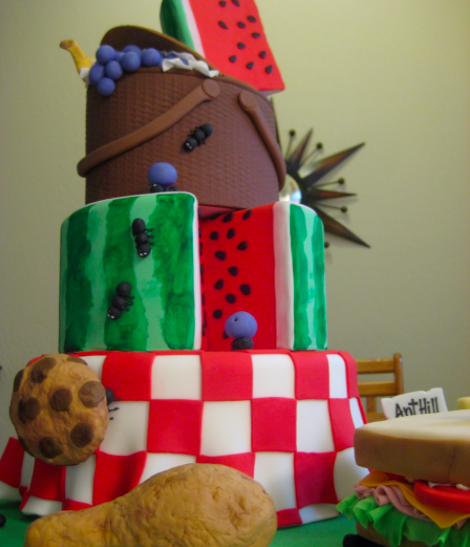 Photo via Byrdie Girl
Ant Picnic Scene Cake:
Looks like the ants are stealing the picnic–and the show! This charming and clever cake was created using fondant and royal icing, and features three layers inspired by picnic textures and themes–a basket, an exposed watermelon, a picnic blanket. As impressive as they are, though, the cake gets even more charming owing to the hand-sculpted food elements which are apparently being carted away by ants! Clever, sweet, and cute.
Photo via Nes the Cake Princess
Picnic Basket Cake:
For an example of beautiful cake piping work, look no further than this picnic basket cake. The basket itself features absolutely impeccable work with a basket-weave tip, and the flower garnish adds some color and texture contrast. Piped green grass is adorably adorned with jelly bean "ants" and a ladybug, adding a sense of whimsy and fun to the vibrant cake. [box type="shadow"]Now you've got proof: the picnic that is life is even more delicious with dessert! Of course, a watermelon themed cake or a burger cake would always be welcome at a picnic, too![/box]