If you love traditional cucumber pickles, then pickled zucchini is a natural progression for your canning adventures.
In this recipe, you can use the handy Chef'n SleekSlice™ Mandoline Preserve Prep Lid for perfect slices. Topped with a quick and simple pickling brine made from salt, vinegar, sugar, mustard seeds and turmeric, the Chef'n Quickler™ lid ensures that you can quickly and safely seal yoyour mixture.
With a pleasingly sour-tangy flavor, pickled zucchini can make your sandwiches spectacular, your burgers better, and can even add an element of umami to savory dishes like grain bowls and pizza.
Quick pickled zucchini recipe
What you need:
One 16-ounce wide-mouth mason jar
Chef'n Quickler Preserve Prep Lid – Vacuum Lid
Chef'n SleekSlice™ Mandoline Preserve Prep Lid
Ingredients:
3 teaspoons salt, divided
1½ cups apple cider vinegar
¼ cup granulated sugar
3 teaspoons mustard seeds (see recipe note)
1 teaspoon ground turmeric
2 medium (about 8 ounces) zucchini, cut with the Chef'n Mandoline Lid
Directions:
1. Start by making the brine. Combine the remaining 1 teaspoon salt, apple cider vinegar, sugar, mustard seeds and ground turmeric in a medium, heavy-bottomed saucepan.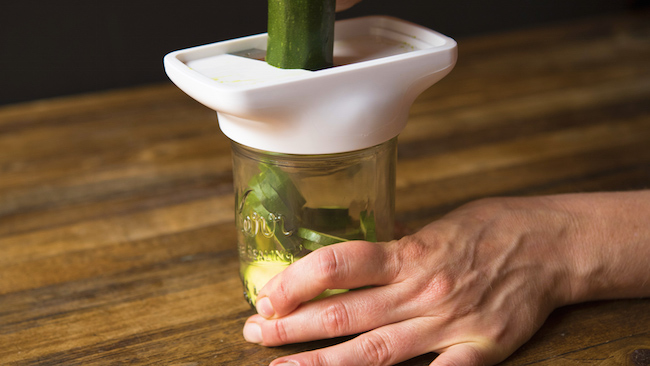 2. Bring the brine mixture to a boil over medium heat. Once boiling, reduce the heat; let simmer for 5 minutes (to slightly thicken the mixture). Remove from heat and let cool.
3. Screw the Mandoline or Spiral Lid onto jar and slice zucchini directly into the jar. Leave ½" of space on top of jar.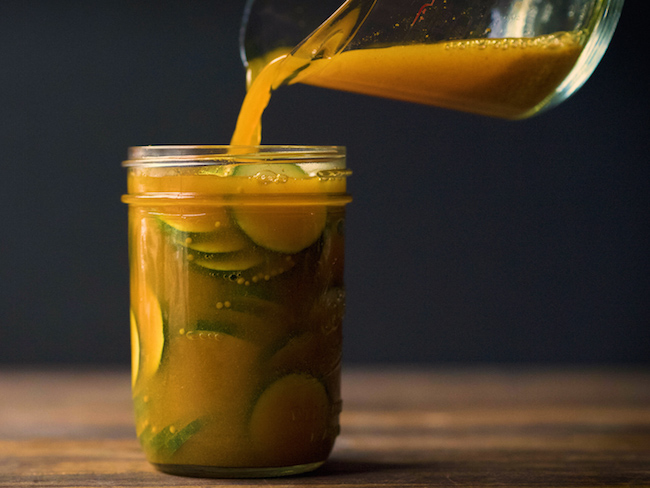 4. Pour the brine into the jar, on top of the zucchini, leaving about ¼" of space open at the top of the container. Remove air bubbles with a spoon, if there are any.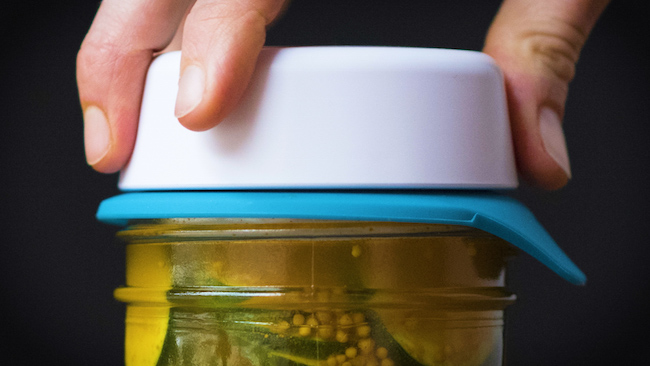 5. Press your Quickler Vacuum Lid down on the dry rim of the jar. Twist the lid at least four times to create a vacuum seal. Keep refrigerated. The pickled zucchini will be tasty within an hour and the flavors will reach their peak within 3 to 6 hours. When ready, pull the silicone tab to release the vacuum seal.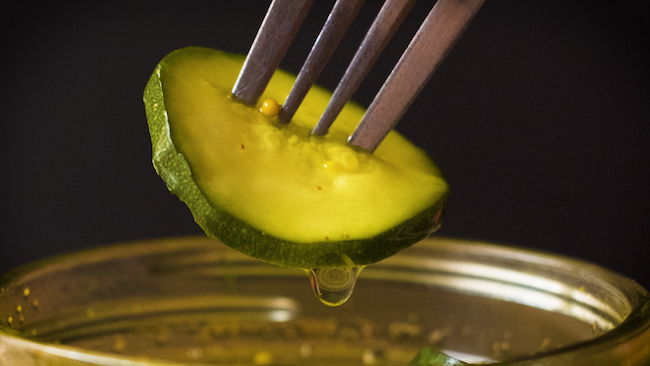 Recipe note: mustard seeds
To bring out the flavor of the mustard seeds even more, lightly crush about half of the seeds to release the flavors. Leaving the remainder of the seeds whole gives the pickled mixture a nice texture.
4 creative ways to use your pickled zucchini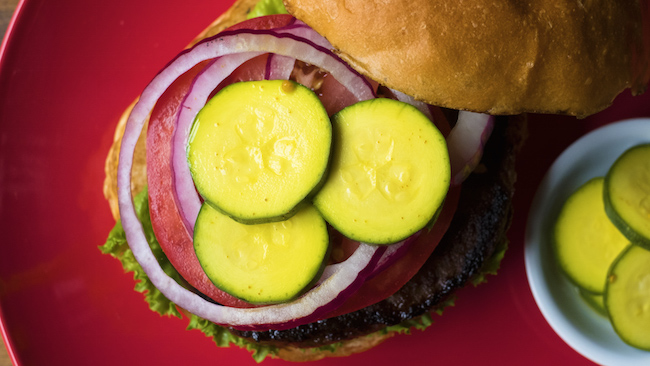 Spoon pickled zucchini on top of burgers or sandwiches for an unexpected yet delicious flavor sensation.
Try pickled zucchini on top of pizza.
Serve it as a side dish at your next picnic.
Try pickled zucchini as a taco topping.