We sure do adore our pets, don't we? They add so much to our homes and lives, and they really can feel like part of the family. Let's pair our fondness for pets with our love for quilting to make a beautiful patchwork creation or two for the home.
Here are 8 adorable quilt patterns to celebrate your love for the dog, cat or even fish in your home.
Photo via srodenmayer
Dog Days
Hey dog lovers, this one is for you! The Dog Days quilt pattern features 20 different breeds. Full-size templates are included with the pattern, which details how to make the blocks. They can be constructed by hand or machine appliqué.

Photo via The Patchsmith
Scottie Dog
A morning cup of coffee can be a whole lot cuter with the Scottie Dog mug rug. This is a quick project that features both basic appliqué and piecing. Simply adjust the color scheme to make the mini quilt gender suitable. The finished mug rug measures 8.5″ x 4.5″.
Photo via Kim Jamieson-Hi
Posh Pets
Cats or dogs? Try out this pattern if you can't decide between the two. Charm squares can be used to piece the background, and the furry pets are appliquéd with fusible web. Use the finished quilt measuring 31" x 40" as a lap quilt, baby quilt, or a wall hanging.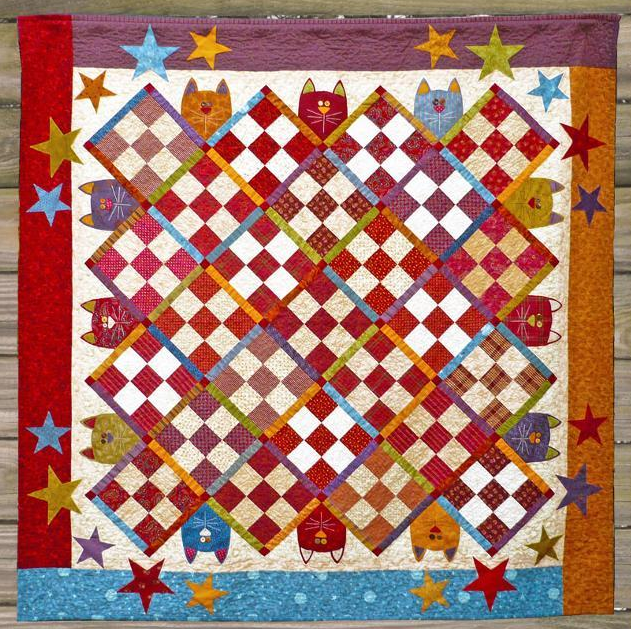 Photo via Red Boots
Red Cat Blue Cat
Charming cats surround traditional 9-patch blocks in the Red Cat Blue Cat quilt. Any cat lover would love this one! Choose your favorite colors to personalize the large throw measuring 75.5" square.
Photo via Darlee
Cat and Mouse
Add a bit of fun to your computer work with the Cat and Mouse pattern. This sweet little mini quilt would make a playful mouse pad, coaster or mug rug.

Photo via Kristin Lawson
Fishy
Not everyone appreciates furry pets in the home, so here are some quilts for fish lovers! Make a bright and bold fish quilt out of your favorite colorful quilting fabric. The pattern will help you sew a large throw measuring 63" x 78", and fabric requirements for three other sizes are also listed.
Photo via The Tulip Patch
Skipping School
What baby or toddler doesn't love goldfish? This adorable pattern is made of the classic Drunkard's path block. There is a template included, or the pieces can be cut from a fabric acrylic die cutter.
Photo via Freshly Pieced
Kissing Fish
Last but not least is the Kissing Fish baby quilt pattern, which is FREE for you! This is a great quilt to sew from scraps, and each kissing fish is made of a 6″ print square and some solid white fabric.
Can't get enough pet quilt patterns? You'll also love our roundups of cat quilts and dog quilts.
Are you a pet lover? What is your favorite pattern? Please share!