Who doesn't get a thrill from seeing their name in print? Personalisation is a huge trend at the moment, with names showing up on everything from T-shirts to chopping boards. It's no surprise brides and grooms are increasingly opting for personalised wedding cakes, too.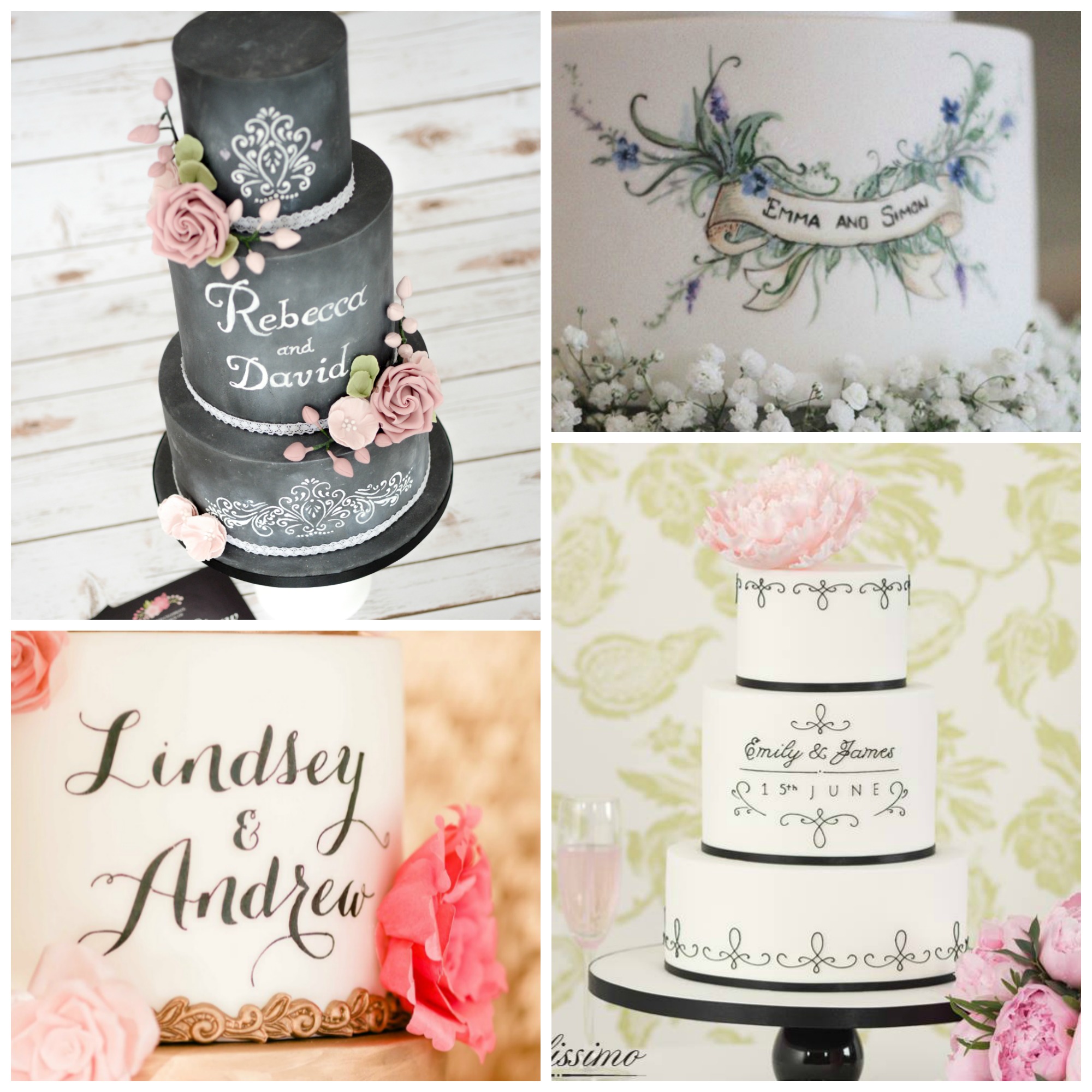 Monograms have always been a subtle way of personalising a cake, but now couples are getting bolder, having their full names written on the cake.
I have put together a collection of these customised wedding cakes by some leading cake designers from across the world to inspire you. The designs are quite varied and the designers have used a range of different techniques to create their designs.
Piping
One way to personalise a cake is to pipe the lettering with royal icing, buttercream or chocolate ganache.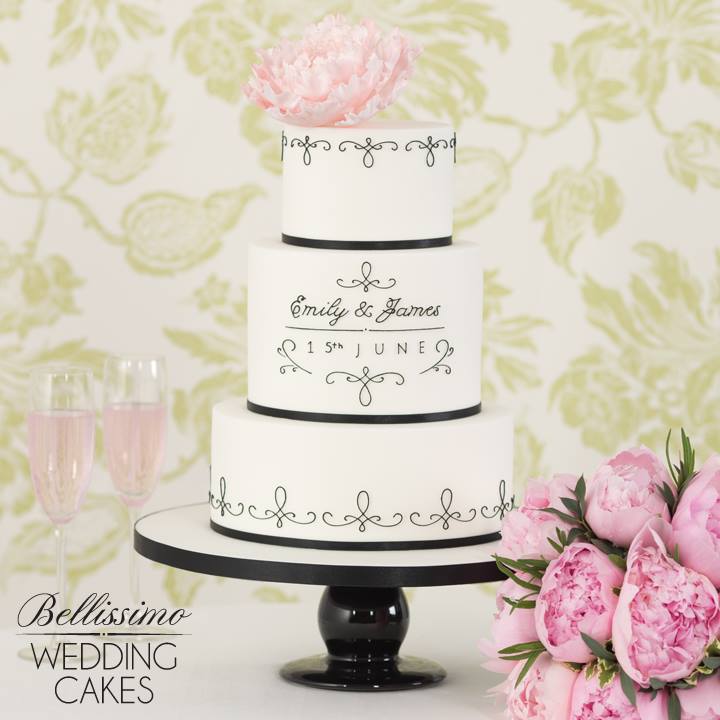 Photo via Bellissimo Cakes
I piped the lettering on the cake above that I created for my book Bellissimo Wedding Cakes. Using royal icing, I first piped the design in white and then over-piped it in black.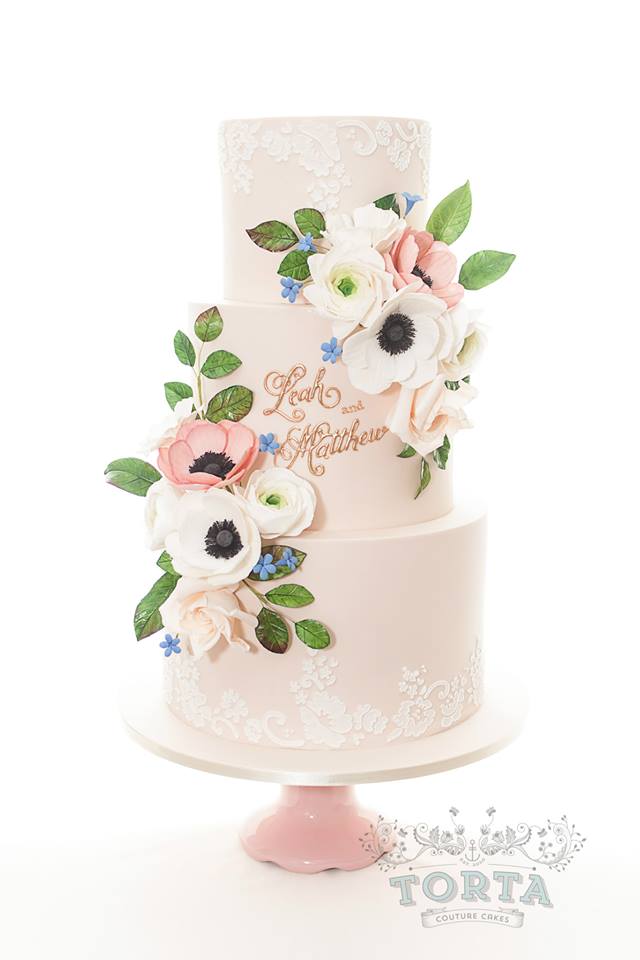 Photo via Torta Couture Cakes
To create the lettering on this exquisite cake, Torta Couture Cakes from the U.K. has piped the names then painted the letters gold.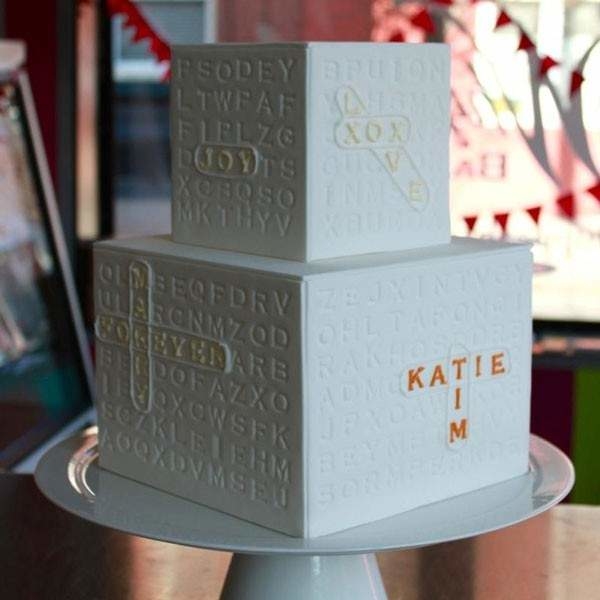 Photo via Whipped Bakeshop
Whipped Bakeshop based in Philadelphia created this innovative wordsearch cake for Philadelphia Magazine by embossing letters onto the cake then piping over the couple's name. They've also highlighted other romantic words. Another way to recreate this design would be to stamp out the letters and attach them to the cake with edible glue.
Banner designs
The next two cakes are very different but both use a banner with the couple's name in the design.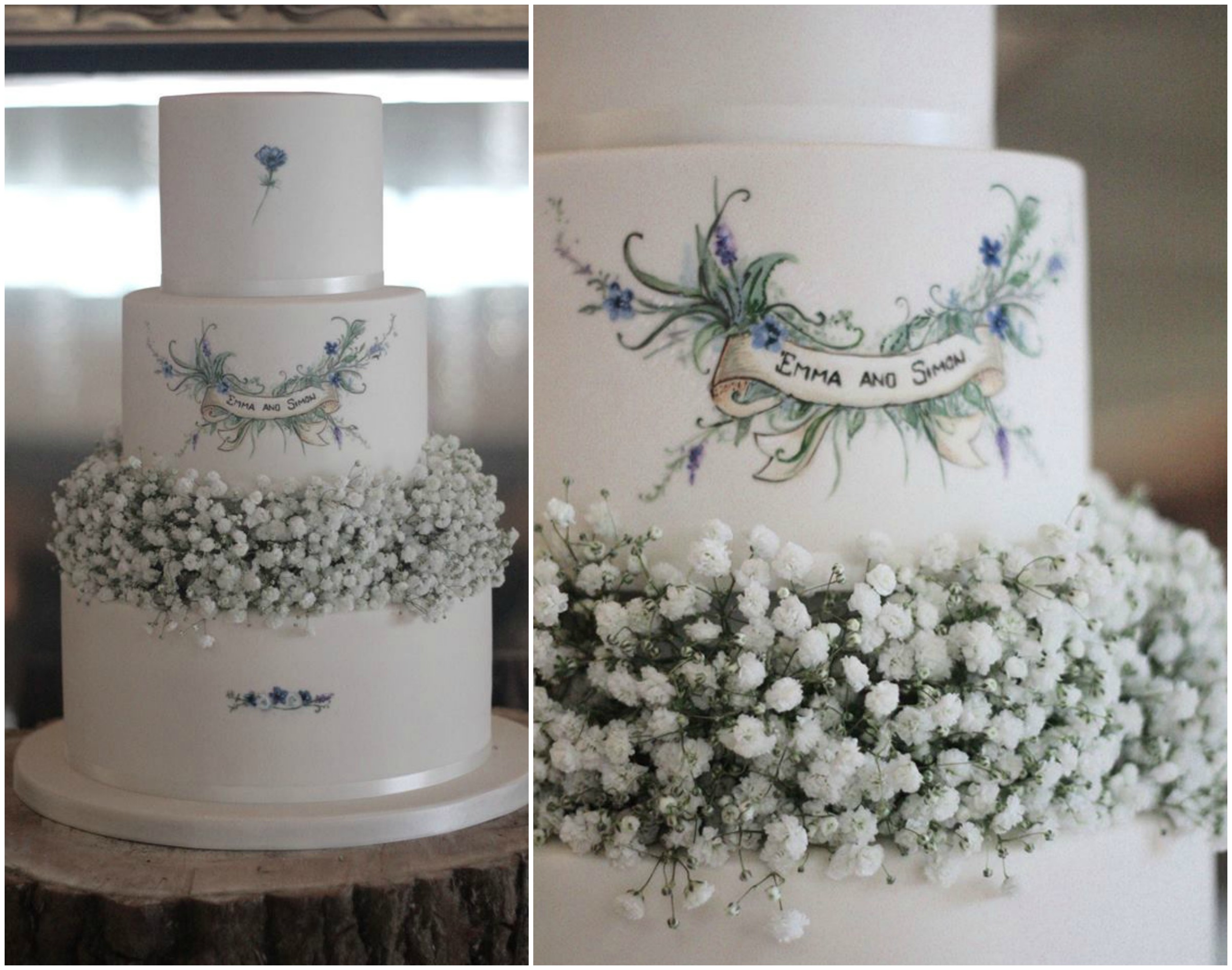 Photo via Curtis & Co. Cakes
Jennie Brooks from Curtis & Co. Cakes in the U.K. used the wedding invitations as inspiration to create this stunning design.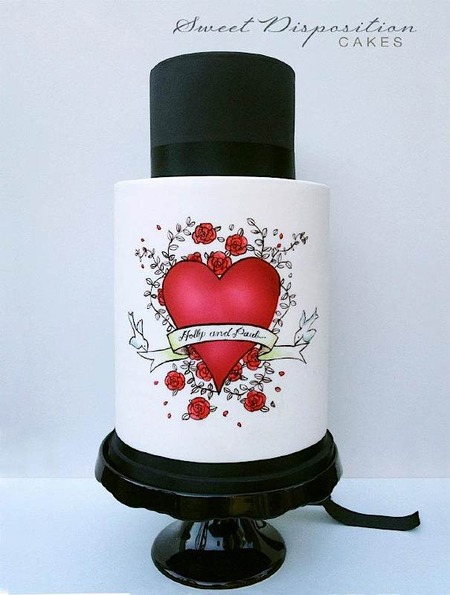 Photo via Sweet Disposition Cakes
Drawing on her graphic design background, Lisa Grech-Staehr from Sweet Disposition Cakes in Australia was inspired by retro tattoos when she created this striking design. To best recreate the delicate writing achieved in both these designs, you could use an edible pen.
Bold brush strokes
Brush stroke style calligraphy is very popular on wedding stationary at the moment, and this can translate onto the cake.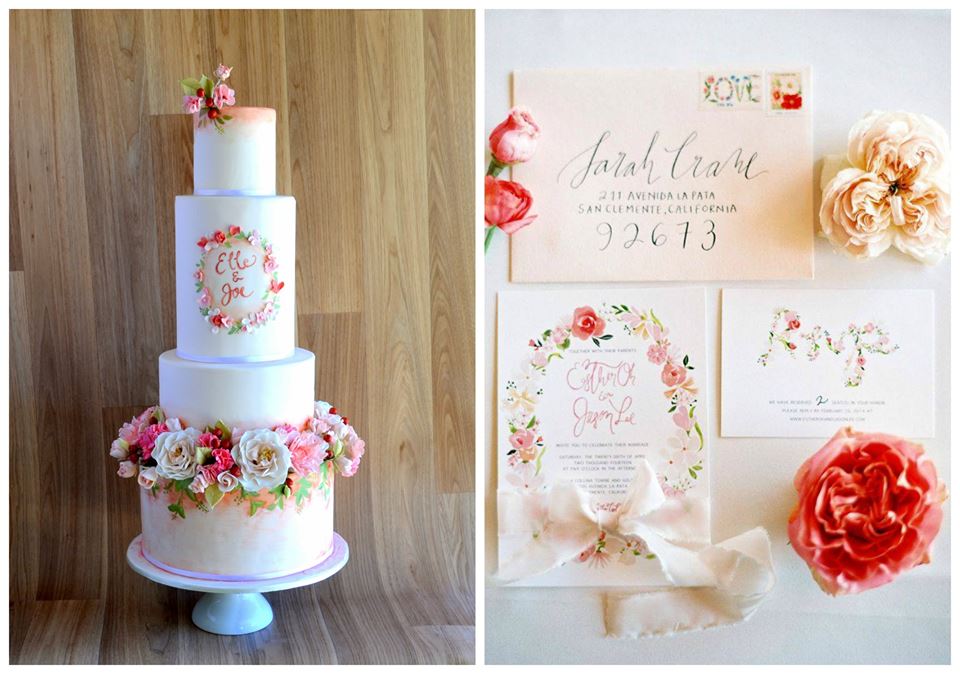 Photo via Sweet Ruby Cakes
Trina Thomson from Sweet Ruby Cakes in Australia used the stationery as inspiration to create this beautiful cake. Bold brush strokes are framed by a floral wreath.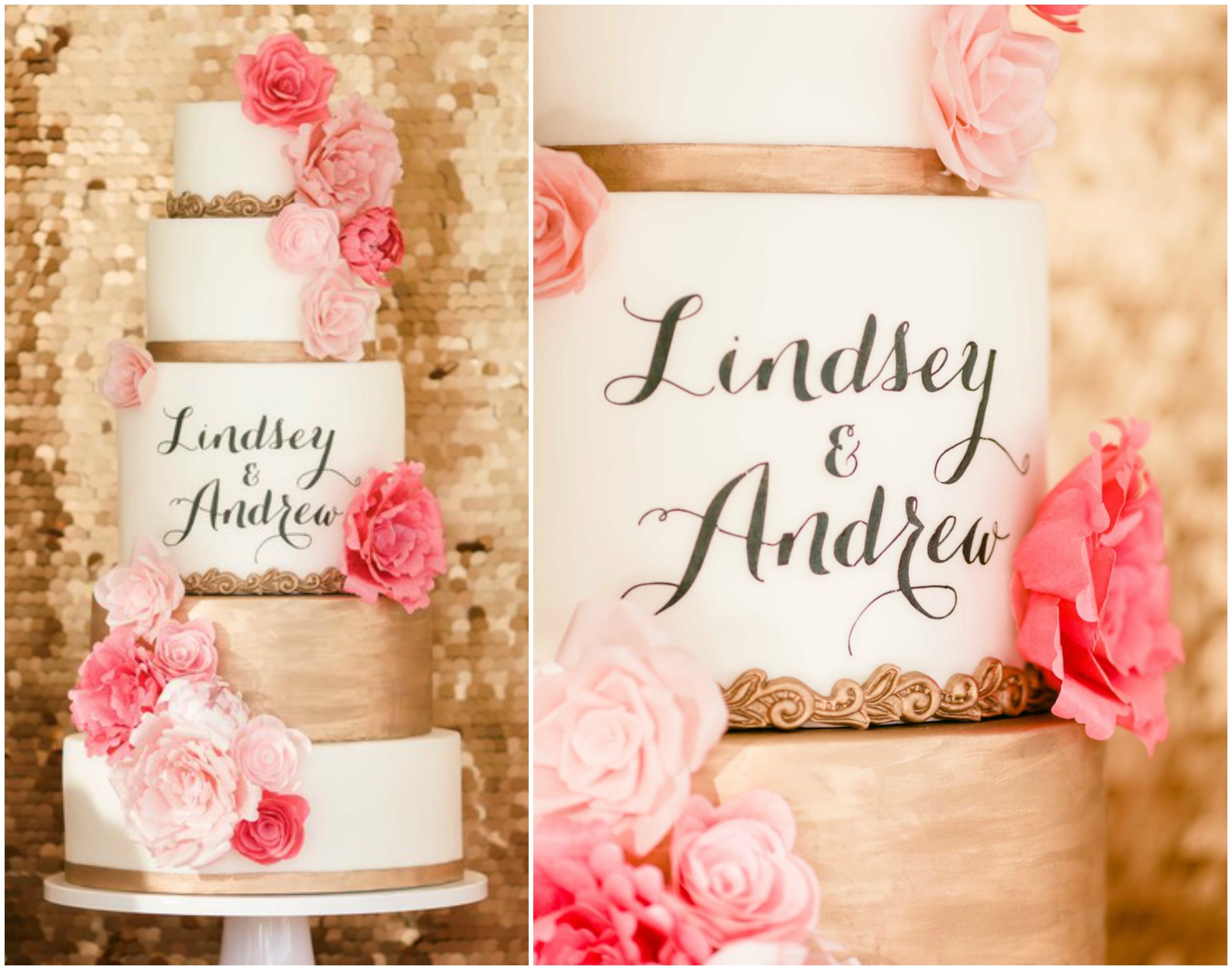 Photo via S'more Sweets
Lindsey Stone from S'more Sweets in California used sweeping brush strokes to create this fabulous design for her own wedding. The lettering on this cake shouts from the roof tops "this is our wedding cake!"
Chalkboard cakes
The chalkboard cake phenomenon, started by Elizabeth Marek from the Artisan Cake Company, took the cake world by storm and is perfect for personalised designs.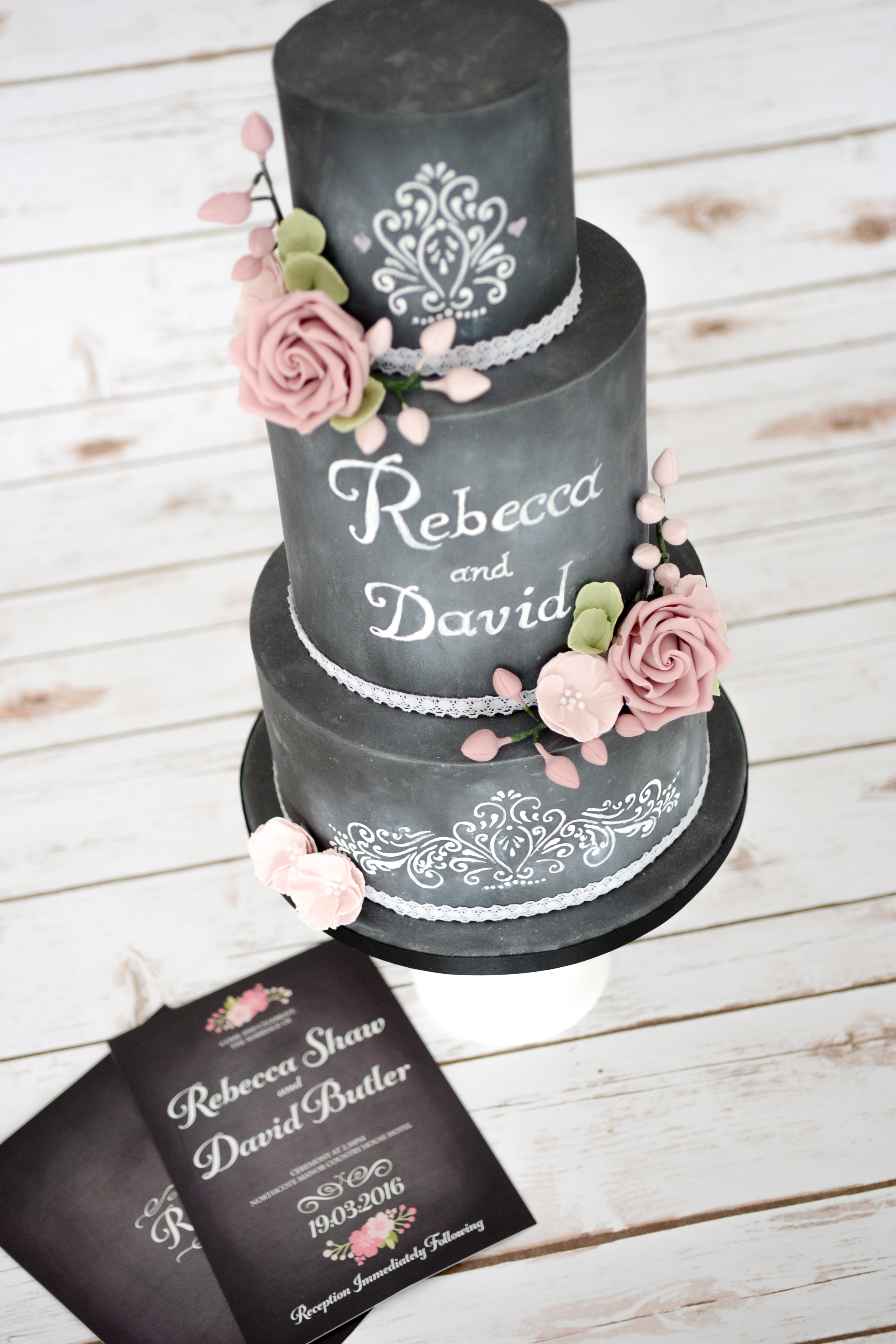 Photo via Cut Me Off A Slice
Rachel Eastley and Lisa Crocker from Cut Me Off A Slice in the U.K. used the wedding stationery to inspire this wonderfully stylish and elegant personalised chalkboard design.
I hope this has inspired you! For more tips on how to pipe lettering, join mine in my Bluprint class, Elegant Techniques for Flawless Cakes. Another great classes with tips on lettering is Nicholas Lodge's Custom Lettering & Monograms, and Erin Schaefgen's free mini class The Hand Painted Cake can give you a primer on painting cakes.
Meet Bluprint instructor Helen Mansey!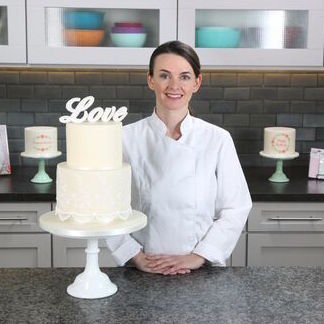 Helen Mansey's background in fashion design and cookery were the keys to fueling the conception of her successful wedding cake business, Bellissimo Cakes. She is a regular contributor to Wedding Cakes, Cakes & Sugarcraft and Bake School magazines, and she served as a contributing author to The Gourmand Best UK Cookbook for Professionals 2014. Helen also teaches at Squires Kitchen International School in Surrey.