Peppermint and chocolate are a match made in heaven. Refreshing peppermint cuts the richness of chocolate and gets you ready for another bite. I'm a fan of this combination during the holidays because I love the peppermint mochas at my favorite coffee shops, but I also enjoy incorporating the combination into my holiday baking, as well!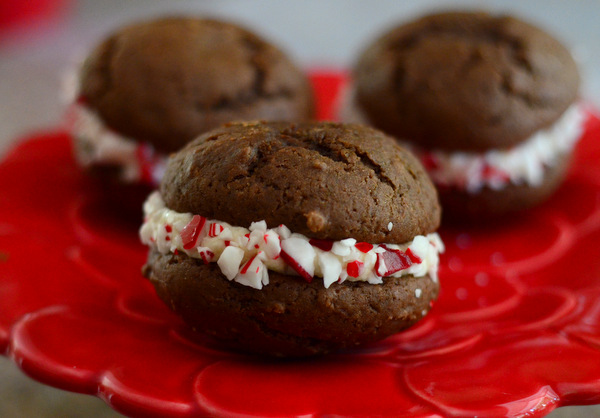 About this recipe
I've made whoopie pies in all shapes and sizes, from thin and small to tall and plump. These whoopie pies are definitely on the "plump" end of the whoopie pie spectrum. The cookies are made with a cake-like batter and bake up to be tall and light, with a soft crumb and plenty of chocolate flavor. Since the cookies are generously sized, I was generous with the filling, as well. Whoopie pies of this size are almost like inside-out cupcakes and make a decadent holiday treat – and they are impressive to look at, too!
I opted not to add any peppermint to the cookies themselves and saved it all for the filling, which is an easy peppermint buttercream. Peppermint extract has a powerful mint flavor and just a small splash is all you need to flavor the filling.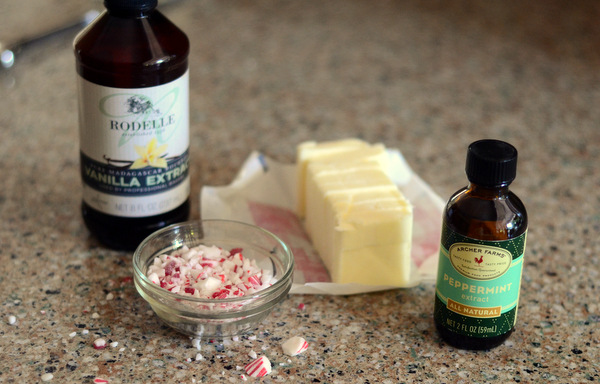 I crushed candy canes with a chef's knife to add a nice finishing touch to the whoopie pies. Rolling the edge of the filling in the crushed candies adds a pop of color and a hint of crunch to the soft cookies. A food processor can also be used to crush the candy canes, however you should take care to pulse the candy if you want to avoid turning it into a fine powder. During the holiday season, you can often find pre-crushed peppermints in the baking aisle, as well, if you want to save yourself a little time by picking them up ahead of time. 
The peppermint whoopie pies are ready to eat as soon as they have been put together, but they can be prepared a day in advance and stored in an airtight container if you're not ready to eat them right away.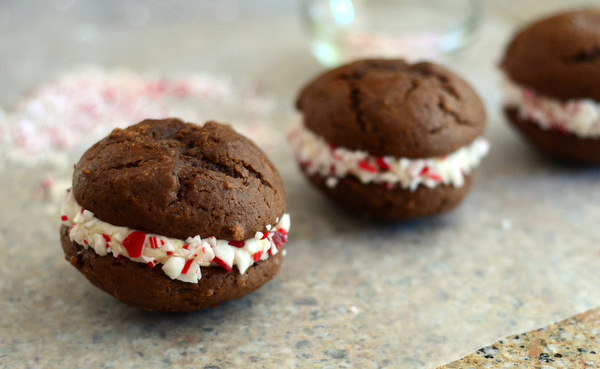 Peppermint whoopie pies recipe
Makes about 15 whoopie pies
Ingredients:
1 1/2 cups all-purpose flour
1/2 tsp baking powder
1/2 tsp baking soda
1/4 tsp salt
1/3 cup white sugar
1/3 cup brown sugar
1/4 cup vegetable oil
1 large egg
1/4 cup unsweetened cocoa powder
1 tsp vanilla
1/2 cup buttermilk
Peppermint filling (recipe below)
Approx. 1/2 cup crushed candy canes
Step 1:
Preheat oven to 350 F. Line a baking sheet with parchment paper. In a medium bowl, whisk together flour, baking powder, baking soda and salt. 
Step 2:
In a large bowl, blend together the vegetable oil and sugars. Beat in the cocoa powder until it has been completely incorporated, then add in the vanilla. Stir in half of the flour mixture, followed by the buttermilk, then stir in the remaining flour mixture and mix until no streaks of dry ingredients remain. Batter will be halfway between cookie dough and cake batter.
Step 3: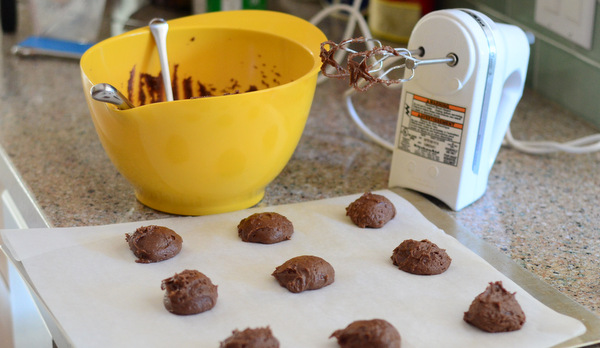 Shape batter into 1 1/2-inch balls and drop onto prepared baking sheet, leaving at least 2 inches between each ball of batter. Bake for 10-12 minutes, or until the cookies are set and spring back when lightly pressed. Transfer to a wire rack to cool completely.
Step 4: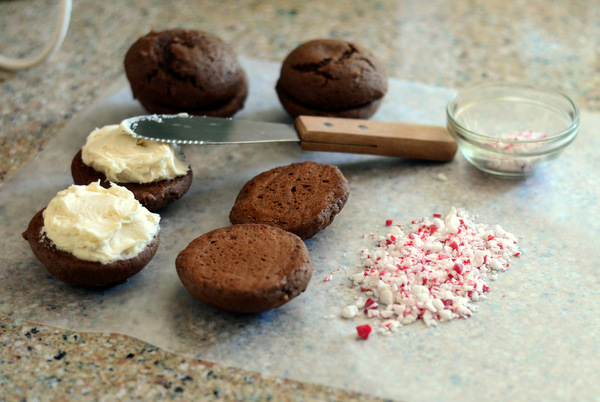 When cookies have cooled, pair them up with other cookies of similar size and shape. Spread peppermint filling generously between the cookies. 
Step 5: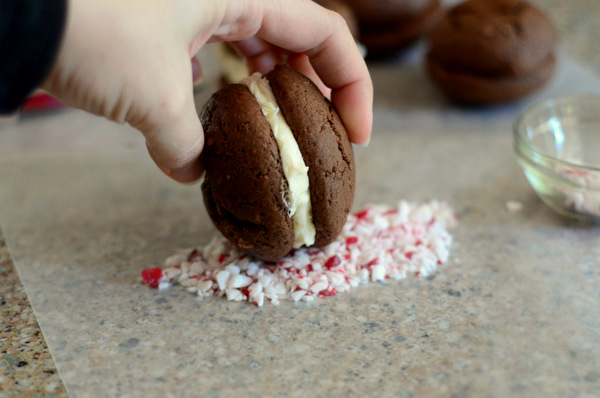 On a plate or a piece of parchment paper, make a pile of crushed candy canes. Squeeze the whoopie pies until the filling starts to ooze out from the edges of the cookies, then roll in crushed candy canes. Serve immediately or store in an airtight container until ready to serve. 
Peppermint filling recipe
Makes about 2 cups
Ingredients:
1/2 cup butter, room temperature
1 1/2 tbsp milk
1 tsp vanilla extract
1/2 tsp peppermint extract
2-2 1/2 cups confectioners' sugar
Step 1:
In a large bowl, beat butter until creamy. Blend in the milk, vanilla extract, peppermint extract and 1 cup of confectioners' sugar until the mixture is smooth. Gradually incorporate the remaining confectioners' sugar until the mixture is thick and creamy.