Peonies are one of the most perfect flowers to use for romantic cakes — they're large, come in beautiful colors and feature a flurry of soft and curved ruffles! They're also notoriously tricky to get just right, but hopefully with our top five favorite pretty peony cakes you'll be creating beautiful blooms in no time!
Five perfectly pretty peony cakes that are ready to inspire your next gorgeous cake design!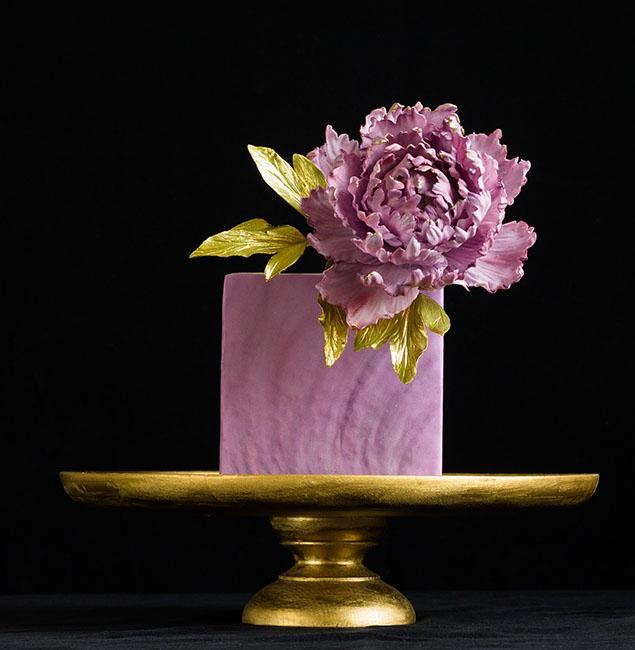 Photo via Bluprint member ModernLovers
Purple and gold peony cake
If you want to make a single tier cake look really impressive add a large and impressively ruffled bloom — a peony of course! What a statement a perfectly created floral makes on an otherwise simple cake. The marbled fondant on this small tier is a great way to add a few different hues of purple and cleverly mimics the detail on the realistic peony petals.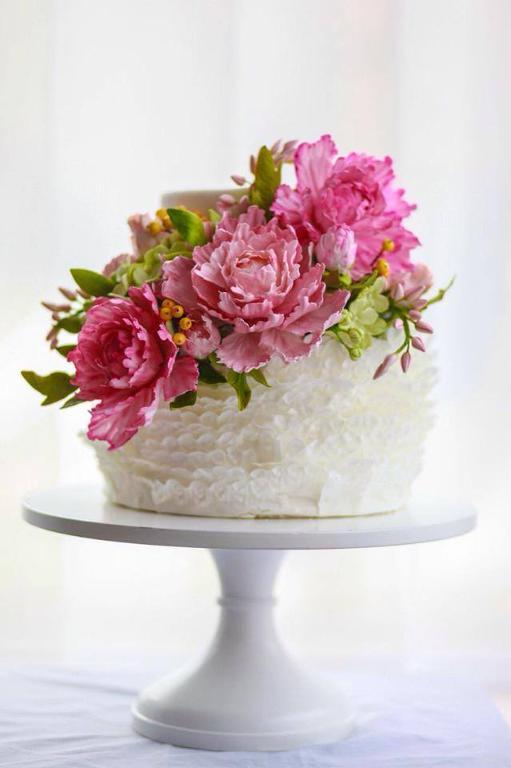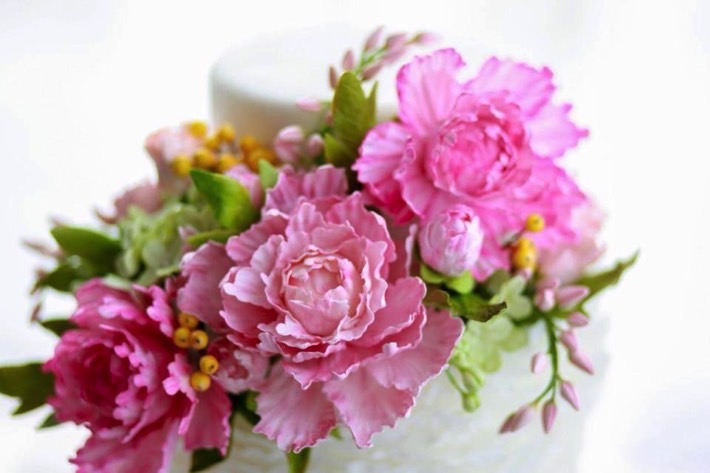 Photos via Bluprint member Alex Narramore
Ruffles and peonies cake
We love ruffles and pairing them with peonies can be tricky because of their own naturally ruffled look but adding buds, berries and foliage works a treat for this cake! Introducing pops of interesting color by building a floral arrangement can turn one or two flowers into a truly stunning focal point. We love the idea of blackberries, raspberries and juniper berries being nestled in to add tones of rich, wild color.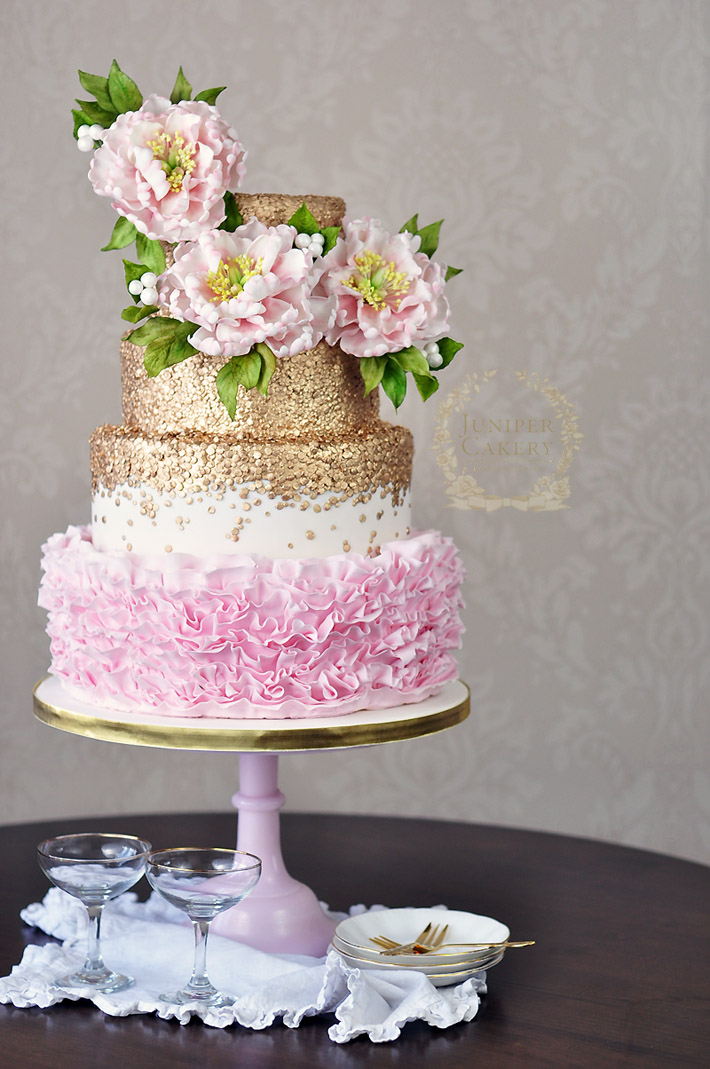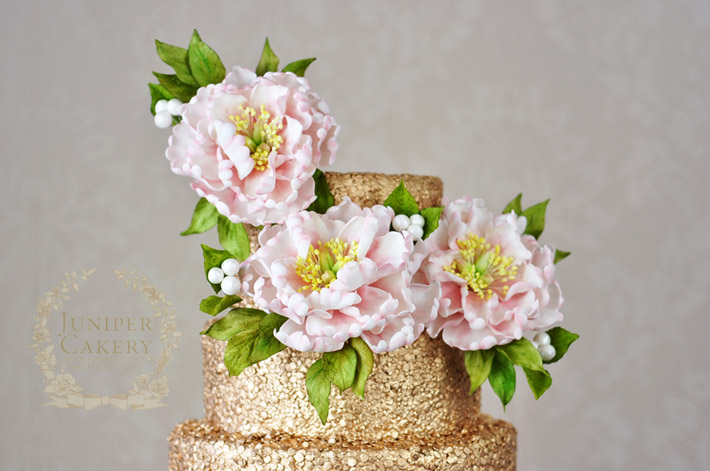 Photos via Juniper Cakery
Open peony wedding cake
We love working with gold, can you tell? Adding toppled gold sequins beneath large open peonies is a whimsical way of including a rough texture to really contrast the delicate pinks and look of the floral arrangement. Exposing a white fondant tier before a fully ruffled tier begins is a great technique for including a neutral tone in an otherwise luxuriously extravagant wedding cake. Play around with the floral arrangement by changing the color of the peonies, adding wild berries and filler flowers for a really indulgent finish.
Love the idea of creating listing sequin studded cakes? Then you should try Erin Gardner's Cakes in Full Bloom class to discover and learn this eye-catching technique!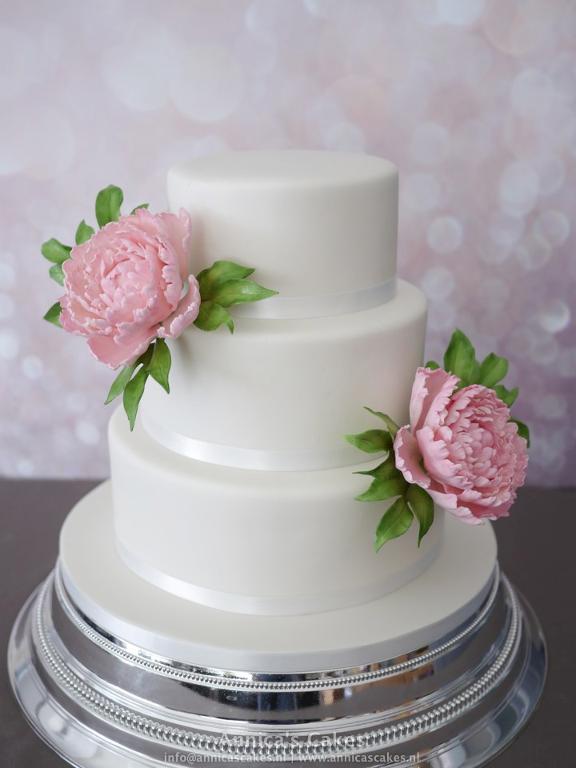 Photo via Bluprint member annicacakes
Simple peony cake
The peony is a fantastic flower for dressing up even the most minimalist cakes and the above shows this off perfectly! The bright white of the fondant covered tiers really lets the ruffled pink petals and lush green leaves pop making this cake simple yet showstopping.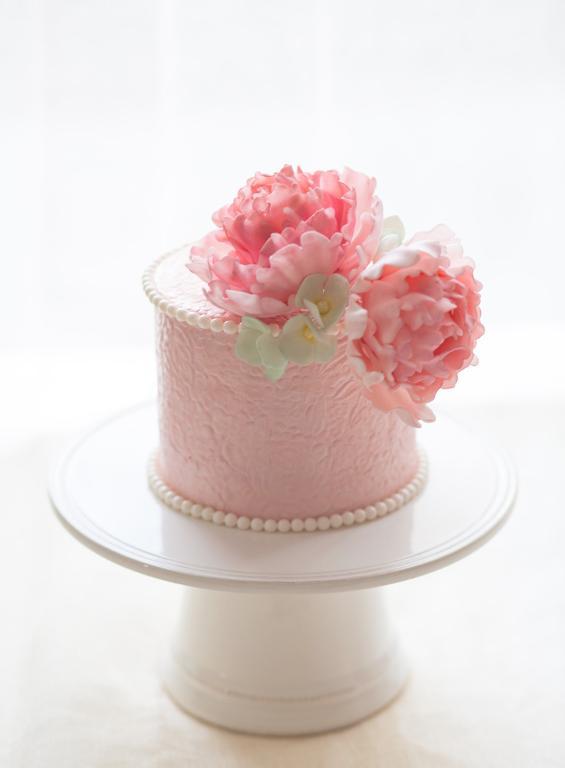 Photo via Bluprint member Cyovero
Pink peony cake
We adore the textured lace covering used on this cake. Choosing pink for both the cake and the peony flowers softens the presence of the lace allowing the impressive peonies to really take center stage. The clever use of white pearls, light greens and ombré peony petals finishes this pretty little cake off wonderfully. If you like the idea of adding texture to your cake but don't want to use lace, why not try hand painting a floral design before nestling peonies on top?
Fascinate with sugar flower sprays & bouquets!
Achieve crave-worthy cakes for every occasion when you gain the sugar flower skills to make gorgeous French tulips, anemones & peonies!Enroll Here Now »