Penguins are creatures that are adored by many due to their sweet appearances and fun dispositions! Though they are often regarded as cold climate dwellers, there are several species that reside in warmer areas of the Southern Hemisphere. Their rising presence in films, such as animated movies and documentaries, aid in their growing popularity, especially with Penguin Awareness Day approaching on January 20th. So let's celebrate them in our cake decorating today, shall we?
Prep for Penguin Awareness Day with these adorable penguin cake and cupcake ideas that are perfect for a variety of wintry celebrations and occasions.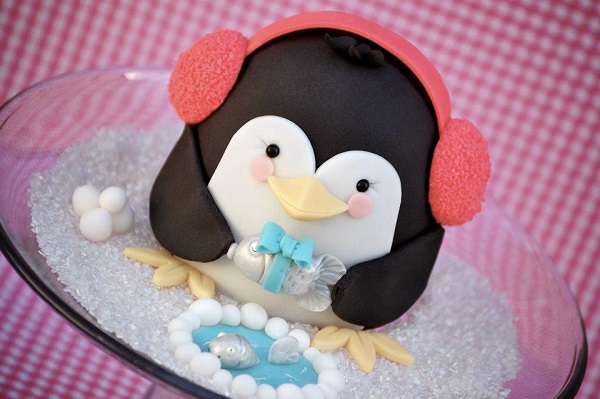 Photo via Royal Bakery
Penguin mini cake
Bluprint blogger Lesley Wright of Royal Bakery created this absolutely precious penguin miniature cake! Baked in a Wilton Mini Wonder mold, Lesley's tutorial shows how to cover its entirety in black fondant and add the details of the face, flippers and accessories. Instead of one large cake, utilizing a mold that produces multiple smaller cakes allows for personalized creations and for creativity in altering the design a bit with each confection.
[box type="shadow"]Check out Lesley Wright's FREE Fabulous Fondant Topper Tutorials printable bundle, available exclusively on Bluprint![/box]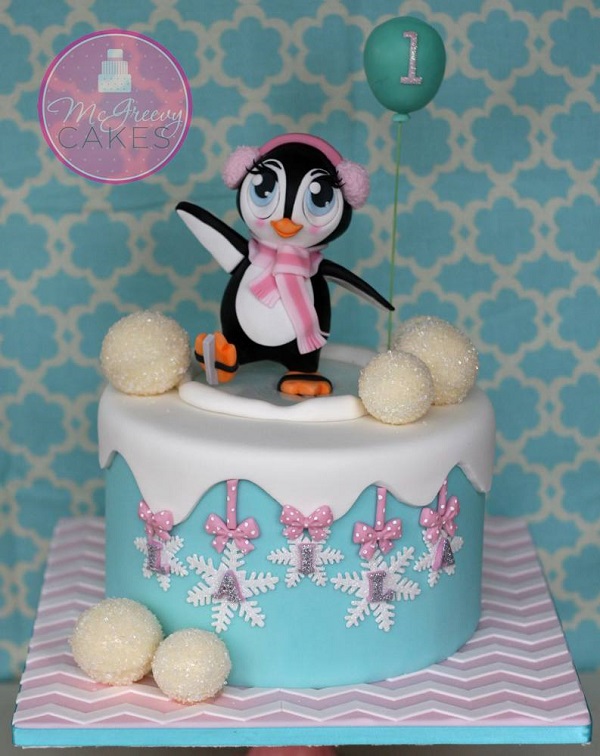 Photo via McGreevy Cakes
Skating penguin cake
This adorable and sweet confection by McGreevy Cakes was made to celebrate the 1st birthday of a little girl. While the side is personalized and embellished with girly, winter-themed embellishments, the cake is topped with an incredibly delightful ice-skating penguin! The perfect details, such as the penguin's eyes and positioning, truly bring the features and expressions to life! Visit McGreevy Cakes to receive a free tutorial to re-create the three-dimensional fondant penguin.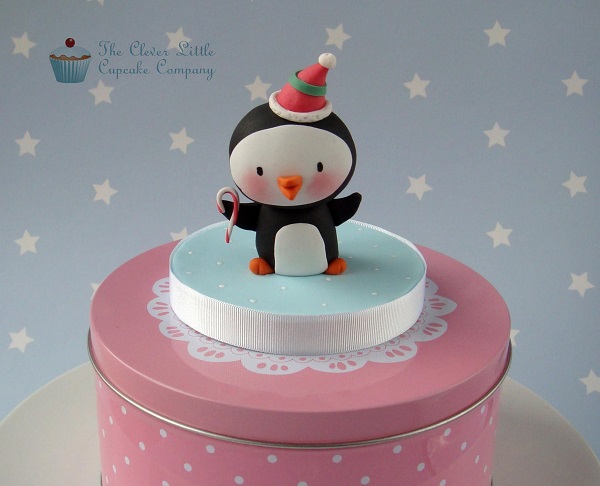 Photo via The Clever Little Cupcake Company
Penguin cake topper
Penguins are extremely popular during the holidays, such as this charming little guy in a Santa hat! The Clever Little Cupcake Company modeled this cute penguin out of fondant and added simple and sweet festive details to make it the perfect topper for any Christmas cake! Easily change up the colors to make a party hat for any celebration!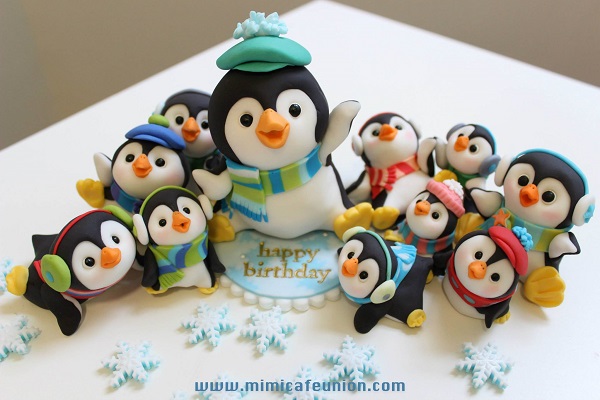 Photo via Mimicafe Union
Penguin family cupcake toppers
These cupcake toppers by Mimicafe Union for a birthday celebration are so incredibly adorable and expressive! The entire family of penguins were modeled out of fondant and demonstrates how varying their positions, details and colors gives each character a personality of their own.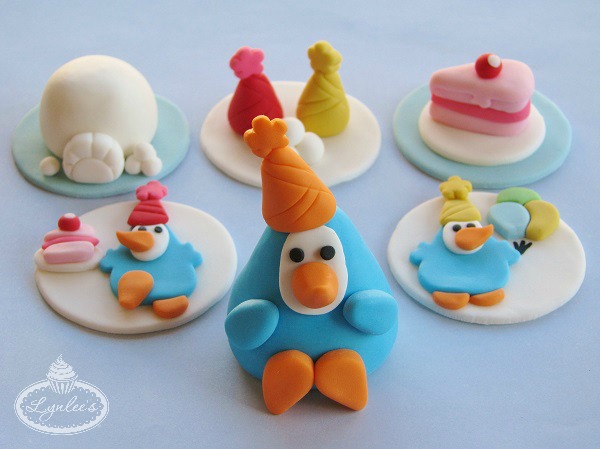 Photo via Lynlee's Petite Cakes
Cool igloo cake and cupcake toppers
Inspired by the fun graphic art by Bird's Party, these cupcake toppers for Creative Juice mimic the Cool Igloo designs, while the cake topper is a three-dimensional representation of the party penguin. The penguins on the flat toppers demonstrate how a metal cutter can be repurposed for new designs, as they were created by turning a ice cream cutter upside down! Try to think outside the box and be creative in your decorating!
[box type="shadow"]Check out our post "Creative Cake Decorating: Think Outside the Box With Unconventional Tools".[/box]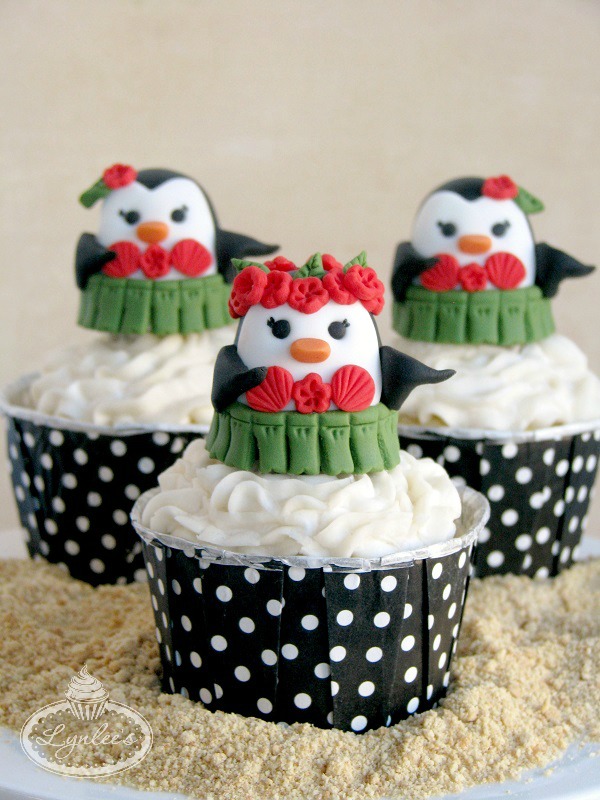 Photo via Lynlee's Petite Cakes
Hula penguin cupcakes
Since penguins aren't limited to cold weather locations, these hula penguins are the perfect addition to any tropical party! In this FREE fondant penguin tutorial, available right here on Bluprint, learn to create these three-dimensional penguins and dress them up in their grass skirts and luau garb or accessorize them to fit any theme.
[box type="shadow"]See the tutorial on how to make these adorable fondant penguins.[/box]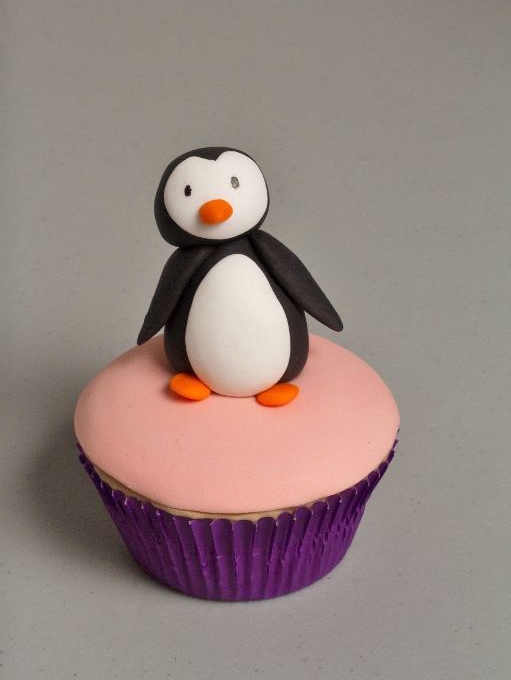 Photo via Bluprint instructor Sharon Wee
Fondant penguin cupcake topper
In the course Cake Topper Techniques: Fondant Animals, Bluprint instructor Sharon Wee demonstrates the step-by-step instructions to build cute and fun animals. As a follow-up to the class, Sharon created this adorable fondant penguin to top a cupcake, perfect to use as is or adorn with additional details and accessories to match the desired theme.
Photo via Bluprint member vana03231783568
Fondant penguin
Bluprint member and cake artist vana03231783568 took Sharon Wee's course Cake Topper Techniques: Fondant Animals and as part of a class project, created this super adorable fondant penguin! The difference in the penguin's beak and feet demonstrate the decorator's ability to adjust the basic instructions and make a design her own.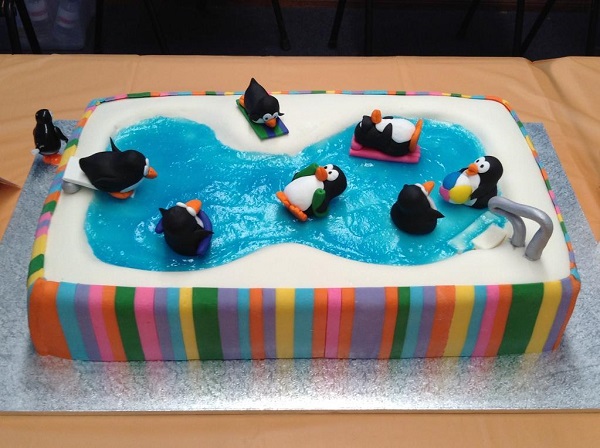 Photo via Crafty member Mummybja
Penguin pool party cake
Bluprint member and cake artist Mummybia created a pool party birthday cake at the request of her daughter, embellished with cute and delightful fondant penguins! The penguins are molded in various positions and activities at the party, while the sides of the pool itself were embellished utilizing techniques learned from Crafty course Clean & Simple Cake Design with Jessica Harris.
Photo via Bluprint member hlauren6
Topsy-turvy penguin cake
Bluprint member and cake artist hlauren6 built this amazing four-tiered cake in the course Topsy-Turvy Cake Construction with Richard Ruskell. Once the icy tiers were erected, penguins molded out of fondant that look as if they are slippin' and slidin' were carefully adhered to the cake.
In what setting and climate would you place your penguins creations?