Sketching with pen often requires us to record things as they're moving. Though this might seem daunting, drawing things in motion is a lot of fun, and a great way to sketch while you're on the go.
Learn tips and techniques for capturing motion with pen and ink sketches!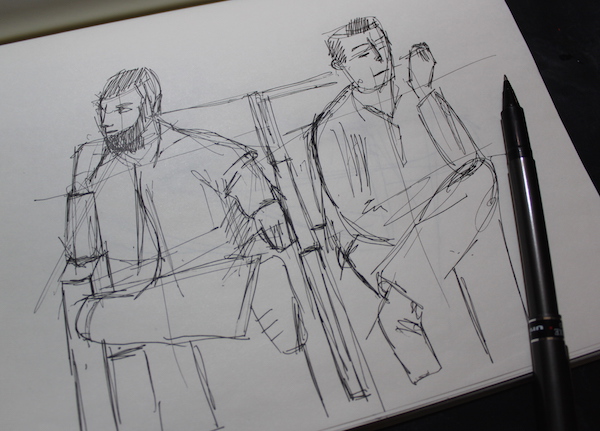 Benefits to using a pen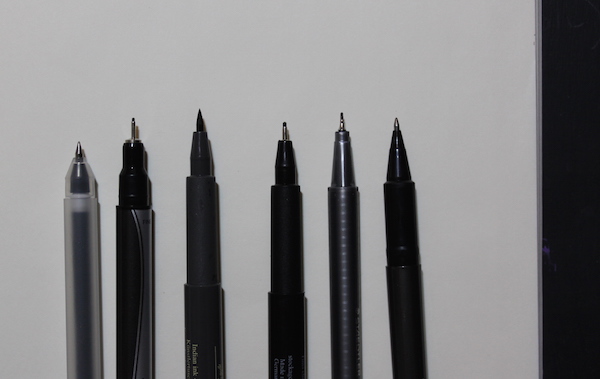 While pencil is a popular choice for drawing, there are a lot of benefits to sketching with pen and ink. First, there's no sharpening of this tool, which is great — no need to carry a pencil sharpener around! Second, many pen tips will glide across your page and allow you to make marks quicker. This is ideal when someone is moving (even if it's just barely). And third, you can pick just how fine you want the tip. Maybe you feel like a fine point, or you're wanting to experiment with a marker. Just check out all the pen-tip widths I have!
Drawing exercise: draw people in waiting rooms or at the airport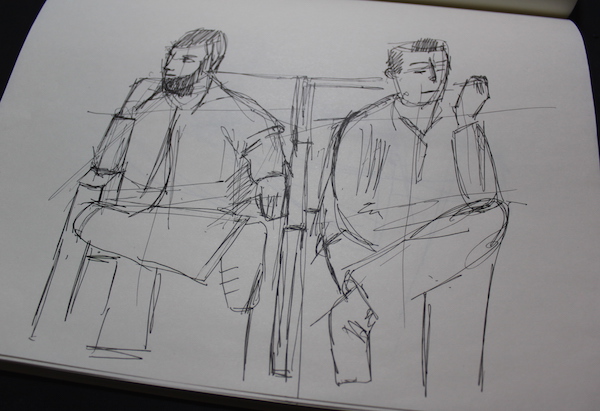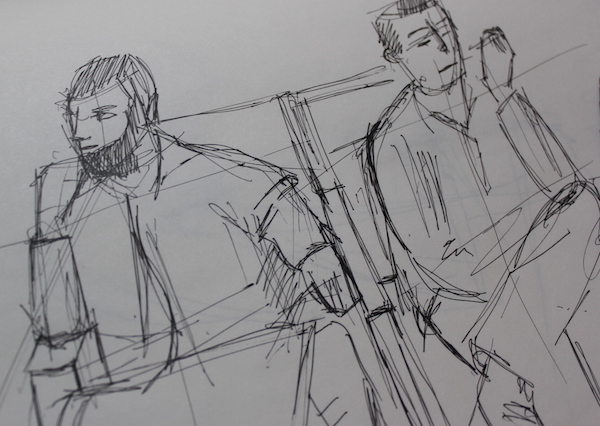 When I'm at the airport, I don't spend the time before my flight staring at a screen. No, I've got my sketchbook in my lap and I'm drawing all of the interesting people I see! This exercise isn't limited to just the airport, though. It's appropriate for waiting in line, sitting at the doctor's office – wherever there are people around. These places are ideal because while people are moving, it's not so much that you aren't able to draw them.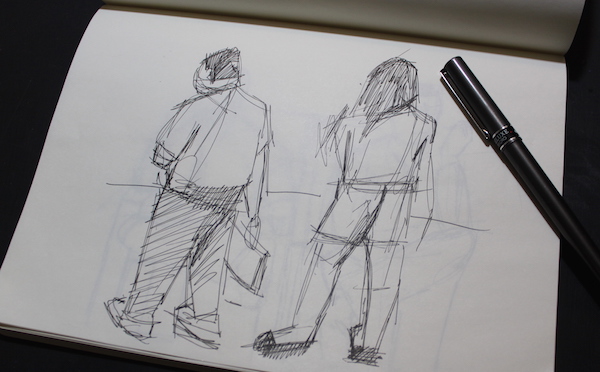 So, the next time you're waiting some place, grab your sketchbook and get some valuable practice!
Tips for drawing people in motion
1. Try using a pen that's appropriate for the scale at which you're drawing. If you are making tiny work, a fine-tip will work great — you'll still see a lot of details. A blunt, marker-sized tip would seem too big, but not if you're drawing in a large, 11" x 17" sketchbook!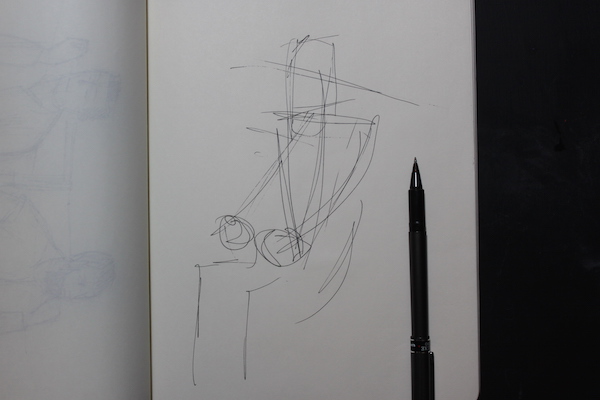 2. Start your drawing by making a few "guidelines." In just a few strokes, block out where the head, shoulders, and torso are. Afterwards, draw lines to indicate the angle of the arms and legs. This will give you an idea of how the figure is positioned. If you don't think it looks right, feel free to draw on top or over your first set of lines until you get them right.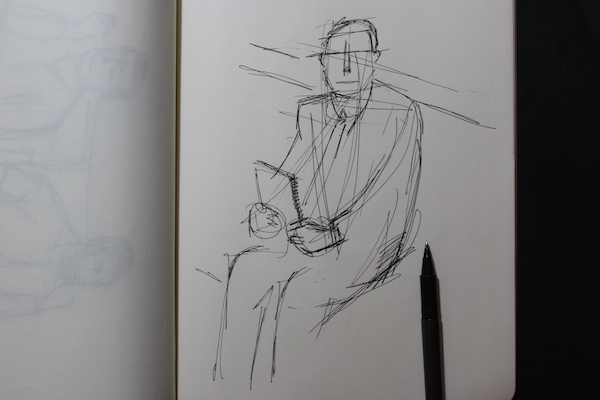 3. You want your hand to move as fast as possible. After all, you don't necessarily know when your subject will get up and walk away. For me, this means picking up my pen every half inch or so.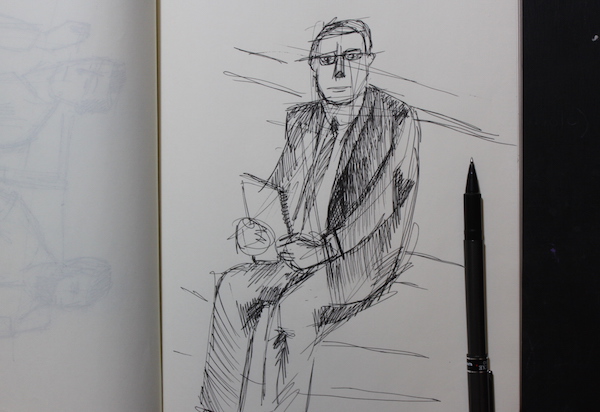 4. Once you get a general idea of the body, then refine with details. Think hair, clothing and shoes! These features will make your subject recognizable.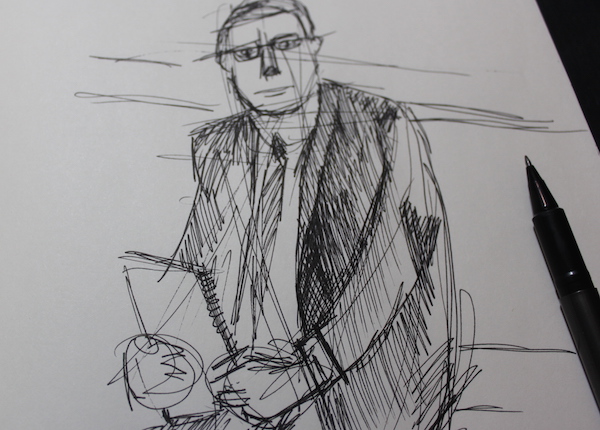 5. Don't be afraid to use some of your favorite techniques, especially when it comes to shading. Hatching and crosshatching will help define form.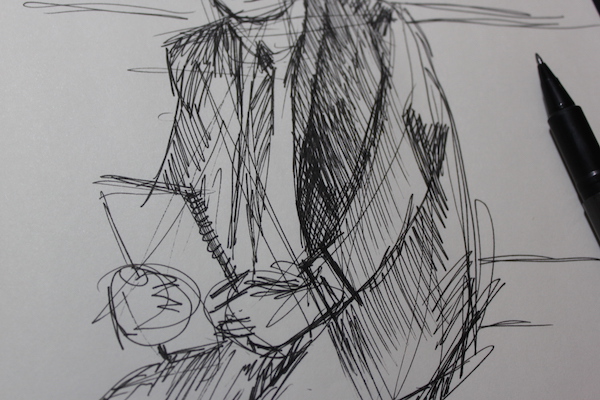 Remember: these are just sketches
They aren't going to be perfect! Just enjoy the moment and use this as an opportunity refine your skills. You could even experiment with a new technique or pen.
Have you ever drawn someone in motion using pen before?